One wintry week in Hokkaido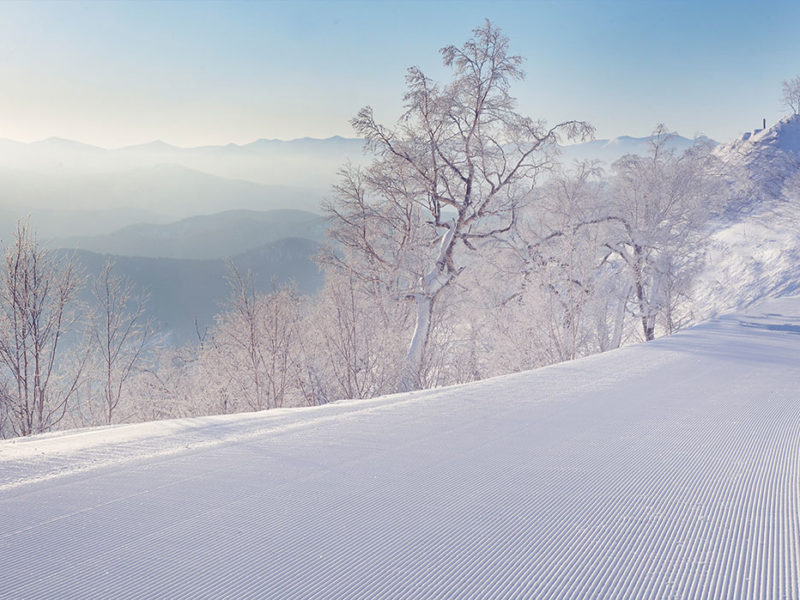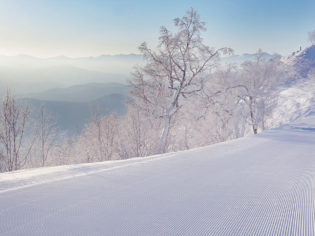 |

THIS ARTICLE WAS CREATED IN PARTNERSHIP WITH Hoshino Resorts

|
As far as bewitching snow-dusted landscapes go, it doesn't get much more exquisite than Japan's northernmost island of Hokkaido. Take your time exploring this winter wonderland on a week-long tour by car.
The second-largest and least-populated of the country's four main islands, Japan's Hokkaido is best known for its powder-laden ski areas and rugged volcanic national parks. While it's easy to spend your holiday at just one of the ski resorts in well-known areas like Niseko, those keen to explore more of the island will be rewarded with an abundance of nature-based, cultural and culinary adventures. Rent a car in Sapporo and follow this itinerary to the middle of Hokkaido, and discover all its wintry gems along the way.
Day 1: ice art and brews in Sapporo
Start your Hokkaido adventure in the region's capital, Sapporo. Time your visit to catch the legendary Yuki Matsuri (snow festival), a spectacular week-long celebration in February during which the city springs to life with gigantic snow and ice sculptures measuring up to 23 metres in width and 15 metres in height, requiring more than 3000 tonnes of snow to create. Visitors can join the festivities in Odori Park or at the Tsudome or Susukino sites which include an ice maze, tobogganing, ice skating, sled rides and even an ice bar.
If your visit to Sapporo doesn't coincide with the festival, schedule in some time to learn more about what the city is famous for: beer. Head to the Sapporo Beer Museum to sample some fresh brews under the spacious high-ceiling Kessel Hall, or join a free 20-minute tour of Asahi Beer's Hokkaido brewery. That includes three tasting glasses and a sampling of the local specialty known as 'Genghis Khan' – a grilled mutton and lamb dish that's rare even in the rest of Japan.
By night, take in the urban landscape from the Sapporo TV Tower, where the observation deck offers sweeping views of the city.
Where to stay: There are several well-priced hotels in the Sapporo Station area, which provide a central base for an overnight stay in the city.
Day 2: a sake pit-stop and the Asahiyama Zoo
Sapporo's Nijo Market is your first stop today for an authentic Hokkaidan seafood breakfast. The island is renowned for its snow crab, king crab and shellfish, and the chilly waters and flourishing plankton yield some rare kinds of seafood and bigger fish than other areas of the country. Arrive early, take a seat at one of the many vendors and treat yourself to a bowl of kaisen don with colourful slices of the freshest sashimi laid on rice.
After breakfast, make the two-hour drive via the Hokkaido Expressway to Asahikawa. The city is host to Hokkaido's second-largest winter festival – the Asahikawa Winter Festival – which happens over a week in early February, around the same time as Sapporo's Yuki Matsuri.
While here, sample some local rice wine at the Otokoyama Sake Brewery Museum. The harsh, freezing climate of Asahikawa is perfect for sake brewing, and the clear, dry, light-tasting Otokoyama sake is made using underground run-off water from the nearby mountain Daisetsuzan.
Asahiyama Zoo, the northernmost zoo in Japan, is one of the country's most well-known animal parks and may be the most famous spot in Asahikawa. Here, animals exist in a natural ecological environment with large enclosures, which you can observe up close thanks to unique viewing points such as glass domes hidden under the enclosures.
Where to stay: Hoshino Resorts OMO7 Asahikawa provides everything a visitor to Asahikawa could possibly need, including a shuttle bus (booking is required) to nearby ski fields.
Day 3: carving tracks in Daisetsuzan National Park
Daisetsuzan, which translates to 'great snowy mountains', receives some of the coldest, lightest snow anywhere in the world, so gear up for a day on the mountain. Asahidake is the highest volcano on the island and has a cable car that was built for summer alpine hikers. Fortunately, it also runs in the winter and provides access to incredible cross-country powder skiing for advanced skiers.
For conditions better suited to beginners and intermediate-level skiers and snowboarders, the high-altitude Kurodake Ski Resort offers sensational views and top-quality powder snow conditions well into March. Located above Sounkyo hot-spring town, you can soak your weary bones in a relaxing hot bath with alpine views after a big day on the mountain.
On your return to Asahikawa City, warm up with a steamy bowl of ramen from Asahikawa Ramen Village where you'll find eight ramen restaurants, each with their own menus and specialties.
Where to stay: Return to OMO7 Asahikawa and kick back with a book in the Books Tunnel, the resort's very own loft-like library complete with comfy chairs and relaxed lighting – perfect for a cosy night in.
Day 4: the Blue Pond, Shirogane Onsen and Furano
An hour's drive from Asahikawa in the town of Biei sits Shirogane Blue Pond, or aoi-ike, named after its bright blue colour caused by the naturally occurring minerals in the water. Its hue changes with the seasons, so the best time to catch a glimpse is in early and late winter when the vivid blue shines through a just-frozen surface from below. In mid-winter the pond is frozen over, but a short drive to the majestic Shirahige waterfall nearby provides glimpses of the cobalt-blue water unique to this area. Take a dip in the soothing hot-spring pools of Shirogane Onsen before setting off on the hour-long journey to Furano.
Your first stop is the Furano Cheese Factory to see the cheese maestros at work. Sample some Camembert-style cheese in the factory shop, head to the pizzeria or take a lesson in making butter, ice cream or bread.
Finish the day with some retail therapy and a stroll down Ningle Terrace, a quaint little street in the forest where you can buy artist-made handicrafts from charming timber cottages and old-style workshops.
Where to stay: Stop in at one of the many local pensions (family-run lodgings with Western-style rooms) for your one-night stay in Furano.
Day 5: the powder fields of Furano
During winter, the mountains and fields of Furano transform into a popular downhill and cross-country ski resort. Just half a kilometre from Ningle Terrace, with 24 pistes, hot springs and children's activities in English, the family-friendly Furano Ski Resort consists of two connected peaks, each offering long, fast runs that have been used for World Cup races. There are some wider, gentler slopes to suit beginners and, for the intrepid, there are terrain parks, downhill courses and a half-pipe. Furano Ski Resort also boasts a Family Snowland offering other wintry activities, such as snow rafting, snowmobiling, and dog-sledding.
Once you're all snowed out, jump in the car and make the 1.5-hour drive to the Tomamu region, so you're close to the slopes for tomorrow's powder play.
Where to stay: Hoshino Resorts TOMAMU is one of the most family-friendly ski resorts in Japan. There are two ski-in/ski-out hotels on the property which are the five-star all-suite hotel RISONARE Tomamu and the four-star hotel Tomamu The Tower.
Day 6: Tomamu winter paradise
Tomamu is particularly esteemed for its high-quality powder snow, with 29 trails offering a great variety for skiers and snowboarders of all levels. Back-country skiing is especially popular, or browse the resort's long list of activities to enjoy such as the Ice Village. Illuminated at night, it is full of igloo-shaped domes housing ice bars and even a bakery café with a large adjacent ice-skating area.
The resort organises snow-shoe tours around the Terrace of Frost Tree, which is a 13-minute ride from the mid-mountain resort centre on the Unkai Gondola. 'Frost tree' occurs when the temperature is below freezing point, and water vapour or fog in the air attaches to the trees.
If you happen to be visiting on a full-moon night (or the night before or after), you can take a moonlight snowmobile tour and see the peaceful snowfields by the light of the moon.
Where to stay: Bunker down for the night in the heart of luxury at RISONARE Tomamu or Tomamu The Tower.
Day 7: Tomamu to Sapporo
On your last snow day in the Tomamu area, check out the souvenir shops after having a hearty meal in one of the more than 20 restaurants in Japan's first ski-in/ski-out street area, Hotalu Street. Then, after a half-day of skiing or snowboarding, thaw out at the largest indoor wave pool in Japan, Hoshino Resorts' Mina-Mina Beach. With the temperature inside this glass-covered building sitting at a constant balmy 30°C, it's a pretty wonderful place to warm up before jumping in the car to drive the roughly two hours back to Sapporo.
For further information and to plan your wintry week in Japan's Hokkaido, visit hoshinoresorts.com
LEAVE YOUR COMMENT