How to experience Geisha culture in Japan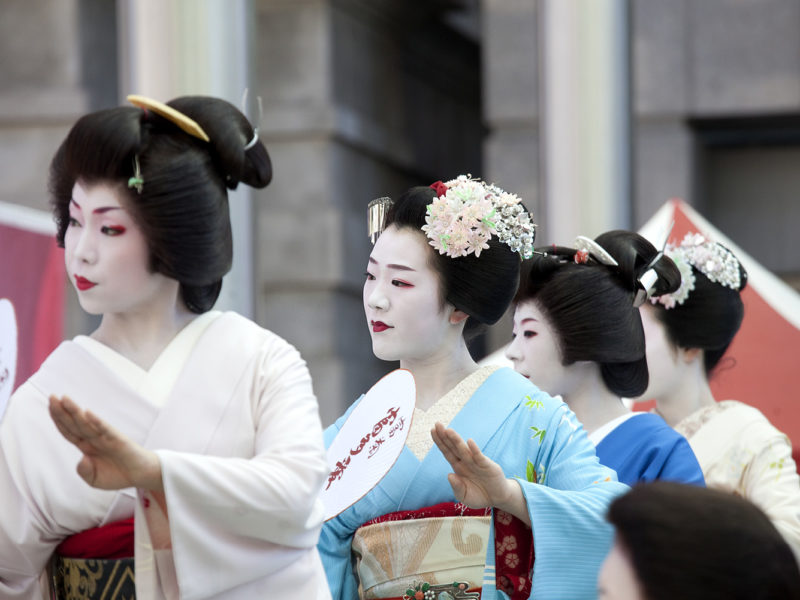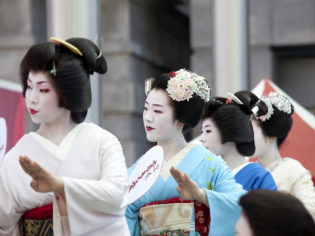 The secret world of a geisha, their lifestyle, and what it takes to become one.
Listen carefully and you can hear the delicate sound of shuffling geisha heading towards Kyoto's tea houses as dusk falls like chiffon across the Gion district. Admiring onlookers, mesmerised by their timeless beauty, stop and stare as they flutter along like butterflies, their jewelled hair dancing in the breeze.
What exactly is a geisha?
Long shrouded in mystery, the geisha lifestyle has captivated people from all corners of the globe. Young Japanese women dress like them, little girls play kimono dress-ups and some, entranced by the celebrity-type lifestyle, join the ranks to become one. But it's a tough highway to hoe to reach geisha status.
Geisha history and the prostitution myth
During the late 600s saburuko (serving girls) were the first known geishas to wait tables, make conversation and sometimes offer sexual favours. By the late 16th century major Japanese cities had constructed walled pleasure quarters where oiran (courtesans) lived and worked as licensed prostitutes.
The original role of the geisha – meaning arts person – was as an assistant to the oiran, and regulations precluded them from engaging in personal relations with customers. Geisha became extremely popular in the 1750s and by the 1800s were considered accomplished professional entertainers, far removed from the 'ladies of the night' perception.
Where do geishas live?
Former Imperial capital Kyoto is considered the birthplace of geisha culture, and is still one of the best places to experience it. Here, geisha are called geiko, and their younger counterparts are maiko. Young women who want to become a maiko (dancing girl) are usually aged between 15 and 20 years old.
First though they must find an okiya – a shared boarding house for aspiring maiko – run by an okasan (the 'mother' of the house) willing to sponsor her. As a sponsor, the okasan will pay for everything during the maiko's nenki (her contract).
Not all girls will be accepted though, as during the maiko's apprenticeship the okasan can shell out as much as 10 million yen ($130,000) to support and train them. The money goes towards her lessons as she learns how to perfect the subtle hand and foot movements of Japanese dancing, the precise steps of a tea ceremony, and social etiquette while performing cultural arts.
Alongside buying high quality kimonos the okasan will also give her maiko a monthly allowance of around 20,000 yen ($250) for clothing and make-up. The houses are not large though and she'll usually share a room with four other maikos.
It's strictly a business portfolio for the okasan. They reap the benefits from earning a percentage of the maiko's income as she begins to work during the second year of her apprenticeship. And like going to university and repaying a student loan, the maiko will repay the sponsor back once she becomes a geisha.
What is the true meaning of a geisha?
To enter into geisha-hood is to leave the modern world behind. The training period can last as long as five years, and they must follow strict rules to reach the coveted status. No longer called by their real name, they adopt a stage name given by the okasan.
Contact with family and friends is limited and mobile phones and any form of social media are off-limits. It's like taking a vow of chastity – if she becomes romantically involved she has to leave the house. When there is attraction, a maiko has to learn how to create a barrier as it's strictly forbidden for men to touch them, but she must also be playful in order to keep customers.
An interview with a geisha
In one of Kyoto's tea houses, I meet 21-year-old Kahohana (beauty of flower), who recently graduated to geisha. In a softly spoken, trained lyrical voice she tells me about her apprenticeship. "At first our days are very hard, we are not used to it," she says, tilting her porcelain painted face to one side, "we have to sleep on wooden pillows to keep our hair in place and it took me six months to learn how to walk along in okobo, the high wooden sandal worn by the maiko."
Now she has completed her training, I ask Kahohana if she enjoys her work as a geisha. "Yes, yes, very much – I really love to dance and play Japanese instruments at the theatre and to perform in front of people at tea ceremonies." She controls her smile, careful not to break into a grin for fear of ruining her make-up. "I also really like to dress in beautiful kimonos", she adds before tottering off to her next appointment.
Maiko vs geisha
Young woman such as Kohohana consider themselves fortunate. Not all maiko reach the ceremony known as 'turning the collar' (erikae), where they transition to geisha status, and even then employment is not guaranteed. Some geisha work other jobs, and others return to study.
To be successful and in high demand a geisha has to be many things. Alongside being a gifted entertainer, she has to 'listen' with expressive eyes, know when to be a sounding board, and also be knowledgeable in the arts, history and politics. She is like a therapist, a confidante, and if she has mastered her skills, her diary will be full of appointments. In just two hours a geisha can charge 60,000 yen ($750) and in six hours, around 180,000 yen ($2200) for a private session. A percentage goes to the establishment she's working in, but a geisha working between the ages of 25 and 45 years can earn a substantial income in her career.
Geisha make-up
Most of all geisha and maiko must look as though she's just stepped out of a Madame Tussauds' wax museum: not a hair out of place, her allure is in her appearance. It takes time though to perfect the face of Japan. Maiko and geisha start getting ready around 3pm and work from 6pm onwards.
Make-up and hair can take one to two hours as she'll paint her face and nape of the neck – considered the most sensual part of a woman – in oshiroi: the iconic white powder associated with geisha. As a geisha, she'll apply red lipstick to both lips, whereas a maiko only makes up the bottom lip. The kimono alone can take 30 minutes.
How to spot a geisha
Transitioning into the world of geisha-hood is to pledge to be gracious, elegant, yet quietly strong and articulate. Even after a night of performing and accompanying men to theatres, geisha can be seen taking tiny steps in Gion district's lamplight as they head home, perfectly composed, still carrying the air of secrecy to one of Japan's oldest and most idolised professions.
Details:
Wendy Wu Tours runs an immersive 14-day all-inclusive Trails of Japan Tour starting from $9640 – guests attend a geisha performance and visit the Gion district in Kyoto.
Want to experience more of Japan? Here is our ultimate travel guide to the best eats, stays and experiences in Japan.
LEAVE YOUR COMMENT