Read more...
The mysterious jungle of the Cardamom Mountains and the forgotten islands off the south coast. The hypnotising temples of Angkor Wat at sunrise and towering spires of Phnom Penh, which crouches like an exotic animal ready to hunt at the junction of the Mekong and Tonlé Sap rivers. Welcome to our Cambodia travel guide.
The Khmer people have struggled through brutal regimes, poverty and bloodshed, emerging with a smile on their face and their sense of the sacred intact. Learning about their culture is as much of an adventure as trekking through the lush uplands of their breathtaking homeland.
So where to start when planning your Cambodian adventure?
Here are our picks of the best things to see and do in Cambodia. If you're travelling with kids, be sure to check out our guide on how to plan the ultimate family holiday in Cambodia here.
Things to See in Cambodia
With so many colourful fishing villages and remote swathes of wilderness on offer in Cambodia, it can be hard deciding exactly what to see on your trip.
Without doubt, the number one thing to do in Cambodia is to visit the temples of Angkor Wat. Built by the Khmer god-kings in the 12th century, this sprawling complex is inhabited by 3,000 stone nymphs and hundreds of towering spires. It's comparable only to sites such as Machu Picchu and Egypt's pyramids in its scale and significance.
Another of Cambodia's must sees is the Royal Palace in Phnom Penh. This glittering complex, with its distinctive silver pagoda, sits at the heart of the city's leafy boulevards among crumbling colonial mansions where you can sip coffee and people watch.
Best Places to Visit in Cambodia
There are enough incredible things to see and do in this mystical country to last a lifetime, let alone a single trip.
One of the best places to visit in Cambodia is the Tonle Sap Lake, a vast inland sea speckled with islands where traditional communities with distinct ethnicities continue to live as they have done for generations. A boat trip through the fascinating floating village of Chong Khneas is one of our top 10 things to do in Cambodia.
It may be the gateway to the Angkor ruins, but Siem Reap is a destination in itself. In fact, it's ancient architecture and heaving night markets make it one of Cambodia's best cities to visit on holiday.
For a far quieter urban escape, try Kampot, a sleepy town made up of picturesque French and Chinese buildings that are surrounded by lush agricultural land and rippling rice paddies waded by white humped cows. Exploring this emerald wonderland by bicycle is one of the area's top things to do.
Best Time to Visit
The best time to visit Cambodia depends on what sort of holiday you're after.
Visiting Cambodia in July can be a good way to avoid crowds and bag lower prices. Expect short, sharp afternoon downpours that keep the countryside looking its most verdant and the moats around Angkor full.
The best season to visit Cambodia for guaranteed sunshine and clear water off the south coast's many beaches is between December and April. Phnom Penh is a year round destination, while Siem Reap comes into its own from November to March.
Tours and Deals
Cambodia's landscape varies between misty mountains populated by indigenous tribes, forests haunted by Indochinese tigers and bright beaches lined by bars serving drinks in buckets, so a tour may be your best way of making sense of this incredibly varied destination.
The Mekong river is the mighty artery that flows through the country's heartlands and a river cruise is one of the top ways to tour Cambodia. If you prefer to stick on dryland, a Cambodia motorbike tour is an exhilarating way to explore the Cardamom Mountains. Kickstart is run by a Cambodian/English couple with more than a decade of experience.
Looking for Vietnam and Cambodia tours? Asia Vacation Group has an 11-day itinerary that looks to capture the soul of Indochina. Find out more here.
Where to Stay in Cambodia
From exclusive private island retreats to townhouse hideaways steeped in history, Cambodia has a hotel to suit every traveller.
Have you always fancied checking into a converted sugar cane plantation? Or would you prefer to lounge in a hammock on the balcony of your own thatched bungalow? Does a jungle lodge take your fancy?
Whatever you're after, you're sure to find it in Cambodia's characterful hotel scene.
Luxury Resorts
The Cambodian riel is not strong in comparison to the Australian dollar, so Cambodia is a country where true luxury is within most visitors' reach.
Pavilion Hotel is a prime example. Nestling in four heritage villas which were once Queen Kossamak's private residence, it is a serene oasis in the heart of Phnom Penh, yet costs barely more than $100 a night.
If you do feel like pushing the boat out, why not make it a super yacht? Song Saa is a cluster of stilted villas on a paradisiacal speck of white sand and pristine jungle that floats in the Koh Rong archipelago. Read our rave review here.
Wake up to the sound of monkeys and elephants blustering through one of Asia's last remaining elephant corridors at 4 Rivers Floating Lodge Hotel, a collection of luxury tents that float on a pontoon on the Tatai River. It's the sort of experience that wildlife lovers will go, well, wild for as our writer discovered when they visited.4 Rivers Floating Lodge Hotel,
Hostels
If you're backpacking through Cambodia or on a tight budget, the best thing to do is check into a hostel. Remember that chatting to your roomies is a top way to avoid tourist traps and perfect your itinerary.
Lub D Siem Reap is a sociable spot with a co-working space and a pool with a swim up bar. Equally stylish and with a rooftop pool with incredible views, Onederz Siem Reap is one of the best hostels in Cambodia.
With its thriving garden of house plants and Instagram-friendly features such as tiled floors, Phnom Penh's Sla Hostel is more like a boutique hotel. Check in to combine value with comfort.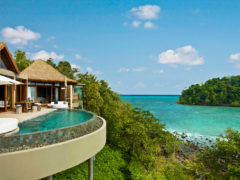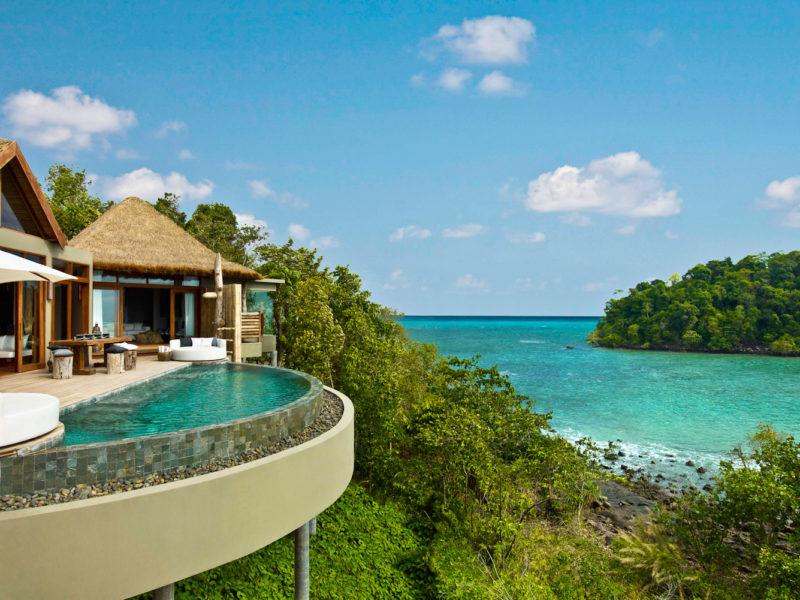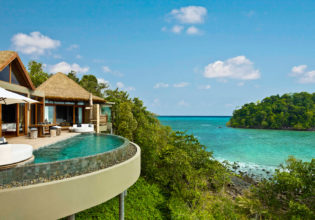 Ranked #30 in our countdown of the 100 Best Hotels and Resorts in the World. (more…)...
Best Places to Eat in Cambodia
Cambodia has a proud yet troubled past and you can taste this in every bite. It has been both a French and Chinese territory and its food scene is like a quilt made up of many fabrics deftly stitched together. So, what do people in Cambodia actually eat today?
The winding streets of Phnom Penh are fragrant with street food snacks such as grilled spider with lime dipping sauce and nom banh chok noodles. For something a little more upscale, try Romdeng which specialises in traditional dishes such as Khmer beef cheek curry.
Wondering where to eat in Siem Reap? Father's Restaurant is a no frills spot on Sok San Road which serves a mean amok, a subtly sweet fish curry that's local to the area.
Cultural Experiences Cambodia
Cambodia's culture is an intricate web of religions, traditions and superstitions which hang together in perfect harmony.
The country is predominantly Buddhist and on Vesak Bochea, a single day celebration of Buddha's birth, enlightenment, and his passing into nirvana, the country hums with the sound of chanting and flickers with rays from floating lanterns. The date changes every year, so be sure to research before you go.
Ancient arts which originated in the Khmer kings courts such as ballet and puppet shows are enjoying a resurgence. Experience Travel Group can organise your visit.
You can fly to Phnom Penh and Siem Reap from Sydney, Melbourne, Brisbane, Perth and Adelaide with a single stop. Layovers are typically taken in Hong Kong or Kuala Lumpur.
There are no direct flights to Cambodia from Australia.