Read more...
The secret's out: Canggu is Bali's newest hotspot. A previously hidden corner of the island, Canggu (pronounced 'Changu' and sometimes referred to as 'The Gu') is a pocket of Bali just north of Seminyak, between Kerobokan and Echo Beach. With an emerging dining and bar scene, a number of newly opened luxury resorts and villas, and top surf beaches (of mostly volcanic black sand) it is becoming trendy Seminyak's main rival. But what Canggu has that Seminyak doesn't is an eclectic mix of Bali past and present, a landscape of lush rice paddies surrounding town, and a more mindful vibe with yoga retreats and health-conscious cafes. Another bonus: it's generally less expensive.
Life is slow and steady in Canggu. It's the type of holiday destination you come to chill – whether that be lazing on the beach, enjoying a cocktail at one of the local bars, or by joining a yoga class.
Surfing
Canggu's three main beaches offer some of the best spots in Bali for surfing. Echo Beach is suited to intermediate and pro surfers with powerful reef breaks on each side and a beach break in the middle. Berawa Beach consists of one long beach break and a few small reefs; it's also home to Finn's Beach Club, which offers night surfing. While Batu Bolong is the easiest spot of the three with slow and 'fat' waves, which are better for beginners, longboards and SUPs. Keep your eye out for surf schools on this beach, such as Bali Surf School and Mojo Surf.
Yoga
Yogis will delight in the many options to find their zen in Canggu, either with a casual class or a multi-day retreat. The Practice is a large, popular open-air studio that holds multiple classes per day that you can drop into without a booking, all equipment provided. Serenity is an eco-friendly guesthouse that hosts yoga retreats as well as casual classes daily in a setting that boasts rice field and mountain views. And The Chillhouse Yoga & Surf Retreat is a lifestyle retreat that focuses on your entire wellbeing, with yoga, surfing, body treatments and organic meals on the agenda during your stay.
Bars
Sure, the locals of Canggu have a penchant for health and wellbeing, but what's a holiday without a cheeky beverage? Pick a spot on the grass at The Lawn, which has a beachfront infinity pool, sun lounges and ongoing events such as live music and film screenings or enjoy a barefoot drink at La Brisa with its ramshackle-chic styling (if there is such a thing) and delicious Spanish cuisine. Take things down a notch at The Slow, an uber cool and calm spot by the Ksubi-label co-founders, for a drink with a bite from the seasonal and sustainably-driven menu (it also has some sleek accommodation options). Or for something a little more radical, make a beeline for Pretty Poison, a backyard-inspired bar with a Californian-pool-style skate bowl to 'shred' and even a tattooist on site. Find more places to enjoy a drink in our guide to Canggu's best bars and beach clubs.
A Canggu holiday is the perfect fusion of relaxation and activity – its beaches have long been a drawcard, its food and drink offering is thriving, there's a healthy dose of active pursuits from yoga to surfing to stand-up paddle boarding, as well as historical and scenic activities, and it's a shopper's paradise with ample boutique stores that would fit right in in Melbourne. Find out more in this 48 hours in Canggu guide.
Beaches
Just north of Seminyak, the beaches of Canggu are mostly volcanic black-sand beaches, but are popular for surfing and for the bars and restaurants popping up along the shores. Canggu's southernmost beach is Berawa Beach (great for intermediate surfing), next is Nelayan Beach (a calmer beach that is home to fishing boats), then Batu Bolong Beach (great for beginner surfers and cheap eats in local restaurants), Echo Beach (for more experienced surfers and home to more upscale bars), and Pererenan Beach (powerful surf, but usually a quieter stretch of sand).
Temples
Around 20 minutes' drive north of Canggu, you will come to Tanah Lot, one of Bali's most famous, and most important, sea temples believed to be protected by sea snakes. The ancient Hindu temple is built on a rocky landscape (much of which was restored with artificial rock in the early '80s) away from the shore, which can render it inaccessible in high tides. The most popular time to visit is sunset when it has a breathtaking backdrop. A little further north, Batu Bolong is another worthwhile temple to visit, sitting on a headland reached only by a naturally occurring rock bridge.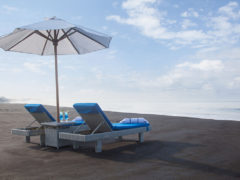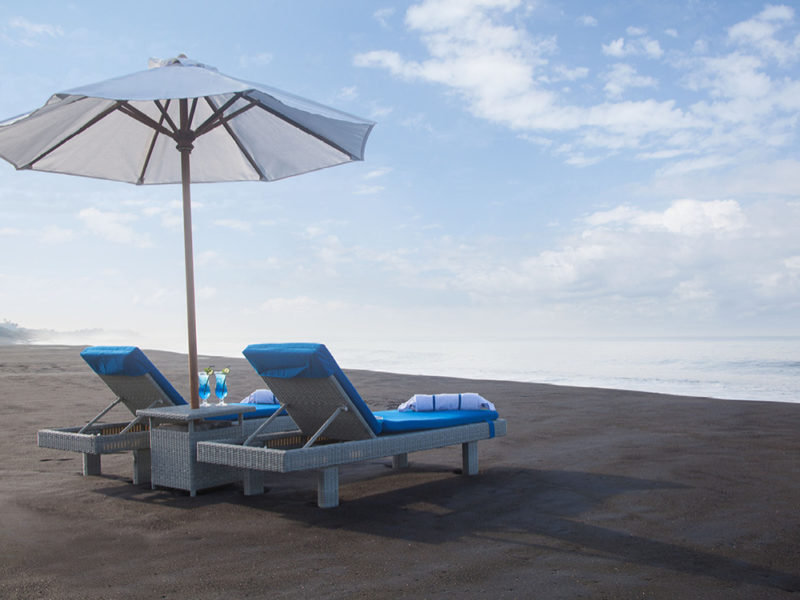 If you've done the regular Seminyak-Ubud Bali beach route and you're after something still beach-based but different, then loo...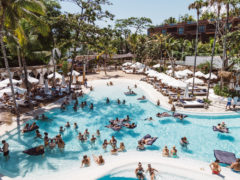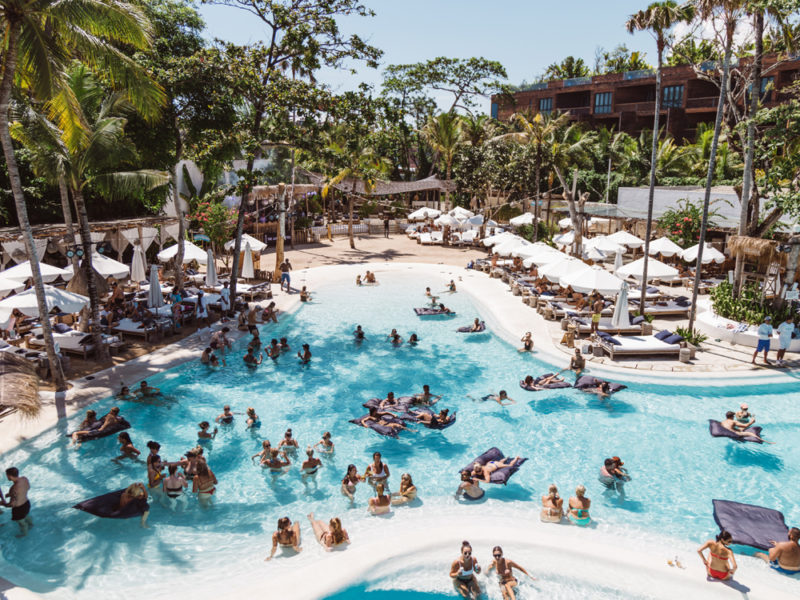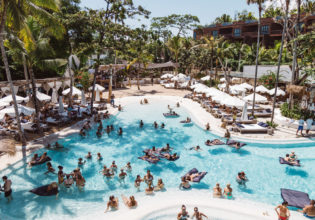 Impossibly beautiful scenery, laidback vibes and an Indonesian twist on the art of aperitivo are all the ingredients necessary to ...
While certainly not as saturated with luxury resorts and villas as other destinations in Bali, there are still plenty of accommodation options to suit every kind of traveller in Canggu.
Luxury Resorts
COMO Uma Canggu is the epitome of pared-back luxury – set on the beachfront, it has a range of accommodation options, from smaller suites to spacious three-bedroom penthouses boasting rooftop pools and butler services. There's also a kids' club, beach club, spa treatments and fitness classes. LV8 Resort Hotel is another beachfront property that has 124 modern hotel suites as well as one- and two-bedroom suites, some with pools; there is also a day spa, gym, beach club and restaurant.
Read our guide to the best luxury escapes in Bali for more places to stay.
Hotels
Located in town Frii Bali Echo Beach is an eclectic and affordable high-rise hotel with 77 rooms, a swimming pool, rooftop bar, restaurant, and massage service; Hotel Tugu, set just back from the beach, has a more authentic Indonesian style with villas, suites and bungalows set among gardens, as well as two restaurants and a spa; while the fun and funky Love Song Boutique Hotel in the heart of Canggu is a simple hotel with modern rooms, a pool and pool bar.
Villas
Architectural beauty Mandala has two large options in Canggu, The House and The Home, both expertly styled five-bedroom villas with spectacular views of the rice fields. The neighbouring properties can be booked separately or together and comprise pools, a swim-up bar, gym, library, theatre and wine cellar. Surrounded by rice terraces, Saba Villas has five fully staffed villas which can be connected to have up to nine bedrooms, while beachfront Impiana Private Villas is a one-hectare property with four unique villas, an infinity pool and private butler and chef.
You don't have to wander far in this up-and-coming district to find a host of premium labels, artisans and designers who have set up shop. Fashionistas will love The Locals, a men and women's fashion store stocking pieces by local designers; Haze and Glory, a quality clothing and jewellery store; and Bamboo Blonde, a women's lifestyle boutique.
Interior addicts should pop by Bungalow Living, which touts boho-luxe homewares in its two Canggu stores, as well as Cove Island Essentials, a carefully curated store stocking coastal-chic homewares and art.
Canggu is also home to must-visit markets such as Love Anchor, a weekend bazaar comprising stalls that sell everything from jewellery to craft, and La Laguna Gypsy Market, a Sunday market that showcases organic farm produce, eco-friendly products and artisanal wares.
Best Places to Eat in Canggu
The gastronomes have moved in and brought some unique and fabulous dining concepts and really good, quality cooking with them – from quick bites in cool and quirky settings to sophisticated dining rooms and artfully presented plates, there's something to satiate all tastebuds. If you're after something cheap and cheerful, try Lacalita Bar Y Cocina, a Mexican restaurant with a share-style menu, or The Loft, a farm-to-table café for healthy salad bowls, wraps and the like. Aussies missing their coffee will appreciate Little Flinders Cafe, which is also a great place for brunch. Or if you desire something a little more refined, head to Musubi, a modern Japanese kitchen with French influences, or Fishbone Local, a fine diner with a seafood barbecue-style menu featuring the freshest ingredients cooked simply.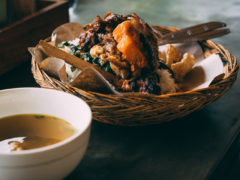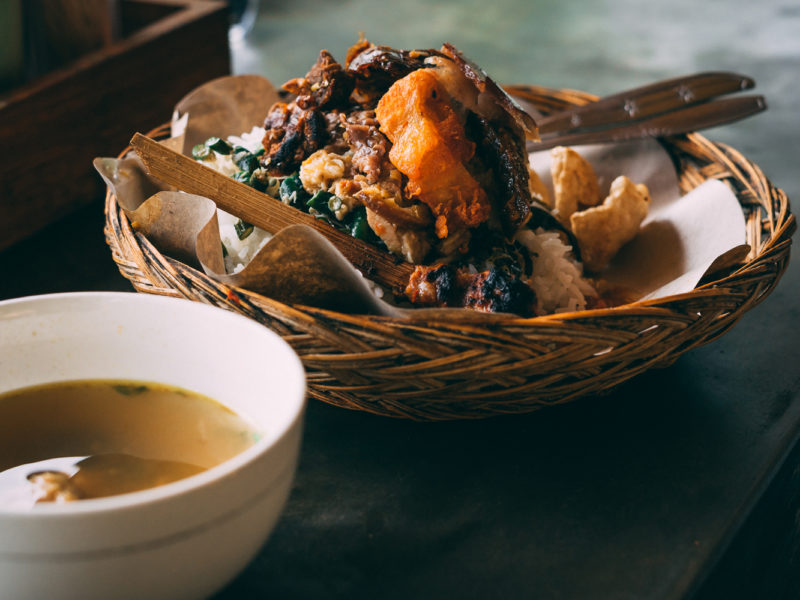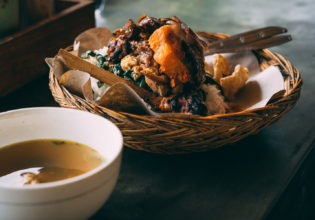 Balinese cuisine's unique blend of aromatic local ingredients, traditional cooking styles and western influences make it a must-vi...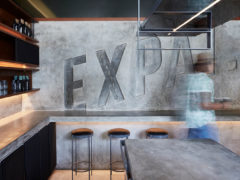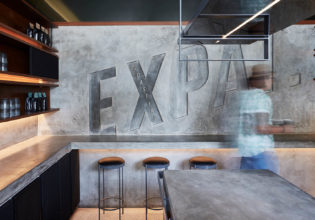 With an influx of Aussies setting up restaurants in Bali, is the island at risk of becoming oversaturated. Is it still worth visit...
You can visit Tanah Lot easily yourself but if you want to know more about this important sea temple, join one of the many guided tours available. Foodies are well catered for in Canggu with a number of Indonesian cooking classes and a dedicated Canggu Foodie Tours where you will visit the best local food spots on the back of a motorcycle. If you have an affinity to horses, there are several horseriding tours in Canggu, some that take you along the beach and others through the rice terraces. And while not a tour as such, Finns Recreation Club is an all-day attraction in Canggu, with pools and waterslides, bowling, a bounce trampoline centre, tennis and more.