Top 10 cafes and restaurants in Bali - for food AND photos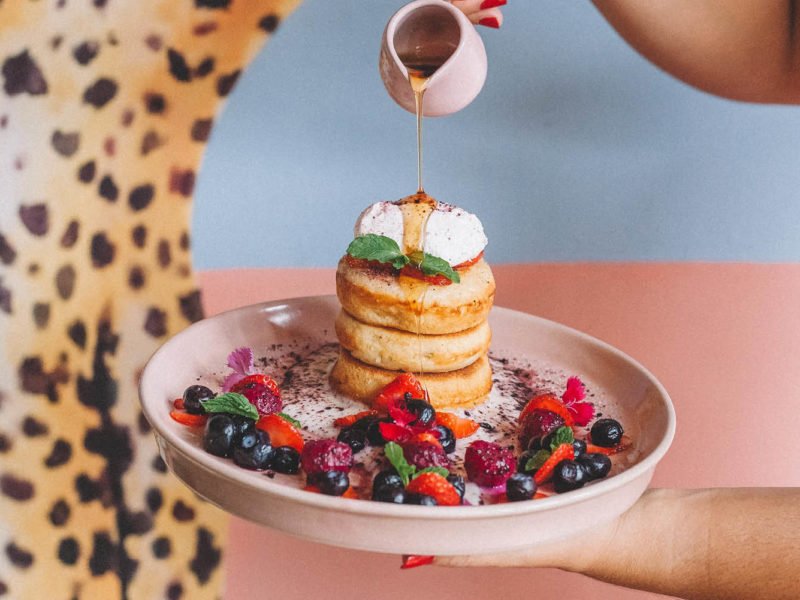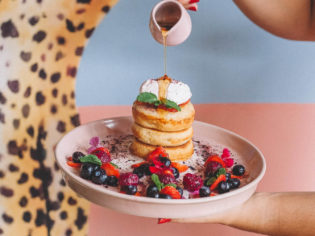 If travelling for you is as much about capturing the perfect foodie photo for Instagram as it is about experiencing a new place… then we've got the guide for you.
Did someone say selfie? Say Seminyak. This sassy suburb or district, as the Balinese like to call their different precincts, is one of the hottest when it comes to attracting Instagram's IT crowd. You might also like to chug on over to Canggu, which is proving popular too with those who like their pics just a little bit slick.
1. Revolver Espresso
It started out in 2011 as a 30-seater joint in Seminyak designed to serve great Australian coffee but has exploded into a 150-seat caffeine institution. And it's not only the best beans that draw happy snappers here but the ambience of this rustic roastery too, with its slick signage and floral pink walls. Feast on a funky all-day menu or dive straight into a breakfast espresso martini. There's also a Baby Revolver on Petitenget.
2. Coffee Cartel
Think pink at Seminyak's Coffee Cartel which blushes bright with this musky colour splashed all around and a sister joint at Legian. What's even cooler, it has now introduced a Ripple Machine which ups the ante on latte art with its ability to create any image or text atop your coffee. Munch on funky fare with a tasty twist such as the beef brisket rendang.
3. Motel Mexicola
As if Bali wasn't spicy enough, smack bang in the middle of Seminyak you'll find Motel Mexicola, which is a little slice of Mexico with all the vibes from its eclectic interior to its coloured tiles. Feast on food is full of colour and flavour, from esquites to tacos and tostadas. Sip on some fun and flirty drinks such as the requisite tequilas and margaritas, and if you don't capture a snap of yourself smoking a cigar from the reasonable selection here, did it even really happen?
4. Watercress
Byron Bay boys Pablo Fourcard and Jordie Strybos have turned their long-time friendship into a business partnership at this Kuta cafe, which aims to bring Australia to Bali. Focusing on sustainably sourced and honest dishes, get snap happy with food porn here from a memorable menu of pretty dishes like the Mahi Mahi burger with crispy capers and sweet marinated peppers.
5. Sea Circus
You can't miss Sea Circus, near a quiet corner in Seminyak, where Instagrammers queue to plonk on the pink bench chair outside framed by this crazy cafe. Inside, discover an aqua bar framed by comfy white bar stools, plus a colourful menu to match including new dishes such as the four crispy Balinese spiced tiger prawns, pickled palm hearts, with chilli and coriander for plenty of colour (not to mention the flavour).
6. Neon Palms
Given the success of Sea Circus, not surprisingly, it has a sister restaurant and you'll find that same signature perky pink bench outside Neon Palms, also in Seminyak. Make sure you check out the emerald green bathrooms inside before dining on a bold breakfast of Neon Benedict crafted with black truffle rosti, smoked bacon, poached eggs and hollandaise.
7. Milk & Madu
The proof is in the pudding and poke at Milk & Madu, which serves fun and funky food in both its Canggu and Ubud establishments. It's all about a tropical vibe here, with colourful creations that match the decor. Check out the bold breakfast bowls for some photos to make your followers all shades of green with envy. And while the pizza may not be the prettiest thing you'll ever see on Instagram, sometimes it's worth just eating your food, rather than photographing it, particularly when it's made on lava stone.
8. Da Maria Bali
It's all about bringing a little slice of Italy's Amalfi Coast to the Island of the Gods at Da Maria in Bali's Kerobokan district. You'll adore all the clean, crisp blues and whites of this venue with perky perches, eclectic events, late-night disco and fabulous food brimming with all the Italian flavours and fanfare, with great wines to match.
9. Tropicola Beach Club
Adorned with all the primary colours you'd find in a Lego set – fire-engine reds, sunflower yellows and bold blues – this Seminyak space is the latest to attract the Insta crowd. The first beach club for the Mexicola group, you'll find a club, restaurant, bar and pool here. Those chasing sunset snaps for their feed will adore the fact it's perched along Bali's Golden Mile on Batu Belig Beach and in pole position to catch the day's dying rays. The Porn Star Martini of vanilla vodka, passionfruit and prosecco ought to be worthy of its own Instagram page in itself.
10. Pablo's Canggu
You could be forgiven you were thinking you were in Colombia, not Canggu when you enter the vibrant venue that is Pablo's. It's got all those South American vibes here with splashes and sploshes of green, yellow, blue and red plus eclectic artwork galore. Strike the perfect pose on the tasteful tiled steps outside that signal you are in for an assault on the senses once you enter.
And a few 'floating' meal options worth a pretty pic or two…
Floating breakfasts have become all the rage in Bali recently (you don't float, rather you wade, but your breakfast does) and there's a growing list to choose from. For some spiffy snaps, check out:
• Ayana Resort and Spa at Jimbaran
• W Seminyak
• Ini Vie Villa, Kuta
• Kamandalu, Ubud
• The Royal Purnama Art Suites and Villas, Gianyar
• Samsara, Ubud
Read the ultimate travel guide to Bali for more on where to eat, stay and play on a trip to Indonesia.
LEAVE YOUR COMMENT