Where to Eat, Stay and Play at Kuta, Bali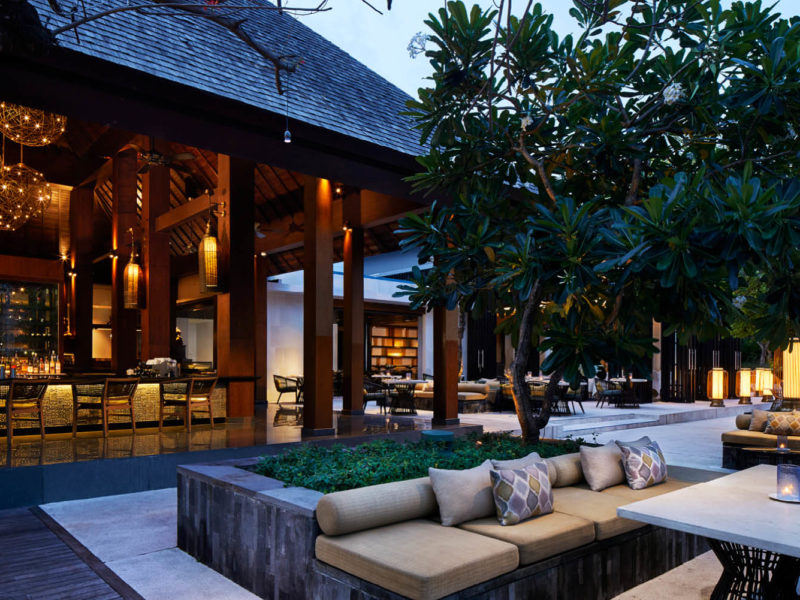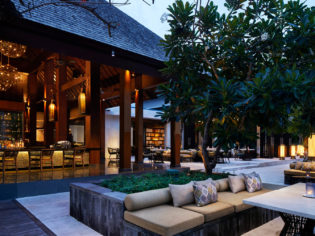 Hide Map
Where to find your cool and calm in Kuta, Bali's best-known tourist district.
Think Kuta, think Bintang bogans? Think again. While Kuta does attract its share of beer-swilling party animals chasing a good time on a budget, there do exist some oases of calm amid the chaos.
Eat
Kunyit
Kunyit, which means 'turmeric', is a fashionable Balinese restaurant attached to Anvaya Beach Resort and open to the public. Perch in this open-plan restaurant with its yawning ceilings and sip on a welcome drink of loloh cemcem – made from basil, cucumber and tamarind.
A lovely tradition here is where the waiter washes your hands over a clay pot with floral-scented water before you begin eating. The extensive menu is all Balinese and includes such delights as grilled duck with Balinese spices; Balinese clear free-range chicken soup; and fried oxtail with sweet chilli sambal, steamed rice and vegetables.
The resort also offers a weekly Indonesian cooking class to guests and a special seafood barbecue at Sands Restaurant that follows the daily sunset Bale Ganjur procession of traditional musicians to the beach, designed to clear the air of any bad energy.
Dijon
Amid crazy Kuta, it's easy to forget that real life goes on, particularly for the locals and expats who call Bali home. Enter Dijon, the island's first deli, which opened in 1999 in response to a growing demand for imported food that wasn't available on the island.
A couple of years later, Cafe Dijon was born, followed by Dijon Bali Catering 10 years on. But Dijon has never lost sight of its personalised service and even gives a discount to those who bring reusable bags.
Henry's Grill & Bar
There's something about Kuta that screams steak and one of the best places to indulge your inner carnivore is at Henry's Grill & Bar. Touting itself as Kuta's first fire-powered menu, Henry's is all about going hard or going home. Try the 900-gram bone-in rib eye in this dry-aged steakhouse.
Stay
The Anvaya Beach Resort Bali
A lazy, long driveway leads to a cluster of tasteful temple sculptures and the foyer of The Anvaya Beach Resort Bali, a 493-room hotel. It's far away from the madness outside and offers so many free activities for guests, they may never wish to leave.
Learn how to make wood carvings, flowering offerings, fancy fruit displays and even how to fold a sarong in 10 different ways. For those wishing to embrace tradition, there's a Balinese dance lesson and Indonesian language class, or the more active might prefer a cycling tour, aqua aerobics, volleyball or beach soccer at the resort's private beach. Laze by one of four pools or have a treatment in the Sakanti Spa. This hotel also offers one of the most diverse breakfast buffets anywhere in the world. Start your day here with a glass of jamu, a turmeric, ginger and tamarind health drink.
Amnaya Kuta
Not to be confused with the Anvaya, the Amnaya Kuta is an equally impressive establishment with three different kinds of rooms and three different types of suites. There are also plenty of activities on offer here including classes in painting, Balinese offerings, dancing and cooking.
Dine at Sukung restaurant on Indonesian fare, and indulge in a treatment at Bhava Spa including the last-day plan package for those who are leaving late at night.
Kuta Beach Heritage Hotel Bali
Nautical but nice is what it's all about at the Kuta Beach Heritage Hotel Bali, which sits near where the first Kuta hotel was built. There are 159 marine-themed rooms here which are designed around surfing, fishing and seafaring. Snatching pole position along Kuta Beach, the Rooftop Infinity Pool is a favourite with those who like a swim with their sunset.
Play
Kuta Beach Sea Turtle Conservation Center
Based on Indonesia's less-than-flattering track record on ocean pollution, it would be easy to dismiss this as a nation of environmental vandals. But there are pockets of hope amid the hedonism. Halfway around the Kuta Beach esplanade, you'll stumble across a giant structure of a turtle.
This is the Kuta Beach Sea Turtle Conservation Center run by 'Mr Turtle' himself, I Gusti Ngurah Tresna, a passionate volunteer and member of the Bali Sea Turtle society who established the centre 20 years ago. The chief of beach security wanted to stop the Balinese from killing and eating sea turtles, as well as from high tides and Kuta partygoers. With a team of volunteer rangers, they now block off the beach area at night during laying season (April to September) to allow the mothers to lay their eggs.
Tourists are invited to watch, for free, once the mother has comfortably begun laying her eggs. Then, the eggs are collected and protected for the hatchlings to emerge two months later. Bali once had three species of turtle – the green, leatherback and Olive Ridley – but now only has one, whose population is improving thanks to the work of Mr Turtle, who tags and releases the turtles.
Upside Down World
Just in case your holiday in Bali isn't topsy-turvy enough, you can add another dimension by visiting Upside Down World, a venue with seven rooms whose furniture and decor have been deliberately designed to create the optical illusion that you are on the ceiling, instead of the floor.
You'll love this wacky attraction and there's plenty of friendly staff to assist with taking photos that will leave your friends and followers gobsmacked.
Waterbom Bali
You haven't really experienced Kuta until you've been to Waterbom Bali, which markets itself as Asia's number one waterpark. And there is plenty to do here. Rides and attractions are rated from mellow to moderate to extreme, from Lazy Rivers to Fast 'n Fierce waterslides, all built to strict international safety standards.
This 3.8-hectare site also prides itself on being a green space, dedicating 50 per cent of the park to nature including a number of endangered species. Did we mention it's also home to Asia's steepest slide, The Climax?
The writer travelled as a guest of Wonderful Indonesia
LEAVE YOUR COMMENT