Read more...
We asked a wide array of locals in varied destinations across the globe – everyone from hotel owners to concierges to authors to museum curators to floral designers and more – to share their insights and tips on the places we Australians can't wait to get back to or visit for the first time once some semblance of normal returns to our lives. Here, you'll find all their tips curated into 107 Insider Guides to help you start dreaming and planning for a return to travel. Are you ready to get out there and see the world again? Read the below to begin.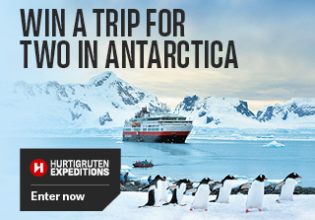 Win a trip for two in Antarctica worth over $20,000!
Sail to the frozen continent aboard the state-of-the-art MS Fridtjof Nansen. Spend your days searching for wildlife such as penguins, seals, whales and birds and join informative lectures. Valued at over $20,000!
Expert Expedition team

Ice-cruising and landings

The Expert Expedition Team will deliver in-depth lectures on a variety of topics
View More >
The best places to travel in 2021
Need more inspiration? From a curated list of all the hottest destinations to travel to in 2021 to more in depth guides and listicles on some of our favourite destinations around the world; keep reading to start planning your next trip.