Read more...
The sound of the imam calling the people to prayer as the sun rises over the minarets of Muscat and the smell of frankincense wafting out of Salalah's souks. The feeling of sand that's soft as talcum powder between your toes on its many pristine beaches and the unforgiving knife edge of the Al Hajar Mountains… welcome to our Oman travel guide.
Arguably the Middle East's best kept secret with a society that's still rooted in Bedouin values, Oman managed to avoid selling its soul during the oil boom of the last century. Its bewitching old towns and sleepy mountain villages still offer a taste of old Arabia, combined with a refreshingly outward-looking attitude to international visitors.
So where to start when planning your Oman adventure?
Here is our guide on the best things to see and do in Oman.
You can fly to Muscat, Salalah and Sohar from all major Australian airports with a single stop. Layovers are typically taken in Kuala Lumpur, Dubai or Abu Dhabi.
There are no direct flights to Oman from Australia.
With its savagely beautiful landscapes and fascinating blend of ancient traditions, there are enough sights in Oman to last a lifetime of trips. Get inspired by our list of things you need to know about Oman.
Step inside Muscat's Grand Mosque and you'll be walking on the second biggest hand woven carpet in the world. The space is big enough to hold 20,000 worshippers and it's a mind-blowing setting in which to learn more about Oman's unique branch of Islam, known as Ibadism. It's opening hours are 8.30-11AM every day except Fridays.
One of our top 10 things to do in Oman is to explore Al Jabal Al Akhdar (Green Mountain), which is so high it captures enough rain to nourish peach orchards and steeply terraced farms. Nearby, the hyper-traditional town of Nizwa hosts a livestock auction every Friday.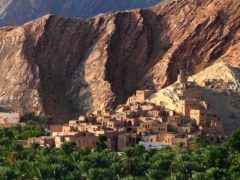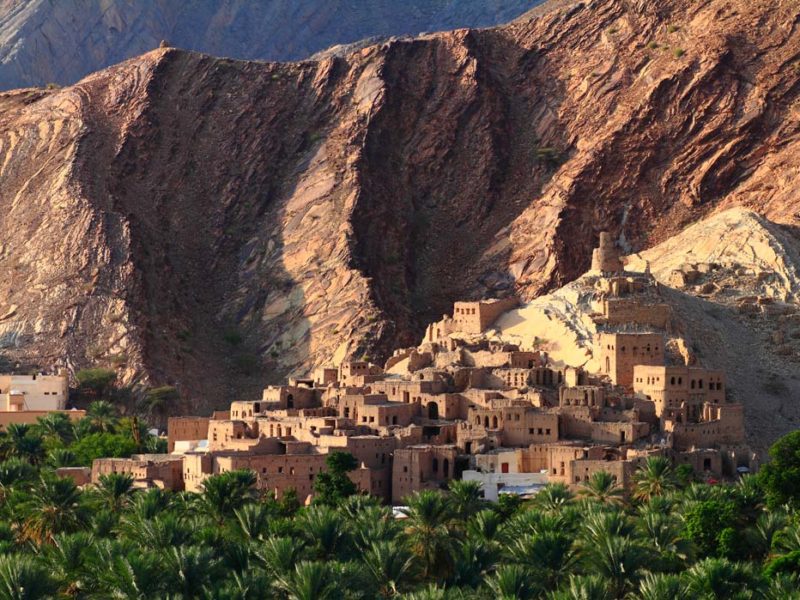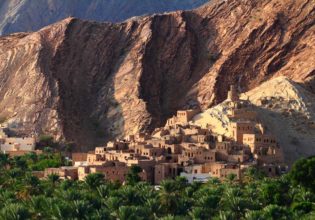 Oman may very well be the hidden gem of the Middle East. Standing with two strangers in a remote corner of an exotic land, hearin...
Best Places to Visit in Oman
From the dhow-building shipyards of Sur to the underwater wonderlands around the Damaniyat Islands, there is no shortage of incredible places to visit in Oman. Get planning your ultimate trip with our handy guide to Oman's most beautiful regions.
The best place to start your visit to Oman is Muscat. One of the world's most incredible cities, it boasts 900-year-old buildings and fascinating cultural treasures such as the Jalali Fort.
If you're looking for places that are near enough to Muscat to visit on a day trip, head to the Sharqiya desert, where Bedouin culture remains strong amongst the shifting sands of time. If you can extend your trip to spend a night in their camp beneath the star spangled sky, you'll be experiencing one of the best things to do in Oman.
The Musandam Peninsula is separated from the rest of the country by the east coast of the UAE and it very much has its own personality. It's khors are reminiscent of the Norwegian fjords and you can often spot dolphins playing in the periwinkle-blue water. A real hidden gem, it's one of our top places to visit in Oman.
Best Time to Visit
The best time of year to visit Oman weatherwise is between October and April, when temperatures are not too high and the green turtles begin hatching on the shores of Ras Al Jinz.
The sub-tropical city of Salalah experiences drizzle from India's monsoon from mid-June to mid-August, transforming the planes into a verdant oasis where Omani visitors gather to picnic on seasonal fruit beneath a thick layer of mist.
Oman's weather is warm all year round and it only becomes unbearably hot in the summer months between June and August.
Tours and Deals
In a country with such a unique culture and extreme weather, an Oman tour can be a fantastic way to delve below the surface and have meaningful interactions with locals.
Find the right operators and your imagination is the limit in Oman. Dive with whale sharks, tour the fearsome Empty Quarter desert, and go wild swimming in crystalline wadis shaded by date palms.
A hiking tour is one of the best things to do in Oman. Bike and Hike Oman offers a range of excellent itineraries that include visits to traditional villages around the Hajar mountains.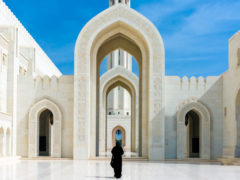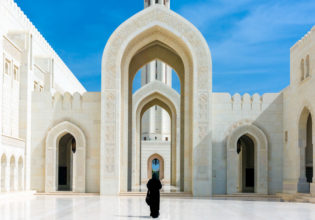 The otherworldly beauty of the Sultanate of Oman is not just found in its spectacular mountain scenery, but also its time-honoure...
Choosing Where to Stay in Oman
Like most things in Oman, hotels are hugely linked to the landscapes in which they are built.
Does a tented desert camp in the Wahiba Sands appeal, or a stone lodge perched like a luxurious eagle's nest amongst the Al Hajar mountains? How about your own private apartment in Muscat or a romantic retreat on the shores of the Arabian Peninsula?
Whatever hotel you're dreaming of, you're sure to find it in Oman.
Luxury Accommodation
Given that it has been ruled by sultans for more than 270 years, it's no surprise that Oman does a mean line in regal opulence.
One of the most glamorous hotels of the lot has to be Shangri-La's Barr Al Jissah resort and you can read our full review here.
You'll be able to spot the turrets of the Al Bustan Palace long before you pass through the enormous gates. This vast property once belonged to Sultan Quboos and the signature treatment in its spa is a 24 carat gold facial. Enough said…
Boutique Hotels
Some of Oman's hottest hideaways are boutique options that combine plenty of character with cutting edge design.
Styled on an Omani fort, the Anantara Al Jabal Al Akhdar is a mountain-top playground perched on the edge of a dramatic gorge. Soak up the views from its infinity pool and feast under the stars at the terrace restaurant.
Nestling in a jaw droppingly beautiful private bay on the Musandam Peninsula, the rooms at Six Senses Zighy Bay are in indigenous-style stone houses, many with private plunge pools.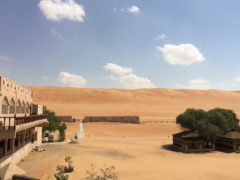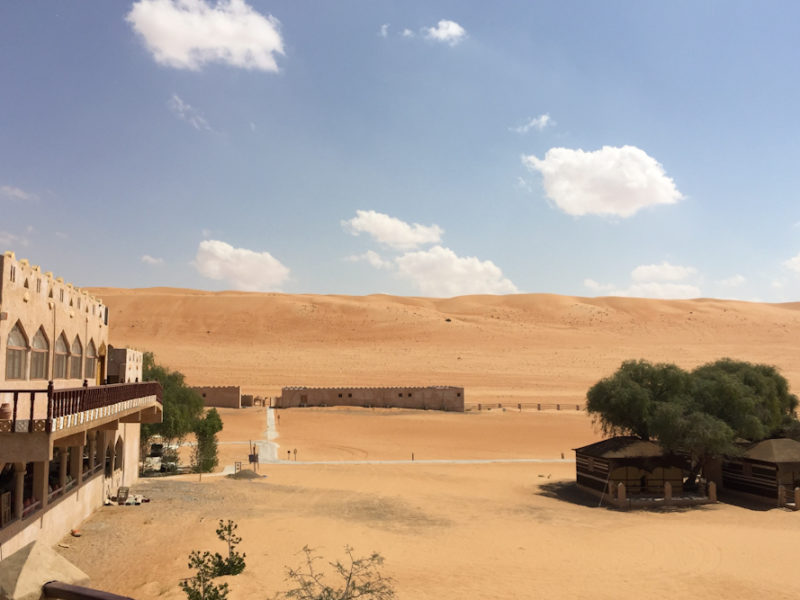 What's it like to move your family all the way across the world to Muscat, Oman? One expat gives us an insight on the best bits a...
Before the discovery of oil there was no restaurant culture in Oman, and locals still follow the medieval Arabic tradition of feasting on enormous quantities of meat at banquets. Attending these one of these decadent events has to be one of the best things to do in Oman at night, but there is plenty more to get your taste buds tingling.
Kargeen Caffe has a huge terrace which buzzes most evenings with people smoking hookah pipes and tucking into lamb shuwa, the national dish.
Head to Al Hosni Omani Sweets to sip bitter local coffee paired with halwa, a gelatinous sweet flavoured with saffron and rosewater.
With its colourful fusion of Arabic, Bedouin and East African culture, Oman is guaranteed to fire your imagination and capture your heart.
Despite its rapid embracing of modern day living since the 1970s, when Sultan Qaboos bin Said came to the throne, traditional Omani culture is obvious in everything from the dishdasha (a collarless gown) worn by the men, to the food.
As a visitor, it is respectful to be covered from neck to ankle in loose fitting clothes and to only wear swimsuits at the beach.
Explore More Of The Middle East