Read more...
The medieval alleyways of Fez and the great stone folds of the Atlas Mountains, Marrakech's spice-scented souks and the vast emptiness of the Sahara Desert, where Berber clans still follow a nomadic lifestyle… Morocco is an eclectic country, and break break it down in our Morocco travel guide here.
A fascinating blend of European and North African culture, it's epic landscape looks like it has been moulded specifically for adventurers, with its four mountain ranges, rugged coastline and ancient villages nestling between olive groves. There are so many must-visit places in Morocco, you may find yourself plotting your next visit before you've even gone home.
So where to start when planning your Moroccan adventure? Here are our picks of the best things to see and do in Morocco.
Whether you prefer to spend your time admiring the intricate tiles that coat the minaret of Casablanca's Hassan II Mosque or catching a show at the Jemaa el Fna theatre in Marrakech, there is no shortage of cultural things to see in Morocco.
Get off the beaten track in Chefchaouen, also known as the blue city, which crouches like a sapphire among the high peaks of the Rif Mountains. Whet your appetite with our quick guide to its greatest treasures here.
One of the top 10 things to see in Morocco has to be Fez's medina, where romantically crumbling Moorish buildings jostle for space with working tanneries and carts drawn by donkeys.
Equally entrancing, and far less hectic, is sipping a sweet mint tea prepared by a Berber guide as you watch the sunrise over the golden peaks of the Erg Chebbi sand dunes.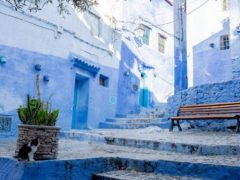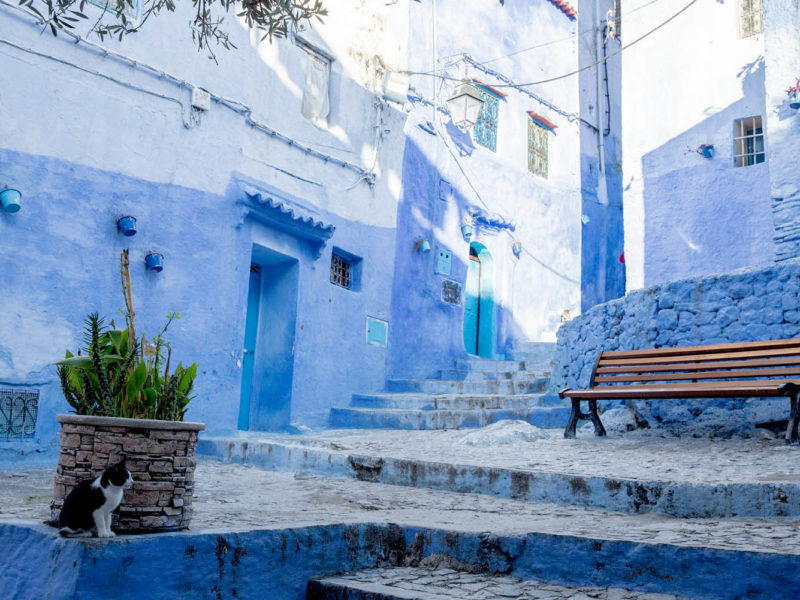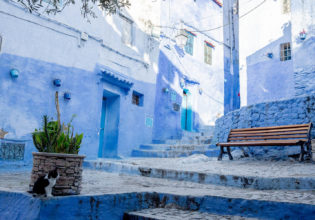 Deep in the Morocco's Rif Mountains is a blue city with labyrinth-like streets that is nothing like you've seen before. Here are s...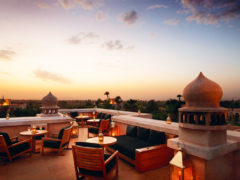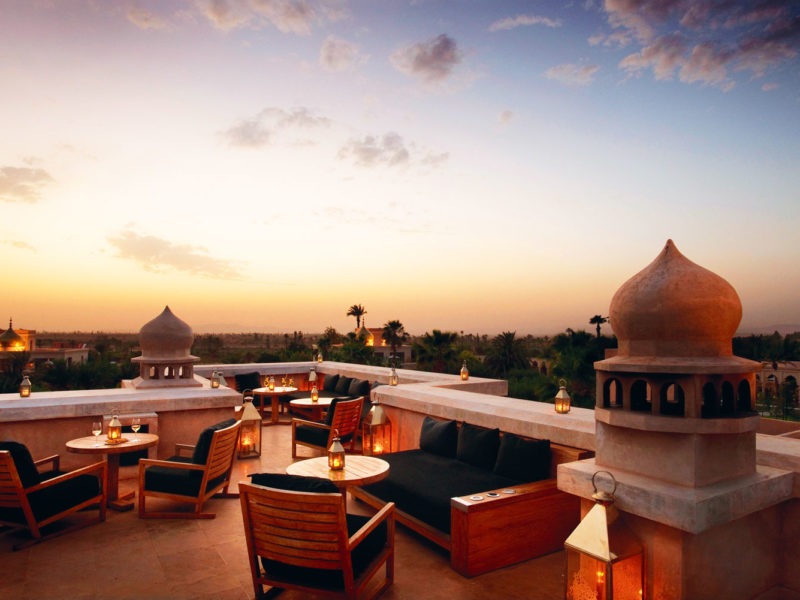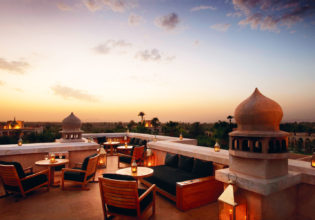 We go inside what may just be Morocco's most lavish stay yet... (more…)...
Best Places to Visit in Morocco
In a landscape that varies from ferocious swathes of desert to lush valleys nurturing rose farms and golden beaches, the best places to visit in Morocco will depend entirely on what sort of holiday you're after.
If winding streets that lead to souks filled with the smell of incense and Instagram-perfect interiors moodily lit by Moroccan lamps sound like heaven, opt for an urban break. Marrakech Tangier, Rabat and Meknes are all among the best cities to visit in Morocco.
Looking for adventure? Immerse yourself in the ethereal beauty of the Atlas Mountains, where you can climb to the top of Mount Toukbal, the highest peak in North Africa, and wander at the mysterious cave paintings among the foothills of Jebel Saghro.
To combine the best of both, head to a hip surfer town such as Essouria and Taghazout, where you can spend your days riding the waves and your evenings lounging on silken cushions on a stylish roof terrace.
Best Time to Visit
The best time to visit Morocco depends on which areas you are most drawn to.
The winter months are from November to February, so if if you're considering visiting then and would like warm weather, stick to the south. Higher ground and the High Atlas in particular are often covered in a mantle of snow from November onwards.
Between June and August, the country experiences its big summer burn and holidays in the Sahara become an endurance test. The seaside cities that cling to the Atlantic coast are a good bet at this time of year. Casablanca is one of the best places to visit in Morocco in August.
In the spring months of March, April and May the air in the Skoura Oasis is thick with the smell of roses and the countryside becomes a kaleidoscope of almond blossom and scarlet poppies.
The weather in Autumn is equally comfortable, making this a top season for mountain hikes and desert adventures.
Tours and Deals
Does driving La Route du Coeur in a vintage car sound appealing, or trekking across the desert on camelback? How about soaring over the Atlas Mountains in a hot air balloon or tasting your way around Tangier's souk? A small group tour can be one of the best ways to experience Morocco and there are countless options to choose from.
It's fiery food and fascinating fusion of African, Arabic and Berber cultures may make it feel like another world, but Morocco is actually just an hour's ferry from Spain. Lots of companies actually offer Spain, Portugal and Morocco itineraries that take barely more than a fortnight, so you can experience the best of the Mediterranean and North Africa in one. Try Cosmos or Intrepid.
From chaotic towns to rolling farms and mountain villages, warm hospitality is the golden thread that binds Morocco's culture together. At tea time, there are always more glasses on the table than people in the house and a store owner will often produce a plate of pistachio biscuits to make the haggling process a little sweeter.
Whether you choose to bed down in a hilltop kasbah (walled fortress), splash out on a luxury hotel such as the Palais Namaskar or rent a room from a local family, a warm welcome is guaranteed. Take a closer look at your accommodation options here.
Traditional Guesthouses
One of the most interesting things about Morocco is its riads.
These medieval mansions that once belonged to wealthy Arabic locals are always found in the heart of the old town, and are built around a courtyard garden that's typically shaded by an orange tree and cooled with a decorative fountain. Rent them by the room, or live your Arabian dream and take the entire house.
Riad Kniza is one of the most enchanting in Marrakech, while Essaouria's Dar Maya boasts a rooftop hot tub and traditional hamam.
Desert Camps
What better way to feel connected to Morocco's past than by spending a few nights in a desert camp, as the Ait Atta people have been doing for literally thousands of years?
To immerse yourself in the culture of Morocco and be sure you're sharing your experience with no one but the animals, opt for a mobile private camp such as those offered by offered by Natural High.
If you prefer your camping trips to involve en suite bathrooms and beds draped in handwoven fabrics, try the Desert Luxury Camp which enjoys a prime location amongst the apricot-coloured peaks of the Erg Chebbi desert.
Seaside Accommodation
It boasts both an Atlantic and Mediterranean coast and miles of golden beaches, so it's no surprise that some of the best places to stay in Morocco are on the sea.
We love the sleepy resort town of Oualidia, which is famed for its flavoursome oysters and stylish hotels such as La Sultana.
To combine culture with plenty of towel time, opt for the six-mile stretch of sand in Agadir. The ultra-luxe Sofitel Agadir Royal Bay ResortSofitel Agadir Royal Bay Resort has plenty of local character as it's built in the style of a traditional kasbah.
Best Places to Eat in Morocco
The Romans, Arabs, Spanish and French have all snatched Morocco from each other over the last 2,000 years and each has left their distinctive mark on the food scene. So, what exactly do people eat in Morocco today?
Couscous is the national dish and is traditionally enjoyed on Fridays. Try it with vegetables or chicken at Cafe le Studio, located in Marrakech's colourful Yves Saint Lauren Museum.
Another key food to eat in Morocco is tagine. These stews, slow-cooked over an open fire in clay pots, have their roots in the Berber tradition, and as you use chunks of bread to scoop out tender beef flavoured with lemon and olives it's easy to make believe that you are in a desert camp in the Sahara.
Terrasse Bakich serves a very traditional version alongside sweeping views over Marrakech's medina.
Cultural Experiences Morocco
Morocco's culture is as rich and colourful as the handwoven rugs in Rabat's market. Expect strict etiquette, carefully preserved traditions and festivals that have been celebrated since ancient times.
Religion plays a major role in daily life, and the sound of the imam calling the people to prayer still echoes hauntingly five times a day through the old town of most cities. Get a sense of religion's role in shaping the country with a guided tour of Ben Youssef Medersa, a staggeringly beautiful 16th century Koran school.
The pink-hued village of Tafraoute nestles in an oasis of almond trees among the barren granite of Tiznit province. Visit during February to experience the almond blossom festival, without doubt one of the most beautiful things to see in Morocco.
It's possible to fly to Casablanca, Marrakech, Fes and Rabat with a single layover from all major Australian airports. Layovers are typically taken in Dubai or Doha.
There are no direct flights to Morocco from Australia.
More destinations to explore near Morocco