Read more...
There are so many ways to describe Ireland. With sweeping, rich green landscapes, dotted with white sheep, and beautiful vistas, Ireland is one of the friendliest, cheeriest places in the world. Also known as the Emerald Isle, thanks to the lush greenery and rolling hills, Ireland's past is dotted with wars and violence making it an intriguing place, full of history, culture and charm. Welcome to our Ireland travel guide.
With picturesque villages, stunning waterways, and an abundance of bars and restaurants, uncover the magic that is Ireland.
Best time to visit Ireland
As with most countries around the world, summer is peak season in Ireland. If you want to get the most out of your days, June through to August is the time to visit – the days are longer so you have more time to explore, the temperature stays warm without getting overbearingly hot. However, if you're looking to avoid the crowds and the higher prices, autumn and spring are excellent times to visit. While it will rain, generally, the wet weather won't stick around for too long, and it's most definitely not as cold as it gets during the winter months.
There are, of course, other elements to keep in mind. March, in Ireland, is filled with events, including St Patrick's Day which is a spectacle if you're up for all the celebrations. There are areas around Ireland that actually hold week-long festivals around St Patrick's Day so bear this in mind when booking. There's also the Dublin Fringe Festival that takes place in mid-September and the Cork Folk Festival in October. These are fascinating events to partake in.
Tours and deals
Whether it's a self-drive road trip, a guided coach tour or flying between places, there are many options for tours around Ireland. When looking at what tour to book or what deal to take advantage of, there are a couple of things you need to consider. While of course, there is price and budget, you also need to think about what kind of trip you want. If it's the highlights you're after, there are an abundance of touring options and deals you can get along the way.
If it's off the beaten track, heading into the lush countryside, driving is probably your best option. Distances are short, the road system is excellent and the views are simply remarkable.
Within the cities, there are also walking tours you can do which often reveal the best, and least known, places to explore.
Most Northern Point of Ireland: Malin Head
As the winds swirl and the waves crash, you'll feel as if you've reached the end of the world. Malin Head is the most Northerly point of Ireland and was used during many wars for military watchtowers and signal stations. The roads to get up there are incredible and the view is most definitely worth the trip. As a tip, the peninsula is also one of the best places in Ireland to see the northern lights.
Most Southern Point of Ireland: Brow Head
You've gone north, you may as well go south too. Brow Head is the most southerly point, with fantastic views. The narrow road winds its way up to the cape where, at the top, the ruins of a watchtower remain. If you feel like exploring, there are also a few houses surrounded by pastures that have long been abandoned.
The Dingle Peninsula
A walker's paradise, the Dingle Peninsula is dotted with rewarding walks and challenging hikes. Often referred to as one of the most beautiful places in Ireland, the beauty of the Peninsula will really leave you breathless. The peninsula stretches 48 kilometres along the south-west coast. Steep sea cliffs with sandy beaches, it really has something for everyone.
Killarney National Park
History and heritage, walking trails, nature, wildlife, traditional farms and a spectacular castle; there's so much to explore in the Killarney National Park. It was the first national park in Ireland and has since been expanded to include more than 25,000 acres of ecology. It's also home to the most extensive area of natural oak woodland in Europe. Definitely take some time to visit the Meeting of the Waters, where the Upper Lake, Middle Lake and Lower Lake come together – it's unbelievably tranquil.
Cliffs of Moher
Awe-inspiring view, nature at its wildest. The Cliffs of Moher are a series of rugged cliffs and are often referred to as Ireland's most spectacular natural wonder. Located on the west coast of Ireland, the drive to the Cliffs is almost as exquisite as the Cliffs themselves. The route along the Cliffs is one of the top 10 cycling routes in the world and they also make for a beautiful walk – just bear in mind that it's 20km long so you need to be adequately prepared.
Giant's Causeway
One of the most unique rock formations in the world, Giant's Causeway is located on the beautiful Antrim coast, Northern Ireland. A UNESCO World Heritage Site, the Causeway is made up of about 40,000 interlocking basalt columns created as a result of an ancient volcanic eruption. However, legend has it that the columns are actually the remains of a causeway built by the Irish giant, Fionn mac Cumhaill, hence the name.
Peace Walls: Belfast
The city's violent conflict is often referred to as The Troubles, especially by the locals. More than 3500 people were killed and about 50,000 people were injured. The walls that separated the warring Catholic and Protestant groups are still standing. Many of the walls now have gates, allowing for passage between neighbourhoods, however these are generally locked at night. While some areas have committed to removing all the walls, the first to be demolished was on Crumlin Road in 2016. Previously a peace-keeping measure, the walls are now a popular tourist site covered in wall art.
Guinness Factory
Learn how to pour the perfect pint at the original Guinness Factory in Dublin. It's currently Ireland's number one tourist destination, where you can pour yourself a cold one while you learn the history of Ireland's famous drink. It's an excellent day out!
The oldest bar in Ireland, and the world
Sticking to the theme, the world's oldest bar, Sean's Bar is located in Athlone. Dating back to 900 AD, the bar was once owned by Boy George, as stated by records that name every owner of the pub dating back to its founding. During renovations, it was found that the walls were once made of wattle and wicker, and old coins have also been found, dating back to the bar's founding.
Old Library, Dublin
Located in the heart of Dublin City, walking into the Old Library transports visitors back to the 18th century. The Book of Kells, created by monks around 800 AD, is a breathtaking manuscript of the four Gospels of the New Testament. Also impressive is the Long Room, which houses the library's oldest volumes.
Have you ever thought about staying in a lighthouse? What about a ring fort where you can experience life in medieval times? How about a castle, or a yurt or even a gypsy caravan? Ireland is filled to the brim with unique accommodation options. Don't worry though, there are also traditional hotels, motels and guesthouses if that's what you fancy. And of course, it also depends on your budget.
When choosing where to stay, you also need to consider what style of accommodation you're looking for and what area you'll most feel comfortable. While there are plenty of options in the hub of the bigger cities, if you're after something a bit quieter, it's probably a good idea to look at the different neighbourhoods. What's lovely about accommodation in Ireland, however, is that most of the hotels blend in with the traditional architecture, whether it's in the city or the countryside.
Best of Ireland's beachside stays
While most people associate Ireland with rolling, green hills, there are plenty of beaches as well and some beautiful beachside accommodation options too.
Gorman's Clifftop House
Situated near Smerwick Harbour on the Slea Head scenic drive and Dingle Way walking route, the Clifftop House is welcoming and laid-back with superb views. The sunsets, especially, are beautiful on a clear evening. Enjoy home-cooked dinners, notable for the fresh, local fish, while you relax and unwind.
Parknasilla Resort and Spa
Overlooking the waters of Kenmare Bay, there's pampering, exploring, walking trails and water tours to enjoy. The resort enjoys a prime position on the Wild Atlantic Way, the Ring of Kerry and the Beara Peninsula. There are also plenty of options when it comes to accommodation, from staying in a room or suite in the main hotel to booking your very own self-catering lodge or villa.
Ardagh Hotel
A boutique, coastal hotel at the edge of Ardbear Bay, the views are beautiful, even if the weather is wild. Guests can enjoy panoramic views of the seaside in the family-owned 20-bedroom hotel from the common areas as well as from the bay-view rooms. The hotel is also situated just a 15-minute drive from the Connemara National Park and Kylemore Abbey so there's plenty to do around the area.
Cliff House Hotel
Sorrento-style glamour on the south-east coast of Ireland, every room or suite of the Cliff House Hotel has water views. The hotel is just an hour's drive from foodie haven, Cork and Waterford airports and there are moorings for yachts if required. Explore the beach, traditional music and thatched cottages of Ardmore, as well as the nearby seaside market in Dungarvan.
Delightful cottage stays
Staying in a cottage can be an enchanting way to immerse yourself in the traditional Irish culture. Best of all, they're dotted all around the countryside so there's definitely no shortage of choice.
Fuchsia Cottage, West Cork
Gorgeously renovated and a great base for activities in the Wild Atlantic Way area, Fuchsia Cottage is a traditional farm house with all the creature comforts of home. It's about a 10-minute walk from the centre of Drimoleague, however, you'll feel like you're in your own little world, surrounded by meadows and hills. Truly charming.
Earls View
With the feel of an old Gothic home, Earls View is a stone's throw away from a sandy cover and set in beautiful landscaped gardens with views of the Twelve Bens mountain range and Moyrus Bay. The lobster fishing village of Carna is nearby and walkers will be truly spoilt with beaches, roads and mountains to explore.
Decoy Country Cottages
Ideal for a family holiday, there is an on-site play area and games room, at Decoy Country Cottages, located in the rolling countryside near Navan. It's a central and convenient location to a variety of tourist destinations. The complex has eight cottages all facing a beautifully landscaped courtyard. There's even a day spa on site so you can rest and relax after a long day touring.
Top hotels in Ireland
Of course, Ireland also offers traditional hotels, with their own independent charm.
Ballyfin
One of Ireland's finest country houses has been resorted back to life as a luxurious hotel. Located in the heart of Ireland, the surroundings encourage relation while still being in close proximity to train stations and big cities, including Dublin. If you want to feel like you're on the set of Downton Abbey, head to Ballyfin.
Powerscourt Hotel Resort and Spa
Another secluded option, the Powerscourt Hotel offers sweeping views across to the Sugar Loaf Mountain with Enniskerry village just a 10-minute walk away. Central Dublin is also just 40 minutes away by road. It's grand in style with a relaxed atmosphere and the rooms are massive.
The Merrion
With an unbeatable location right in the heart of Georgian Dublin, the Merrion is an excellent base to explore all the tourist spots. The hotel combines old and new impeccably and boasts an excellent collection of Irish art.
River Lee Hotel
In the heart of Cork's historical city centre, The River Lee Hotel has a designer vibe while still staying true to the area. All of Cork's attractions are nearby so it's the perfect spot to base yourself to explore.
What to eat and drink in Ireland
Eating in Ireland often means a mixture of the different cultures that make up the country. The cuisine is mainly influenced by the available crops and animals that are farmed. Of course, the most famed option for food is, obviously, the Irish stew.
If you're in western Ireland, the area is well known to have the best oysters, especially those harvested in Clarinbridge. The area even has an international oyster and seafood festival which features shucking championships. On the topic of seafood, it's also good to try cockles and mussels in Dublin. Additionally, while often regarded as a delicacy in other countries, salmon is one of the most common fish in Ireland and often a staple in many kitchens. So enjoy it in all varieties – fresh, smoked or fried.
Soda bread is a recipe that is passed from parent to child for generations. Leavened with baking soda, rather than bread, soda bread is a form of quick bread and many will put their own twist on the traditional recipe.
When it comes to meat, traditionally beef and lamb are the most popular options due to their availability. However, enjoying a traditional baked ham is also a must. Coated with sugar and dressed with cloves, the ham is baked until crisp. It's served with boiled cabbage and potatoes.
Speaking of potatoes, it's a well-known fact that Ireland has a lot of them. Colcannon is a dish purely focused on the humble potato, usually served as a side dish. It's a mixture of mashed potato, cabbage, milk, butter, salt and pepper.
Finally, if you're in Dublin on a Saturday night, you'll probably find that many people around you are enjoying Dublin Coddle – common for Dubliners to eat before they hit the town. Chopped sausages and bacon are cooked together with onions and potatoes in beef stock.
Cultural Celebrations in Ireland
For some tourists, being in a city or country during cultural celebrations is an excellent way to get a genuine feel for the country. For others, though, they'd prefer to avoid the crowds.
St Patrick's Day
The most well-known celebration is St Patrick's Day, celebrated on 17 March. While originally it celebrated the fact that the Catholic St Patrick expelled all the snakes from Ireland, it has now morphed into a celebration of Irish culture, language and arts.
Bloomsday Festival
Honouring James Joyce, one of Ireland's most famous authors, the Bloomsday Festival happens every year on 16 June to celebrate his life and writings. There is significance to the date, being the day in which Joyce's classic novel, Ulysses takes place. The festival involves reenactments, performances, readings and breakfasts based on cuisines featured in the novel.
Samhain
Known as the Celtic roots of Halloween, Samhain is also celebrated on 31 October and serves to mark the end of the harvest and the beginning of winter. The origins of the day lie deep in Irish mythology, thousands of tourists and locals will gather in the street to watch a parade and generally there are fireworks following. Adults and children alike will dress up to celebrate.
Christmas
It's a grand celebration in Ireland that generally lasts from Christmas Eve right through to the first week of January. However, many people will start celebrating Christmas as early as the first week of December. There will be singing choirs and street musicians around and the majority of the Catholic population will attend midnight mass on Christmas Eve.
Ireland really is a unique country and intriguing place to visit. With its rolling, lush landscape of the countryside, contrasted against the traditional hustling and bustling cities, there's something for everyone to enjoy.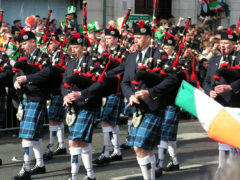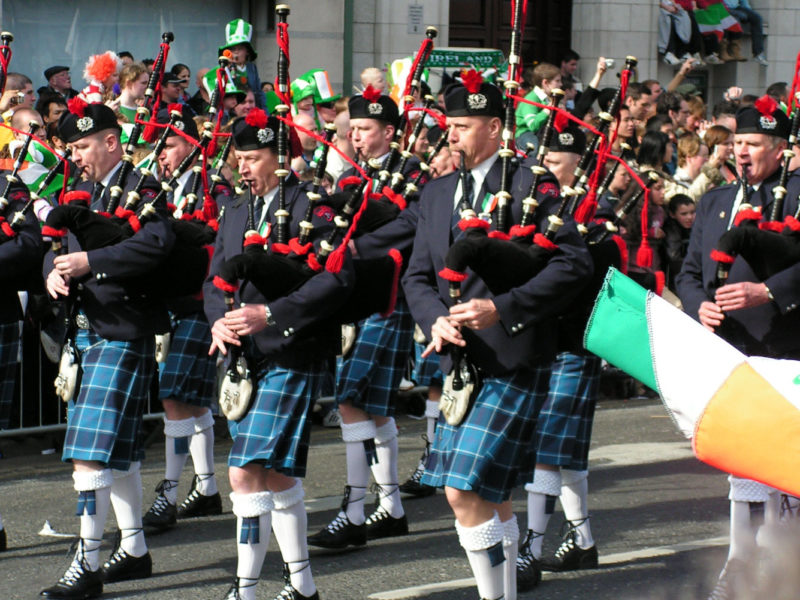 As the heart of St Patty's festivities, Dublin boasts more ways to celebrate March 17 than shamrocks in a clover field. To make ...