Review: The Marker Hotel, Dublin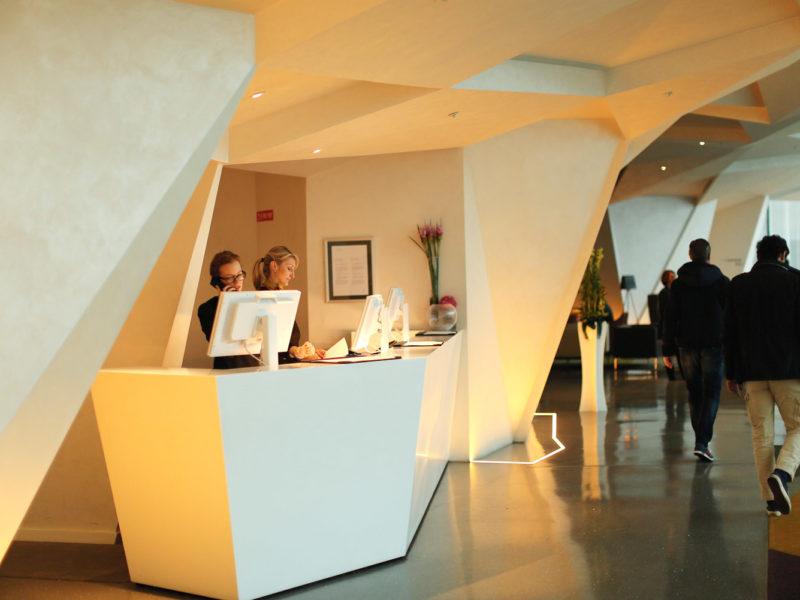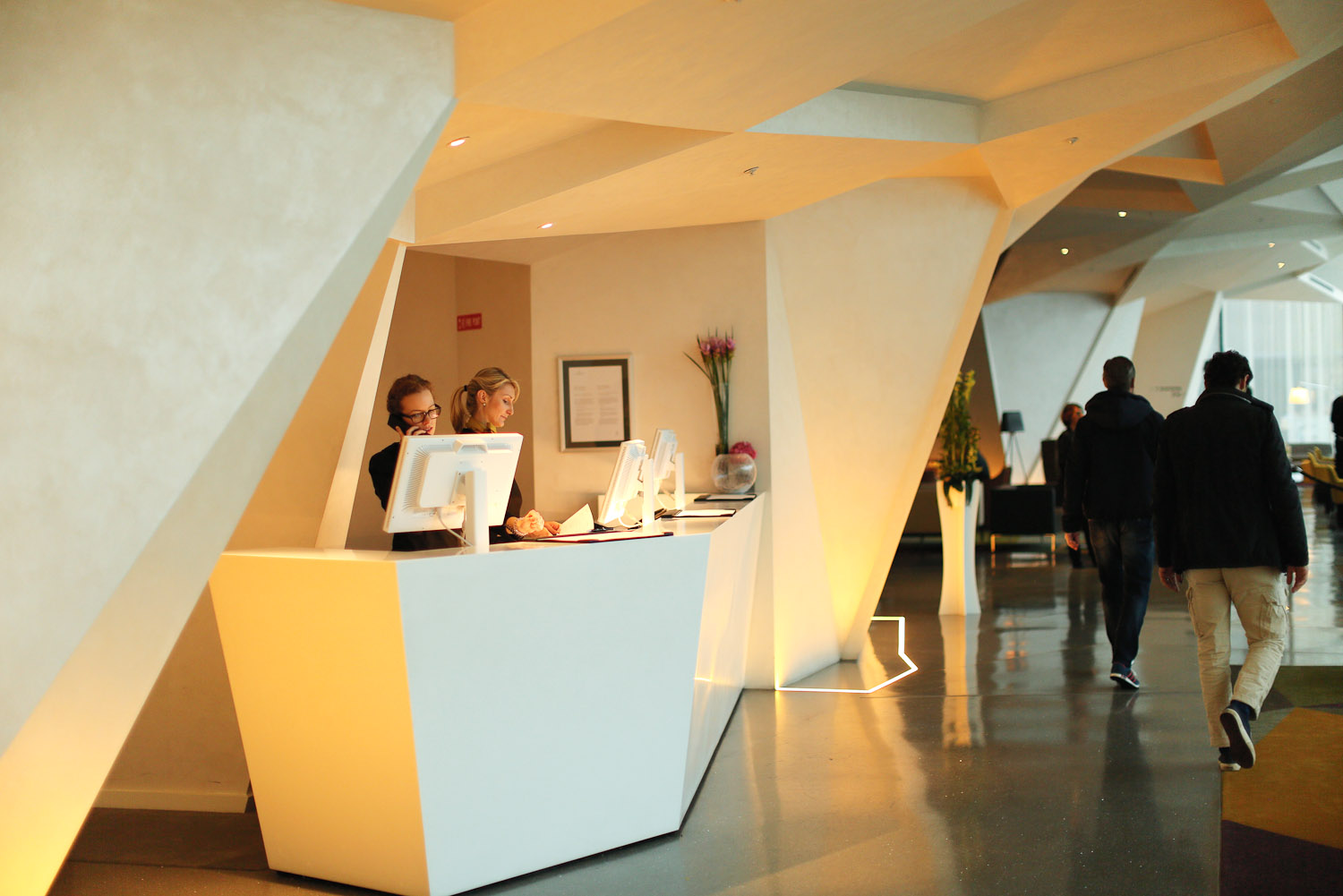 Dublin has a fresh, modern face in its Docklands area, home to an exciting new hotel scene. Words Jennifer Pinkerton
There's something unsettling about this scene change.
One minute I'm in a state of huff and puff, dragging my suitcase across cobblestone paths (letting a few cuss words fly if I'm honest: Why didn't I catch a cab? Where's my inhaler?). The next I'm standing in a universe of 'new'.
There's a bridge that looks like a 22nd-century harp. There are buildings made of black glass. There are crops of industrial art. This is Dublin's Docklands, two kilometres from the city centre – a place of business, new architecture, new hotels.
Everything, and I mean everything, about The Marker is new. Arriving feels like entering a fresh-made aeroplane, designed by someone like Marc Newson.
The staff are New World, too. Its members hail from India, China, Poland, Australia and America. They're even dressed like air hostesses: think neck scarves, neat hair and neutral-toned suits.
'Robert' greets me at the glass sliding doors and glides my suitcase to reception. Gracefully, he passes me to 'Inje' who calls me Miss Pinkerton several times. She hands me a slickly designed map and returns me to Robert.
Minutes later, check-in choreography now complete, I'm in room 405 and peering outside at a futuristic kids' playground made from sand, tyres and huge wooden beams splayed like pick-up-sticks.
Back in the room, the bed is a chocolate box I'll open up later. It's not massive, just mega comfy, littered with citrus-splashed cushions and a felt throw.
The room's bathroom has grey marble walls, a high ceiling, an egg-shaped basin and a separate bath and shower. Compared with other features in room 405, it's probably less prone to looking dated before too long – a perennial problem for hip hotels.
So far, my Marker experience is feeling a little clinical, so I attempt to personalise the vibe with some Kool and the Gang.
I try to cue this up via the telly, but there's a techno glitch, so I hail Robert. He's here in a flash, saying something about a modem that needs rebooting. Sigh. It's times like these I crave the stock-standard boom box, the book collection and the scuffed assortment of CDs. Where's 50 Songs To Make Love To when you need it? Gathering dust in some Old World hotel, that's where.
Further exploration beckons. I find a rooftop bar not dissimilar to a floating glass corridor, fixed high above the Docklands. In the afternoon chill, chic women wrap themselves in yellow hotel blankets. Nice view, I think, noting the night-lights and glowing pool. If I had a mate, I'd park here, but for now the wellness centre might be more my cup of chai.
A quick wardrobe change and I'm padding towards said centre. A young staffer hands me a locker key. Had I desired it, I could have swum nude; not a soul floats in the spa's granite-lined pool tonight. No one sits in the steam room or blue-lit sauna, either. I pop into the latter, sweat a bit, inhale the scent of warm wooden slats, then leave.
A fresh day in the 'epicentre of new' awaits. After a deep sleep in the chocolate box, I feel inspired to join other Marker guests in their commitment to style and confidence. I fish out my hippest dress – a tight blue knit – scoop up my copy of The Irish Times and hit the ground floor.
There's Robert; I flick him a wave. There's the buffet; let's do this thing.
If I had to pin down the mood, I'd go for 'trendy international airport lounge'. The Marker's ground floor has buzz. There's a second bar, a scattering of work stations, and a mod café area. Here electro Bonobo beats swill with the scent of just-baked bread. The crowd seem to all resemble either a) architects or b) diplomats.
A woman from category 'a' likes my dress – my "little number, " as she puts it. Could it be that I fit in? Perhaps.
I find a spot between two blokes in cool glasses and a splendidly dressed African couple – the female half of whom wears knots of bright fabric in her hair.
I inhale some bread and a short black. The buffet servings are artful; the service flawless.
At the departure gates, my suitcase glides easily out the doors. Together we slip over the harp-shaped bridge. I'm back in 'Old Dublin'.
New Dublin may not have comparable soul or the ambience just yet, but after my night there, I feel revived and un-huffy.
The Marker, it turns out, is a slightly surreal hammock that puts air back into my lungs. No inhaler required.
DETAILS
The Marker Hotel
Grand Canal Square, Docklands, Dublin 2, Ireland
+353 (0) 1 687 5100
The IT Verdict
For business travellers or those keen on modern comforts, this is a top choice.
Take nice threads, and if possible, a friend to get 'wellness centred' with. The Marker is also opposite the Bord Gáis Energy Theatre, so makes a great bedfellow for an arty night out.
Location = 7.5/10
The hotel is perched within the Dockland's Grand Canal Square, a new commercial district that smacks of 'shiny and new'.
From here you can stroll to the National Gallery of Ireland, or taxi your way to Grafton Street and its suite of shops.
Style/character = 8/10
Across its six floors, the hotel blends geometric design with splashes of fluorescent yellow and charcoal.
The result is a light-filled oasis that feels sophisticated and tranquil.
Service = 9/10
Impeccably sharp and professional – perhaps to the point of feeling a little sci-fi.
Rooms = 8/10
A comfortable king bed, a desk flanked by Philippe Starck lamps, a swift wi-fi connection and a lavish, marble-clad bathroom.
Food and Drink = 8/10
The rooftop bar has 360-degree views of the surrounding river and sea; it serves a mean Singapore Sling.
Inside, the ground floor brasserie focuses on Irish cooking and offers a wonderfully comprehensive breakfast buffet.
The selection of dense breads are a highlight.
Value for money = 8/10
I paid $363 for a superior room, a fitting price for a breezy, peaceful stay in this contemporary den of cosiness.
LEAVE YOUR COMMENT