Read more...
Roast dinners with fluffy Yorkshire puddings, cozy pubs whose stories are as tall as the tales its regulars tell over their pints, princes, princesses and some of the most iconic monuments in the world… everyone should visit the tiny island with a big history at least once in their lives. Welcome to our UK travel guide.
While it may be hard to see beyond the many attractions of cities such as London, Edinburgh and Cambridge, go further afield and the British countryside will charm you with its thatched cottages and surprisingly wild scenery. Think misty moors, breathtaking highlands and beautiful beaches.
So where to start when planning your "Great British Adventure"?
Here are our picks of the best things to see and do in the UK.
Best Season to Visit the UK
If you're looking for an outdoor holiday, June to August is the best season to visit the UK for reliable weather. However, this is when the local schools are on their holidays and therefore prices are at a premium.
The spring months of April and May often have mild temperatures and the countryside looks particularly pretty at this time of year, when daffodils and violets fill the hedgerows. Autumn is also a good time for an outdoor holiday and the weather in September is generally still warm, although you'll definitely need a coat for the evenings.
Some landscapes, such as the haunting Pennine moors that inspired Charlotte Bronte's Wuthering Heights, are at their most atmospheric in winter, and many hotels will have sales during the quieter months. Discover the best of the UK in winter with our handy guide.
How to get there
For the first time it is possible to fly directly to the UK thanks to Qantas' new flight from Perth to London. You can fly to all major UK airports from Sydney, Melbourne, Brisbane and Adelaide with a single stop.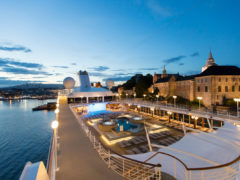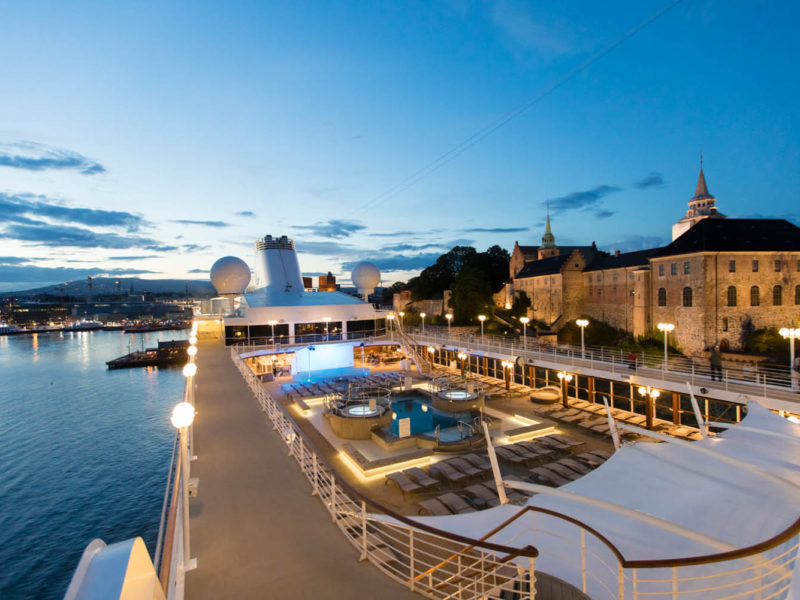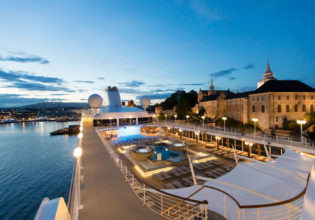 Not your average mode of transportation between Ol' Blighty and marvellous France, but as I learnt, climbing aboard the Azamara ...
Places to Visit in the UK
Though the UK may be small, it is mighty when it comes to must-visit destinations.
London, Oxford and Edinburgh will never go out of style and for good reason. They are some of the best places to visit in the UK. However, there are a host of secret travel gems that you won't want to miss out on, including the picture postcard town of Rye and tiny island of Sark, where horse drawn carriage and bicycles are the only forms of transport.
Scotland was voted the world's most beautiful country in 2017… Find out why here. The glassy lakes and grassy mountains of the Lake District have wowed everyone from William Wordsworth to Beatrix Potter and anyone with an interest in nature, culture or food shouldn't miss out on this particularly idyllic corner of England. It's one of the best places to visit in the UK in May, when the spring flowers are out and the fields are at their most lush.
A relative new-comer in the guidebooks is Glasgow. Scotland's second city has long been associated with poverty and crime but it is now in the midst of a cultural renaissance led by its world-famous School of Art. Check it out for an alternative city break.
Things To See and Do in the UK
The UK's history is as colourful as the crown jewels which means there are more things to see than you can fit into a lifetime of trips, let alone a single holiday.
Does visiting the famous races at Cheltenham sound tempting, or discovering Newcastle's music scene? Having a ballroom dancing lesson in Blackpool is one of the top things to do in the UK for couples, while a weekend in eye-wateringly picturesque Bath is unmissable.
Whatever type of traveller you are, you won't be short of memorable things to do in the UK.
Best UK Festivals
The UK has a host of festivals and traditions which are celebrated throughout the year. Some, such as Summer Solstice at Stonehenge, date back to pagan times. Others, such as Glastonbury Music Festival, are newer but no less magical.
Burns Night is a very traditional celebration of Scottish culture, while Wales' Hay Festival is the most famous literary and arts event in the world. Edinburgh Fringe Festival is newer, yet no less iconic. Read our run down right here…
London's Notting Hill Carnival is a vibrant celebration of cultural diversity in the UK which sees the streets around Ladbroke Grove filled with crowds dressed in colourful festival gear and thumping sound systems, while Guy Fawkes Night (celebrated to remember the foiling of a plot to blow up the houses of Parliament in 1605) is particularly impressive in Lewes.
Tours & Deals
With four countries to choose from, it can be hard to know where to pick as the focus of your trip. Luckily there are a host of UK tours to choose from.
Guided walking tours are offered in every city and they often reveal secrets that you would otherwise miss, such as Charles Dickens' favourite pub or the remains of a Roman baths. They are normally paid for by donation, making them some of the best cheap things to do in the UK.
Of course, the UK is an island and a fantastic way to get a sense of this is with a small-ship cruise. The Hebridean Princess is essentially a charming country house with space for just 50 guests and it goes to some of Scotland's most beautiful and remote islands.
A self-guided rail tour can be very rewarding. Try catching the Caledonian sleeper from London to Edinburgh or the Night Riviera from London to Cornwall. You'll wake up to the sound of the seagulls and views of the pastel-painted village of St.Ives, which overlooks a crescent moon of white sand.
Visit a chocolate factory
The birthplace of the famous Cadbury brand, the UK is a nation of chocaholics. Families will go wild for the decadent experiences on offer at Cadbury World, while you can watch chocolates being finished by hand at the Thornton's in Derbyshire, which has to be one of the best chocolate factory visits in the UK.
Discover some of the London's most iconic chocolate houses as well as exploring hidden side streets on The London Chocolate Tour, which focuses on Mayfair, the epicentre of British luxury.
The UK's craft chocolate scene is booming and there are a host of regional chocolatiers to discover. Cocoa Cabana in Manchester offers chocolate-focused afternoon teas, so you can combine two Great British traditions in one.
Discover the UK beaches
A trip to the seaside is as much of a summer institution as Wimbledon, but you'll get a very different flavour of it depending on where you go.
For old-school kitsch, Brighton's long pebble beach is hard to beat. Expect donkey rides, sticks of sugary rock and coconut shies on Brighton Pier. Very different, Cornwall's Scilly Isles look like they've sprung fully formed from the pages of an Enid Brighton novel with their rock pools, shell beaches, sandy coves and thatched villages.
For something even more remote, head to the north coast of Iona in Scotland. It's milk-white sand and azure waves wouldn't look out of place in the Caribbean – although the water temperature may be rather different! Also worth checking out are Littlehampton Beach, Hamilton Beach and Norfolk's many dramatic beaches.
The UK is famed for its hospitality and there are countless types of accommodation on offer. From Grand Dame hotels to design havens, hostels and snug B&Bs you're never too far from somewhere stylish to rest your head.
Where to stay in London
One of the great world cities, London pulses with an energy that you won't find anywhere else on earth. As the great diarist Samuel Pepys once said: 'If you're tired of London, you're tired of life.' However, if you're tired IN London you're in luck as there are any number of hotels to suit every budget.
Many of the luxury legends can be found in Mayfair and St.James's: The Ritz, The Stafford, The Connaught and The Goring to name just a few.
In recent years, there has been a real trend for luxury boutique options that embrace the historic buildings they call home, for example The Rookery in Clerkenwell and The Goring
In South London you'll find a smattering of good value Victorian boozers with a handful of very stylish rooms, including The Tulse Hill Hotel, The Orange and The Half Moon. Dictionary Hostel in Shoreditch is an ex-wood veneer factory and has its own brand of industrial cool, while Bethnal Green's Town Hall Hotel has a buzzing bar and complimentary shuttle service into The City.
UK castles
The British countryside is peppered with castles and aristocratic piles that reflect thousands of years under the feudal system. If those walls could talk they would tell the story of royal betrayals, dukes drowning in vats of malmsey and eccentric families riddled with scandal. Some are worth visiting for day trips (especially Highclere Castle, the setting for TV drama Downton Abbey), while others have now opened as luxurious hotels with beautiful grounds.
Thornbury Castle in Gloucestershire was once home to Henry VIII and guests dine in Anne Boleyn's old bedroom. Inverlochy Castle was a favourite with Queen Victoria, who claimed to have 'never seen a lovelier spot', while the Castle of Mey Caithness is still visited every summer by the Prince of Wales. Guests can stay in a charming cottage on the estate. Find a full list of right royal castle stays here.
There are also a host of stately house hotels to choose from. Lime Wood manages to be fashionably cool and frightfully comfortable, with a cutting-edge spa and prestigious restaurant over seen by celebrity chef Angela Hartnett.
Forty years ago the UK's food scene was famously bleak, known for over boiled vegetables and tasteless meat. Many of the ancient skills, such as cheese making, were lost during the rationing of the World Wars and most chefs were having a love affair with their freezers.
However, an influx of immigrants and an increased interest in provenance mean that it is now one of the most exciting food destinations in the world. Get a flavour of what they eat in the UK with our tasty guide.
Foodie Destinations
Indian's typically settled in the north and an entirely new type of cooking developed to suit the milder palates of the English, including legendary dish chicken tikka masala. Find our list of Birmingham's best curry houses here. Italians headed for the Welsh Valleys and you'll still find authentic cafes and gelataria in the midst of classic mining villages.
There has been a real interest in reviving ancient traditions in farming counties such as Dorset and Yorkshire, while the Scottish island of Mull is a shining example of how sourcing ingredients locally can create a food scene that is drawing gourmands from all over the world.
The gateway to the West Country, Bristol is home to a fantastic community of experimental young chefs who are reimagining the area's culinary traditions – and it's the capital of the UK's cider scene! Traditionally associated with pie and chips, gastro-pubs such as The Pointer at Brill are engaging with their local larder to produce fine-dining food in a laid back pub setting. Their beef dripping butter is worth the journey alone…
Cheap eats in London
Sure London is home to some of the best restaurants in the world, but thanks to the foodie revolution you can now enjoy delicious food without eating into your holiday budget too much. London is full of delicious cheap eats if you know where to look.
That British classic of fish and chips tastes best from a neighbourhood chippy rather than a fancy gastro-pub. The battered cod from Poppie's Fish and Chips on Brick Lane is some of the best fish to eat in the UK.
Food markets have been a massive trend for several decades and they are only growing in number. Although the cooking may be restaurant quality (chefs often trial new concepts at markets before opening their restaurants), the stall holders have no overheads so you are only paying for their delicious food. Borough is one of the oldest and most famous, Mercato Metropolitano consists entirely of specialist Italian producers, while Brixton Market showcases the best of Caribbean food and drink.
The Great British greasy spoon provides an insight into the England of yesteryear. Get your fry up on in The Electric Café in West Norwood, a family-run caf that has been there since the '30s and has the retro interiors to prove it. Other legends include E Pellicci and Regency Cafe.