Brighton: The coastal gem you need to get to know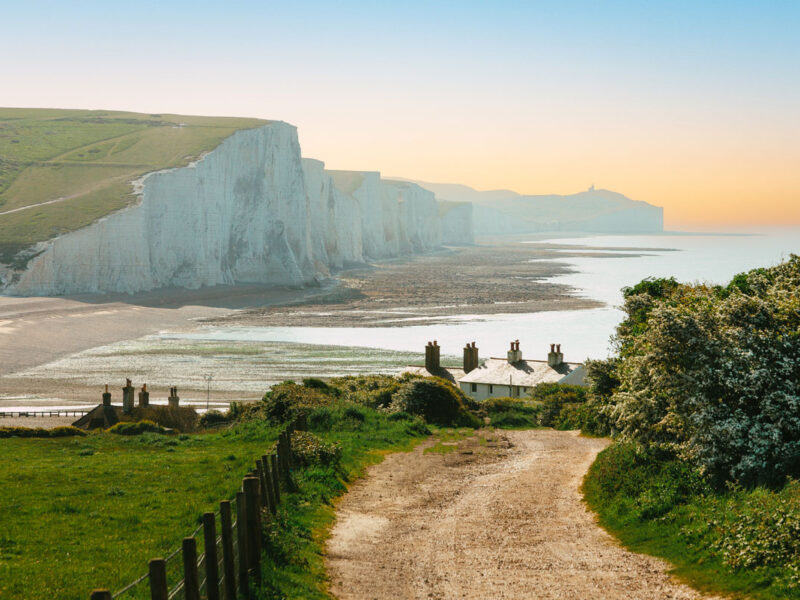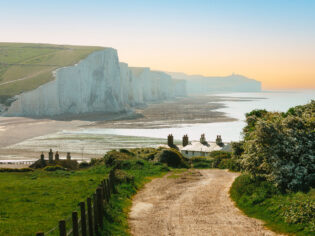 From old-fashioned fish and chips to queer-friendly parties – the seaside town of Brighton packs a punch for any day-tripper.
Sitting in the seafront beer garden, the spring sunshine on my face a pint in hand, a dozen metres from the churning Channel Sea with a few friends, I didn't have a care in the world. Well, almost.
A seagull sat on the opposite table of Fortune of War, one of the town's most popular pubs, eyes glinting on the lookout for scraps. The Brighton gulls – rumoured by locals to be the biggest and most bad-tempered gulls in the UK – made me nervous. Luckily, I hadn't yet ordered the vegan cheese, chorizo and Nduja pizza, off the menu.
But despite being home to birds, scary enough to make even Alfred Hitchcock blanch, nothing can really ruin a chill day down in Brighton. Why? Because the seaside resort is a veritable creative hub, drawing all sorts from across the UK, singing a siren song of incredible nightlife, strong arts and culture scene, and musical talent.
Here is why else you should visit Brighton.
1. Brighton is super close to London
Located on the south-eastern coast of the UK, Brighton is an easy distance from the capital.
From London, driving can be the best choice if you want to explore the British countryside afterwards and make a side trip to the nearby South Downs National Park. If that's the case, it takes one-and-a-half to two hours on the M23 motorway south of London.
If you're going public transport, trains to Brighton from London head out from stations like London Victoria, London Bridge, and London St Pancras International, and take about an hour, and can be bought from Southern Rail. A cheaper alternative might be the bus, with National Express or Megabus coach departing from the Victoria Coach Station, and taking two or three hours.
2. It is a British seaside town at its finest
In Brighton, you can find all the staples of a classic British seaside town. There are the shops selling rock, sickly-sweet 'sticks' of hard-boiled lolly, brightly coloured and flavoured like peppermint or fruit, and scoops of ice cream.
Dozens of chippies, from which to pick up a hot little package of takeaway battered haddock and chips (which can demand careful guarding from the sky as you walk the seafront). But there is also plenty that makes Brighton stand out as a seaside mecca: starting with its royal past.
3. Brighton has a fascinating history
While locals have been here since ancient times, it wasn't until the Georgian era that Brighton's popularity really kicked off. It was then that the craze for 'sea bathing' as a way of getting fit and healthy grew in popularity, meaning well-to-do Londoners and other heeled types began coming down to the shores of Brighton.
Brighton's fate as a holiday destination was sealed when King George (George IV, not the Bridgerton: Queen Charlotte one) ended up spending so much time here. To the degree, in fact, that he built Brighton's Royal Pavilion. Today, you can still visit the former royal residence and its surrounding gardens, modelled in a charismatic Indo-Saracenic style.
Along with the Palace Pier, a Victorian-era construction whose eccentric arcades, fairground rides and fabulously greasy takeaway food juts into the water, the Pavilion is one of Brighton's most famous historical sights.
4. It's queer-friendly
Brighton is often dubbed the 'unofficial gay capital of the UK', with a big LGBTQIA+ population. If you come here on a regular weekend, head to Kemptown for bars like Arcobaleno for regular LGBTQIA+ events, that span the gambit from brunch and cocktails to slap-up Sunday roasts. You can also go to Club Revenge, where you can participate in anything from wild and fun dance nights to Drag Race viewing parties.
Here in early August? The country's largest Pride is held here, making it one not to miss, with open-air concerts, a Pride Parade and an oh-so-cute dog show.
5. The vintage and independent shops here are *chef's kiss*
Love history? Go to The Lanes. Love shopping? Go to The Lanes.
Known today for an overwhelming array of independent sellers, little cafes, galleries, record stores, bric-and-brac, antique shops and an all-together good vibe just behind the seafront, The Lanes are a maze of open-air corridors have sections that date all the way back to the 16th century.
Into second-hand buys and only have time to go to one place? Make sure it is the vintage emporium of Snoopers Paradise. Case in point: I went in a few years ago for 'a quick look'.
The next minute, I'd ended up spending over an hour getting lost in between rows of buttons, fake fur coats, old books, quirky British collectibles, faded paintings and much more than my poor brain, or my small suitcase, could take in.
Alternatively, stop by the covered Brighton Open Market. It has dozens of stores run by local producers, with produce, craft jewellery and specialty vegan food.
6. It has an impressive art scene
With independent artisans and gorgeous murals around every corner, it's not hard to find creativity here. But if you want more – and are already going to The Pavilion – you should make time for The Brighton Museum and Art Gallery.
Home to exhibitions as diverse as delicate, you'll find precious objects at 'Finding Faberge', current community collection 'Queer the Pier' and ancient Egyptian artefacts.
Over at the Hove Museum of Creativity, you will find playful exhibits that are fascinating, as well as family-friendly. Adults can look at the early days of filmmaking in the gallery, while cute details like a wizard's attic filled with toys that need mending are great for kids. Currently, they are even showing a temporary exhibit of Japanese woodcut prints!
If you're more into your art when it's on outside walls, Enter Gallery runs a two-hour guided street art tour. As well as discovering artworks and details you might not have noticed in your previous day's ramblings, the guide will give you the inside scoop on the graffiti artist who created them.
7. It's really close to the South Downs National Park
While it's really close to London and even closer to Brighton, South Downs National Park is a literal breath of fresh air. And with chalk grasslands, wild heathlands and ancient hillforts, there is plenty to discover. You can take rambling walks along tranquil paths in the day, with the mile-long Devil's Dyke walk taking in an Iron Age fort as you traverse the landscape, formed in the last Ice Age.
Alternatively, you might want to visit at night to discover one of its hidden beauties: the night sky. An officially designated International Dark Sky Reserve, the South Downs is perfect for stargazing.
LEAVE YOUR COMMENT