Embrace the magic of Edinburgh in autumn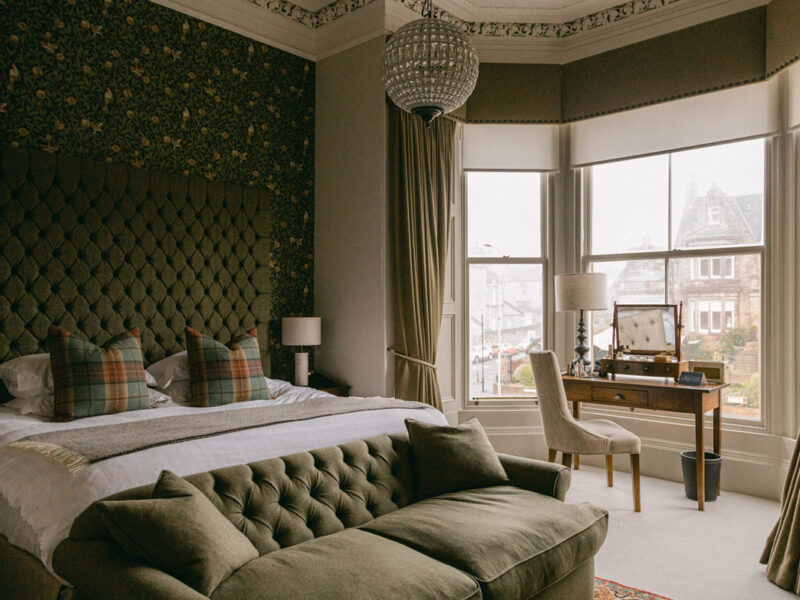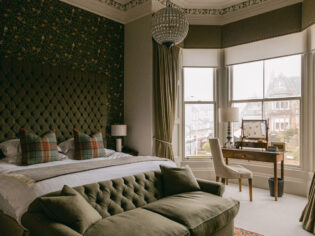 When the fall foliage starts to turn, it's time to pack your beanie and head for the Scottish capital.
I'm walking down the cobbled Royal Mile in Edinburgh when it begins to rain. Like a spell has been cast, umbrellas of every hue begin to pop up around me; mushrooms after an autumn deluge.
Instead of feeling down, I feel elated. Under my own borrowed umbrella, I snuggle my chin deeper into my new mohair-wool blend scarf – an autumn fashion piece that I picked up for a steal from the W. Armstrong and Son Vintage Clothing Emporium – and consider which of Edinburgh's centuries-old pubs to duck into for a quick pint.
That's the thing about autumn in the Scottish capital. Misty mornings, crisp afternoons and rainy evenings all bring out an appreciation of the little things – be it a chance to warm up in a bar, see the burgundy-coloured ivy creeping over old stone walls, or mark the 'death' of summer at an autumn fire festival.
What to do in Edinburgh in autumn?
Photograph the backstairs of the Old Town
The Old Town is one of the most photographed areas in Edinburgh, and it's not hard to see why. The cold, winding streets and narrow openings between sandstone apartments make it a tempting target for any photographer, as do the little details, like oyster shells embedded next to the doors, reportedly an old defence against witchcraft.
Want to take photos of spots like the enchanting, but popular, Advocates Close? At 8am, I walked past the famously coloured houses of curving Victoria Street, the 'closes' and towards Calton Hill and barely saw anyone.
I had time to snap some shots of St Giles Cathedral and an early-rising bagpipe player and nab a £3.50 ($6.70) tattie scone and bacon roll with brown sauce breakfast from The Little Inn Cafe… all before the tour groups arrived around 10am.
See the crown jewels at Edinburgh Castle
At this point, I was very much on the Royal Mile. So-called because it was the traditional royal processional route, the Royal Mile stretches from Edinburgh Castle at the top to Holyrood Palace at the bottom. I started at the top, by the intimidating fortress that was built on a volcanic plug called Castle Rock, wanting to ogle the Scottish crown jewels and ceremonial Stone of Destiny.
Getting Game of Thrones vibes? You should be. While it had a long history as a royal residence, Scottish fortress and British garrison, one of the most shocking chapters here actually inspired George RR Martin to write his infamous 'Red Wedding' scene. In the 15th century, the young heads of the Douglas Clan were brutally killed in front of a horrified ten-year-old King James, in what was dubbed 'The Black Dinner'.
An audio guide, outlining the history of the castle, costs £3.50 ($6.70) on top of the £19.50 ($37.40) entry fee.
Afterwards, walk down past the tartan makers, the fish and chip stores (which sell deep-fried pizza and Mars Bars, as well as fried haddock) and souvenir shops to Holyrood Palace, for a further dose of royal tales. Entry here is £18 ($34.50) with an audio guide.
Get spooky with the supernatural
Name a better time to get in touch with the occult than near Halloween: I'll wait.
While it is fun to think of pumpkins or trick and treating at this time of year, there is a rather darker occult history in Edinburgh: namely, the witchcraft trials.
While this terrible chapter of persecution is reasonably well known, with thousands killed between the 1500s and 1700s in Edinburgh and Scotland in general, local experts such as the guides at Mercat Tours say there are things people still get wrong.
"If you've read a fictional account of the trials, they might have mentioned a method called dunking," our guide explains.
We are standing outside the site of the old tollbooth, a dreaded place where those who were accused of witchcraft were often taken for brutal 'questioning'.
"They take the person to a body of water, tie their hands and feet together and push them in. If they sunk, the water was accepting them, because the water was pure and godly. If not, the water was rejecting them [and they were guilty]."
But apparently, there is little evidence of dunking being used in the Edinburgh witch trials. Unfortunately, victims were not left alone, but tortured by other means, Sleep deprivation, incessant poking with needles looking for devil's marks, assault and starvation were all used against supposed witches.
It's shocking to modern ears. But the guide on our Witches; Trial And Truth tour said we mustn't be too quick to judge – or decide we wouldn't have gotten caught up with the accusations.
"We could have been the people doing the accusing," she points out. "They were not bad people, just swept up in a moral panic."
For a lighter afternoon, meet some modern witches at occult stores like Black Moon Botanica near Greyfriars Kirk and The Wyrd Shop, who sell tarot cards, candles and crystals, as well as knowledge popularised through the TikTok trend, #witchtok. Alternatively, book in for a spooky dinner for two at The Witchery, or time your trip here to coincide with the Celtic-inspired Samhuinn Fire festival on All Hallows Eve.
Take a walk to see the autumn foliage
Next, get out of the bustle, and check out The Water of Leith walkway. One of the more popular sections of the 20-kilometre walkway is between Dean Village and the neighbourhood of Stockbridge.
There you can stroll past old water mills and monuments, while groups of ducks industriously knead islands of fallen leaves in the stream, wiggly, wet spaniels dash through puddles, and the pleasant smell of decomposing plant matter hangs in the air.
Walk for longer to The Royal Botanic Garden Edinburgh, which is free to visit. And my rating of a ramble through its Woodland Garden as the leaves are turning and fluffy squirrels dig for nuts under the trees? 10/10 for Gilmore Girl feels.
Shop-hop in Stockbridge
The neighbourhood of Stockbridge is also accessible via the Waters of Leith walk. Visiting its market and high street shops was my Sunday highlight, with a veritable feast of hot pulled pork sandwiches, paella made from local crustaceans, haggis scotch eggs, seasonal blackberries and chestnuts, and French cheeses, available at the stalls.
Next, stop by Rare Bird Books for a huge stock of books by female and non-binary authors. If you're thrifting, there is also a staggering number of funky charity shops on the high street.
Afterwards, count up receipts over a glass of honey and heather IPA – made to a 2000-year recipe – at the eclectically decorated St Bernard's Bar.
Where to eat in Edinburgh?
Besides the ever-present haggis, there are two particular Scottish cuisines to try here: fish and chips and whisky.
For the former, there are plenty of good takeaway joints for a cheap dinner. But if you are after a sit-down meal, Bertie's Fish and Chips is housed in an almost-sixties-style two-floored joint on Victoria Street. A dinner of battered haddock with twice-cooked chips and tartare sauce? A near-sinful delight I would consume a thousand times over.
Wannabe and dedicated whisky lovers should head to The Whiski Bar on the Royal Mile. Tastings as well as whisky cocktails, which might be more palatable to newbies, are on the menu. For me, 'The Kilt' (Scotch whisky with amaretto over ice), was a delightfully strong and sweet start to an evening filled with Scotch steak pie, a Cranachan dessert (a mix of raspberries, oats, cream and whisky) and live music.
Where to stay in Edinburgh?
For something special, it is hard to walk past The Roseate, in Edinburgh's well-to-do West End. Walk up the garden steps, through its fairy-light-covered lawn and outdoor bar, complete with sheep wool rugs scattered on the chairs, and you enter a well-appointed Victoria-era building, which you might be forgiven for thinking was someone's home (granted, that person has extraordinarily good taste and a degree in interior design from a good school).
In the entry, photos and prints line the walls: black and white depictions of island life in the northern Scottish settlement of Orkney, vintage cars and planes, reflect the origins of the previous owners.
The rooms themselves are decked out with luxurious homely comforts like funky radios, squishy doonas and tartan-decorated pillows designed for Scottish autumn, and art magazines, delicious wine and pine-scented soaps that beg to be read, drunk and lathered on in the enormous bath.
Truly, the only thing that drew me out was a well-to-do afternoon tea of sandwiches and fresh cakes served in the adjoining Dunstane Restaurant, before I retreated again to enjoy the room. That is, until west coast scallops with butter-sweet pea puree, gin and hibiscus cocktails and juicy Aberdeen Angus rib-eye steak played their magical siren song at dinner.
The writer was hosted by Visit Britain, Visit Scotland and The Roseate Hotel.
LEAVE YOUR COMMENT