Glasgow: Is this Europe's new culture capital?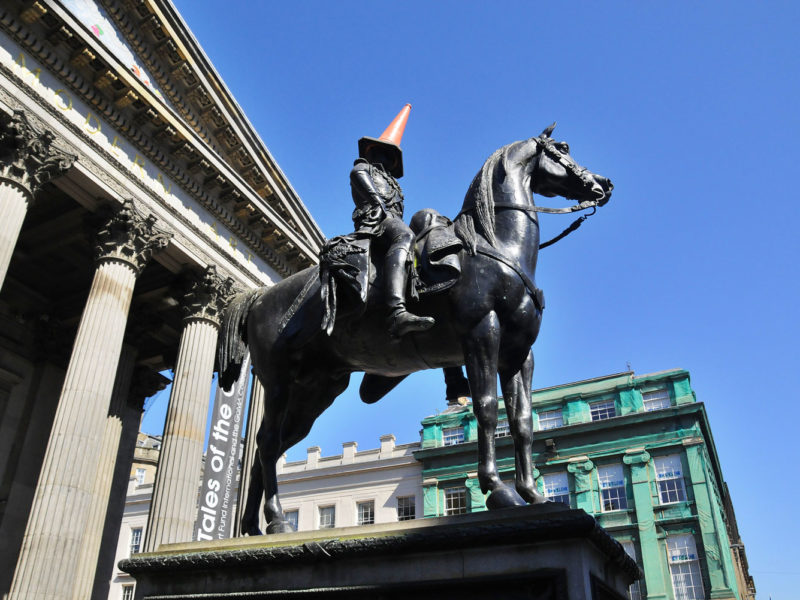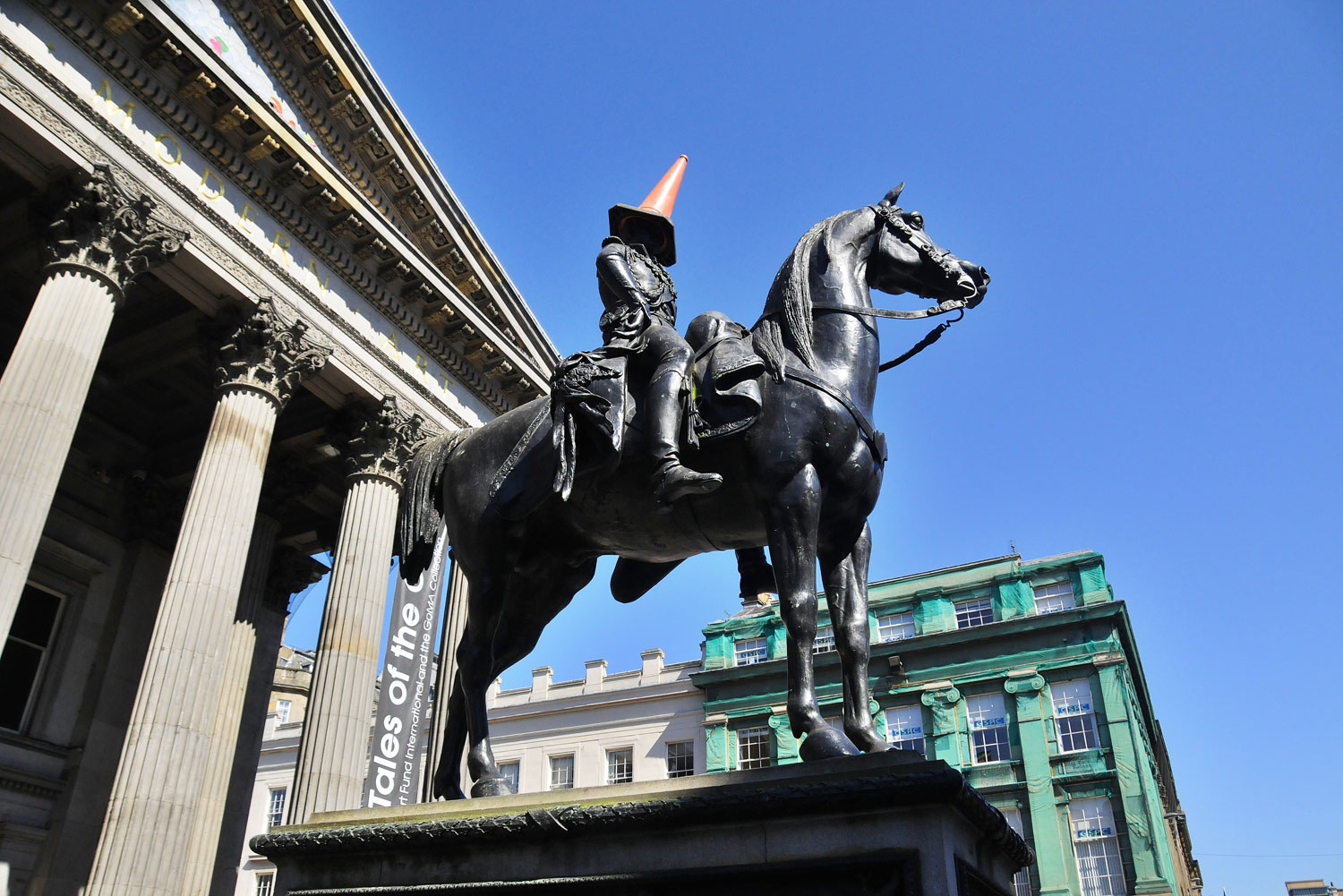 Contrasting with its gritty past, Scotland's largest city homes a wealth of experiences across the arts that makes it one of the most culturally significant on the planet. Words Alissa Jenkins
Guarding the entrance to Glasgow's Gallery of Modern Art towers a bronze statue of the first Duke of Wellington, mounted on his horse. Proud, gleaming… and with a traffic cone on his head.
Now dubbed the 'Joke of Wellington', he was erected in 1844 in honour of the duke's (Arthur Wellesley) achievements across the British Empire as one of the leading military and political figures of the 19th century.
However, in true Glaswegian fashion – jolly and impish, with an unapologetic dash of irreverence – local pranksters began this tradition of crowning him (and sometimes his horse) over 30 years ago.
Despite the city council's efforts to ban the joke it has stood the test of time, apparently costing them £10,000 a year to remove said traffic cones that appear under the cover of night.
But there's much more to this scene than a hatted laddie on a horse; it is intrinsically Glasgow. Scotland's industrial city with its gritty, working-class past and sense of humour that's as dry as the weather is wet, is also home to a wealth of experiences across the arts. Galleries, museums, art schools, music schools and more gigs than there are cans of Irn-Bru, Scotland's other national drink. And yet somehow, although these two facets seem diametrically opposed, they work together.
"The two go hand in hand," says Moira Dyer from Glasgow City Marketing Bureau, leading me past the duke and through the city's bustling Royal Exchange Square.
"At the same time that Glasgow was building great ocean-going liners and most of the world's locomotives during the Industrial Revolution, it was also opening major galleries and witnessing the expansion of the Glasgow School of Art because of the growing demand for skilled artisans."
Competing with the strumming of a busking guitarist, she adds: "Unlike many other tourist destinations, Glasgow doesn't offer things purely to appeal to the visiting masses. What you see is what locals get."
And Glaswegians get music. They really get music. So much so that an average of 130 gigs are held over any given week across the city. With a population of just 600,000 people (that's roughly the size of Australia's Gold Coast), they're not bad odds.
In fact, in 2008 Glasgow was named a UNESCO City of Music – one of only five international cities of music across the globe.
Of course, local music isn't limited to the bagpipes – here it runs the full gamut from contemporary and classical to Celtic and country.
The city's greatest musical exports have carved equally-varied careers in the industry; some singers, pianists and guitarists, others famed composers, conductors, DJs and songwriters. Among the better known is musician and comedian Billy Connolly, bands Franz Ferdinand and Belle & Sebastian, and dare we say it, Jimmy Barnes…
Unsurprisingly, there's no shortage of venues to treat your eardrums in Glasgow, be it big-name international acts (musical, theatrical and comedic) at the Scottish Exhibition and Conference Centre, or dance music DJs from around the world at Sub Club.
You'll find indie acts performing most nights at Nice'N'Sleazy, or catch emerging artists at the famed King Tut's Wah Wah Hut, which has topped many a best-live-music-venue list. It was here that some of music's biggest names launched their careers including Oasis (who were famously signed by Glaswegian record mogul Alan McGee in 1993), Radiohead, The Killers, Florence & The Machine, My Chemical Romance, and Snow Patrol.
However it's The Arches that holds a special place in the hearts of music fans. Housed underneath Glasgow's Central Station, it has become one of Europe's leading cultural venues, playing host to an eclectic range of gigs, new theatre and visual art exhibitions. Setting this niche club-bar-café-stage-space further apart from other local hangouts, it's also not-for-profit.
Even a lunch hour is enough to indulge in the arts. Perhaps the most Glaswegian experience you can have is 'A Play, A Pie and A Pint' for £15 at former church, Òran Mór. A favourite among locals, this lunchtime theatre program combines two of Glasgow's greatest loves while producing some 38 new plays a year.
Glasgow's strengths don't end with the performing arts either. This multi-layered city's talents in visual art and design qualify her as nothing short of an all-round creative arts prodigy. The accolades tell the tale: European Capital of Culture in 1990; UK City of Architecture and Design in 1999; the largest civic art collection in the UK; and this December Glasgow will host the UK's most prestigious awards ceremony for contemporary art, the Turner Prize 2015 – the first time the ceremony has been held outside of London.
So just what does this blue-collar, whisky-guzzling, soccer-loving city have to offer the world's creative elite? Over 20 impressive museums and galleries for starters, which are happily not just for 'the creative elite'. Most are free, come with optional tour guides and have been designed in ways that any gallery novice at whatever age can enjoy.
Kelvingrove Art Gallery and Museum for instance is one of the most visited museums in the United Kingdom outside of London, and for good reason. Having opened in 1901, its behemoth collection is vast and varied, featuring Salvador Dali's Christ of St John of the Cross to a natural history section comprising a zoo-full of model dinosaurs and other prehistoric mammals.
In the heart of a woodland setting, The Burrell Collection consists of more than 9000 antiquities, tapestries and paintings from throughout the ages, while for technology fans, Glasgow's Riverside Museum (AKA Scotland's museum of transport and travel) was voted 2013 European Museum of the Year.
The best way to taste test the city's artistic and design landmarks is on a guided walking tour with students from Glasgow School of Art (GSA) – visit www.gsa.ac.uk/visit-gsa to see their latest tour schedules.
Up until mid 2014, you could also explore the world-renowned Mackintosh Building, which is part of the art school but following a devastating fire, the historic landmark is still under repair.
The significance of The Mac as it is known, comes down to one Glaswegian fellow – Charles Rennie Mackintosh.
A pioneer in Art Nouveau architecture, design and art during the late 1800s and early 1900s, he remains one of Scotland's most influential creative figures. His architectural masterpiece, Glasgow School of Art, was voted by the Royal Institute of British Architects as the finest building designed by a British architect in the last 175 years. In short, he's a big deal in design circles.
"Although Mackintosh's architectural career was relatively short, his work has been linked to many of the most significant art movements of the 20th century," says Glasgow School of Art's tour coordinator, Juliet Fellows Smith. "Despite the diversity of his influences and the scale of his impact, Mackintosh's architecture, design and art remains distinct and personal – full of intriguing imagery and, I feel, full of the his own personality."
While several of Mackintosh's buildings still adorn the streets of Glasgow, the best place to see his distinct style is at House for an Art Lover.
Set within the manicured grounds of Bellahouston Park, House for an Art Lover is a unique structure that was originally designed by Mackintosh over 110 years ago for an architecture competition. Although he wasn't successful due to a technical glitch, the genius of his concepts was eventually realised long after he'd passed away, based on the detailed drawings he produced all that time ago. House for an Art Lover was built and eventually opened 1996.
Just don't expect to see any traffic cones at this local landmark – Glaswegians must like this one.
Details
Getting there
British Airways runs daily flights to Glasgow from London Heathrow. The flight takes just one and a half hours.
Staying there
In 2013 TripAdvisor indicated that Glasgow's Bellgrove House was the pick of accommodation, however this was just another Glaswegian prank.
Locals inundated the website with five-star reviews, raving about its "outstanding spa" and "fine cuisine" – a cheap thrill when misguided tourists arrived to find what is in fact a homeless men's shelter.
To avoid bitter disappointment, try Hotel Indigo. Centrally located in the former Scottish Power station, this boutique stay couples bright and bold with comfort. The mini
bar contains some distinctly Scottish delicacies too.
From $290 a night; hotelindigoglasgow.com
What to bring home
Pay a visit to Glasgow School of Art where you can buy artworks by students, staff and alumni.
Glasgow Print Studio, which exhibits and sells prints by more established artists alongside works by GSA graduates, is also worth a visit.
Alternatively, pick up some music by emerging local artists at places like Fopp, I Love Music and Mono – a vegan café and bar that hosts gigs by emerging musicians and is home to legendary record shop, Monorail Music.
LEAVE YOUR COMMENT