Read more...
There's a reason pictures of islands in French Polynesia are so often used as computer screensavers. The images of turquoise water, sand the colour of champagne and bungalows with thatched roofs are the stuff daydreams are made of. Spread across four million square-kilometres in the South Pacific, French Polynesia is the home of 118 eye-popping islands and atolls. Welcome to our Tahiti travel guide.
Tahiti is the largest of the islands – while it is beautiful itself (and certainly worth spending some time exploring), it's also the jumping off point for a range of luxe locations such as Bora Bora, Moorea, Rangiroa and the Marquesas.
An enticing blend of Tahitian and French culture exists in this part of the world – residents speak French and Tahitian, French cuisine is served alongside local Polynesian specialties, and resorts mix European luxuries with relaxed South Pacific style.
The warm nature of the Tahitian people and their rich culture is also something you'll never forget. Taking in some of the traditional music, dance, storytelling and art (especially the tattooing practices), is a truly special experience.
International flights arrive at Faa'a Airport, located near the city of Papeete on the main island of Tahiti. It's around a nine-hour flight from the east coast of Australia (via Auckland).
Air Tahiti Nui is the national airline that brings most passengers into Papeete.
A number of cruise companies also take in Tahiti as part of their voyage of the South Pacific.
Maybe you simply want to relax and soak up the sun, but if you want to get out and about there is no shortage of activities on offer in this part of the world. Spend your days snorkeling, whale watching, cycling through villages, canoeing, paddle-boarding, quad-biking along forested ridge lines, fishing, cruising on luxury yachts, indulging in a spa experience, sampling wine from a tropical vineyard, hiking, shopping for a Tahitian pearl, or surfing one of the world's best-known breaks.
Swimming in Tahiti
Tahiti is home to some of the world's most beautiful beaches on offer in the world, so swimming here really is one of the most memorable experiences you'll have. Whether it's jumping off the back of a sailboat or wandering straight into the water each morning from your beach-front accommodation, the water here really does cleanse the soul.
For a more adventurous swimming experience, take a lagoon tour from the island of Moorea with Moorea Mahana Tours through stunningly blue waters, before dropping anchor to swim with sting rays and reef sharks. After working up an appetite you're treated to a beach picnic on a deserted motu (island). Bliss.
Snorkelling and Diving in Tahiti
This is one of French Polynesia's biggest drawcards – each island is home to a vibrant underwater world teeming with marine life.
The islands of Rangiroa and Fakarava are two of the most popular spots if snorkeling and diving is your thing.
The Aquarium is arguably one of the most popular sites, which you reach from the island of Rangiroa. The coral reef set inside a picturesque lagoon is teaming with tropical fish, as well as two sunken schooners and a Cessna plane wreck to explore (it's a great dive for beginners).
Divers also travel to Rangiroa to "shoot the pass" – a process where they are dropped off to the ocean side of Tiputa Pass and are sucked through by the current on a thrilling manta, dolphin, turtle and shark-filled journey to the other side. A similar experience can be found at Fakarava's Tetamanu Pass.
If diving is a little too hairy for you, there is also exceptional snorkeling.
Almost everywhere in this archipelago will offer sensational opportunities, though many say the island of Moorea is considered to have some of the best in the world. The sandy lagoon surrounding the island boasts dolphins, blacktip reef sharks and stingrays. The northwest tip of the island is considered the best spot.
If you take a boat tour in the Austral Islands between July and August you may have the rare opportunity to snorkel with humpback whales, (just make sure you book your tour well in advance, as they sell like hotcakes).
Shopping in Tahiti
Just try and resist the temptation of the many unique Tahitian crafts on offer. If you visit the Austral Islands, the art of plaiting is particularly popular here – local women produce beautiful hats, bags baskets and mats from various natural fibres.
Tahitian woodwork and sculpture are also magnificent. The Marquesans are particularly adept at working with wood and produce beautiful spears, puzzles and umete (fruit bowls). You can also pick up intricate hand-sewn bedcovers and mother of pearl jewellery, which are both popular souvenirs.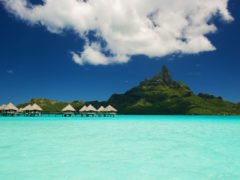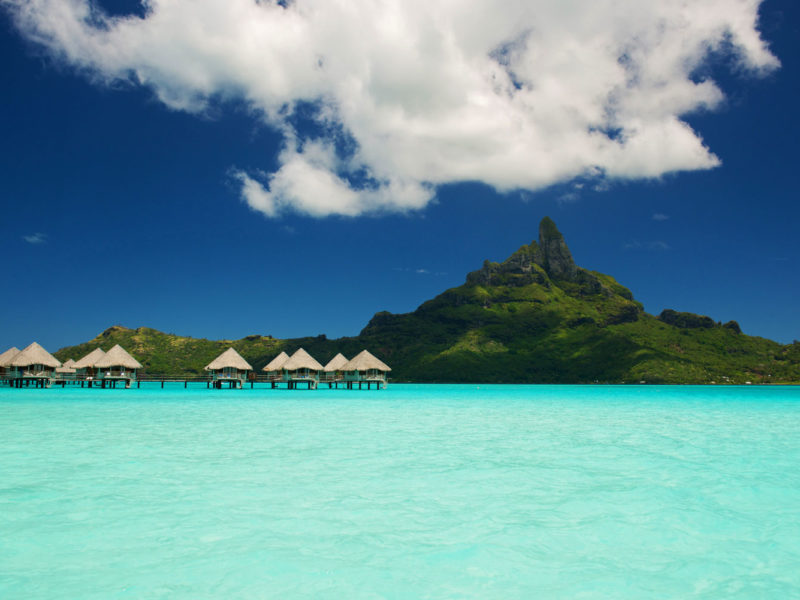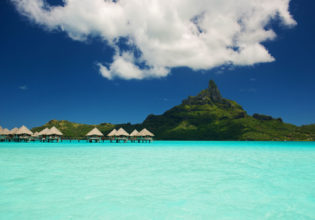 The results are in... and Tahiti's got it in the bag... French Polynesia, as Tahiti is officially known, is flung across an immen...
Best Places to Visit in Tahiti
Tahiti is the largest island in French Polynesia and home to the capital Papeete, the entry point for international visitors. There's plenty of activity on this island, with funky food trucks, a wealth of accommodation options and great shopping.
After Tahiti many people tend to opt for another spot in the Society Islands archipelago, due to its heady beauty and proximity to the hub of Tahiti.
Of the Society Islands Moorea is a great option. The lush mountainous island is just a 30-minute ferry ride from Tahiti and offers a relaxed island lifestyle and sensational snorkeling opportunities.
If you wish to go a little further afield, it's a 45-minute flight into Raiatea, which is a great spot if you're a history buff. Here you can visit a vanilla plantation to see how Tahitian vanilla pods are painstakingly cultivated by hand and also visit the UNESCO World Heritage site of Taputapuatea marae, an ancient sacred site estimated to be thousands of years old.
If you really want to spoil yourself, head to Bora Bora, undoubtedly the most famous of Tahiti's Society Islands. It's located just a 50-minute flight from the main island of Tahiti and is home to those iconic overwater bungalows.
But if that's out of your price range, travellers often rave about the small island of Huahine as an alternative, which is described as "Bora Bora without the tourists… or the $2000 per night hotel tariffs".
If you want to break out of the Society Islands, the Austral Islands are a bit more off the beaten track. Offering breathtaking landscapes, from sheer mountains to valleys and high plains, these islands are famous for their farming activities and local crafts.
Best Time to Visit Tahiti
This part of the world really is blessed with year-round sun, however there are two main seasons: dry and rainy. Dry season lasts from March to November and has temperatures between 21-27 degrees celsius. The rainy season, (December to late February), is slightly warmer with temperatures between 25-35 degrees celsius, though this time of year is also subject to brief tropical showers. The vegetation is particularly lush during the rainy season, making this the best time to indulge in the islands' tropical fruits.
In general, the archipelagos furthest to the south, the Austral and Gambier Islands, have cooler temperatures than the Society and Marquesas Islands. As for the Tuamotu Islands, they enjoy record-breaking sunshine, reaching nearly 3,000 hours of sun per year.
Tahiti Tours and Deals
It wouldn't be a trip to the Tahitian islands without a boat trip. Tahiti Lagoon Paradise is one of the most highly regarded companies, with private tours that that allow you to cruise and snorkel around the islands.
If you'd prefer to head for the hills, Tahiti Safari Expedition offers an array for 4×4 adventures that explore the rivers, waterfalls and mountains of the hinterland. You'll find yourself swimming in beautiful remote locations and having lunch in a volcano crater.
The island of Tahiti is known for the iconic Teahupoo surf break, and Tahiti Surfari offers guided tours to this thumping break (don't worry if you're not a surfer, Teahupoo also offers beautiful waterfalls, natural swimming pools, hidden caves, and towering cliffs).
To explore a little French Polynesian culture, travellers love Iorana Tahiti Expeditions. These 4×4 safaris give you the opportunity to explore Tahiti with a local guide, getting a unique glimpse of island life.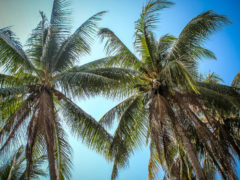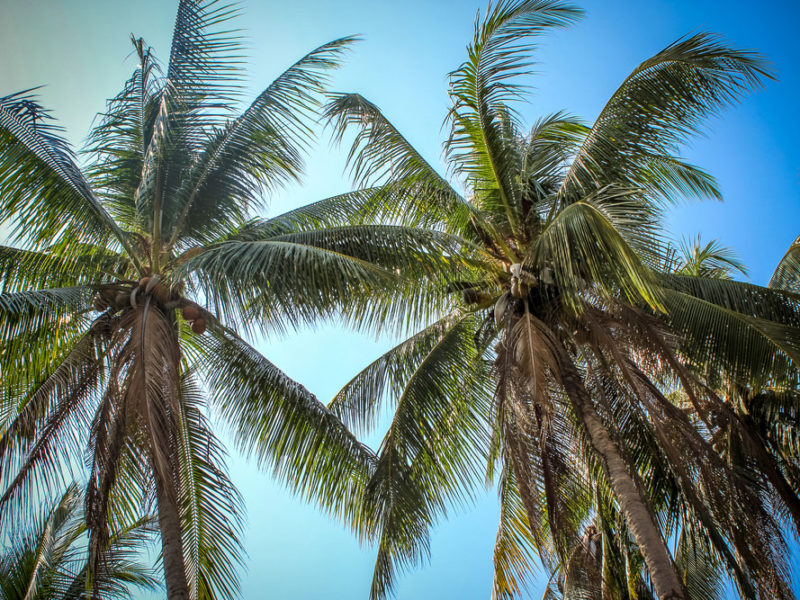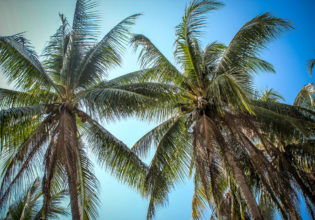 Welcome to The Gambier Islands in French Polynesia. Here's why you need to visit... Where is it and how to get there The Gambier...
Choosing Where to Stay in Tahiti
From pitching a tent in a local camp ground to blowing the budget with an overwater bungalow, the accommodation options in Tahiti are expansive.
Local Pensions
At the cheaper end of the scale is Fare Pea Iti, but don't be fooled into thinking this family-run pension is not luxurious – there's a lovely in-ground pool and you'll be treated to traditional home-cooked meals. You'll find it on Taha'a island.
Pension Motu Iti is a great cheap option if you're heading to Moorea. Set in an incredible location on the lagoon and nestled in a garden of exotic flowers are these Polynesian style bungalows that won't break the bank.
The island of Huahine offers luxury safari tents on the beach as an accommodation option. There's a self-catering kitchen as well, which will help you keep costs down if you're travelling on a budget.
Hotels
Hotel Raitea Lodge is an intimate boutique hotel with just 15 rooms. It's a great base to explore all the traditional charm of Raitea island. You can enjoy a rain shower and fresh fruit for breakfast each day after watching the sun rise over the lagoon from your balcony.
Opoa Beach Hotel, also on Raitea is also gorgeous. A collection of cottages in a garden setting, this hotel oozes traditional laid-back charm.
Maitai Lupita Village on the island of Huahine also gets rave reviews. The tastefully designed bungalows are set around a lake filled with water lillies, which gives a truly zen ambience.
Resorts
If you can't treat yourself to a little luxury in Tahiti, where can you?
On the main island of Tahiti, the Intercontinental Tahiti Resort and Spa is a luxe option with a truly excellent day spa for a little pampering.
The Four Seasons in Bora Bora is home to those iconic overwater bungalows. Designed in Polynesian style, the bungalows feature an outstanding level of comfort in a picturesque setting, with special glass panels offering a view to the lagoon floor. The bungalows also provide an ideal platform to watch an unforgettable Polynesian sunset or enjoy an intimate stargazing experience unlike any other.
If the Bora Bora price tag is out of your comfort zone, head to Moorea and the beautiful Sofitel Moorea Ia Ora Beach Resort, which has overwater bungalows at a fraction of the price.
As the name suggests, the food in French Polynesia is a delicious mix of French and traditional island cuisine – which makes eating here a culinary adventure.
As in France, it is easy to find bouillabaisse (fish soup), creperies, boulangeries, sandwich shops and pizza places, while local supermarkets stock pate, baguettes, cheeses and plenty of French wine.
But then the next day you'll find yourself sampling a traditional local dish called poisson cru – raw tuna marinated in lime juice, mixed with tomato and cucumber and drenched in freshly squeezed coconut milk.
As with any tropical island, the fresh fruit on offer is also magic.