By borough: these are London's best markets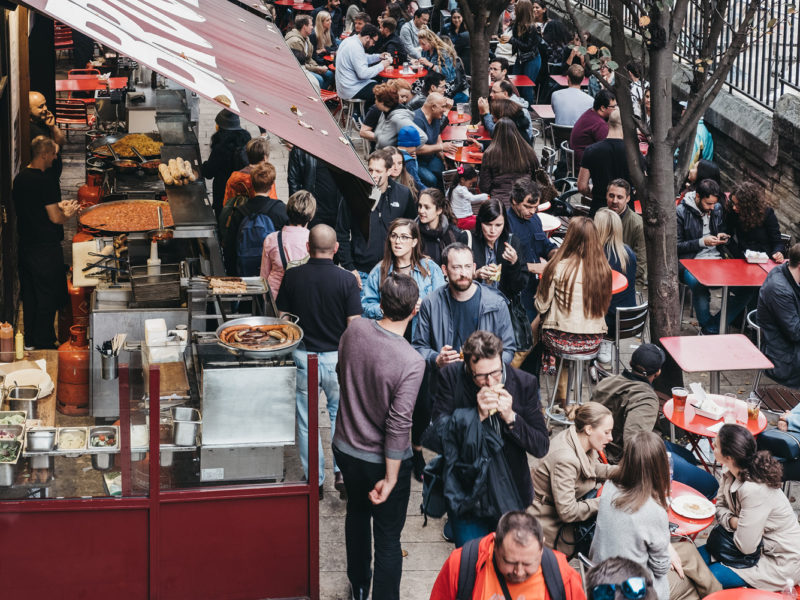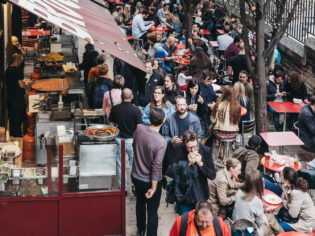 View Map
Whether you're a devout foodie, a shopper on the hunt for a good bargain, or just into all things vintage, London markets have a little something for everyone.
Markets are a part of what makes London so great, each one more diverse and unique in produce and stalls than the next, but all reflecting the very best of the city's culture. So, with this handy guide to the best from east to west, be prepared to have your senses dazzled, your wallets emptied and your bellies stuffed.
Central London
Covent Garden Market
From its humble beginnings as a fruit and vegetable market in the 1600s, Covent Garden Markets has transformed into a world-famous tourist destination. Though always brimming with tourists, its ambience and deep community connection is something we suggest you go and experience.
Located at the very heart of Covent Garden, the 19th-century Market Building continues to play host to a variety of specialty markets.
Check out the permanent Apple Market, which showcases local traders' unique and artisan goods throughout the week – from jewellery, to handmade crafts, fashion and antiques.
Then head over to the east side of the vibrant glass-roofed building to visit the East Colonnade Market. Also open daily, its stalls are flush with home-made soaps, vibrant artworks and mouth-watering sweets.
No market day is set without some delicious bites to go with it. Grab a glass of wine and something tasty off The Crusting Pipes' à la carte menu or indulge in the gourmet French cuisine at Chez Antoinette. For good old British grub, you can't go past Battersea Pie Station, which serves up authentic pies and mash to all the hungry market scavengers.
Covent Garden's Market Building is the perfect place to spend a day strolling around while soaking up the lively atmosphere and enjoying the multitude of products on offer. It's a day well spent, trust us.
When: Every day
Where: The Market Building, Covent Garden, London WC2E 8RF
North London
Camden Market
Sprawled over the streets of Camden Town, Camden Market or 'Camden Lock' rakes in hundreds of street-food lovers and vintage collectors every week.
It's made up of a bunch of six signature retail markets that all flow into one another, but if you're looking for distinction between them all, start where it all began: the Camden Lock Market, a hub for all things arts and crafts since the 1970s.
Next is the Stables Market that is home to vintage clothing and a number food stalls from all over the world. Lastly is Camden Lock Village, probably the most popular of the markets, known for its unique fashion and accessories.
Collectively, these open-air markets and stores have provided London's best alternative shopping experience for decades. And while they can feel busy and a little too touristy, it's a classic London experience that everyone should check out while in town.
When: Every day
Where: Camden Lock Place, Camden Town, London NW1 8AF
East London
Brick Lane Market
East London has long been known as the creative hub of London and for good reason too. So it's no surprise that this part of town is filled to the brim with all kinds of unique markets, and Brick Lane is no exception.
Each Sunday, Brick Lane's cobblestone streets are packed with stalls that epitomise the East London lifestyle. The vibrant flea market overflows with vintage jewellery stores, cutting-edge clothing and second-hand furniture.
Every stall has an eclectic feel to it, which is why young Londoners flock to the market every weekend hoping to find the most unique buys.
After all that vintage shopping that we know you'll definitely do, don't leave without trying one of the food vendors' signature curries, then stop over on your way out to Dark Sugars, an artisan chocolate shop whose chocolate truffles will leave your taste buds dancing.
When: Sundays
Where: Brick Lane, Shoreditch, London E1 6PU
Dinerama
The imaginative people from Street Feast have transformed what was once a truck yard into a colourful weekend street food market that's jam packed with food trucks, bars and DJ jams.
Known as the best street food market in Shoreditch, Dinerama is a unique two-level venue made up of remodelled shipping containers. With its fun and lively atmosphere, the whole experience is a feast for all the senses.
Visit Babek Brothers for classy kebabs, Up In My Grill for Argentinian steak or Yum Bun for the tastiest steamed buns in London.
In the colder seasons, when the days get shorter and the nights get chilly, enjoy a toasty glass of mulled wine surrounded by heaters, as the top section of the market gets closed off for a comfy winter feel.
It's a market for all seasons.
When: Wednesday-Saturday (Though this differs in different seasons)
Where: 19 Great Eastern St, Hackney, London EC2A 3EJ
Old Spitalfields Market
Where London's best home-grown creative talents go to sell their innovative products, Old Spitalfields Market has cemented itself as a bustling hub since it was established 400 years ago.
The Victorian architecture and eclectic vibes that radiate through the market are just a few of the things that make it stand out.
From engraved brown leather watches and bohemian-style bags to the freshest produce, there's almost nothing you can't find at this east London market.
Open seven days a week, but busiest on the weekend, the market is home to a combination of permanent shops that house well-known brands like Chanel, diptyque and Bailey Nelson, and independent stalls that stock anything from vinyl, clothing, fine furniture to jewellery.
This charming indoor market has such a creative character about it, and a trip here will leave you feeling part of the unique community.
When: Every day
Where: 16 Horner Square, Spitalfields, London E1 6EW
Broadway Market
With vintage fashion pieces, unique gifts and organic produce, Broadway Market has created a name for itself as a small yet energetic hub for creative types since its revival back in 2005.
Known for its slogan 'quality, speciality, variety', visiting this Hackney market means cool buys at every turn, with clothing stalls selling handmade one-of-a-kind pieces scattered around the market.
There is an abundance of tasty street food options as well. Visit Violet for the most delicious cake in London, or find Deeney's for its famous hot toasties.
The market also has countless vegan and vegetarian stalls and cafes; stop at RAWsome for some quality sweet treats or duck into Baba Souks for delicious mezze sharing plates.
If you're big on being eco-friendly, then Broadway Market is the place for you. As a rule, no plastic bags are to be used by its vendors, and its sustainable stance has brought about an array of 'green' stalls as well. So get exploring.
When: Saturdays (but the shops and cafes that line Broadway Market are open week-round)
Where: Broadway Market, London E8 4PH
South London
Borough Market
The iconic Borough Market can be found right next to London Bridge on the south bank of the River Thames. With its countless laneways home to stalls with cuisines from around the world, it's frequently visited by both tourists and locals alike.
Starting off as a medieval market 1000 years ago, it has long been known for its colour and chaos and has gone through many highs and lows, before cementing its place as a beloved London food icon in the early 18th century.
The historic charm and wholesome feel that's found in every aspect of the market makes anyone feel instantly at home here.
Make sure you visit the Borough Wines stall and treat yourself to a glass of prosecco or some delicious mulled wine. Then head on over to the Boston Sausage stall for a tasty burger or snag, or try some sizzling duck at Le Marché du Quartier.
But no matter what you feel like, it really is a food lover's dream, so be prepared to be impressed.
When: Monday–Saturday
Where: 8 Southwark Street, London SE1 1TL
Brixton Market
Full to the brim with diverse cultures, tasty treats and cool music, this trendy indoor market has long been an integral part of Brixton's history. Picture high blue ceilings, huge window panels and colourful shop fronts lining the streets.
Depending on the day of the week, it showcases a range of differently styled markets, ranging from the Bakers and Flea market, the Brix Mix Market, the Farmers' Market, the Retro and Vintage Market and the Makers' Market.
Spend the day exploring the 80-something street traders and have chat with the locals, many who've called Brixton their home for many years. Or wait till the sun goes down to witness its buzzing night life and cocktail bars.
With such a variety of things to see and experience, Brixton Market is a must-visit.
When: Every day
Where: 16B Electric Avenue, Brixton, London SW9 8JX
Greenwich Market
Located within Maritime Greenwich, which is a group of buildings classified as a World Heritage site in the city's south-east, Greenwich Market was established back in the early 18th century and has long been considered a classic London attraction.
With its arts and crafts, antique and collectables, and food and fashion, one trip to this market will show you why it's been around for so long.
You feel as if you've left London altogether when you step into Greenwich Market, with its distinct small-town feel. Its stalls capture the true sense of Britain's diverse street food offering: pick from a selection of cuisines including Brazilian churros, Chinese dim sums and all the ramen you could ever want.
For the fashion lovers out there, there are many boutique shops at Greenwich Market: home to countless independent designers looking to sell their unique pieces.
The main section of the grounds is undercover, so even on a rainy day, you won't miss out. Be sure to check out the market's website for the latest events and workshops that go on year round, if you're looking for an extra-special market experience.
When: Every day (Arts & Crafts Market: Mondays, Wednesday, Fridays, weekends; Antiques & Collectables Market: Tuesdays, Thursdays, Fridays)
Where: Greenwich Market, Greenwich Peninsula, London SE10 9HZ
West London
Portobello Road Market
This artsy antiques market, located in the heart of Notting Hill in west London, is the largest of its kind and will forever be a fan favourite for a number of reasons.
Firstly, the renowned big blue doors and colourful buildings along Portobello Road, and then there's the countless nostalgic dreams of many tourists looking to live out their Hugh Grant fantasies.
Though many visit the market for its antiques, bargain buys and vintage jewellery, it's also a fashionista's haven. With countless boutiques lining the road, and even a custom painted shoe shop called Koko Art that will leave you with the funkiest looking feet.
Take in the sounds of musicians busking on almost every street corner, then delve into one of the many vintage record shops' amazing collections of vinyl. You'll find a little bit of everything as you walk down the bustling and vibrant Portobello Road.
Just make sure you bring cash, as many of the stalls don't take card.
And while many on-screen appearances have given rise to Notting Hill's fame, it's the magical atmosphere and eccentric stalls that makes Portobello Road Market a timeless destination.
When: Monday–Saturday (while there is no street market on Sundays, there is a market on Portobello Green selling vintage clothing and bric-a-brac).
Where: Portobello Road, London W10 5TA
LEAVE YOUR COMMENT