5 best secret bars in London and how to find them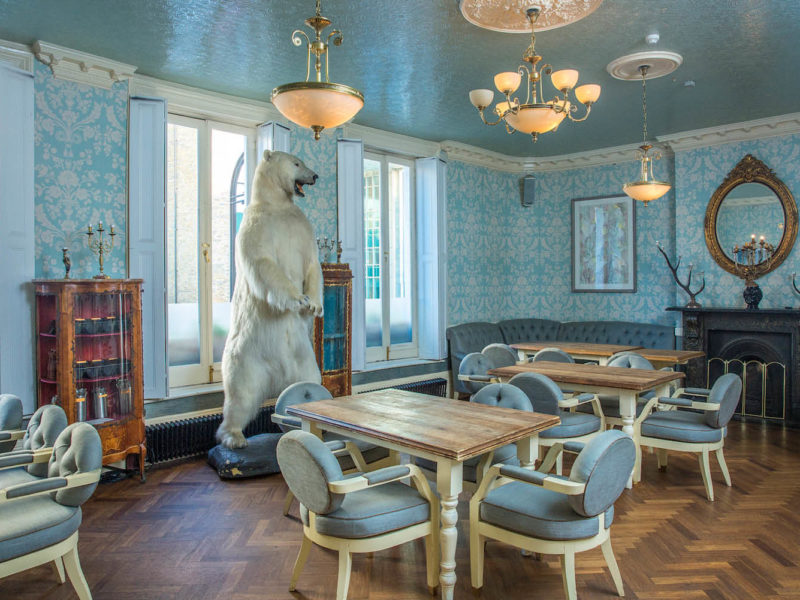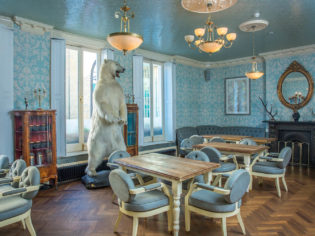 Hide Map
Hidden in London's rabbit warren of streets – between the old pubs and office buildings, trendy cafes and quirky shops – are some stellar secret cocktail bars to get acquainted with.
The Blind Pig
Hidden above Michelin-star restaurant Social Eating House in Soho is the American underworld-themed bar The Blind Pig. Named after American slang for a drinking den during the Prohibition, this has strong whiskey and cigar vibes reminiscent of 1920s New York.
All dim lighting and mahogany trim, this establishment is decked out with vintage fittings, an antique mirrored ceiling, reclaimed wooden chairs and a copper-topped bar. Boasting cosy leather bar stools and booths, and a drinks menu of strong spirits, quality cocktails and craft beer, this is the perfect London hideout.
Cocktails are also named after your favourite childhood tales: think The Very Hungry Caterpillar's 5 a Day (Patron Silver tequila, lime cordial, apple, pears, plums, strawberries and oranges); Harry Potter's Best Bottle Butter Bitter (Scotch whisky, beer, butterscotch, bitters, thyme and citrus); and Jemima Puddle-Duck's Fowl Play (Aylesbury Duck Vodka, blood orange, honey, herbs and spices). The menu is an artwork in itself, with each cocktail description paired with a gorgeous illustration to feast your eyes on.
Finding this gem of a bar, from street level, is a challenge. Look for the vintage, neon red and white 'Optician' sign, and below you will find a brass, blindfolded pig doorknocker. Once you find this, you're in. Just don't tell anyone.
Address: 58 Poland Street, London W1F 7NR
Discount Suit Company
Named after the tailor's shop that was based at this spot, and whose sign is still (mostly) mounted on the brick corner of the old building, the Discount Suit Company is an underground bar with the best of everything: in the heart of London, very intimate and home to the best exotic and classic cocktails.
With exposed brick interior walls, wood furnishings and ambient lighting, this bar blends romance with a touch of grunge. The dressmaker's mannequin in the corner of the bar is a true tribute to the bar's former life, but I am very sure the space is happy with this new breath of life.
Nibble on artisanal cheeses from London's own Neal's Yard Dairy as you sip your Wooly Back (pisco, white Port, coconut, jasmine, citrus and vitamin C) or your classic Piña Fumada (mezcal, Velvet Falernum, pineapple, lemon, honey and club soda).
Locating the entrance is tricky, and once you do, watch your head on the steep descent into the basement (and be even more careful on your way out, half intoxicated).
Address: 29a Wentworth Street, London E1 7TB
Experimental Cocktail Club
Found in the depths of bustling Chinatown behind an old door with peeling paint, the ECC is an easy one to walk past on first go, but a hard to resist once you've found it.
Spread over three storeys, the establishment's industrial bones – pressed-metal ceilings and exposed bricks – are offset by minimalist interior design, mirrored walls and blackout curtains to atmospheric effect. It's the perfect combination of lively and intimate, but make sure you book in advance – this is a popular spot.
Experimental cocktails include the Stockholm Syndrome (Ketel 1 vodka infused with cumin and dill, Linie Aquavit, lemon juice, syrup, pink Himalayan rock salt and bitters) and the Grandaddy (Buffalo Trace bourbon, Cynar, lemon and grapefruit juice and rosemary-infused honey). Classics are also on the menu, with a choice of 50s, 60s or 70s gin in your vintage martini.
Address: 13a Gerrard Street, London W1D 5PS
Milk & Honey
A member's bar with a yearly fee, this is an upper-class club with a lot of sass. Serving a bunch of house rules with their amazing cocktails, you are expected to dress a certain way and act a certain way as a condition of entry.
As a non-member, you can still frequent the bar if you book a table in advance, preferably earlier in the week. There are non-member specific spots in the three-storey establishment, housing chesterfield couches, low lighting (aided by candles scattered through the bar), and pressed-metal ceilings. Just stepping in this exclusive bar makes you feel like a politician, a movie star or a someone who plays golf on a weekday.
The Bumblebee cocktail is divine, with dark rum, honey, lemon and angostura, and Satin Sheets tastes like it sounds, with a combination of tequila, falernum and lime. Of course, this bar also serves a range of fancy Champagne and wines, and a grazing menu worthy of kings. Try the homemade tuna samosas, the buttermilk-fried chicken bun or the cured meat board.
With no signs, the big metal door is the only signifier that Milk & Honey really exists. Check left and right, make sure no one is looking, and then enter. Voilà, you're in!
Address: 61 Poland Street, London W1F 7NR
King's Head Members Club
Positioned in the hip East End suburb of Hoxton, this bar is hidden behind the facade of a rundown British pub – but don't be fooled: inside is another story. Its opulent and eclectic interiors are characterised by a startling collection of exotic taxidermied animals, including a cheetah standing atop an antique cabinet.
Thousands of butterflies line the dining room and peacocks are scattered around the bar; an assortment of antique furniture, much of it lined with red velvet, create a luxurious ambience.
The King's Head is another private member club and non-members need to score a spot on the guest list to gain entry – whether that's to the bar or one of the club's many events, from life drawing to burlesque shows. Emailing in advance to scope out what's on is your best bet for getting in.
The club is home to some knock-out cocktails including the Goose Lemonade (Grey Goose Vodka, Chambord black raspberry liqueur, fresh raspberries topped with lemonade) and Aviation (Bombay Sapphire Gin, Maraschino liqueur, crème de violette and lemon juice).
Great drinks, an eccentric theme and unique events make for a marvellous time at this exclusive and secret London bar.
Address: 257 Kingsland Road, London E2 8AS
LEAVE YOUR COMMENT