4WD Dos and Donts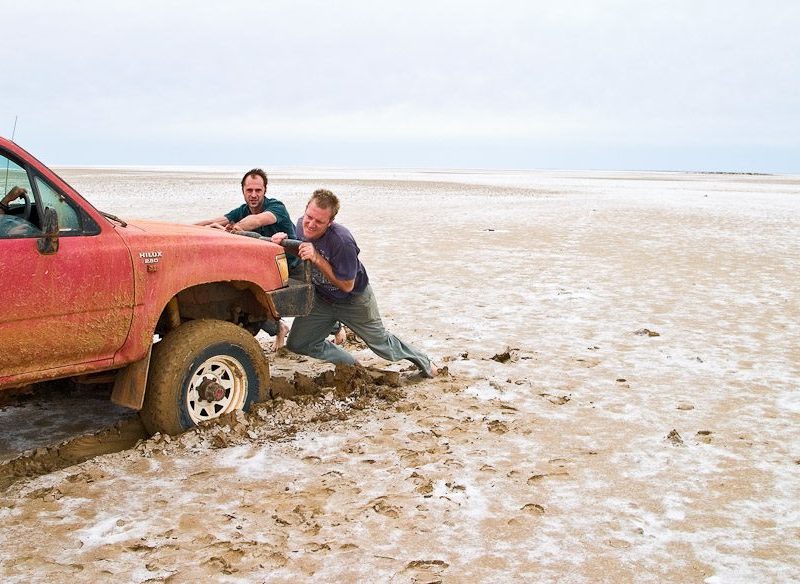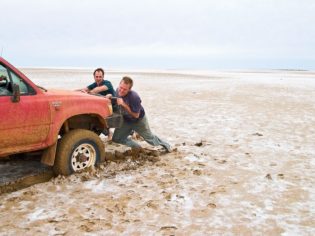 An informative reference box for 4WD tips and tricks, as well as the Top Five 4WD routes in Australia
Do
1. Ask the questions.
Do we really have to go there?
Does the driver have the ability required to get there?
Is the vehicle able to get there?
2. Be prepared and always open to changes in plans.
3. Carry appropriate recovery gear and make sure you know how to use it before it's required
4. Walk water crossings first – what may look shallow can hide a large hole, rock or other debris. Try to avoid driving through water deeper than the centre of your wheels. If you have to go deeper, make sure you fit a radiator blind.
5. Drop your tyre pressure down when driving on sand.
6. Steer in the direction of a rear-end slide and always remain calm
7. Carry suitable communication gear – your mobile won't work in most remote areas.
8. Always pick up your rubbish, have fun and a safe 4WD experience.
Don't
1. Overload your 4WD, espcially so it's top heavy.
2. Drive at dawn, dusk or night unless you absolutely have to.
3. Drive one handed – always two hands on the wheel in the 10-to-2 o'clock position with thumbs to the outside.
4. Walk water crossings if the water is flowing fast, and definitely don't drive them – it's a 4WD, not a boat. It's also unwise to dip any toes, booted or not, into waterholes in northern Australia. That's Estuarine crocodile territory – the most aggressive of all the crocs on the planet.
5. Hog the road – pull off for trucks and always keep well to the left when driving over dunes.
6. Speed – a slower journey means a safer journey for vehicle and passengers.
Top Five Four-Wheel-Drives
1. The Cape

This 4WD odyssey from Cairns to the very top of the country is considered one of Australia's toughest.
How long: 928km, allow eight days minimum to take in all the sights on offer.
Degree of difficulty: Advanced.
Best known for: This journey traces the historic route of the Overland Telegraph Line to the northernmost tip of the mainland. Rugged roads with deep river crossings, bull dust and corrugations, spectacular world heritage-listed rainforest, great fishing and camping.
Go when? Dry season, May to October.
2. Canning Stock Route
Often shortened to "CSR", judged by many as the most remote and isolated 4WD track in the world. Starting point is Wiluna, around the 958km northeast of Perth.
How long: 1872km track to Halls Creek, allow up to 16 days for this outback challenge.
Degree of difficulty: Advanced.
Best known for: Ever-changing desert interspersed with pretty waterholes and gorges, 51 historic wells, natural springs, native soaks and Indigenous rock paintings and carvings.
Go when? June to September.
3. Simpson Desert
Between Birdsville in southwest Queensland to Dalhousie Springs in far north SA, the route crosses into the Northern Territory at Poeppel Corner.
How long: 566km, a minimum of three days.
Degree of difficulty: Advanced.
Best known for: 1100 sand dunes, including Australia's tallest, Big Red. Stunning scenery, spectacular sunsets and sunrises, outback isolation, wildflowers combined with the chance to stand in three Australian states at once.
Go when? May to September.
4. Fraser Island
Via ferry from either Rainbow Beach 240km north of Brisbane, or Hervey Bay further north.
How long: 200km-plus, allow at least a week to take in the many scenic tracks crisscrossing the island.
Degree of difficulty: Intermediate. Sand driving experience preferred. Many have lost vehicles to inexperience and a fast incoming tide.
Best known for: The largest sand island in the world, only place on earth where rainforest grows on sand. Rich Aboriginal history with numerous archaeological sites. Freshwater lakes, rock pools, coloured sands – and the Maheno shipwreck.
Go when? Year round, but April to September is superb.
5. Oodnadatta Track
Maree, 342km north of Port Augusta in SA, is the start or endpoint depending on which way you go along the famous track.
How long: 618km Maree to Marla, minimum two days.
Degree of difficulty: Intermediate.
Best known for: Traces a major Aboriginal trade route and the old Ghan Railway Line. Lake Eyre, Coward Springs, William Creek, plenty of ruins including Peake Telegraph Station, historic graves and Anna Creek Station – Australia's biggest cattle station – Oodnadatta's pink roadhouse and the William Creek Hotel.
Go when? May to October.
LEAVE YOUR COMMENT