The UK cities you're most likely to experience a White Christmas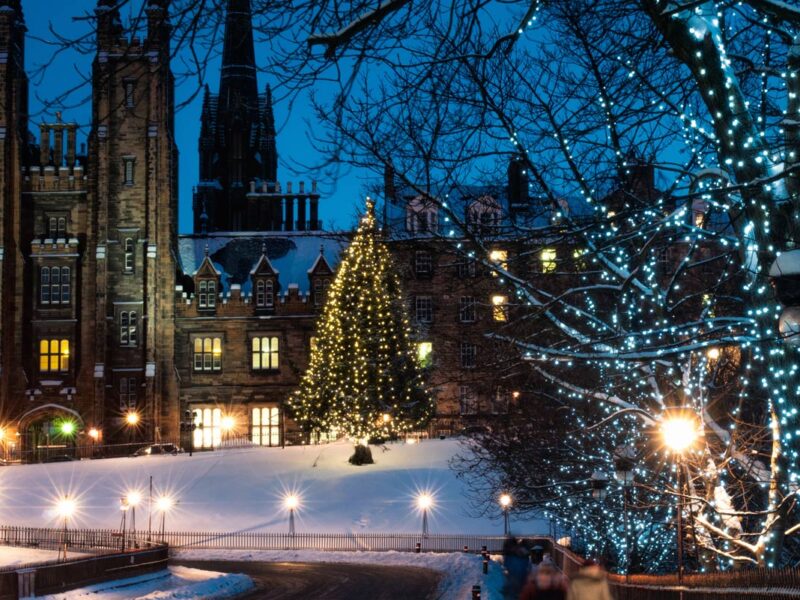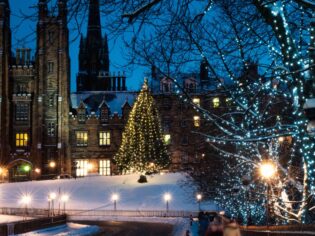 Recent probability statistics have laid out which cities in the UK are most likely to experience a White Christmas.
A White Christmas is a bucket-list experience. Especially for those living in the Southern Hemisphere, having spent many a Christmas sweating at a backyard barbecue, on a cramped beach or fighting siblings for a spot in front of the air conditioner.
If you're keen to see snow this festive season but don't know where to go, we've got the place for you. And it's not based on beauty or bias, we've got the stats.
Online betting experts at OLBG have profiled the latest betting odds and statistics surrounding the chances of a White Christmas in the UK this year.
From Scottish burghs and Irish metropoles to cities across England, here's a definitive list of UK cities that are most likely to experience a White Christmas.
1. Edinburgh
Coming in at number one with the highest probability of snowfall this Christmas is… drum roll, please… Edinburgh!
The capital city of Scotland is one of the most beautiful cities in the UK. And it has a 33.33 per cent chance of seeing snow this Christmas.
Edinburgh is full of history, with something to learn about around every corner. Think cobblestone streets, castles and an underground city. Get lost in the Old Town, wander bookshops, climb Arthur's Seat or explore Edinburgh Castle.
2. Glasgow
Edinburgh's neighbour Glasgow also has a 33.33 per cent chance of seeing snow this Christmas. The up-and-coming cultural capital of Europe has plenty of museums, art galleries and lively venues to keep you warm over the festive season.
But make sure you also grab a pint at Drygate Brewery, check out a gig at the Barrowland Ballroom or discover the Riverside Museum.
3. Leeds
Coming in third is Leeds in West Yorkshire, England, with a 25 per cent chance of Christmas snowfall.
Leeds is another exciting, up-and-coming city in the UK. The city is known for its diversity and cultural scene, and if you're planning to head to Leeds, there's plenty to see and do.
From the Royal Armouries Museum and Kirkstall Abbey to Roundhay Park and Lotherton, there's something for everyone to enjoy. Including the likelihood of snow come Christmas time!
4. Belfast
Not far behind Leeds is Belfast in Northern Ireland, which has a 22.22 per cent probability of experiencing a White Christmas. In fact, historically, Northern Ireland is a great bet for a snowy Christmas.
In 2010, County Down in Northern Ireland (just over 30 kilometres from Belfast) was responsible for one of the top four deepest snow depths recorded on 25 December since records began. It saw 17 centimetres of snow, preceded by 45 centimetres in Gwynedd, Wales.
Famously, Belfast is the birthplace of the RMS Titanic, which can be felt from the renovated dockyards' Titanic Quarter, which includes the Titanic Belfast Museum and shipbuilder Harland and Wolff's Drawing Offices. The iconic slipways, where the boat was once launched, now also plays host to open-air concerts.
Visitors can also explore the Crumlin Road Gaol, Ulster Museum, St. George's Market, the Belfast Peacewall and Cavehill.
5. Manchester
Manchester is one of the UK's most exciting cities, with a thriving music scene and a budding swell of art, design, culture and history. And this December, it has a 20 per cent chance of seeing snow grace its streets on Christmas.
Manchester is studded with museums and art galleries, some of the best being the Manchester Art Gallery, the People's History Museum and the Science and Industry Museum.
Football lovers will also love it here; two of the English Premier League's biggest teams, Manchester United and Manchester City, call the city home. Visit the National Football Museum or, during the winter season, catch a game at Etihad Stadium.
Other UK destinations on the list include Birmingham (14.29 per cent chance of snowfall), Cardiff (9.09 per cent chance of snowfall) and London (8.33 per cent chance of snowfall). Bristol, Aberdeen, Liverpool and Newcastle all have a 4.76 per cent chance of snowfall.
So, if you're keen for snow this festive season, the UK is the place to be. But if you're betting on it, head up to Edinburgh or Glasgow in Scotland and you may just have yourself a very merry White Christmas.
LEAVE YOUR COMMENT