A guide to visiting Ireland's Cliffs of Moher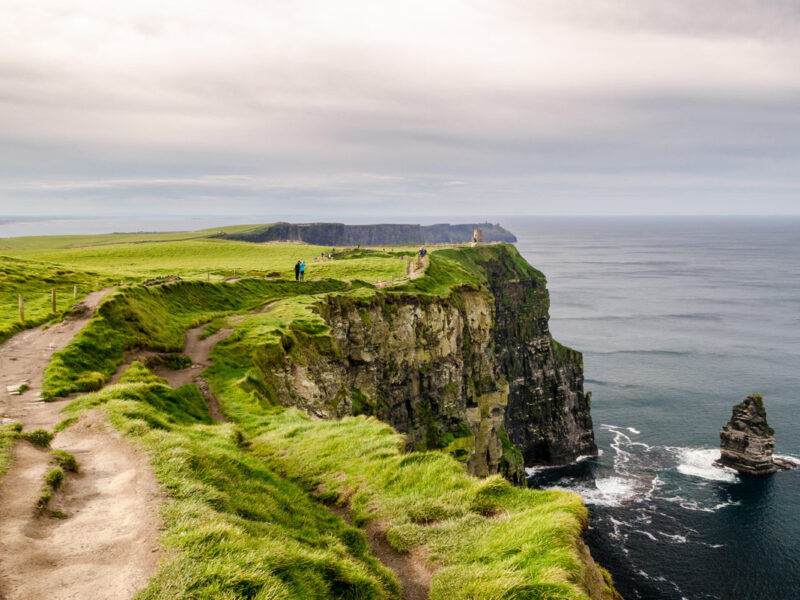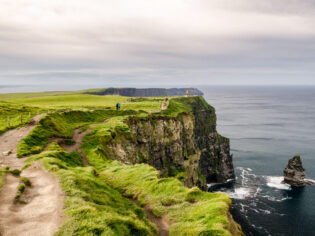 One of the Emerald Isle's most spectacular natural wonders, a visit to the Cliffs of Moher is guaranteed to take your breath away.
Waves crash against black, shimmering rock faces that tower over the churning ocean, soft green grass swishing violently in the wind at their peaks. Fog billows and clears, hiding then revealing the landscape as sheets of rain match the intensity of the waves below. This is the version of Ireland's Cliffs of Moher that we had the pleasure of experiencing – moody, intense, and thrilling.
The beauty of the Cliffs of Moher is you don't know what you'll get weather-wise, and that's part of the experience. Most often, you'll experience multiple weather events in one trip. You might think torrential rain and whipping winds would make a visit unpleasant, but within minutes we were greeted with pockets of sunshine – then back to grey skies again.
As you can imagine, as exciting as the unpredictable weather is, it does mean planning in advance, so you aren't sloshing around in soggy jeans. If you want to enjoy the cliffs' full majesty, don't arrive unprepared. Below, find our guide to visiting the Cliffs of Moher in Ireland to get the most out of your trip.
What to see at the Cliffs of Moher
The Complete Walk
The complete Cliffs of Moher walk spans 20 kilometres between the villages of Liscannor and Doolin. So, if you're a keen hiker and want to really immerse yourself, begin in either village and spend a full day along the cliff edge. It's a medium to difficult walk due to the wild weather and irregular pathways though, so wear sturdy footwear and pack a poncho or weatherproof hiking gear.
Distance: 20 kilometres
Time: Approximately four-and-a-half hours
Coastal Walk North
For those who want to do something shorter but still get a proper hike in, the eight-kilometre stretch between Doolin and the Cliffs of Moher visitor centre is challenging and gives you a good glimpse of the landscape. It is medium to high difficulty as this stretch has the rockiest pathways, so ensure you're an experienced hiker and prepared for the elements.
Distance: Eight kilometres
Time: Approximately two hours each way
Coastal Walk South
The south walk between the Cliffs of Moher visitor centre and Hags Head in Liscannor is a less strenuous option. Most of the walk is flat, and one kilometre has been paved, so it's a better option if you don't pack proper hiking boots or are walking with children. However, the elements can be more intense in this area, particularly the wind, so stay away from the cliff edge and follow all signage and warnings.
Distance: 5.6 kilometres
Time: One-and-a-half to two hours
Cliffs of Moher Visitor Centre
The easiest way to visit the Cliffs of Moher is just to walk the paved, fenced routes near the visitor centre. These have been designed with accessibility in mind, with a flat access path, and fencing that protects tourists from getting too close to the edge of the cliffs. You will get great photos here, so if you're nervous about the longer hikes, don't feel you will miss out if you stick to the sealed paths in this area.
There is also the option to enjoy the Cliffs of Moher via buggy in this space, with two operating daily for the mobility impaired.
O'Brien's Tower
When you exit the visitor centre and head out to the cliffs, you'll see an isolated tower looming to the north. This is O'Brien's Tower, first built in 1835 by a local landlord for tourists and believed to have been a teahouse. These days, you can enter the tower and enjoy a wonderful view over the cliffs from the top. Given its size there is sometimes a queue, so be prepared to wait unless you arrive outside of peak hours.
When to visit the Cliffs of Moher
Ireland has wild weather, particularly along its coastline. This is all part of its charm, so don't be disappointed if you arrive at the Cliffs of Moher on a chilly, rainy day. As their official site says, "the beauty of the Cliffs and the weather is that they can be cloaked in fog one minute and basking in the sun's rays the next," so it's less about the time of year you visit and more about planning ahead and preparation.
Give yourself several hours to visit the Cliffs of Moher, so that if you arrive in bad weather, you can wait it out. Peak visiting hours are also 11am to 4pm, but the site opens from 9am November to February and from 8am March to October. Arriving early is the key to beating the crowds, or if you're a late riser, waiting until the end of the day. You can even spend the early evening at the Cliffs of Moher, which is especially beautiful during the summer months of May until August when the site is open until 9pm.
How to plan your visit to the Cliffs of Moher
You will need tickets to visit the Cliffs of Moher, and it's a good idea to buy these in advance online. That way, you avoid lengthy queues at the Visitor Centre. Your ticket includes parking and access to O'Brien's Tower.
The Cliffs of Moher is very well organised and easy to walk, so if you have a car and are able to get to the visitor centre, don't bother doing an organised tour. However, it's worthwhile staying in county Clare, where the cliffs are situated, overnight. The area has lively pubs, quaint country accommodation and lovely historic towns.
What to bring
Because of the unpredictable and often wild weather, dressing appropriately for the Cliffs of Moher and bringing the right gear is essential.
To start with, wear sturdy, waterproof footwear with grip. While the path is very accessible, it can be slippery due to rainfall. If you don't have this type of footwear, take care when walking, even on sealed pathways. It's also a good idea to wear waterproof clothing like a raincoat and water-resistant pants, although if you prefer, a poncho will suffice. Definitely bring an umbrella – rain can come in sheets on the wind.
You can buy ponchos and umbrellas from small stores at the Cliffs of Moher; just be warned that prices are steep.
Getting there
Driving
The drive from Dublin is two hours and 45 minutes. Staying in Limerick is a great jump-off point, though, as the drive is only one hour, and Limerick itself is a vibrant, enjoyable Irish town worth visiting.
Group tours
Not driving in Ireland? Opt for a tour. There are several available, leaving from various cities and towns from Dublin to Doolin.
Public transport
If you want to travel by train, the best stop is Ennis via Limerick. From there, you can catch the Route 350 bus to the Cliffs of Moher, which also runs from Galway.
LEAVE YOUR COMMENT