Grand-castle fly fishing in Ireland - a novice's guide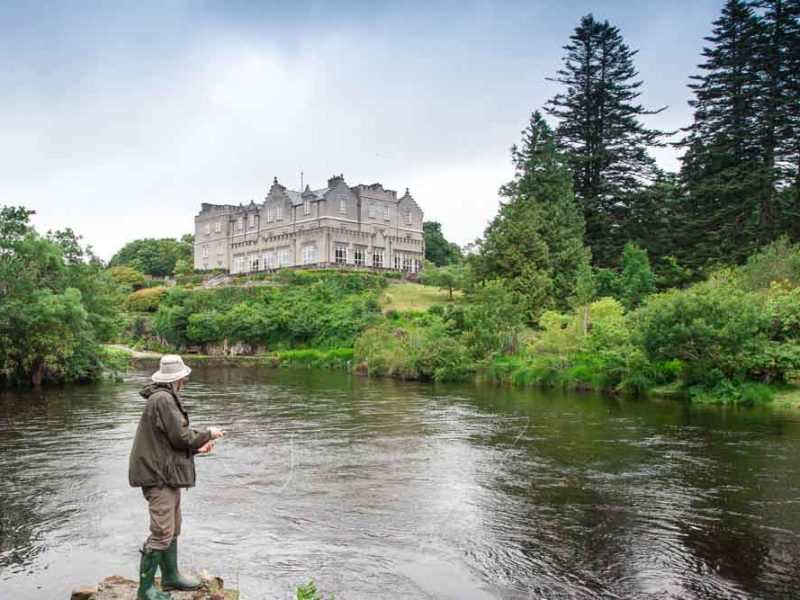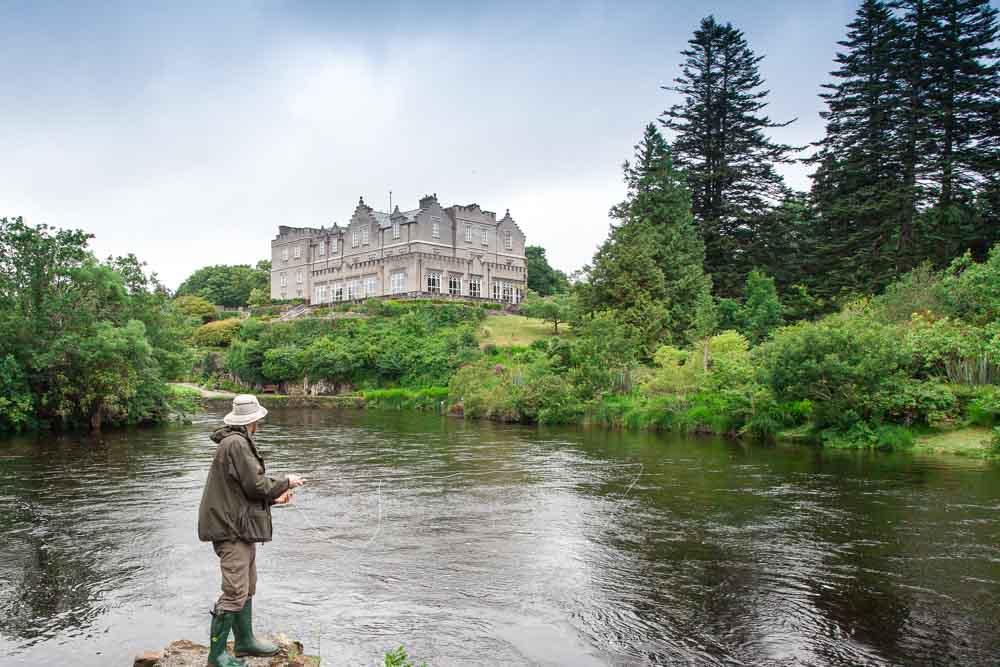 Quentin Long tries the art of fly fishing in the grounds of a grand Irish castle.
I have never really understood the attraction of fly fishing. There are literally hundreds of easier ways to catch a fish.
Dynamite is a little too brutal but there are fish traps, hooks with bait, hooks with spinners, hooks with lures, something my fish-crazy brother-in-law calls a squidgy, all of which are far more effective in deceiving fish.
Yet, somehow there seems to be great affection for the art of daintily landing a silly bunch of knots tied to resemble some passing insect on a babbling brook in the hope that a fish will mistake these knots for dinner.
As I pull into the Ballynahinch Castle Hotel, however, in the heart of Ireland's most seductive landscape, the Connemara, County Galway, I weave past three lads gaffawing at themselves in waders and decide that I too would love to spend the afternoon showing fish just how harmless humans can be.
Checking in I enquire about the likelihood of a lesson with a guide that afternoon. The staff will ask the activities manager who will ask the fishing manager, but in case all the fishing 'beats' are taken would I like a spot of clay pigeon shooting?
Ballynahinch is just that sort of place: a stately property with estate grounds where a gentle stream reportedly full of salmon and trout steadily flows past the castle.
On an island in the middle of one of the many lakes on the grounds lies the ruins of the original castle of the 'fierce O'Flaherty's', who owned the estate for 700 years from the 12th century.
More recently, an Indian Maharaja purchased the property for his love of the fishing before it became a hotel upon his death in the 1940s.
As I tuck into my seafood chowder in the castle's casual Fisherman's Pub, Cyril the fishing manager introduces me to Sean who is going to be my fishing guide, coach and unhooking assistant for the afternoon.
Fitted out with boots, waders and a jacket, Sean, with his loyal dog Brady in tow, carries the rod (he is smart not to trust me with it inside) and leads me away from the stream to a walled garden.
Here on the lawns, Sean begins the long task of educating me in the genteel art of fly fishing.
After an hour of casting onto the lake of green lawn I come to understand a few of the finer points of this most antiquated of fishing pursuits.
The biggest surprise is that, contrary to popular belief, the wrist is not at all important in casting your line. It's all in the shoulder and elbow working like a metronome. Like one of those Asian cats that greet you at the dry cleaners.
Sean has the patience of several saints as I keep committing errors; cocking my wrist, forgetting to give more line, giving too much line too early and then cocking my wrist again. In his softly spoken Irish brogue, he is courteous and never frustrated.
The same cannot be said for his profanity-prone student.
Much to my surprise Sean thinks I am ready to tackle the stream itself. We agree that it may not be the most successful of fishing trips, but stranger things have happened as we head over the stone bridge to one of the more than 70 fishing piers installed by the Maharaja.
After 45 minutes of snaring all manner of plants, trees and flowers, my own hat and jacket (Sean is adept at standing a safe distance away) I occasionally land my fly near where it is meant to be so it drifts slowly in the hope of enticing a hungry fish.
Sean decides it's time to change the fly and destination.
Our new spot has a magnificent view of the castle. It is a fantasy of aristocratic pretensions; standing here pretending to fly fish with my own personal guide.
Eventually I am victorious; the fly swishes through the air to land without too much of a slap and I let it gently ride down river.
As the fly strains at the furthest reaches of my available line there is a gentle tug.
Sean can't believe it.
I can't believe it.
Brady is so astonished as to sit down and peer at us both.
But here, on the end of my line is an eight-centimetre brown trout wriggling, jumping and and generally demonstrating its irritation at being fooled by a beginner.
I wind in the fish for a photo before Sean, with great care, returns Ireland's most academically challenged fish to the stream.
And that is where we call it a day. I admire the art of fly fishing and would take up the challenge again.
But if my life depended on it, I certainly would not rely on fly fishing.
The details: Ballynahinch Castle, Connemara, Ireland
Getting there: Ballynahinch Castle Hotel is 68 kilometres west of Galway.
Playing there: The half-day fishing tutorial is $253.
We think you might like…
LEAVE YOUR COMMENT