Hotel Review: Sudamala Suites and Villas, Sanur, Bali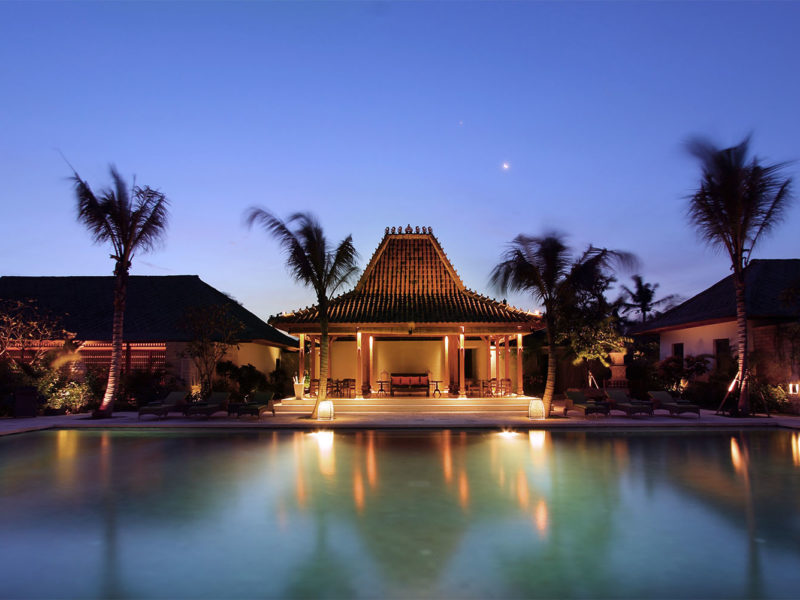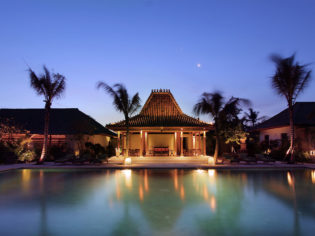 Serene, simple Sanur is one of Bali's underrated gems, which makes it an ideal spot to holiday away from the cool and crazy crowds of Canggu, Seminyak, Nusa Dua and Jimbaran.
Sudamala, which means 'purifying water', is a fitting name for this resort that aims to inject the soul of Sanur into your stay.
The entrance
Upon arrival at this open-plan resort, you are greeted by the library with its old and elegant timber doors, rather than the equally impressive reception, perched behind the library. From the street, it's an unassuming Balinese hotel, but once you enter you these gorgeous grounds, it's like peeling back an onion and similar to staying in an Indonesian house but on a grander scale.
The resort – which sits on former swampland and opened in 2011 – was built around the courtyard, emitting a fortress feel. There are layers of luxury to discover here.
The vibe
Exquisite and arty Indonesia sums up the ambience at this boutique hotel. Sudamala Resorts owner Ben Subrata is an engineer and art collector, and both passions are evident: from the straight lines that run through the grounds to more than 100 antiques and artworks dotted around the resort.
Subrata and his team – there are 80 staff members for this 34-room resort – place a high importance on visitors experiencing all of the beauty of Sanur, not only in the hotel but outside as well: from the recommended fish soup lunch at the area's oldest warung to a street food breakfast and local market visit.
The rooms
Enter your elegant room through a bright timber door which is unlike any other in the place. Yes, there are 34 guest rooms and 34 different doors. The studio pool access rooms come replete with cosy courtyard and private access to the pool.
There are splashes of batik dotted around the room, tiled floors and a writing desk that separates the bedroom from the lounge area. Sliding glass doors lead to an open-walled bathroom with a giant free-standing bath and generous shower.
Paying homage to local products, they use Indonesia's Sensatia products here and eco-friendly reusable shampoo, conditioner and shower gel containers. There are also two large bottles of filtered water in glass and an Illy coffee machine with coffee pods.
Dining
For a boutique hotel with only one restaurant, this resort packs a punch with its dining options. Feast on afternoon tea delivered in a birdcage at Ares Restaurant, where an all-day breakfast is also served.
Lunch on Western and Indonesian fare and consider this venue for dinner too if you're chasing a hearty steak. Or, you could partake in the Rijsttafel, a royal Indonesian feast served in the courtyard to a Rindik performance. Guests can also join an excursion to a local traditional food market followed by a cooking class with the Sudamala chef where you'll learn how to craft some Indonesian favourites and eat them for lunch.
The pool
A large rectangular pool is a focal point at the back of the resort with comfortable lounges and access to the Joglo traditional pavilion overlooking the pool. Look up as you sit in the Joglo enjoying a drink as there's some divine manmade carvings in the ceiling. Under Balinese tradition, the owner was allowed to add extra carvings once he became a grandfather.
The spa
If serenity has a sister it is surely the Sudajiva Spa, which means 'water of life'.
This sacred space aims to combine ancient and modern healing therapies to cleanse your body and soul of negative energy. Try a delectable two-hour spa treatment that starts with a body massage in an oil such as frangipani, continues with a body scrub with the likes of coconut, and finishes in a rose-petal bath outdoors.
The gallery
A large rectangular building at the front of the resort, the Sudakara Art Space regularly showcases the artwork of local Sanur and other Indonesian artists. This space is also used for weddings, functions and meetings.
Brickbats
For a resort which pays so much attention to detail, the mini-bar is surprisingly lacklustre with four cans of Coca-Cola and two cans of the local Bintang beer. The indoor/outdoor bathroom can become quite warm in the Balinese humidity and attracts mosquitoes at night. The hairdryer is heavy to hold, but lacks any real power.
Bouquets
The bouquets are, literally, bouquets. There are fresh flowers all over the room, including fragrant frangipani flowers tucked into the folds of face washers in the bathroom. The eco ethos of this resort is evident everywhere from placemats woven from banana leaves and paper straws in drinks. The turn-down service includes a scrolled fable on your bed to read before retiring.
Activities
It's just a seven-minute walk to the white sands of Sanur Beach or you could borrow a bicycle for free and cycle the entire esplanade, ending up at Le Mayeur Museum whose collection holds traditional Balinese local art and artefacts. Back at the resort, partake in yoga classes at the pretty and peaceful yoga bale.
The staff
The professional and polite staff treat guests as if they are family and are passionate about the story of both Sanur and Sudamala. Front Office Manager Kadek Sudiana is a font of knowledge on the area, which has been protected from the overtourism of other Bali areas.
The Sanur Development Foundation has ensured buildings can be no higher than the tallest coconut tree and a midnight curfew on all noise. Sudiana, a Sanur local, can point you in the direction of where Bali's oldest artefact is located; it's a 10-minute walk from the hotel to the Belanjong Pillar, which dates back to 914 AD.
The cost
Rooms start from $180 a night.
The verdict
Just when you thought Sanur couldn't be any more serene, along comes Sudamala, which encapsulates the soul of Bali's divine district. This is a heavenly hotel with heart.
The writer travelled as a guest of Wonderful Indonesia.
LEAVE YOUR COMMENT