7 Best Bars & Beach Clubs in Canggu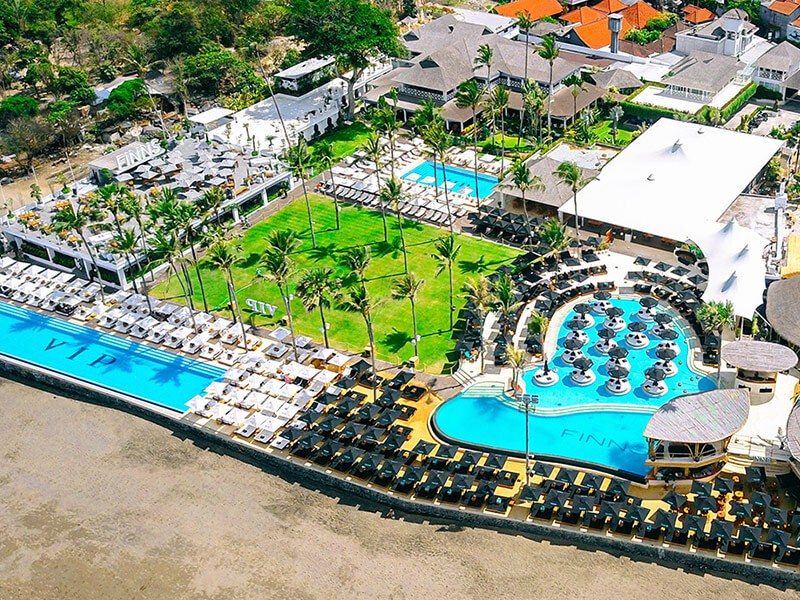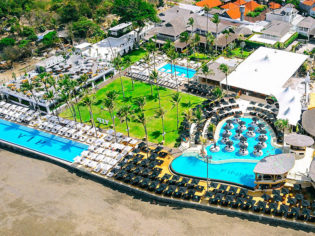 Hide Map
Gone are the days when Bali was a hidden wonderland for adventurous surfers; now it is as much of a foodie's delight as it is an Instagram model hotspot and Canggu is currently leading the charge.
Australians have been exploring the shores of Bali since the '70s and over recent years we've watched areas of Bali go from shabby to chic and back again. First it was Kuta that caught our attention, with its large resorts and Waterbom park. Then it was the foodie havens of Legian and Seminyak. Now it is Canggu's turn to shine.
You'll discover Bali's latest hotspot – located on the south coast of the island – abuzz with tourists, restaurants and bars. Check out our list of top picks of bars and beach clubs in Canggu.
1. La Brisa
You'll find La Brisa nestled on Canggu's Echo Beach. The combination of boho-luxe decor, a delicious menu of sustainably sourced food and relaxing ambience puts La Brisa on top of our Canggu bar-hopping list.
The enchanting beach bar is mostly built using reclaimed wood from over 500 disused fishing boats and it has the vibe to match. You'll feel a million miles away from the hustle and bustle. Attracting both locals and visitors alike, La Brisa is a favourite for those looking to relax and let the day happen around them.
Part of the La Familia Brand, La Brisa is just one of four standout venues you'll find across Bali – all of which are well worth a visit.
Address: Jl. Pantai Batu Mejan, Canggu, Kec. Kuta Utara, Kabupaten Badung, Bali 80361
2. The Lawn
The Lawn's beach lounge in Canggu is the go-to for a relaxing afternoon beverage by the beach. Music fans would do well to check out its upcoming events schedule and catch a live set from a vast range of bands.
The chic beachside spot combines easy lounging with a casual food menu, making it the ultimate spot for a breezy lunch date, sunset drinks or a long afternoon dinner with friends.
Address: Jl. Pura Dalem, Canggu, Kec. Kuta Utara, Kabupaten Badung, Bali 80361
3. Old Man's
During the day you'll find the bar mostly populated with locals and visitors from the surfing community. Situated right on Batu Bolong Beach, it's the best seat in the house for watching the surf before or after catching a few waves.
If you're looking for something a bit more lively than relaxing, Old Man's caters to that too. As the sun begins to set, Old Man's turns into an outdoor nightclub scene.
The chilled vibe of the day takes on a wilder side after dark. Kick off the night in the large beer garden with a round of drinking games with locals before rocking out to live music way into the early hours of the morning.
Address: Pantai Batu Bolong Street No.117X, Canggu, North Kuta, Badung Regency, Bali 80351
4. Finns Beach Club
Sitting on the edge of Legong Keraton Beach, with its eye-catching bamboo structure standing tall, Finns is hard to miss from the sea and from the street.
The venue has a whopping four pools, nine bars and five restaurants to choose from. It's also been hotly debated to have one of the best sunset spots in the area.
With easy access to the popular Berawa surf break and lounging options by the beach and the lagoon, what more could you ask for?
Address: Jl. Pantai Berawa, Canggu, Kec. Kuta Utara, Kabupaten Badung, Bali 80361
5. Pablo's
Built right in the heart of Canggu, Pablo's offers a distinct Latin American vibe fused with a hip, urban interior. Sit by the bar and order a fruity cocktail and a generous selection of its Colombian street food.
You won't be able to miss the bar's brightly coloured mismatched tiles from the street, or the line of people waiting to get their perfect Instagram shot on the front stairs. It's no surprise that Pablo's made the top 5 Instagrammable spots in Canggu earlier this year; take a step inside and you'll understand why.
Address: Pantai Batu Bolong Street No.58, Canggu, North Kuta, Badung Regency, Bali 80351
6. The Slow
Located a bit off the beaten track, The Slow is exactly as its name suggests. Slow.
Perfect for unwinding after a busy day of sightseeing, and for those looking for somewhere to lounge around all day.
Enjoy the venue's refined bohemian surrounds whilst sipping from a selection of its inventive cocktail list brought to you by London mixologist Maya Jaworska.
If you're more of a beer drinker you can pick from the small collection of local craft on offer, and if it's wine you're after, The Slow has a carefully curated wine list featuring small growers, regional styles and quaint vintage drops.
Address: Pantai Batu Bolong Street No.97, Canggu, North Kuta, Badung Regency, Bali 80361
7. Luigi's Hot Pizza
Pizza fans listen in! Luigi's might have some killer cocktails, but it's known around town for its mouth-wateringly good metre-long pizzas.
It's a great spot to end the night for locals and tourists alike. Head along with friends, satisfy those pizza cravings, sip on plenty of cocktails and get up and have a boogie! You won't regret it.
Address: Jalan Batu Mejan, Canggu, Kuta Utara, Canggu, Kec. Kuta Utara, Kabupaten Badung, Bali 80351
LEAVE YOUR COMMENT