Discover Bali's unique culinary culture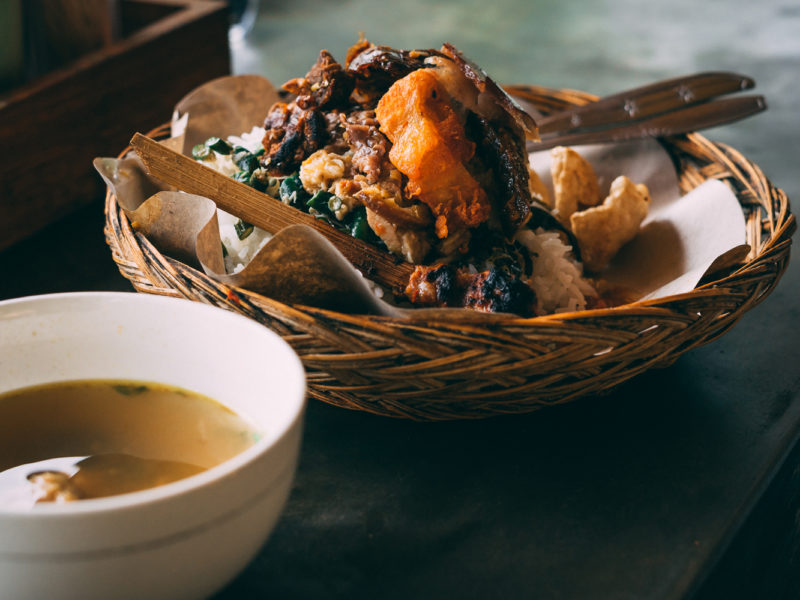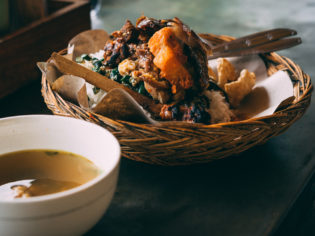 |

This Article was created in partnership with Visit Indonesia

|
Balinese cuisine's unique blend of aromatic local ingredients, traditional cooking styles and western influences make it a must-visit culinary destination for food lovers.
A vibrant bounty
In the cool dawn at Ubud morning market in Bali, farmers sit encircled by baskets brimming with glossy, indigo-hued eggplants, brilliant-green beans, and sunny yellow bananas. Calls ring out spruiking exotic produce of hairy rambutans, bubbly-skinned gourds and bunches of longans.
This daily buffet of ingredients catches the eye of passing locals, tourists and chefs as they meander through the vibrant market. Much of this bounty will end up at Bali's restaurants and warungs (eateries) that have become part of the island's happening food scene – a scene that beautifully fuses both local and western ingredients and cooking styles.
From the beach to the rice fields, you'll find fine dining restaurants dishing up internationally inspired plates beside traditional Balinese fare and hip, health-conscious eateries. It's a flavour-packed balance that makes Bali an enviable culinary destination.
The real taste of Bali
An excursion to Ubud's market is a good place to start, but it's just a small amuse-bouche of what's on offer. While you're in the rice paddy-fringed town, sample some truly local fare, such as the Balinese specialty of spit-roasted pig, or babi guling. This robust meal, served with crunchy crackling and a tangy side salad, is cooked over an open fire-pit then dished out at warungs. It's a food-lover's paradise.
For a real taste of Bali's food scene, you can also take a cooking class. In the island's north-east you'll find Bali Asli: surrounded by serene rice fields with uninterrupted views of Mount Agung, you can learn how to cook over fire, plant rice and enjoy typical Balinese cuisine. Alternatively, head north to Les Village to visit Chef Yudi, at Dapur Bali Mula, a part-time chef and Hindu priest, who'll teach you the art of Balinese barbecue with a side order of Hindu prayer.
Of course, Bali isn't all rice fields. The beachside towns of Seminyak and Canggu draw travellers for their lively energy and world-class restaurants. Make a shortlist of the best on offer and tick them off during your stay. You might start with one of Seminyak's many sleek, design-led eateries such as Sarong and Bambu Bali, experience Balinese cuisine culture on a plate at Canggu's Tugu Bali restaurant with 14th-century Indonesian heritage cuisine, or head to Bingin Beach for a toes-in-sand fish barbecue at Lucky Fish.
However you choose to eat your way around Indonesia's culinary island, you certainly won't leave hungry.
Our top 10 restaurants
Sarong, Seminyak
Bambu Bali, Seminyak
The Plantation Grill, Seminyak
Bali Asli, Karangasem
Candi Beach Resort and Spa, Candi Dasa
Chef Yudi, Les Village
The Octagon Beachclub by Plataran, West Bali National Park
Pachamama, Gili Air
Bebek Bengil, Ubud
Laut Biru Bar and Restaurant, Lombok
To find out more or to plan your adventure in Bali, visit indonesia.travel
LEAVE YOUR COMMENT