Everything you need to know about Bali belly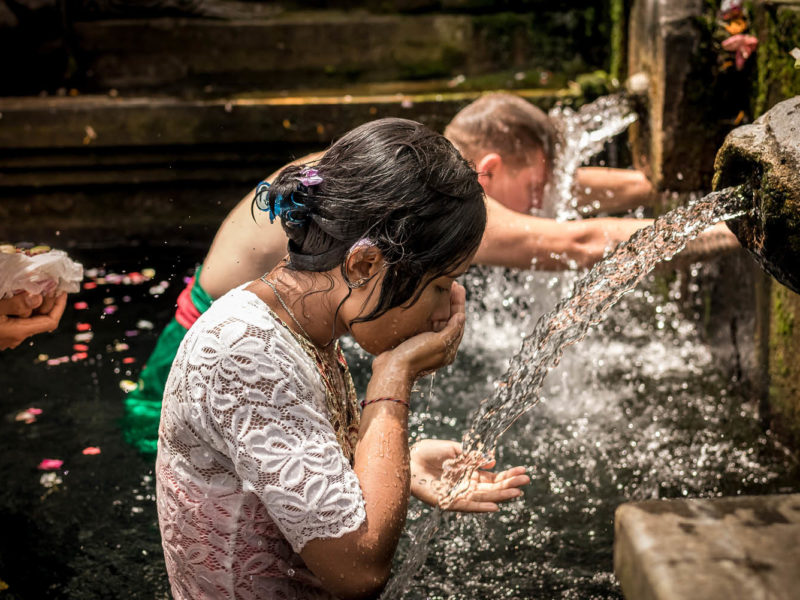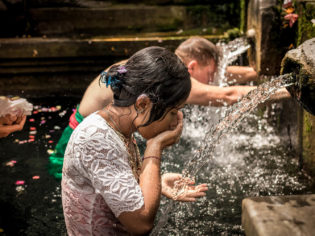 The dreaded Bali belly is a common affliction for travellers to Indonesia: here's what it is, how to avoid it and what to do if you pick it up.
While Bali is a perennially popular destination for Australians, with 1.18 million of us travelling to Indonesia in 2017, there are some health risks to consider. One of these is the common malady, Bali belly.
What is Bali belly?
Bali belly is essentially all the symptoms of gastro, but with a quick onset and varying degrees of misery. Typically, symptoms include stomach cramps, nausea, muscular aches, headaches, diarrhoea and cold/hot flushes.
It can leave you stuck in the bathroom rather than enjoying your Bali holiday, and it shows no discrimination in who it strikes, though diabetics and IBS sufferers are more susceptible. Symptoms usually strike within two to five hours of contamination. This can occur through drinking local water (even brushing your teeth in the sink rather than using bottled water is a risk) or eating food that hasn't been fully washed in filtered water.
How can I avoid it?
It can be tempting to eat at the nearest restaurant when you arrive late or you're jetlagged after a flight, but better safe than sorry. Try to go to the more popular dining venues and if you have any doubts at all, avoid fish, chicken or meat dishes. Generally, eating in venues that are more popular and reputed is going to decrease the likelihood of exposure to Bali belly.
If you don't typically eat highly spicy food, be aware this can upset your stomach and make you more vulnerable to belly aches and diarrhoea. Perhaps save your adventurous spirit for your activities rather than your dinner.
Make sure the water you are served has been filtered or bottled, and any fruit and vegetables are fresh and have been washed in filtered or bottled water.
Avoid ice in your drinks as it may not be filtered.
Avoid street vendors and any food served on plates that haven't been washed and dried in boiling water and detergent.
Wash your hands with soap and warm water before and after eating.
Avoid buying fruit that can't be peeled. Fruits such as bananas, watermelons and rockmelons can all be peeled and are thus more trustworthy than fruits that may have been washed and exposed to E. coli bacteria before purchase.
Avoid raw or rare-cooked meats or fish.
Avoid buffet food that has been unrefrigerated, exposed to the sun or touched by hands other than yours.
Drink bottled water, use bottled water to brush your teeth and avoid ingesting water in the shower.
What can I do if it strikes?
Your poor belly will be in turmoil, so don't make matters any more unpleasant by eating spicy, rich food, drinking caffeinated beverages or alcohol, and eating fruit or fermented foods. All of these foods are likely to cause further bloating, dehydration, diarrhoea or digestive turmoil generally.
Headaches, nausea and fever are all potential symptoms, though you may suffer none or all of these depending on the particular viciousness of the strain you pick up.
In Canggu, the hotel I stayed at had a ready stock of basic medications such as Panadol and diarrhoea prevention, and they also offered to modify the breakfast menu so that I was served plain porridge (purely white rice and water) without dairy, sugar or flavourings. If your accommodation isn't able to assist with ready-to-hand medication, you can always offer to pay them to go to a pharmacy and collect Panadol and belly settling medication for you. This is the best avenue to take if you are only experiencing light to mild symptoms and you don't have a fever.
If you have a fever, where your temperature is clearly up and your skin is warm to the touch, you feel fatigued and you are experiencing cold and hot flushes, then go to the doctor. Hopefully, you have been conscientious enough to organise travel and medical insurance that covers doctor visits. My particular travel insurance had a $100 excess. My treatment costs, in addition to the medication, amounted to $150. I was reimbursed $50 by my insurance upon submitting a copy of my receipt and doctor's certificate.
The doctor will take your temperature, ask about your symptoms, check your heart rate and blood pressure and prescribe accordingly. If it's a fever with a belly ache and headache, then likely you'll be prescribed a course of antibiotics alongside painkillers and hydration solution. I was offered a multivitamin IV drip, but this is expensive and I responded quickly to the antibiotics without necessitating an IV. This is a personal call.
Opting to have a doctor attend your hotel typically has a $80–$100 surcharge, so if someone can take you there or you're up to walking, do that.
The best foods to opt for while you're experiencing symptoms and as you are recovering are basic vegetable broths or soups, plain potatoes (boiled or steamed), bananas, sorbets or natural gelato (vanilla, banana or strawberry are ideal rather than rich, high-sugar varieties), coconut water (great for replenishing electrolytes), plain rice and plain porridge (oats and water, or rice and water).
Ultimately, stay hydrated no matter how horrible your belly feels. If you end up dehydrated, you'll only feel worse and risk prolonging aches, nausea and digestive disruption. If your symptoms don't alleviate after a day or so, go directly to a doctor rather than putting on a brave face. Check your travel insurance and medical insurance policies before you go on holiday, and if it's too late, check them before you go to the doctor and know what you'll be eligible to claim.
When you return to Australia, see a doctor if you experience any further symptoms to ensure you haven't been misdiagnosed and for your own peace of mind.
Now for the fun stuff! Read our ultimate guide to travelling Bali and start planning.