Hotel Review: The Seminyak Beach Resort and Spa, Bali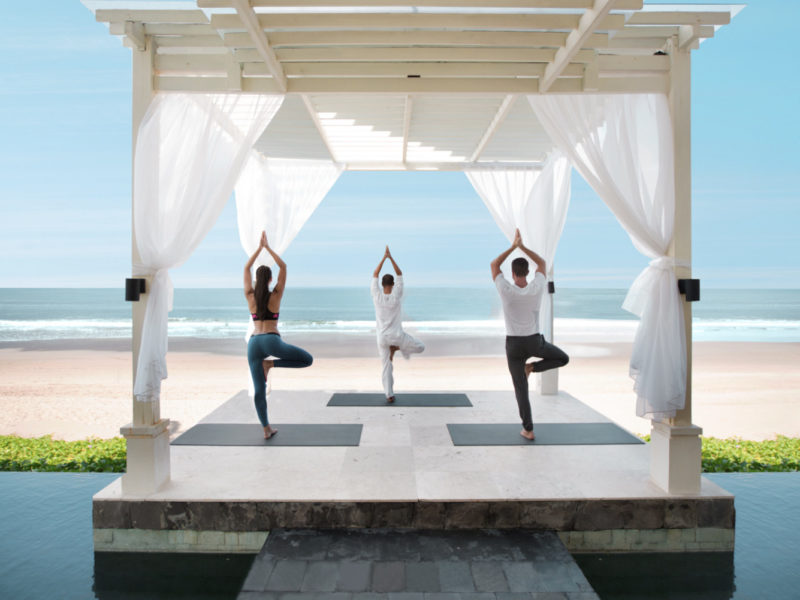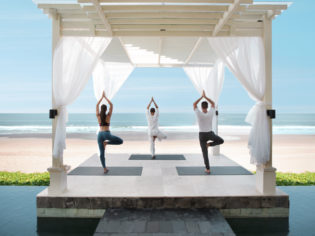 In one of Bali's most bustling areas, where things are ever-changing, one Seminyak hotel has stood the test of time.
Originally opening as Persona Bali, before changing its name to the Resort Seminyak, and finally the Seminyak Beach Resort and Spa after extensive renovations, this heavenly hotel has wooed visitors for the past 31 years.
The staff
Loyalty speaks volumes here, with most of the hotel's current staff second-generation employees. And this kind of commitment is evident in the superior service delivered to guests – nothing is a problem.
The vibe
The Balinese owner has hand-picked everything in this hotel, which is perched on 1.37 hectares and is all about celebrating authentic Balinese culture with a five-star flourish.
Wander the gorgeous landscaped grounds that are dotted with traditional Balinese bales containing delightful day beds. The permanent wedding pavilion overlooking the ocean is the only one of its kind in Seminyak. This local, independent resort (it's not part of any chain) was last year accepted into the Small Luxury Hotels of the World portfolio. And deservedly so.
The entrance
Arrival at the resort is via a grand, white grand entrance punctuated by a colourful statue of a garuda. Guests are announced by a giant gong on arrival and greeted with a gorgeous garland of fragrant frangipanis. Check-in is not conducted at a desk, but is personalised while you sit on a comfy couch, sipping a welcome drink.
The rooms
With 103 rooms, 11 villas and 26 suites, there's plenty of choice here.
The Ocean View Suites scream Asian elegance – all reds, whites, teaks and timber announced by a wood-carved entrance. There's a dressing room replete with safety deposit box that is large enough to store a laptop as well as your valuables. The slender bathroom has a loo with a view towards the ocean and leads towards a double vanity.
Discover two types of bathrobes: a waffle weave, which can be purchased with your name monogrammed, or a stylish silk batik kimono, also available for sale in the resort boutique. Aromatherapy Associates toiletries are available in the bathroom, which boasts a separate shower leading to a sunken spa with TV and ocean views. There's a large living area with couch, coffee machine, tea, coffee and mini-bar with local Plaga wine and premium Bali organic dark chocolate. Lie in your large bed and fall asleep to the sounds of the sea.
Dining
For traditional Indonesian fare, head to the Santan Restaurant just off the lobby, which is framed by colourful koi ponds. For those who prefer their dining oceanfront, the Sanje Restaurant & Lounge is the ideal spot, particularly for sunset. A dining highlight here is the Fisherman's Night staged every Tuesday, Thursday and Saturday.
The concept is simple: instead of guests trekking to the busy Balinese district of Jimbaran for fresh seafood, the seafood comes to them. Dine on the likes of barbecued snapper, tuna, mahi mahi and prawns, washed down with a complimentary glass of sangria and a stunning sunset over Seminyak.
The Sanje is also a lovely breakfast spot: choose from a number of healthy breakfast bowls and juices, plus multiple coffee options. For something even more casual, dine on basic fare such as burgers and pizzas delivered to you by the pool or head for a cheeky nightcap at the classy bar, Klass & Brass.
The spa
The elegant Kahyangan Spa has been designed with the philosophy of transporting visitors from Earth to Heaven in mind, with guests entering on the ground level and ascending to the treatment rooms upstairs.
Even the reception area has been strategically placed on the left-hand side because the human heart is on the left side of the body. There are seven treatment rooms, a relaxation room and jacuzzi facilities here. Indulge in everything from a Bali Coffee Body Scrub to multi-day rituals like Energise & Shape; Balance Body & Mind; or Body Cleansing.
The pools
The long infinity pool overlooking the wild waves is somewhat of a Seminyak icon. There's also a second pool with swim-up bar framed by delicious day beds.
Fitness Facilitates
There's a 24-hour gym and fitness centre, plus some really cool classes. Partake in kick boxing, boxing, Muay Thai, Zumba, Tai Chi or Pilates. Yoga is also staged on the resort's gorgeous lawns.
Brickbats
While the tap water in Bali is not safe to drink, hotels such as this need to consider other options such as filtered water in the lobby, rather than the four free plastic water bottles in the rooms, particularly given this Indonesian island's recent ban on single-use plastic.
The hotel also boasts a 'garden wing' but it's separate to the main buildings, across a busy road. Bathroom features such as the hairdryer and rubbish bin are so well hidden, it's possible you may not know they exist. The hairdryer has such poor power it does not meet luxury expectations.
Bouquets
Guests will appreciate the convenience of an ATM on the ground floor. On the ground floor Chantique boutique sells classy goods such as silk kimonos and lovely books on Bali. Guest rooms contain gorgeous hard-cover coffee table books about Bali to read as well as high-end glossy Asian magazines.
Attention to detail in the rooms is so paramount, even the tissues are folded into the shape of a lotus flower. There's even a day room on the ground floor for guest use either before check-in or after check-out.
The cost
The starting room rate for the Garden Room category is $495 including breakfast for two people.
The verdict
In a destination where you're spoiled for choice, this stylish hotel in the middle of Seminyak manages a laid-back beach vibe while delivering on superior service standards.
The writer travelled as a guest of Wonderful Indonesia
LEAVE YOUR COMMENT