Read more...
The sound of sewing machines floating out of tailor's shops. Intricate warehouses that have been converted into cool cafes, where you can sit and savour locally-grown iced coffee. Bicycling through the backstreets, where grandmothers hand make mot tea, a secret recipe of herbs and flowers stewed until fragrant… These are just a few of the reasons we're tipping Hoi An as the unsung gem of Vietnam.
Once a thriving port city and a key stop on the Silk Route, it is still a beguiling blend of French, Chinese, Japanese and Dutch influences. Although the traders have now been replaced by tourists, strict building regulations mean that the Old Town is still a romantic maze of twisting lanes lined by traditional buildings painted yellow and roofed with handmade ceramic tiles. At night, when nothing but silk lanterns light the quiet houses down by the river, it feels as if little has really changed at all.
So where to start when planning your Hoi An adventure? Here are our picks of the best things to see and do in Hoi An.
Savouring sweet Vietnamese coffee while drinking in views of the Old Town from Faifo Cafe's rooftop. Watching a potter craft a vase using a foot-powered wheel. Lighting a lantern and setting it afloat on the sacred river…
From the cool to the cultural, there are no shortage of things to do in Hoi An. For more ideas on how to make the most of the city during day and night, check out Faifo Cafe's rooftop
Beaches
If all that sightseeing is getting a little much, hire a bicycle and explore Hoi An's stunning coastline.
An Bang Beach has 4km of talcum-soft sand and refreshing sea breezes, which makes it a great place to escape the humidity and try your hand at parasailing. It's fairly developed, with sun loungers, beach bars such as La Plage and even several spas. What could be more indulgent than a hot oil massage to the soundtrack of crashing surf?
Cua Dai is closer to town and has had some issues with sand erosion, but is still worth a visit. Relax in the shade of the palm trees and buy a cold coconut off the sun-wizened locals who hawk their wares at picturesque beach shacks.
Vietnam weather can be extreme. The best time to visit for a beach holiday is between late February and mid-May, and September and early October before the rainy season. June, July and August are the peak summer months.
Markets
Hoi An and trading go together like green tea and mung bean cake, so it's no surprise that the city boasts several vivacious markets.
Across the river from Hoi An Ancient Town, on what some locals call 'the party side' because of the cluster of bars selling cheap cocktails, you'll find the Hoi An Night Market. Although almost exclusively populated by tourists, it is a buzzing place to pick up some streetfood and a trinket or two.
For something far more authentic, rise with the sun and cycle the 3km to the Fish Market at Thanh Ha, which opens at 6am sharp every day (apart from one day a month when the moon is full). You'll see fishermen in conical hats haggling fiercely with local matriarchs and a huge range of seafood, from small sharks to juicy prawns.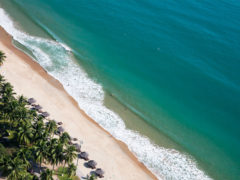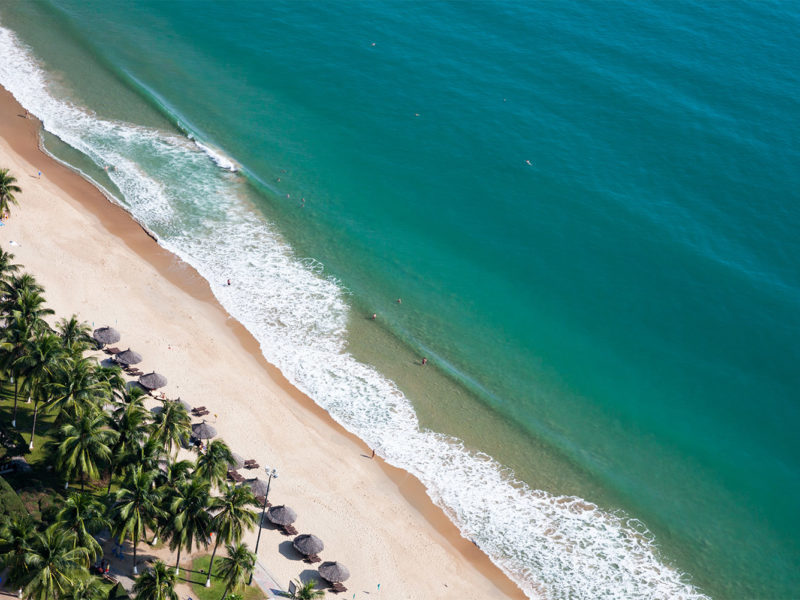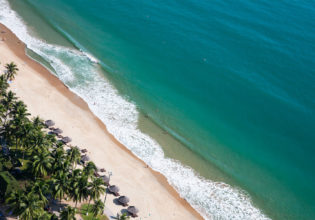 With a coastline that stretches – in a big, sandy 'S' shape – for over 3200 kilometres, it's not surprising that Vietnam boas...
Top attractions in Hoi An
From beautifully-preserved homes that have been passed down through several generations of the same family to magnificent assembly halls, Hoi An's winding streets offer new surprises around every corner.
Whet your appetite with our curated guide on the top attractions in Hoi An.
Temples
From quiet shrines largely hidden by clouds of incense to colourful pagodas bedecked with dragons, everywhere you go in Hoi An you can feel the pull of the sacred. Many of the temples reflect the city's multicultural past.
Phuc Kien Assembly Hall is a tropical explosion of colour which was originally built by Hoi An's Chinese community. Look out for the weather vane shaped like a fish and intricate figures perched on the roof, which were meant to bring good luck.
Quan Cong temple was built especially for merchants to pay their respects to the ancestors before heading out to sea. Inside, expect beautiful murals and collections of ritual weapons used for processions.
UNESCO sites
Hoi An Ancient town is an exceptionally well-preserved example of a South-East Asian trading port dating from the 15th to the 19th century, and therefore the entire site has Unesco status. Simply strolling through its narrow streets admiring the tiled buildings with carved wooden doors is an experience in itself. Entrance to the old town costs 120,000 VND (around $7.50).
On your wanders, look out for the Japanese Covered Bridge, which dates back to the 1590s, and Phung Hung Old House. This old mansion's entrance hall is lit by colourful lanterns and lined with exquisite silks.
Hidden among the mist-wreathed mountains in the Duy Xuyen District, at the mouth of the Thu Bon river, you'll find My Son, the Vietnamese equivalent of Angkor Wat. These romantically crumbling ruins, gradually being reclaimed by the forest, were built between the 4th and 13th centuries by the Cham tribes. A day's boat trip from Hoi An will take you into the heart of the sanctuary, via traditional villages such as Duy Hai and Tra Nhieu.
Hoi An's hotel scene is as varied as its architecture and there are as many types of accommodation as there are native herbs on offer at its teeming markets.
There are countless five-star hotels on offer, as well as homestays in leafy mansions on the outskirts of town and boutique guesthouses tucked away in crumbling townhouses. The best part? In a country as cheap to travel as Vietnam, you won't need to break the bank to experience utter luxury if that's what you're after.
Take a look at our curated guide to Hoi An's top places to stay.
Hotels
Nestling among lush gardens that flow down to the Thu Bon River and less than 1km from the historic quarter, Anantara Hoi An's location is difficult to beat. Try a coconut and black sesame scrub in their award-winning spa.
Combining excellent value with plenty of creature comforts such as river-view balconies and rain showers, Hoi An Rivergreen Boutique Hotel is a reliable choice in the heart of the city.
Resorts
With direct access to 25 miles of platinum-coloured sand and views over the inky-blue waters of the South China Sea, it's no surprise that Four Seasons Resort the Nam Hai is widely regarded as Hoi An's best beach accommodation. Flop and allow cold water, ice cream and sunglasses cleaning services to come to you via one of their attentive beach butlers.
Looking for a haven from Hoi An's fierce heat? Almanity Hoi An is a lush dreamland of lily pad ponds and swaying palm trees, and it also has a well regarded yoga school and wellness centre.
Homestays
Owner of Blue Clouds Homestay, Duong, is rightfully proud of the house he built for his wife and two sons. Modern and airy, it has a distinctly homely feel thanks to bunches of fresh flowers and thoughtful touches such as the pot of green tea that is always ready to drink in the lobby.
Learn about traditional worship rites and Vietnamese cooking at Joy Hoi An Homestay, where you will be welcomed into the family by your local hosts. The triple rooms are ideal for groups.
The closest airport to Hoi An is Da Nang and you can fly from Melbourne, Sydney and Perth with a single layover in Singapore. From there, take bus number one to Hoi An, which costs 30,000 VND ($2) and takes just under an hour. You can also book a hassle free transfer with Muvv Private Car Airport Transfer. This will cost around $35.
By road
You can travel to Hoi An by road from most major cities in Vietnam.
Overnight buses are a wallet-friendly option that make sense if you aren't short on time and can cope well on not much sleep. Some buses are practically luxurious, with two floors and mattresses, although others are standard coaches with seats that barely recline.
If you're travelling the 17 hours from Ho Chi Minh, most buses depart from the tourist hub of Pham Ngu Lao. Travelling from Hanoi? Head to 208 Trần Quang Khải to catch the daily Queen Cafe sleeper bus, which takes 18.5 hours.
Vietnam Bus Tickets offers a comprehensive service and often has deals.
Whether you're looking to have your favourite outfit tailored or for an original piece of art, the winding streets and colourful night markets that line Hoi An's Old Town are the perfect place. Prices are almost always negotiable and for in depth tips on how to haggle, check out our ultimate guide to shopping in Vietnam.
The bustling merchant ships that once docked in Hoi An port may have been replaced by pleasure cruises, but there are still hordes of international visitors looking to capitalise on Vietnam's cheap silks by having bespoke outfits created for them by the city's many tailors.
Bao Khanh Silk has a vast choice of fabrics, while B'LAN SILK , located at 23 Tran Phu Street, is housed in a 200-year-old house which you can have tour before your fitting.
Best Places to Eat in Hoi An
Crispy crepes filled with shrimps. Elastic noodles swimming in rich pork broth. Snakehead fish wrapped in mustard leaves and dipped in zingy sauce… Hoi An's food scene is a delicious blend of French, Chinese and Japanese influences, as well as quirky local specialities that can't be found anywhere else in the world. So, where exactly are the best restaurants in Hoi An?
For a meal that looks as good as it tastes, head to White Rose Restaurant. These delicate mouthfuls of minced pork wrapped in thick white dough that's pinched to resemble a flower are made to a top secret recipe that has been passed down through three generations of the same family. Don't forget to peek at the team of women making them at the back of the restaurant.
For a cheap dinner on the go, try Banh Mi Phuong. This humble hole in the wall restaurant may not look like much, but their signature banh mi (baguettes filled with pork, cream cheese and a garden of fragrant herbs) got the thumbs up from celebrity chef Anthony Bourdain when he visited for his No Reservations television series.
There are so many things to see and do in this beautiful city, it can be hard to choose. A Hoi An tour might just be the missing key to making the most of your trip.
Vespa Adventures offer a wide range of trips, including a street eats tour at night. All the guides are local and it's a fantastic way to discover authentic backroads where local life potters along at snail's pace.
Get a sense of rural life with a bike tour. Within just a few kilometres of the city, a lush tapestry of rice paddies waded by water buffalo are waiting to be explored. See snatches of locals practicing traditional handicrafts such as mat-weaving as you free wheel past and stop off at roadside stalls to refresh yourself with mangosteens en route. Urban Adventures' bike and boat tour includes a river cruise and barbecue at sunset.
Destinations to explore in Vietnam