8 Best Beaches in Vietnam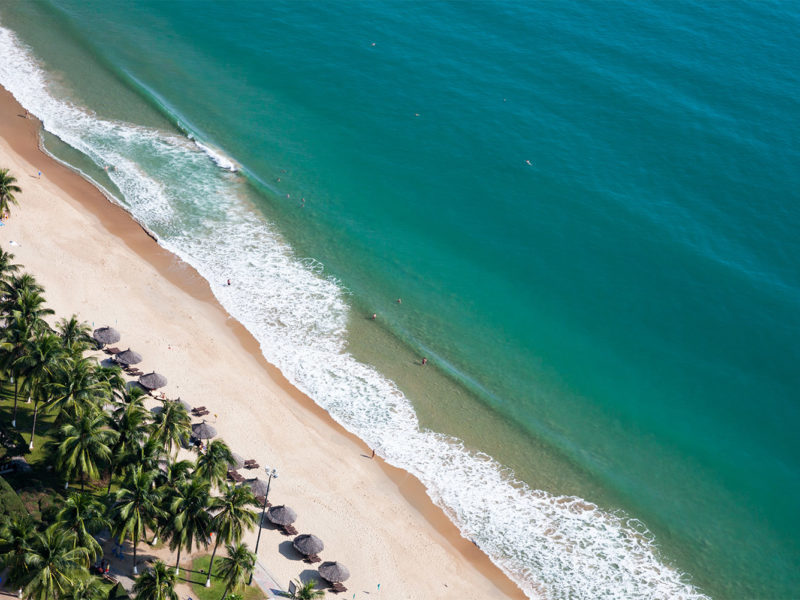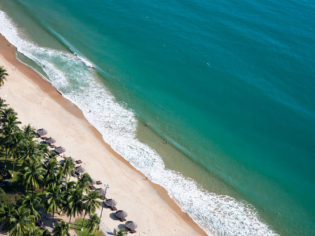 With a coastline that stretches – in a big, sandy 'S' shape – for over 3200 kilometres, it's not surprising that Vietnam boasts so many beautiful beaches. From Nha Trang and Mui Ne and Phu Quoc Island, here's our pick of the best. Don't forget to pack your swimmers!
1. Nha Trang
First up among the best beaches in Vietnam is a perennial favourite. Known as the Vietnamese Riviera, Nha Trang – a busy beach area in the Khanh Hoa province – is renowned for its six-mile stretch of white-sand beach, clear waters and popular party boat cruises.
As well as being home to Vietnam's first certified dive centre (Rainbow Divers) and subsequently many soft coral reefs and caves to explore underwater, there's also wakeboarding, kite surfing and banana boat rides for beach bums to try their hand at.
Meanwhile for the land lubbers among us, there are plenty of resorts and bars near City Beach that make a mean beachside cocktail.
But if you'd rather forgo the buzzing crowds here, travel 34 kilometres north to Doc Let Beach. It's just as blindingly beautiful as Nha Trang, but without the hordes of other travellers who know they're onto a good thing.
2. Bai Sao, Phu Quoc
Located in the Gulf of Thailand off Vietnam's south-west coast, Phu Quoc is actually closer to Cambodia than Vietnam, being just 18 kilometres from Kampot province.
Famed for allegedly having the whitest sand in the country and some of the best sunsets around, it is undoubtedly one of Vietnam's most picturesque islands. There's many idyllic beaches here to get your sun-and-sea fix, each with its own character, but Bai Sao – with its powdery sand and swaying palm trees – is the oft-sung star. It figures, really, given that its name translates to Star Beach (on account of the starfish you'll see while snorkelling).
3. Long Beach, Phu Quoc
Another Phu Quoc gem is Long Beach, on the island's west coast, a 20-kilometre-long stretch of golden sand. It's here you'll find five-star InterContinental Phu Quoc Long Beach Resort, part of the upswell of luxury international resorts now sprinkling the island and indicating that it's well on its way to becoming a global beach resort destination: get in before everyone else does.
4. Con Dao Islands
Look up 'idyllic' in the dictionary and you'll likely find this place. Largely protected from tourism due to its remote location, about 230 kilometres south of Ho Chi Minh City, the Con Dao archipelago hides some of the most peaceful and untouched beaches in Vietnam.
Made up of 16 mountainous islands and islets – the largest being Con Son – you can expect to find a selection of uber-private, absolute beachfront resorts here to lap up a Vietnam beach holiday in unadulterated luxury.
Among our favourite beaches though is Dat Doc Beach, where guests at Six Senses Con Dao can access a private stretch all to themselves. How's that for a seriously five-star stay?
5. Mui Ne
Just 220 kilometres east of Ho Chi Minh City, Mui Ne is a charming fishing village cum tourist favourite.
Characterised by its rolling sand dunes, serene water, swaying palm trees and warm beach-going weather for most the year, many claim this to be Vietnam's number one beach.
Ideal territory for windsurfing and kite surfing, it's also not a bad setting for a seaside massage.
Once you get bored of the beach scene (if that's even possible), there's a growing string of restaurants, boutique shops and resorts nearby.
6. Ho Coc
A quaint seaside village roughly 125 kilometres southeast of Ho Chi Minh City, Ho Coc boasts one long sweeping stretch of fine sandy beach.
Featuring pristine waters and the occasional boulder plonked along its peaceful shoreline, there's no shortage of photo opportunities here.
To make the most of the serene surrounds, come during the week and beat the weekend crowds who day trip here from larger centres.
It's also worthy checking out the nearby hot springs and rainforest.
7. Four Seasons Resort The Nam Hai
For a little bit of luxury, stay at the Four Seasons Resort The Nam Hai on the outskirts of World Heritage-listed port town Hoi An. The resort grounds sit on a private, kilometre-long stretch of Ha My Beach, a popular beach on the country's culturally rich central coast.
Content yourself with watching the water shimmer from your ocean-front villa or get active with a kayak on the East Sea.
And of course, take your chance to explore the old port town of Hoi An itself: with its centuries-old merchant houses, famously lantern-lit streets and promenades along the Thu Bon River bustling with people and eateries.
8. Minh Chau Beach
For a feeling of really getting away from it all and off the tourist trail, head to Quan Lan Island in northern Vietnam. Not far from Halong Bay, this sleepy island wasn't always so sleepy: in the 11th century it served as a busy port for international trade.
Today the main drawcard here is the wild and beautiful Minh Chau Beach, stretching one kilometre in a crescent shape. But also don't miss the beautiful old Quan Lan Temple (built in the Le Dynasty) with its exquisite carvings. Book yourself into a homestay and sink into local life for a couple of days.
For more information about travelling around Vietnam, visit our Vietnam guide.
LEAVE YOUR COMMENT