Hoi An: why it's the unsung gem of Vietnam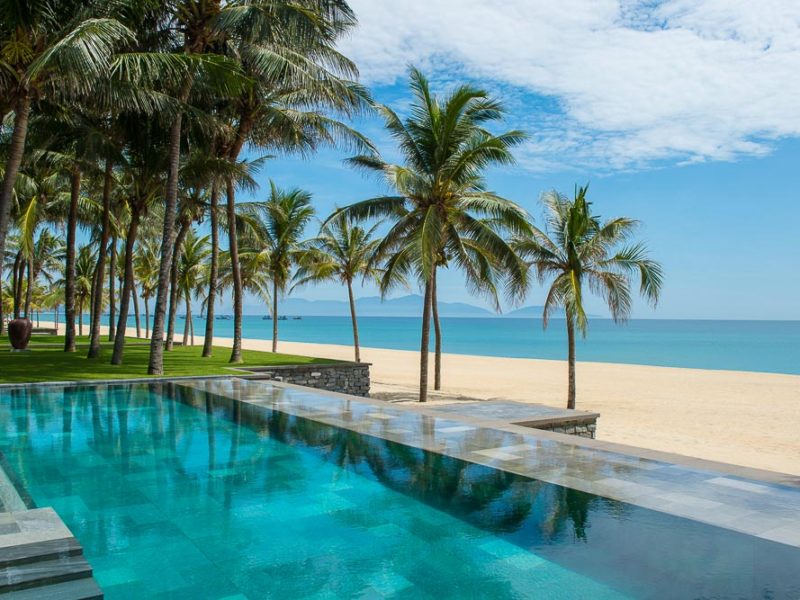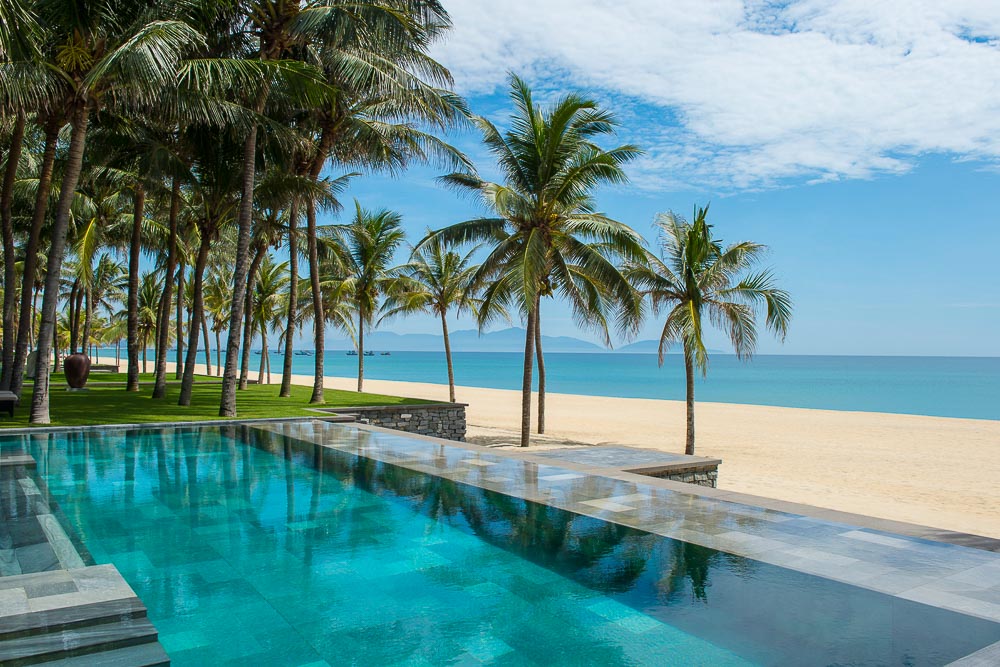 A run through the lush countryside that skirts Hoi An stirs reflection on what makes this sliver of Vietnam so special.
The children follow for a few metres, giggling and waving as I run past before peeling off and rejoining their friends. Puffing and blowing I manage to smile back.
Then I realise that they're not laughing in that way children seem to do so beautifully for National Geographic photographers looking to bag a cover shot. No, they're genuinely laughing at me. Red, panting and soaked in sweat I soldier on following the man in front steadily stretching the gap between us. Before long I notice he's wearing an Ironman triathlon T-shirt from an event the previous year… it dawns on me that I've agreed to go on a run with a near-professional athlete in the searing heat and soaking humidity of Vietnam's wet season. I'm close to death.
The Ironman setting the pace, all lean sinew now that he's not wearing his work attire, is David Macklin, resort manager of Four Seasons Resort, The Nam Hai, a collection of luxury villas set amidst a forest of palms hugging an endless stretch of white sand on the South China Sea. Five minutes down the road is the World Heritage-listed ancient port town of Hoi An.
It was kind of David to allow me along on his "easy" afternoon jog through the surrounding rice paddies, but as we pass rows of the villagers' narrow houses, I'm reminded that my villa is just 10 minutes behind me, and there's ice-cold juice to be had in the cool of my own infinity pool. What the hell was I thinking?
Long and slender with pitched roofs clad in terracotta tiles like that of some ancient monastery, the The Nam Hai's villas take design cues from the local architecture. Vietnamese families tend to have a small business at the front of a property, a shop or cafe, and live directly behind and above it; as the population has risen dramatically and residential space become squeezed, houses tend to be just a room thick, something famously apparent in the tower blocks of the capital Hanoi. But it works in this climate, with air passing quickly from one end of a house to the other for a natural cooling effect.
While my Beachfront Villa hints at this heritage, it's blown up to grand proportions, a space of subtle opulence in its dark timber and marble floors, intricately patterned ironwork partitions and flowing drapes, all curated by Paris-based architect and designer Reda Amalou. A raised platform takes up the central portion, a structure that channels the traditional elevated living space of a Vietnamese family.
It holds a king-size bed, little work desk and a gorgeous gold eggshell-lacquer bath. At one end doors open to a private walled garden and outdoor shower; the other can be thrown open to manicured lawns and an infinity pool seamlessly merging with the sea beyond. At night the villa is lit with candlelight as fireflies convene over the pool; before bed I have to walk around the property blowing out candles like some Tudor lord.
But this is all a dream now, another world 20 minutes behind me, as my eyes sting with sweat and my cheeks go beyond red-hot to a stinging cool. That can't be good. The rice paddies are indeed beautiful; farmers wear their nón lá (leaf hats) shielding them from the sun – maybe I could snatch one off an unsuspecting head as I run past? The thought evaporates into the saturated air as we approach a military checkpoint, two guards in camouflage toting machine guns. "Shouldn't we stop?" I gasp. "No it's fine. Continue," David asserts, trotting past. The guards give him a nod of recognition, but look utterly bemused as I doggedly follow.
The military projects something of a benevolent presence in the communist country and while the American War, as they call it here, is forever etched in the minds of the Vietnamese, it's also made a permanent impression on the landscape. I discovered as much on a visit to the World Heritage site of My Son Sanctuary, one of several significant historic treasures that litter this central portion of Vietnam.
The ruins of Hindu temples built by the Champa Kingdom at My Son from the 4th to the 13th centuries emerge from dense jungle, their ornate design reminiscent of similar odes to Shiva and Vishnu across Indochina, such as Angkor Wat. Here and there the brickwork is scarred with bullet holes, while craters mark where the US carpet bombed the site in 1969 in an attempt to flush out hiding Viet Cong troops; a remarkable monument in itself to the destruction of cultural heritage as a result of war.
"I'm going to have to take a pause," I gasp. We're on a footbridge over a creek and I now have a bizarre fizzing sensation rippling up through my overheated body; I may be about to pass out. Thankfully my guide doesn't want one of his guests to die on his watch and allows me a 30-second break. He's nothing if not generous.
Down the road in Hoi An is another bridge, a little wider and longer perhaps, but photographed thousands of times a day: the Japanese Covered Bridge. Linking the old Japanese quarter with the Chinese portion of town, its attractive 18th-century arch of stone and timber is a symbol of the 15th-century port's multicultural history as a trading hub. French, Chinese and Japanese ships delivered cinnamon, rice, tea, coffee and silver to be moved through the merchants' houses, the eclectic styles and wooden structures of which are gloriously intact today.
Indeed, the World Heritage-listed port is what sets The Nam Hai apart from other luxury retreats in the world you could think to stay at, such is its proximity to this country's Venice; a rare and wonderful place. You can't help but take photos of everything you see, whether it be the ornate courtyards of centuries-old merchants' houses now given over to silk tailors, clothing and jewellery boutiques; an elaborate Chinese temple where sailors would pray for safe passage; colourful arrays of exotic fruit and spices laid out on the pavement before crouching vendors; or disgruntled, photo-averse monks in striking saffron robes (guilty!).
The city is famously transformed come night – its streets lit by thousands of multicoloured paper lamps, the promenades along the banks of the Thu Bon River bustling with people looking for the perfect dinner spot as countless candle-lit lotus leaves carry their prayers out to sea…
"Hello? Let's push on for another 20 minutes, we must be halfway," David reassures as I snap out of my stupor, staring at the creek from the bridge. Perhaps it would be better to just pass out and be revived back in my villa; David could carry me back. We run through a hamlet before emerging on a raised track between two rice paddies. Up ahead, a muck-spreading machine is taking up most of the track spraying manure over the adjacent fields, a curtain of it raining down on the path ahead. By this point I don't have the energy to suggest a detour and blindly follow as we run straight through a shower of…
I must be in the final furlong. The rice paddies are an almost luminous green – and I don't think I'm hallucinating. Everything is so fresh and vital in the tropical climate, apparent in the young shoots of rice growing all around me. Produce just tastes fresher here too, in moreish dishes like crispy crab rolls, fresh fish with tumeric and dill, grilled pork with vermicelli, and green mango salad.
During my stay I've prepared these same recipes under the instruction of chef Tran Van Sen at The Nam Hai Cooking Academy, housed in a newly renovated, beautiful kitchen complex positioned next to the resort's small holding so you can pick the freshest of herbs. For the core ingredients, Tran Van Sen leads his pupils deep into Hoi An's sprawling central market to purchase produce. A frenetic place, hawkers shout prices and locals leaf through wads of dong in exchange for meat, vegetables, exotic fruit, and a befuddling array of spices. The whole market backs onto the river where fish, squid and shellfish are unloaded straight from fishermen's boats. It's been like this for centuries.
Noisy, hot and sticky, the market's central food hall makes for a welcome place to pause for lunch; the local Hoi An dish of cao lau – steamed noodles, herbs, lettuce, coriander, sliced pork, lime, plus chilli sums up why Vietnam's food forms such a delicious accompaniment to the heat and humidity, with its balanced spices, fresh greens and clean flavours; reason enough to travel here.
It's been a level, medium-paced jog, but in the heat I've lost track of time. Utterly spent, I round the corner through the grand gates of The Nam Hai and run down its palm-tree lined driveway. David and I take a triumphant red-faced selfie before I stroll back to my villa to savour the coming moment that's been an obsession for the last 40 minutes: I run through the villa, snatch a cold juice from the fridge, throw open the doors and wade straight into the infinity pool.
Tomorrow I'll make my excuses and head for the air-conditioned gym. Hindsight can be a wonderful thing in such a beautiful place.
Details: Four Seasons Resort and Nam Hai Cooking Academy, Hoi An
Getting there: Vietnam Airlines runs direct flights to Ho Chi Minh City from Sydney and Melbourne, with connecting flights to Da Nang on the central coast. Four Season Resort, The Nam Hai then provides a transfer service to the resort.
Staying there: A one-bedroom villa at the Four Seasons Resort, The Nam Hai starts at $946.
Eating there: The resort has its own pop-up night food market where you can eat as much as you want from a selection of the country's traditional favourites, including whole suckling pig, bánh bao (steamed buns), bún bò spicy broth and pho. You can learn how to make it all yourself at The Nam Hai Cooking Academy.
Playing there: Organise excursions to some of the nearby World Heritage sites, which are all within easy reach. Explore the ancient civilisation of the Champa at My Son Sanctuary, the imperial citadel of Hue and, of course, the ancient port town of Hoi An.
MORE: Only have 24 hours? No problema: check out Hoi An – one day and one glorious night in 'Vietnam's Bath'
LEAVE YOUR COMMENT