Read more...
Whole families balanced on the back of a single moped and street sweepers napping in the shade of frangipani trees. Clouds of incense billowing out of Taoist temples, seedy karaoke clubs and a skyline that seems to shoot up quicker than bamboo…
Nowhere can Vietnam's ambitions for its future  be felt more clearly than Ho Chi Minh City, where the pace of life is best described as frenetic. A teeming commercial hub that gobbles up more of the Mekong Delta's swampland every day, it also has a quieter side. Turn down a side street to discover crumbling colonial buildings and tranquil gardens where Buddhist monks feed flocks of catfish for good luck.
So where to start when planning your Ho Chi Minh adventure?
Here are our picks of the best things to see and do in Ho Chi Minh.
Things to Do in Ho Chi Minh
With its fascinating culture, which varies from suited businessmen sipping egg coffee to elderly fruit sellers wearing conical hats, simply walking around this fast and furious city is an experience in itself.
Get planning your perfect trip with our handy guide on the best things to see and do in Ho Chi Minh City.
Markets
Stalls teeming with unfamiliar herbs, long boats laden with live crabs and hawkers peddling colourful silks are just a few of the things you can expect to see at one of Ho Chi Minh City's many markets.
As much of a cultural experience as a shopping opportunity, Ben Thanh is one of the oldest and most famous markets in the country. Head early in the morning to avoid the crowds and snap up the best bargains.
Founded by designer Moon Doan, Saigon Flea Market is a favourite with the city's creative community. Browse handmade jewellery, vintage vinyl and retro clothing at bargain prices.
Day trips
Although there are enough things to do in Ho Chi Minh City to last a lifetime of holidays, set aside some time for a day trip and you'll be well rewarded.
The Ben Duoc Cu Chi tunnels are a fascinating labyrinth of underground passageways which were the headquarters of Vietkong guerilla fighters during the 1968 Tet Offensive. A guided tour provides a haunting insight into life during the war, although is best avoided if you're claustrophobic.
Although the Mekong Delta can be experienced in a day, you're better off spending at least a night there to break up the eight hour round-trip from Ho Chi Minh City. This watery wonderland is known as the rice basket of Vietnam and you'll see hundreds of traditional farms and floating villages where life carries on as it has done for generations. Mekong Delta Travel and Wendy Wu Tours have several excellent tours.
Top Attractions in Ho Chi Minh
A stroll through Tao Dan Park past Buddhist temples and over picturesque bridges will eventually lead to key monuments such as Reunification Palace and Notre Dame Cathedral. Carry on up Cong Truong Pari (9) until you reach Saigon post office, a magnificent 19th century building filled with period features.
Brush up on local legends at the Golden Dragon Water Puppet Theatre. This ancient art form dating back to the 11th century sees puppets performing on a water stage to songs performed by a live orchestra.
The Archbishop's Palace was built in 1790 and is one of the best examples of French colonial architecture in the city. Get up early to see mass held there at 6am daily.
For more ideas, check out our handy 5-minute guide to Saigon.
Museums
Not only are they the perfect place to escape the fierce heat, Ho Chi Minh's many quirky museums provide a fascinating insight into its past.
The most visited is the War Remnants Museum which documents the atrocities committed by US troops during the Vietnam war. Although it often comes under criticism for being deliberately anti-American, few exhibits capture the true cost of war so poignantly.
Housed in an elegant colonial structure painted butter yellow, the Fine Arts Museum would be worth the visit for the building alone. Pad beautifully-tiled corridors and admire stained glass windows before exploring the collection, which has pieces dating back to the 4th century.
Temples, palaces and cathedrals
Nowhere is the city's complex history more evident than in its many religious and historical monuments.
Saigon Notre Dame Cathedral is the last stronghold of Catholicism in this Buddhist city, and an impressive reminder of the French rule which lasted more than six decades. Admire its distinctive neo-Romanesque features, which were shipped over from Marseille, and relax in the peaceful garden.
By contrast, Vinh Nghiem Pagoda is an explosion of colour, with its distinctive Japanese/Vietnamese architecture, glittering gold interior and enormous reclining Buddha statue. The gardens feel like something out of Alice in Wonderland, with their hedges neatly cut into perfect spirals and exotic flowers peering out of piles of rocks.
Reunification Palace is one of the best things to see in Ho Chi Minh City. This is where the Communists seized power in 1975 and it's as if time has stood still ever since. Expect a cheesy card room with a shag pile carpet, fascinating maze of war tunnels and president's private suite, complete with grizzly elephant's feet ornaments.
Where to stay in Ho Chi Minh
Wherever you stay, you're sure to be charmed by Ho Chi Minh's dynamic energy. However, in a city this big, it's definitely worth getting a handle on what each district offers before booking anywhere.
The financial and commercial hub can be found in District 1, which is also a hub of tourist attractions, luxe hotels and international fashion boutiques. A little quieter, District 3 is made up of leafy colonial boulevards peppered with museums and more restaurants than you could shake a stick at. For a glimpse into how the city's super rich live, sachay over to District 2, which is made up of quiet streets lined with enormous private mansions, chic cafes and gleaming boutiques.
Take a closer look at your Ho Chi Minh City accommodation options with our handy guide.
Hotels
From chic colonial mansions to lavish skyscrapers overflowing with gilt and velvet, Ho Chi Minh City hotels are as varied as the local food scene.
Tucked away on a side street in the Phu Nhuan District, the Alcove Library Hotel is a peaceful Saigon sanctuary with a rooftop restaurant and enormous selection of books in the lobby. Read our full review here.
It doesn't get any more ostentatious than The Reverie Saigon, a peacock-coloured, gem-encrusted palace that perfectly captures the mood of Vietnam's emerging wealthy class. Sip a cocktail while lounging on a pool-side sofa designed by legendary design company B&B Italia and nibble caviar before enjoying a romantic massage for two in the spa.
Hostels
In a city with this much creative energy, you don't have to part with much of your holiday budget to stay somewhere stylish.
With its leafy courtyard paved with vintage tiles and contemporary design details, The Common Room Project could easily be mistaken for a boutique hotel without the hefty price tag. They offer a free cooking class every Thursday evening.
Beautifully minimal and filled with light, The Dorm Saigon is an oasis of calm in bustling District 1. Relax in a cabana on its roof terrace or chill in its lounge area, which is decked out in mid-century furniture and vibrant art.
Guest houses
With prices generally somewhere between hotels and hostels, a more mature crowd and an intimate vibe, a guest house may just be the Ho Chi Minh home away from home you've been looking for.
Owned by a French-speaking Vietnamese family, Ma Maison feels like a little slither of Provence in District 3. Expect bedrooms painted in soothing pastels, cute shuttered windows and a quiet, local atmosphere in the surrounding alleyways.
Boasting a prime location in District 1, Saigon April Guesthouse has a charming, bohemian vibe. Some rooms even have terraces complete with hammocks and a thriving plant collection, but all are air conditioned and equipped with a fridge and kettle.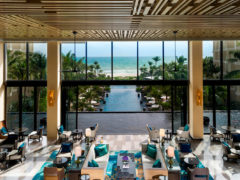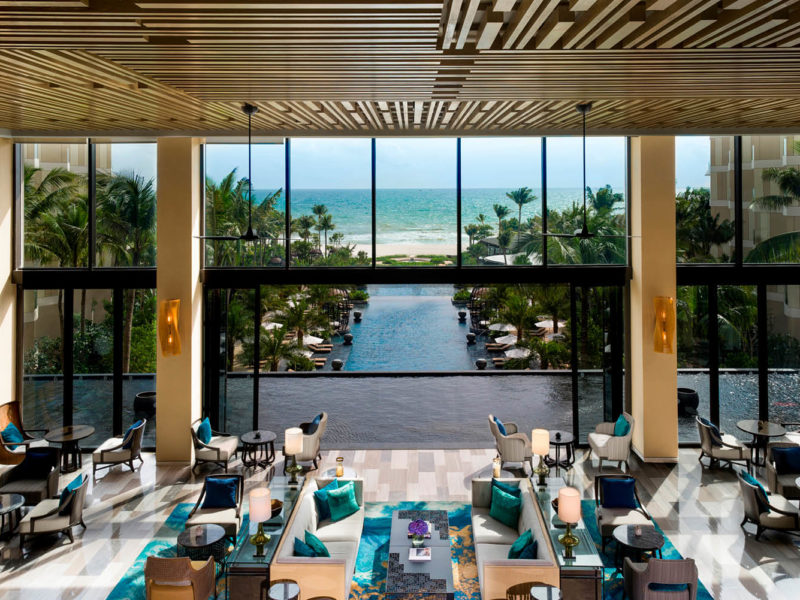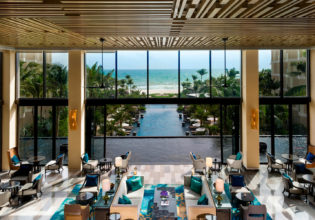 Tucked away off the coast of Cambodia lies the Vietnamese island of Phú Quoc, a hidden paradise that is set to become the next mu...
You can fly directly to Ho Chi Minh city airport from Sydney and Melbourne, and from Perth and Brisbane with a single layover. From there, hail a taxi from the rank into the heart of the action. The fare to District 1 should be around 150,000 – 170,000 VND and you will have to pay extra 10,000 VND to cover the airport surcharge.
Public transport
With 24 districts to explore, getting a handle on Ho Chi Minh City's public transport network is key.
Buses are extremely cheap although often run behind time due to traffic. The HCMC Department of Transportation's Way by Bus route finding feature is about to become your new best friend for planning routes. Just remember that drivers don't automatically pull in at stops, so stand up and wave at them to get their attention.
Uber recently pulled out of the city, but GrabTaxi works in a similar way. It has a decent English interface and you can pay using cash or card. If hailing a taxi from the street, look out for Vinasun (white, red and green cars) or Mai Linh (green and white cars). Both companies are reliable and reputable.
A new metro system is due to open in 2020 and should considerably help the city's congestion problems.
Places to shop in Ho Chi Minh
Consumerism is king in this fast paced city and the prices are almost always negotiable, excellent news for the shopaholics amongst you.
There are several streets which are dedicated to specific products. Tran Phu Street in District 5 feels like a free art gallery thanks to the huge number of artist's studios while Hai Ba Trung (directly opposite Tan Dinh Market) is an Aladdin's cave of fabrics, which can be transformed in to your perfect outfit by a tailor such as Cao Minh.
For the most hip of Ho Chi Minh City's shopping opportunities, head to The Weekend which includes an indie bakery, boutique, technology shop and restaurant under one roof. Or snap up cutting-edge Vietnamese designer clothes at reasonable prices at Libe Workshop, an effortlessly chic boutique much-loved by local fashionistas.
Read our comprehensive guide on where to shop in Vietnam.
Best places to eat in Ho Chi Minh
Given how close it is to the mighty Mekong Delta and the vast number of herbs that grow in the misty foothills just outside the city, it's no surprise that Ho Chi Minh is a gourmet nirvana. Think tiny clams fried in lemongrass, coriander and chilli (banh da xuc hen), fermented fish broth soup (bun mam) and mustard leaves curled around chopped mushrooms and tofu, served with crunchy peanut dipping sauce (cuon diep).
For a roving dinner, head to Van Kiep Street, which has more than 50 plastic-stooled stands serving up Viet specialties. For a seafood soiree, check out Nguyen Thuong Hien – or as the locals call it, "Snail Street", a catch-all term for every kind of seafood, including lobster, shrimp, crab and conch.
Set inside a former opium den, Hoa Tuc serves beautifully-presented contemporary Vietnamese food, such a lemongrass beef salad with kumquat dressing.
Its dazzling skyscrapers and millions of scooters can be confronting, so choosing the right Ho Chi Minh City tour is key to making the most of your trip.
Zipping around the city at night on the back of a scooter is an unbeatable thrill, particularly when combined with mouth-watering street food flavours. XO Tours' The Foodie Tour will take you to 10 stalls scattered across five districts, satisfying your appetite while exploring a more authentic side to the city.
For something far slower and more sedate, try a cyclo tour with Urban Adventures. Their cyclos and markets tour includes curiosities such as the bird cafe at Dan Park, where locals take their caged birds every morning and Ho Thi Ky flower market.
Destinations to explore in Vietnam