Where to eat in Honolulu, Hawai'i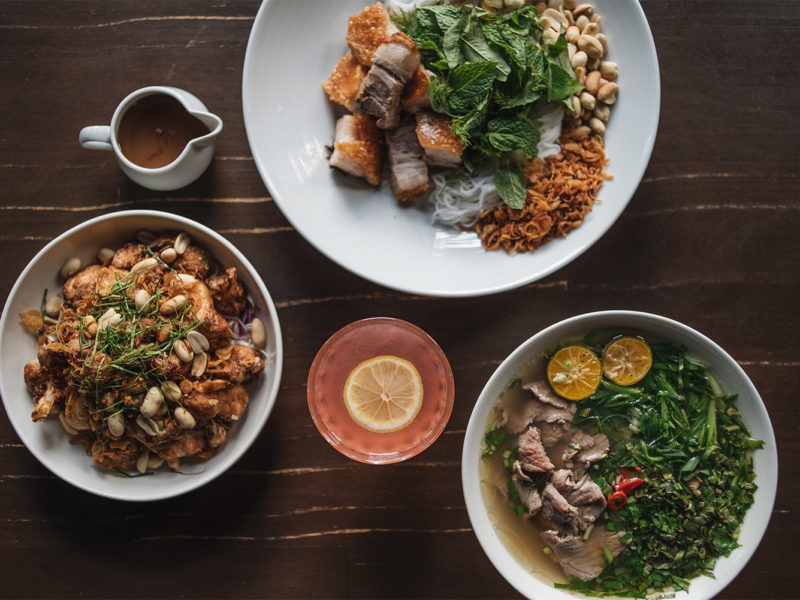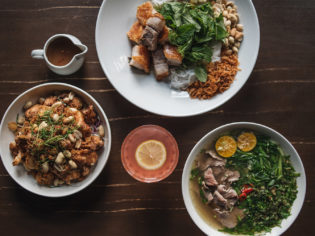 Hawai'i hasn't always been considered a hot culinary destination – but change is afoot, as Megan Arkinstall discovers as she hits the capital's best foodie spots.
Honolulu, the capital of the Aloha State and home to famous Waikiki Beach has long been celebrated as a fly-and-flop tropical destination: one that conjures up images of grass-skirt-wearing hula dancers swaying to the harmonious sounds of the ukulele, longboard-riding surfers gesturing the shaka, and a relaxed national uniform of vibrant floral shirts and leis.
But perhaps one thing you don't know about Hawai'i (or at least it's not at the top of your holiday checklist) is that it has an incredibly unique cuisine that has been born from a medley of cultural influences. (And it has nothing to do with Hawaiian pizza, which – by the way – was created in Canada.)
Here, we give you the lowdown on authentic Hawaiian cuisine, and why Honolulu is one of the USA's hottest culinary cities.
Beyond Waikiki's famous streets are some smaller, lesser-known enclaves with some of the tastiest, most creative eateries you'll find.
Kaka'ako
A cool neighbourhood nestled between Ala Moana and Downtown Honolulu with colourful street art, quality boutique shopping and a grassy waterfront park.
The menu at Moku Kitchen is seasonal and features dishes such as a fresh island mahi mahi fish sandwich, kalua pork pizza and saimin noodles (a noodle dish with Japanese, Chinese and Filipino influences).
Address: 60 Ala Moana Blvd, Honolulu
Chef Andrew Le's Piggy Smalls has an eclectic menu featuring pho, pasta, quiche and porchetta; it's part of the much-loved Pig and the Lady family.
Address: 1200 Ala Moana Blvd, Honolulu
If you're in town on the last Friday of the month, be sure to check out the Eat the Street food truck rally.
More than 40 vendors cook up burgers, shrimp and tacos, as well as island-inspired cuisine such as plate lunch (the Hawaiian version of meat and three veg) and loco moco (white rice, hamburger patty, fried egg and brown gravy).
Address: 555 South St, Honolulu
For a sweet treat, head to Butterfly Ice cream, which churns small-batch seasonal ice-cream with local flavours such as Kona coffee, Lehua honey and poi banana bread.
Address: 324 Coral St #103, Honolulu
Kaimuki
An eclectic residential neighbourhood to the east of Waikiki, with specialty shops and unique eateries.
Ed Kenney
Hawaiian-born chef Ed Kenney is a huge pioneer in the local food community. His restaurants Kaimuki Superette (a deli-style eatery selling seasonal sandwiches and sundries;), Town (a Mediterranean-Hawaiian restaurant with a farm-to-table menu) and Mud Hen Water (honouring Hawai'i's cuisine through small and large share plates) are all located in Kaimuki and showcase what Hawaiian Regional Cuisine is all about.
Hidden down an alley, Koko Head Cafe is a popular island-style brunch house with a menu of inventive comfort food such as a poke omelette, pancakes Hawaiian-style, and the deathly decadent Elvis's Revenge – peanut butter, banana tempura, bacon, local honey, toasted coconut and sweet bun.
It's helmed by top chef and ex-New Yorker Lee Anne Wong, a household name in the US who also lends her talents to Hawaiian Airlines as its executive chef.
Address: 1145 12th Ave C, Honolulu
Chinatown
Established more than 140 years ago, this is one of the USA's oldest Chinatown districts.
Maguro Brothers
Maguro Brothers is the place to go for some of the freshest fish on the island. Run by two Japanese fishmonger brothers, this no-fuss stall is tucked away at the back of Kekaulike Market and has a simple menu of poke, sashimi, cooked fish and ramen.
Refined but relaxed, Senia is about expertly prepared and artfully presented Modern American cuisine. Guests can dine à la carte or indulge in a US$185 ($260) per person tasting menu at the 12-seat chef counter facing the kitchen.
Address: 75 N King St, Honolulu
Chow down on Vietnamese fare made with Pacific ingredients and a Hawaiian twist at The Pig and the Lady. The menu features dishes like green papaya salad with fried kuaui shrimp, Hanoi-style fish and poi, and malasadas (a Portuguese confection).
Address: 83 N King St, Honolulu
Getting there
Hawaiian airlines has direct flights from Sydney and Brisbane to Honolulu.
Optional upgrades to Extra Comfort seating provide more leg room, priority boarding in Honolulu, a complimentary amenities kit and a wider array of entertainment.
Staying there
Located right on the beachfront, the Outrigger Reef Waikiki Beach Resort offers 635 generous room and suites and facilities including the La'akea Spa, fitness centre, swimming pool, sun deck and whirlpool spa, a trio of signature restaurants and daily Hawaiian cultural activities.
It also offers easy access to shopping and dining at Waikiki Beach Walk and the bustling heart of Waikiki, Kalakaua Avenue.
LEAVE YOUR COMMENT