Read more...
Hawai'i has got it all: thought-provoking history, diverse cultural experiences, islands to explore and the best waves to surf in the world.
Spend up big at the money-gobbling outlets in Waikiki, tour the crave-inducing coffee plantations in Kona or take your chances in the powerful surf on O'ahu's North Shore. There is plenty to see and do on each of the islands in Hawai'i. Check out our guide to find out which Hawaiian Island is right for you.
A holiday in Hawai'i can be as full-on or as relaxing as you'd like it to be. There is an endless checklist of activities, sites and foodie hotspots to experience, so much so, that you'll have trouble fitting it all into one visit.
Islands to explore
The Hawaiian Islands are made up of more than 100 islands, but there are officially eight main islands that make up the Aloha State and only seven of those are inhabited: Hawaii (the Big Island), Maui, Oahu, Kauai, Molokai, Lanai, Niihau and Kahoolawe.
Island-hopping your way through Hawai'i is the best way to explore the lesser-known natural marvels without the hordes of tourists.
Dart through waterfalls in Kauai. Pop over to The Big Island to visit its active volcano, Mt Kilauea. Surf the waves at the iconic Waikiki beach in O'ahu, and climb up the summit of Haleakala in Maui for a sunrise view that is truly an once-in-a-lifetime experience.
Hiking
You could spend your entire trip hiking in Hawai'i – it is that magnificent. You can trek to the crater at Diamond Head or brave the Kalalau Trail; but no matter where you hike, be sure to keep your camera poised to capture that perfect shot of the Hawaiian coastline.
Waimea Valley Falls Park & Botanical Garden
Head up the coast to O'ahu's North Shore for a visit to Waimea Valley Park & Botanical Garden. Take a stroll through the park and check out the rare and exotic plants that grow in this area. Continue along the path and you'll discover the area's famous waterfall, Waimea Falls. On your way back to your resort, stop along Kamehameha Highway for Giovanni's Shrimp Truck for a generous serving of sweet, butter-laden fried shrimp.
Best places to visit in Hawai'i
O'ahu
O'ahu, the third-largest of the Hawaiian Islands, is known traditionally as "the gathering place", and is a fusion of Eastern and Western cultures. It appeals year-round to surfers and non-surfers alike, along with everyone from foodies to shopaholics and mad-keen hikers who like to trail off into the emerald-green vegetation. There is a lot of rugged nature to absorb, including the awe-inspiring Diamond Head which looms over Waikiki.
Maui
Known as 'the valley isle', Maui is the second-largest of the Hawaiian Islands and is beloved for its beaches, farm-to-table cuisine, and views of migrating humpback whales during the winter months. You can hike to craters, learn how to make leis, watch the Jaws surf break eat up the ocean and see why Maui wins countless 'Best Island' awards.
Island of Hawai'i
From its fiery volcanoes and snow-capped peaks to its lush valleys and jet-black sands, the Island of Hawai'i is an unrivalled expression of the power of nature. Expect to be awestruck by the volcanic fields that are ribbed with rows of scarred earth on the Kona side and fall in love with the contrast of jade-green jungle in Hilo.
Kaua'i
Kaua'i is known as the 'garden isle' and, as you wind your way around the island, through its verdant valleys and canyons, you'll fall that little deeper in love with Hawaii. The oldest and northernmost island in the Hawaiian chain is draped in rainforest-clad emerald valleys, sharp mountain spires and jagged cliffs with cascading waterfalls.
Lānaʻi
Low-key Lānaʻi moves at a slower pace. This is rough and rural Hawaii at its windswept best: crisscrossed with pock-marked roads, red-dirt trails and the cracked earth surrounding Polihua Beach. Some say it's the island that most resembles what Hawaiʻi once was; it's also a top spot to get off-grid with zero distractions.
Moloka'i
The Hawaiian Islands are the most isolated on Earth, and Moloka'i is one of the least visited of them all. It is Hawai'i's fifth largest island and boasts the world's highest sea cliffs. It's home to native Hawaiians who are proud of maintaining traditions and preserving a rural lifestule.
Best time to visit Hawai'i
Hawai'i is amazing all year round – depending on what you're after. For long lazy days spent on the beach in perfect weather conditions, you'll want to visit from April to October. You'll have to stand in your share of long lines but the weather is unbeatable this time of year. Make the most of it with early-morning hikes, mid-afternoon swims and warm nights out at local restaurants and bars. The summer months are also better for snorkelling thanks to the warmer water temperature and calmer waters. If you're a surfing buff then make sure you head to Hawai'i from November through to March. You'll find the biggest waves breaking at any of the North Shore areas of the islands.
Choosing the Right Accommodation in Hawai'i
You don't need to fork out your life's savings to get quality accommodation in Hawai'i. Book an Airbnb apartment alongside the ocean or hit up the budget accommodation sites for quality rooms at a fraction of the price.
Luxury Resorts
The Four Seasons Hualalai won't disappoint luxury lovers. Tea-off on the 18-hole signature golf course before indulging in a treatment at the resort's spa. For another luxe option, check out our comprehensive review of The Modern Honolulu.
Families with young kids can't go past a stay at the iconic Disney Resort & Spa located on the island of O'ahu. Give yourselves a break from entertaining the kids and take advantage of the themed pool parties, movie nights and waterslides on offer.
For an authentic taste of Hawai'i, stay at the 'Most Hawaiian Hotel' on Kā'anapali Beach. Be greeted in true Hawaiian fashion with an Aloha and lei kukui ceremony. Book in your hula and ukulele lessons and be prepared to leave Hawai'i feeling like a true islander.
If absolute beachfront is your idea of bliss, check out our curated list on the best beachfront getaways.
Hotels
You can choose from a number of Outrigger hotels in Waikiki; including the Reef Waikiki Beach Resort, the OHANA Waikiki East and the Waikiki Beachcomber. All three hotels are perched alongside the beach in the liveliest parts of Waikiki.
Waikiki Beach
Waikiki Beach is arguably the beach you first picture when you think of Hawai'i. In addition to being one of the most accessible to travellers thanks to its close proximity to the island's most popular hotels and resorts, it is also home to the legendary statue of world-renowned surfer Duke Kahanamoku. Hire out a small boat, grab a stand-up paddleboard and hit the open waters.
Laniakea Beach
Do you love turtles? Make a trip to Laniakea Beach on the North Shore of O'ahu to witness the green sea turtles waddling up onto the shore to sun themselves for a few short hours each day. The best time to catch a glimpse of them is between 11am and 1pm. While you can see the turtles all year round, it is more common to spot them on the shore throughout summer when the waters are calmer.
It's important to keep your distance from the turtles as it is illegal to touch or harass them. There are also volunteers located on the beach who are there to protect the sea turtles as well as educate visitors on conservation.
Kā'anapali Beach
One of the best snorkelling spots in Hawai'i can be found along the coast of Maui in the clear, calm waters of Kā'anapali Beach. Relax in one of the many hammocks or shaded bungalows and let your cares float away.
Foodie Destinations in Hawai'i
Hawai'i has got the culturally diverse foodie scene down pat. Get your fill of Japanese ramen, pull up alongside a food truck for an acai bowl or sample the local rum in your afternoon cocktail.
Stop by O'ahu's Chinatown to experience the region's epic Asian eateries and thriving nightlife. Start the night off with a meal at The Pig & The Lady before moving on to Tchin-Tchin! Bar.
Devour a poke ('to slice' in Hawaiian) bowl on Maui island. For the uninitiated, it's a deliciously fresh mix of diced fish, seasoned with salt, soy and sesame oil and served on a bed of rice with fresh avocado.
Don't leave Hawai'i without trying their shaved ice. Choose from a variety of fruity flavours and then watch as the 'slushie' is heaped onto scoops of vanilla ice cream. Now dig in before it melts. This popular dessert can be found just about everywhere in Hawai'i, but Wailua Shave Ice in Kaua'i makes one of the best.
Eat the hidden culinary gems of Lāhainā on Maui. Weekend brunch is a must-do, but the best places get booked out in advance, so plan ahead. Try ahi bruschetta (yellow fin tuna) or the eggs hollandaise with the fresh island catch of the day.
Cultural Festivities & Experiences in Hawai'i
No Hawaiian itinerary is complete without these festivities and experiences.
Welcome summer and celebrate Hawaiian music at the The Ukulele Festival, held annually in July at Kapiolani Park in Waikiki, Oahu. The free all-day event features internationally renowned musicians, local celebrities and a ukulele orchestra of more than 800 students.
The Kona Coffee Cultural Festival is sure to delight foodies and coffee-lovers alike. It's Hawai'i's oldest food festival and it runs for 10 days annually throughout November. You'll hear Kona coffee farmers share how they grow their crops, watch coffee artists show off their skills, enjoy tastings and be entertained with music, dance and cultural events that share the rich history of Kona coffee.
What better way to round-out your trip than with a visit to Germaine's Luau? You'll witness a traditional pig roasting ceremony and a cultural Polynesian show. The luau is held in Kapolei on the beach.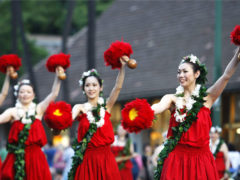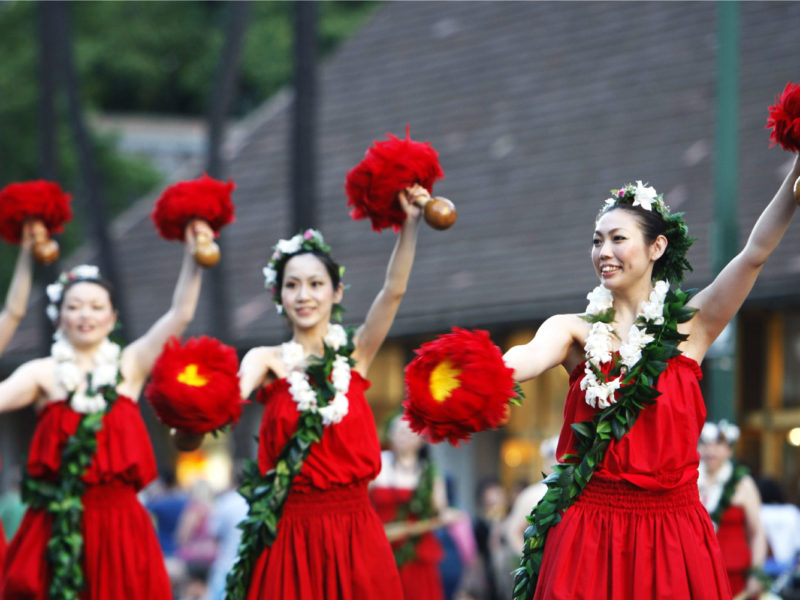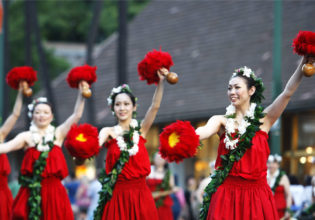 Pencil down these diary dates before planning your ultimate Hawai'i getaway. (more…)...
More Destinations to Explore in the USA