Finding old-school Oahu, Hawaii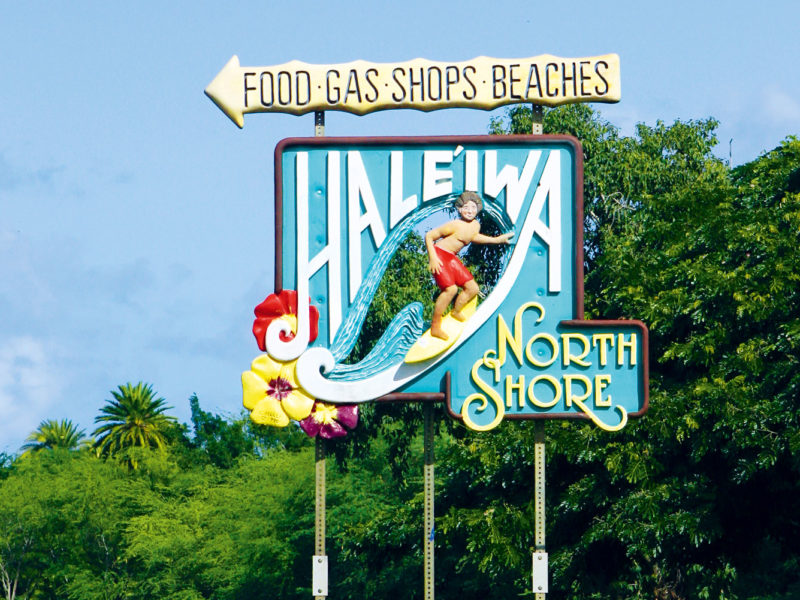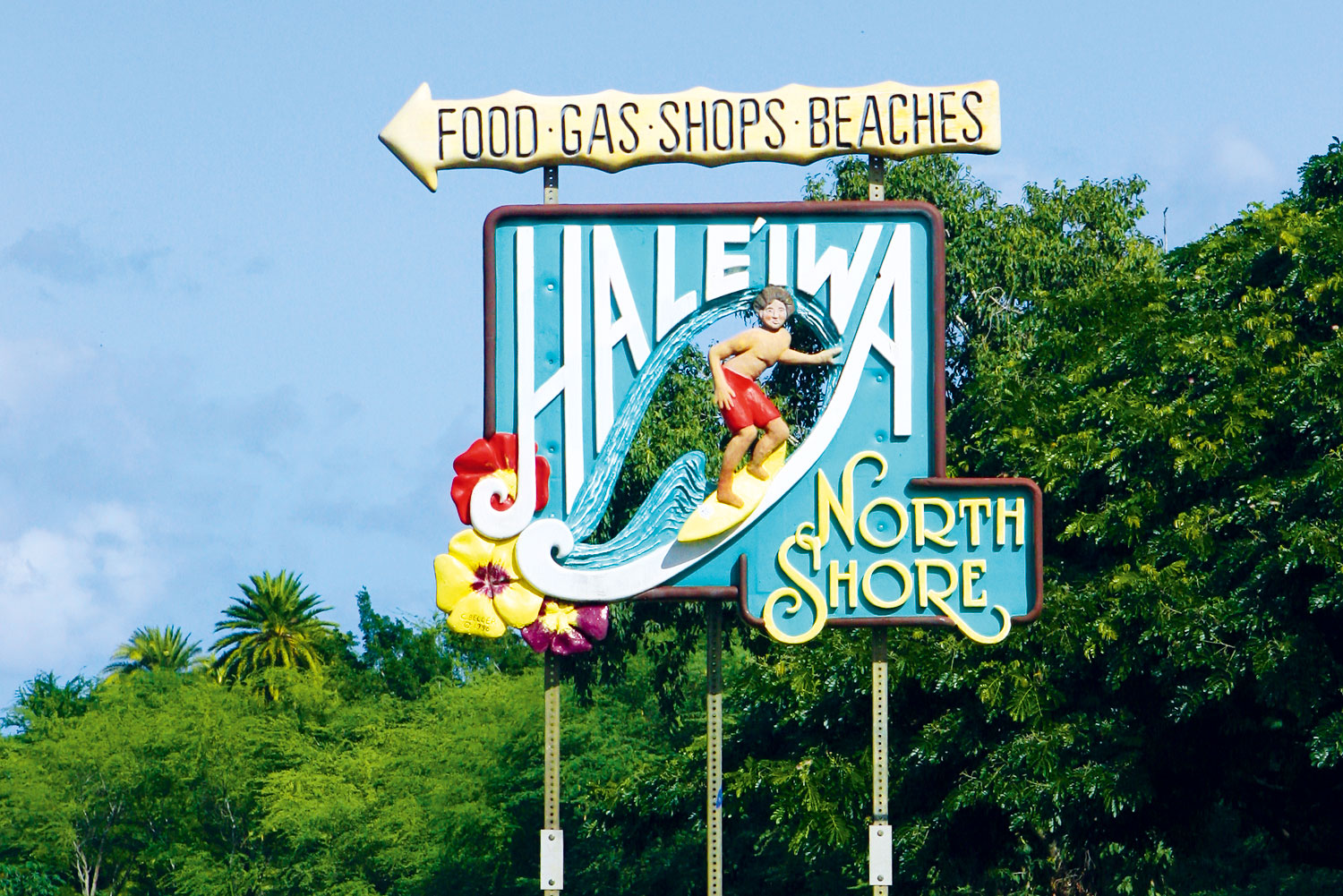 Leigh-Ann Pow goes in search of an old-style Hawaii of sun, sand and surf and finds it on Oahu's famed North Shore.
So many people had told me I was going to love Hawaii, or Oahu to be specific, before I set off. 'The shopping is amazing,' they said. 'I spent all my time at the Ala Moana Centre and never saw anything,' others trilled proudly. I was told to take an extra, empty suitcase to bring home all my cheap bounty. Strangely, hardly anyone made mention of the beaches, the food or, heaven forbid, the culture.
When in Honolulu you could actually be forgiven for thinking that there is little more to do than shop, given the endless parade of luxury boutiques – Chanel, Prada, Gucci, Balenciaga, Saint Laurent, Louis Vuitton et al – crowding the landscape. It's all shiny and pretty and what I would expect to see somewhere like Singapore or Hong Kong.
Please don't get me wrong, I capital 'L' love shopping as much as the next girl, but I wanted to see something other than shops and rampant consumerism. I wanted to get a glimpse of old-style Hawaii where surf, sun and sand formed the holy trinity for locals and visitors alike (forgive me, I had indulged in a viewing of Blue Hawaii, circa 1961, on my Hawaiian Airlines flight from Sydney).
Luckily, such a place does still exist high up on the island's northern tip.
Hugging the Pacific coastline, the North Shore is a collection of world-renowned beaches – Sunset Beach, Pipeline and Waimea Bay – all anchored by the laidback town of Haleiwa, where the Hawaiian 'hang loose' ethos is still going strong.
The best way to get there is by car (driving on Oahu is easy and largely traffic-free). My compact rental comes complete with a GPS system that includes a guided tour and no volume control, so I now know the complete history of absolutely everything I passed along the way.
Over-zealous electronic tour guides notwithstanding, the hour's drive up the spine of the island is an extremely pleasant one, glimpsing the imposing site of Pearl Harbor with its hulking naval vessels and sombre USS Arizona Memorial, passing by pretty neighbourhoods of neat lawns and weatherboard houses on the very fringe of Honolulu itself, and watching the scenery turn lush and green, punctuated by fields of low, spiky pineapple plants.
You can actually stop off at the Dole pineapple plantation, a kind of fruit theme park complete with a cutesy train called the Pineapple Express and one of the world's largest permanent hedge maze (shaped like a pineapple, of course), but I decide to push on for fear of it all being a little too gimmicky for my tastes.
Twenty minutes later I descend a gentle slope in the landscape and get a panoramic view of the edge of the island and the vast Pacific beyond. Turning off the highway and my relentlessly cheery virtual guide regales me with a potted history of the area accompanied by a ukulele soundtrack: the land here has been inhabited by native Hawaiians since 1100AD; Captain Cook's crew were the first westerners to set foot in the area in 1779 when they anchored at Waimea Bay to replenish their water supplies after Cook met an untimely and rather messy death on the Big Island.
Christian missionaries moved in next in 1832, building a mission and school for girls; then came wealthy businessman Benjamin J. Dillingham at the tail-end of the 19th century, who built the grand Haleiwa Hotel, which was demolished in the 1950s.
Haleiwa (pronounced Ha-lay-ee-vah) presents as the ultimate beach town almost from the first minute you arrive. Every second car heading through town seems to have a surfboard either attached to its roof or sticking out of a window, while teenagers on Schwinn Cruisers peddle in the hard shoulder, one hand on the handlebars, one holding a board.
It is bustling and laconic at the same time. Day-trippers and locals seem to be represented in roughly equal numbers; the former shopping in the small boutiques and souvenir shops that line the main street, the latter going about their weekend routine – picnicking in the park, towelling off after a swim and taking up position at the folding tables in a car park where a pop-up open air charcoal chicken restaurant is creating thick clouds of sweet, savoury smoke.
It takes probably seven minutes to drive from one end of town to the other at a slow, elbow-out-the-window cruise, past 'Learn to Surf' signs and the pretty little harbour. The architecture is a mishmash of eras and materials, from Art Deco flourishes to whitewashed New England-esque clapboard chic, but it all adds to the unpretentious air of the place.
Across the landmark twin span Rainbow Bridge and you're heading out of town. As the people and shops start to thin out, the area's beaches come into full view.
I take a left along the coast determined to at least dig my toes into the white sand while here. I quickly discover there's no need to be discerning: every beach is deep, sun-kissed, uncrowded and beautiful in equal measure, with foamy sharp blue waves breaking just off shore and the bobbing silhouettes of surfers straddling their boards contrasted against the distant horizon. The mandatory palm tree is in plentiful supply too.
Ironically, given that I went looking for a retail respite on the North Shore, I actually do quite a bit of shopping there, for quintessential surfie T-shirts, pastel-hued seashells, and cute commemorative coins that you mint yourself. I even browse the window of a local real estate agent, checking out the prices of mini mansions with water views that stretched to infinity. But common sense prevails.
After all, how would I possibly get that home in my extra, empty suitcase?
The best bits of the North Shore
Best shave ice
As Hawaiian as Aloha, shave ice is a mound of brain-freeze inducing powdered ice topped with garish drizzles of cloyingly sweet syrup that transforms it into a rainbow with a spoon sticking out. It's an acquired taste, but one beloved by many if the queue snaking out of Matsumoto Shave Ice is anything to go by.
This place is a North Shore institution (founded in 1951) and not to be missed, but try to sample the wares before the midday heat sets in or you are going to wait a while.
Best coffee
Coffee Gallery in the North Shore Marketplace is a schmoozy, laid-back café that hand roasts its own beans under the moniker Hawaiian Gourmet Coffee Roasters.
The clientele is mostly made up of locals who grab a brew and take up residence in the screened porch to make use of the free wi-fi – I was one of the only ones in there without a laptop.
If the moreish peanut butter and choc chip cookies are on the menu, have one! roastmaster.com
Best surf shop
You are pretty spoilt for choice when it comes to surf gear in these parts, but Strong Current is definitely a contender.
It's impossible to miss, with its beat-up old combi ute parked out front and the soul surfer vibe oozing from the well worn, we're-too-cool-to-care exterior.
Inside, vintage skateboards and surf memorabilia adorn the walls, while the T-shirts come in a boggling array of designs.
Best beaches
This is kind of a no-brainer given that Haleiwa's reason for being is the beaches that stretch out from it along the Pacific coast.
During the summer they are calm and white and perfect for laying on, but come winter (and remember, this is a relative term in these parts) the surf cranks up to legendary proportions at the most famous spots: Sunset Beach, Waimea Bay and Pipeline.
Parking anywhere near a beach on the weekend is pretty tricky though as locals come out in force to get their wave fix, so think about visiting during the week.
Best Wow! Moment
This belongs to Laniakea Beach, where giant sea turtles or honu take up residence on the sand oblivious to the tourists taking photos of them from every angle. The turtle is a symbol of longevity, good luck and peace in Hawaii.
Two pieces of advice: look but don't touch and get in early or visit during the week as there is a major bottleneck here come Saturday and Sunday.
Best shrimp truck
Shrimp is a big thing around here, and the purveyors of the best examples are the food trucks that ply their wares to golden-skinned locals in thongs and board shorts and intrepid Japanese tourists from gravel lay-bys and parking lots leading into town.
The names to look for are Macky's, which according to its sign was voted number 1 on the islands at some point in the past, and Giovanni's with its graffiti strewn exterior.
Both do the favoured shrimp smothered in garlic and butter, and there are endless entries on blogs and travel advice sites arguing which is it better.