23 unique restaurants to visit on your next trip to Hawai'i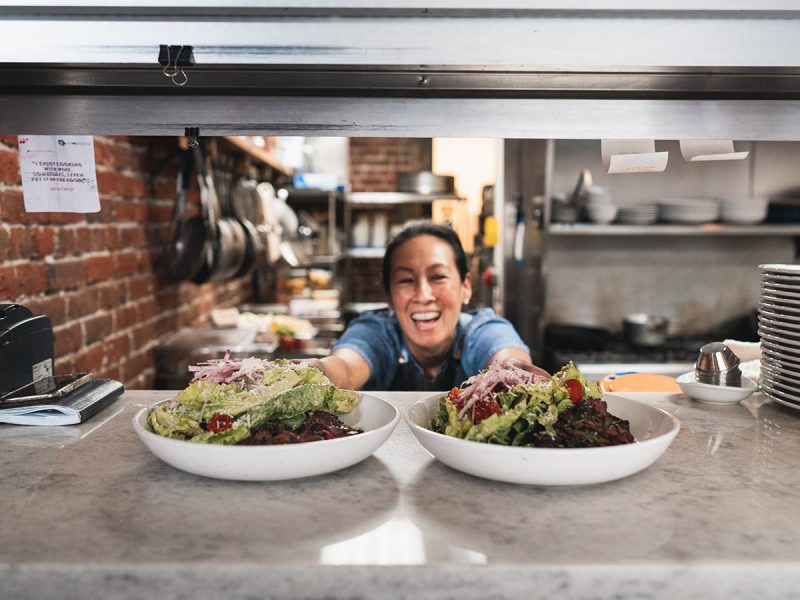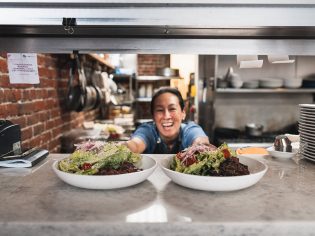 |

THIS ARTICLE WAS CREATED IN PARTNERSHIP WITH Hawai'i Tourism Oceania

|
Hawai'i's resorts may offer lots of fine gourmet restaurants, but it's well worth getting out into the community to taste the real local cuisine.
Hawai'i restaurants might not be the first foodies may think of, but the country's fertile landscapes and rich oceans deliver a breathtaking array of fruits, vegetables, meats and seafood which are enriched by the diverse cuisines of Hawai'i's melting pot of cultures that span traditional Hawaiian to those of the Chinese, Japanese, Portuguese, and Filipino immigrants who came to work on the sugar cane and pineapple plantations.
Today, visitors will not only find a uniquely Hawaiian food culture but also a colourful collection of creole food terms plus a thriving Hawaiian regional cuisine movement that's delivering exciting modern innovations.
We've narrowed down a list of the best restaurants, cafes and eateries that embody the true meaning of 'onolicious' across the Hawaiian islands – and while some may be hiding in plain sight, others are tucked away or just emerging.
Jump ahead: O'ahu / Maui / Hawai'i Island / Kaua'i
Best restaurants on O'ahu
Fine dining
Chinatown's only high-end sushi bar, Hanale by Islander Sake Brewery, doesn't disappoint. The restaurant was created by Chiaki Takahashi, who built Hawai'i's first sake brewery 30 years ago in industrial Kaka'ako. Sushi chef Tetsuzo Yao has taken over the menu, creating dishes that pair perfectly with its range of sake.
Fans of brunch will love Nami Kaze for the inspiration it draws from cross-cultural breakfast traditions, while dinnertime guests will enjoy Japanese and American fusions from born-and-bred local chef Jason Peel.
Middle range
Fête is an urban Brooklyn-meets-Hawai'i farmhouse restaurant in Chinatown, featuring seasonal food spanning the American spectrum. Co-owner and chef Robynne Maii became the first Hawaiian woman to win the James Beard Award for Best Chef in the Pacific and Northwest in 2022.
Local trailblazing chef Ed Kenney riffs on beloved Hawaiian food traditions at his unpretentious but fabulous Mud Hen Water restaurant. Known for his mantra "local first, organic whenever possible, with aloha always", Kenney has built up a dedicated following. Think buttered 'ulu (breadfruit) with fermented black bean, sour orange and cilantro, and a dish of clams and lemongrass sausage with ong choy in a coconut milk broth.
Budget
Michael and Lei-Anne Jones opened an Ohana Hale Marketplace stall selling tonkatsu, Spam katsu musubi and other Hawaiian specialities after the pandemic forced their previous business to close. The stall grew so popular they've now opened a brick-and-mortar restaurant, Nana Ai Katsu, which was named after their daughter.
Set in a poi factory that was built in 1905 and which ran for almost 70 years, Waiahole Poi Factory returned to its roots as a full-time homemade Hawaiian and hand-pounded poi restaurant in 2009. Besides poi, guests can expect classics such as lau lau (slow-cooked pork shoulder and butterfish steamed in luau leaves), lomi salmon (tomato, salmon and Maui onion salad) and more.
Best restaurants on Maui
Fine dining
The airy former plantation house that is Mama's Fish House is an institution on Maui's north coast. It was created in 1973 by Floyd and Doris Christenson, who had spent years sailing through the South Pacific with their young children. Today, their daughter Karen runs the restaurant while third-generation fishing families still deliver fresh mahi mahi, ono and ahi to their kitchen door – just like the local farmers, who for decades have brought Maui onions, Hana papaya, Kula strawberries and watercress and much more.
Head to the historic, art-filled bistro Lahaina Grill inside the iconic Lahaina Inn for an Italian-inspired menu with tropical roots – not to mention their in-house bakery. Opened in 1990 with just 55 seats, the restaurant has thrived under executive chef Arnulfo Gonzalez and chef and owner Jurg Munch. In fact, it won Best Fine Dining Restaurant in the USA in 2022, and Best Maui Restaurant 29 years in a row (1994-2022).
Middle range
Set in a historic building in the heart of Maui's Upcountry, and billed as 'Maui's original farm-to-table restaurant', Hali'imaile General Store has been championing local produce, meats and seafood since 1988. Chef Bev Gannon was one of the original 12 chefs who started the Hawaiian regional cuisine movement, and her dishes – such as braised pork belly bao buns and paniolo BBQ ribs – honour Maui's multicultural influences.
Edgy Hawaiian chef Sheldon Simeon has taken over the old-school Tiffany's Restaurant & Bar, revamping the classic menu with a strong focus on Korean, Chinese, Japanese, Filipino and Portuguese flavours. Try dishes such as Wailuku saimin (a comfort food noodle dish), shoyu ahi (teriyaki tuna) poke and honey walnut shrimp. His cookbook, Cook Real Hawai'i, is one of Hawai'i's best.
Budget
Sheldon Simeon is at it again at Tin Roof, a lunch spot offering affordable and flavourful local specialties such as kau kau tins (which the plantation workers used to bring for lunch); the tins are filled with garlic shrimp, mochiko chicken, and fat chow fun noodles with pork.
It might come as a surprise, but the local grocery store chain, Foodland, is one of the best places to grab top-notch poke bowls. They start at around $15 for half a kilo.
Best restaurants on Hawai'i Island
Fine dining
Known as one of Hawai'i's most food-first restaurants, Merriman's focuses on using island-fresh ingredients to create its tasty cuisine. In fact, chef Peter Merriman was something of a pioneer in creating the modern local and organic food movement among Hawaiian farmers.
Medium range
Mark Pomaski is a semi-finalist for the James Beard Best Chef in the Pacific and Pacific Northwest (2022) for his inspired Asian fusion creations, particularly for his work with seafood at Moon & Turtle, a little wooden shopfront restaurant in downtown Hilo.
Bookings for chef Brian Hirata's pop-up restaurant, Na'au, have soared since he was nominated as a 2022 semi-finalist for Best Emerging Chef in America by the James Beard Foundation. He forages for wild plants – such as berries and fiddleheads from hapu'u (Hawaiian tree ferns) – to highlight the importance of native plant and sea life, and to preserve Hawaiian cooking traditions.
Budget
Da Poke Shack in Kailua-Kona is the spot to pick up a wide range of raw ahi tuna poke bowls; think sesame, shoyu (soy sauce), Hawaiian, spicy garlic and more. They're made with locally caught ahi (yellowfin tuna) and are never frozen, so be sure to get in early as they tend to sell out daily.
Kaaloa's Super J supermarket might be a modest, family-run restaurant, but it offers a mighty tender pork lau lau to rival all others – at bargain prices, no less. Besides the food, it's known for its incredibly friendly owners, Janice and John Kaaloa, and their staff. Sit down at shared tables to mingle with other food lovers.
Best restaurants on Kaua'i
Fine dining
For those who appreciate an atmospheric dinner – maybe even one with a show – The Plantation House by Gaylords cannot be missed. Join a rum safari or tour Kilohana Estate by train before dinner, then sit down in the original plantation homestead to enjoy live music and island-influenced dishes by chef Johnny Saguid.
Established in 1989 by a first-generation Italian restaurateur, Cafe Portofino offers incredible food with stunning ocean views. Expect classic, upscale northern Italian dishes, often to the lively sounds of live music.
Mid-range
Jean-Marie Josselin, one of the original trailblazing chefs of Hawaiian regional cuisine, blends the foods of his native France with the clean flavours of Japanese cooking, local seafood and heirloom Kaua'i-grown vegetables to offer a daily prix-fixe dinner at JO2.
California chef Jim Moffat was already lauded when he opened Hanalei Bread Co; in 1996 he was even named one of Food & Wine magazine's top 10 new American chefs. Offering organic baked goods made with ingredients from their own small farm, and coffee made with Hawaiian beans, it's a popular stop for visitors and locals alike.
Budget
Hanalei's rustic family-run diner Tahiti Nui is the spot for a traditional lu'au feast (Tuesdays and Wednesdays), complete with ukulele and hula performances.
For a low-key experience that delivers the goods in Hawaiian classics like ahi wraps and grilled ono plates, head to Sleeping Giant Grill, which uses local ingredients whenever possible. It doesn't get more local – or more welcoming – than this hidden gem in East Side Kaua.
Start planning your culinary escape at gohawaii.com.
LEAVE YOUR COMMENT