The new guide to Maui  – The Valley Isle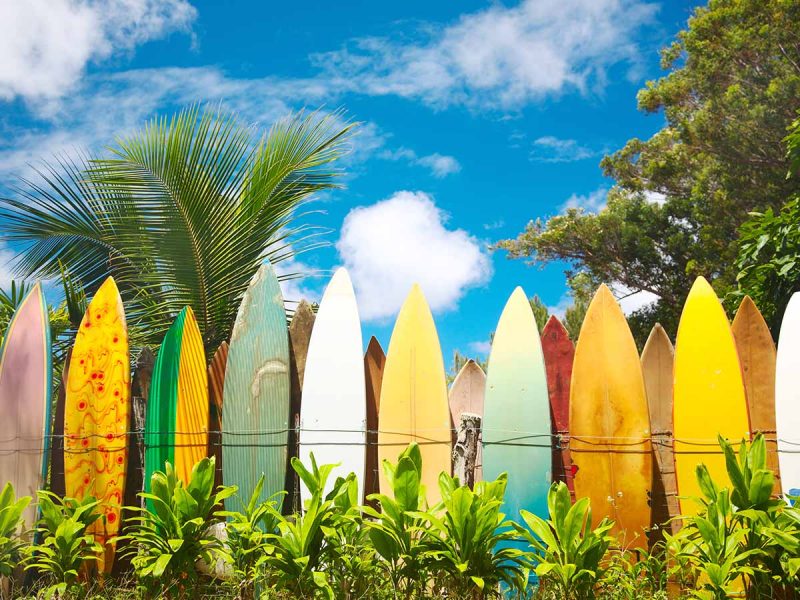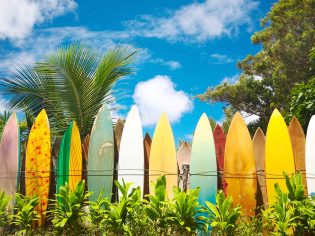 The second largest Hawaiian island, Maui is beloved for its beaches, farm-to-table cuisine, and views of migrating humpback whales during the winter months.
Hawaiian culture on Maui
Enjoy what many say is Hawaii's most authentic sunset luau (think poi, laulau, poke, kalua pig …yum) and hula performance at the open-air beachside Old Lahaina Luau. Once the capital of the Hawaiian Kingdom in the early 19th century, Lahaina was also a whaling village. It's now on the National Register of Historic Places.
Support the longest running weekly keiki (children's) hula show at the Hale Aloha Pavilion at Napili Kai Beach Resort every Tuesday at 5.30pm. The children of Napili Kai Foundation perform both traditional hula and modern hula when musical instruments were added to the ancient chants.
The best experiences on Maui
Snorkelling on Maui
There are myriad snorkel and diving options all around Maui, with tours to the Molokini Crater, with its 300 species of reef fish, manta rays, dolphins and turtles, particularly popular.
Beaches on Maui
In the west, Kaanapali Beach offers 4.5 kilometres of white sand, with Puukekaa (Black Rock) in the north offering excellent snorkelling within sight of indigenous green turtles. In the south, Makena Beach is a signature white sand beach and Kamaole's beaches offer great swimming and body boarding. In the north, Baldwin Beach offers excellent body boarding and body surfing as well as a protected swimming area while Hookipa Beach is a renowned professional windsurfing spot. Many beaches do not have lifeguards. Only swim when the waters are calm, generally during the warmer months.
Surfing Maui
There are surf breaks around the island for every skill level. Beginners should stick to the milder swells in Kaanapali, Lahaina and Kihei, while more experienced surfers can head out to Hookipa, Waiehu and Keoneoio (La Perouse) for a little more action. Home to the Red Bull Surf Contest, Peahi, also known as 'Jaws' is the most notorious surf spot in Maui (with 17-metre high waves).
Whale watching on Maui
The narrow channel between Maui and Lanai is one of the best places to see the winter migration of humpback whales. Great land-based vantage points include Lahaina, Kaanapali, Kapalua and the clifftop at Papawai Point or you could take a guided cruise on the glass-bottomed Pride of Maui combined with an ocean snorkel.
Outrigger canoeing on Maui
Hawaiian Outrigger Experience, based at Wailea Beach, shares Hawaiian history through song, poetry and chanting as you paddle and surf the waves in an outrigger canoe.
Stand-up paddle boarding on Maui
Maui Stand Up Paddle boarding offers beginner tours along the Olowalu Reef marine reserve, combo paddleboarding and snorkelling tours, and, from December to April, even stand-up paddle boarding and whale watching in deeper waters.
Play golf on Maui
This is a world-class golf country with more than a dozen courses to choose from.
Explore Upcountry on Maui
Enjoy the cool mountain air and paniolo (cowboy) lifestyle in upcountry Maui. Explore the cowboy town-turned-art-village of Makawao with its wild-west style wooden buildings and ride horses alongside real-life Hawaiian cowboys as you round up cattle in Maui's wide-open upland fields at Triple L Ranch.
Enjoy the sunrise or sunset at Haleakala
Meaning House of the Sun, the Haleakala shield volcano is the ideal spot to witness one of the finest sunrises on earth. The sunsets and starry night sky are pretty impressive as well. Dress very warmly.
Guide to food on Maui
The first hotel in Hawaii to employ Hawaiian cultural advisors, The Kaanapali Beach Hotel has long been deemed the most Hawaiian hotel by the Waiaha Foundation. Its new Huihui (meaning 'to mix, intermingle') restaurant offers a modern twist on Hawaiian dishes and cooking methods, including smoked venison burgers sourced from wildlife managers in Molokai and a Hawaiian chopped salad of finely grated dried muhee (cuttlefish), pohole (fiddlehead ferns), local greens, Maui onions, tomatoes and ulu (breadfruit croutons) with creamy calamansi dressing.
Stop at roadside fruit stands to feast on banana smoothies and popsicles, freshly cut pineapples, sugar cane and fresh coconut juice, and coconut candy. Be sure and eat at Lineage which bills itself as a quirky relaxed spot for elevated Hawaiian fare. Now run by MiJin Kang Toride, Lineage was created by Hawaii's hottest chef and cookbook author, Sheldon Simeon, as a whimsical updated riff on homey Hawaiian fusion food.
"How lucky are we that we can have Chinese, Korean, Filipino, Hawaiian, Portuguese-inspired foods, and still call it one cuisine, and still have it be a part of what we are? Hawaii is an example for the rest of the country about how all these cultures seamlessly blended together, and live amongst each other, and create a happy unity. I think a lot of chefs are going back to those roots and are proud about what we have here in Hawaii," says Sheldon.
For all your Hawaii travel information visit Go Hawaii, or download the GoHawaii app.
LEAVE YOUR COMMENT