Five things you didn't know you could do on Maui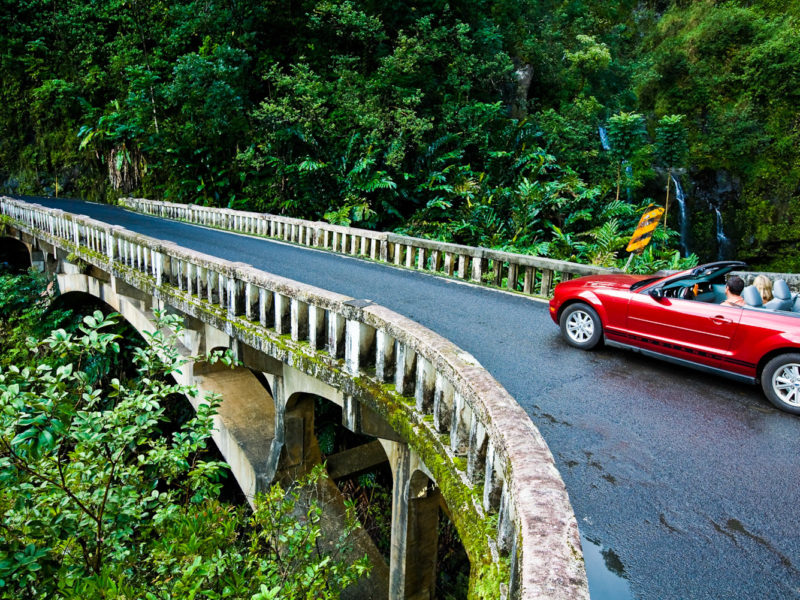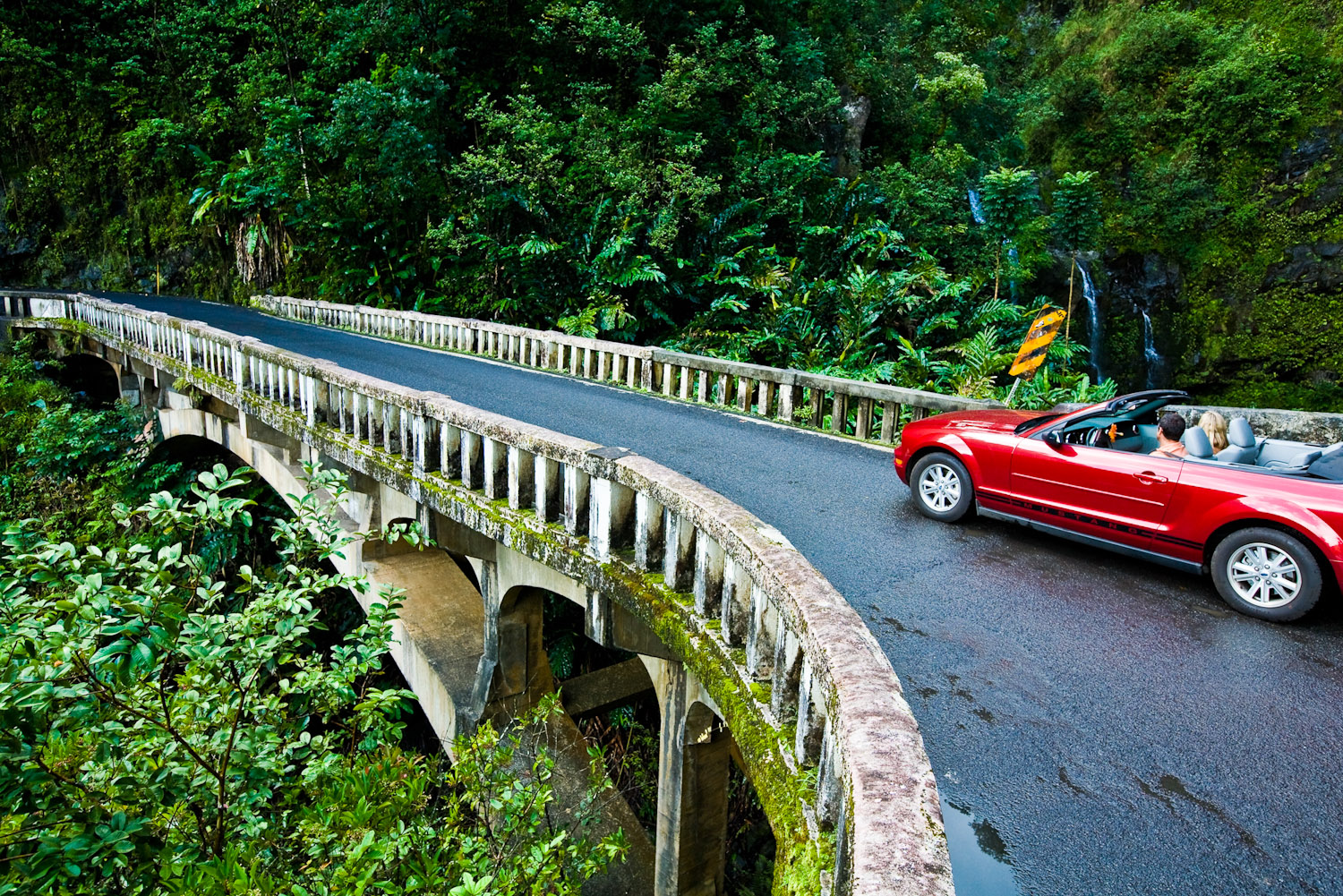 Hawai'i's second-largest island boasts pristine beaches, lush green scenery, volcanic landscapes… but that's just the beginning.
1. Soak up the café culture (and waves) in Paia
Paia is an old sugar plantation town-turned-trendy surfie pitstop, and while celebs also call this place home (local resident Willie Nelson is a regular at Charley's Restaurant & Salon) the town's vibe is very chilled.
It may be a hot spot for top-tier windsurfing and kite-surfing, but it's also filled with quaint, single-storey clapboard buildings, board shops, surfie-chic boutiques (we loved Tamara Catz and Letarte for swimwear), little galleries and hip cafés.
If you're en route to Haleakalā National Park stock up at Mana Foods, a health food super-store in an old warehouse chock-a-block with organic, vegan and other healthy stuff; it's brilliant.
At Café des Amis Mediterranean meets Indian meets Maui – try the fetta and spinach breakfast crêpes with a side order of Bombay potatoes, tropical juices and Lavazza coffee (really!).
Stroll around to see yoga studios, a Buddhist temple, no huge resorts, no shopping malls and no one in a real hurry. Perfect.
The water at Ho'okipa Beach is best left to the surfing/windsurfing pros (it can be dangerous) but it's a beautiful beach and green turtles are often spotted on the rocks.
2. Visit Hawaiian ranches
On the mid-slopes of the dormant volcano, Haleakalā, lies a rolling landscape of ranches and so-called gentlemen's farms, cloud forests, eucalypts, purple jacarandas and island-wide vistas.
Historic Makawao is renowned as a paniolo or cowboy town. Yes, Hawaiian cowboys – that's something to get your head around. Cattle first arrived here in 1793 and cattle properties sprawl across the island. There's even a rodeo in July!
You can saddle up at Pi'iholo Ranch, a nearby working cattle farm.
At the rustic and organic Surfing Goat Dairy they milk 70 goats twice daily. Their artisanal quark, chèvre and fetta are on many Maui menus, and their goat's cheese chocolate truffles are divine.
At the family-owned Ocean Vodka Organic Farm, sugar cane is grown, distilled into vodka, blended with deep-ocean mineral water and bottled on site. You can taste-test and even pick herbs from the Martini Garden for your vodka cocktails.
Or for an afternoon tea of lavender scones, visit Ali'i Kula Lavender Farm. Perched at around 1200 metres it has a rambling garden with more than 30 lavender varieties, and sweeping views.
3. Take the scenic route to Hana
The highway to Hana is a serpentine route through swathes of jungly rainforest, with spectacular seascapes where surf pummels rocky shorelines and sandy beaches, and waterfalls tumble into roadside pools.
Mountain streams spill past ferns, tulip trees, mango, guava, avocado and vast bamboo stands. Taro is still cultivated and church spires pop up through the greenery.
All in all there are 620 curves, 46 one-lane bridges to cross (plus a few two-lane bridges), and countless local stalls where you can stop for shave ice, mountain apples or a slab of fresh-baked banana cake.
The true secret, however, is at the end of the road – in the tranquil township of Hana. Stay at least a night to wake to the birds and feel the pace of old Hawai'i. Here, traditional ways are still strong, reflected in the deep respect for 'ohana (family) and 'aina (the land).
Travaasa Hana, a low-key, luxury retreat, is at the heart of the town. With tranquil gardens, an excellent restaurant, and a spa with a black stone pool, koi pond and ocean views. The simple Sea Ranch bungalows, with their generous decks, tap into the local spirit.
Wander over to the 'mom-and-pop' Hasegawa General Store, started in 1910, to fossick amongst the stock, and don't miss the Cultural Center.
Better still, take a hike or ride on horseback through the valleys and along the coastline (pack a picnic), to explore the secluded red sand beach of Kahailulu.
4. Retreat, recalibrate and restore at Lumeria
The whole of Maui may be one big Zen retreat for some, but at Lumeria you can 'retreat, recalibrate and restore' to the next level in the 1910 residence built by Hawai'i's pioneering Baldwin family for its former plantation managers and staff.
There's colonial-style furnishings and a fab location on the way to Haleakalā, with a serenely beautiful garden of tropical fruit trees, scented plumeria, heliconias, coconut palms and native herbs.
Yoga, meditation, massage, aromatherapy classes and even water sports such as windsurfing or stand-up paddling can fill your days, or you can just meditate by the pool. Food is local, organic and very Maui.
If you fancy a little me-time away from the big resorts, this is definitely an option.
5. Eat up the hidden culinary gems of Lāhainā
In the 1850s and '60s, Lāhainā was the whaling capital of the South Pacific, a wild town of bars, saloons and brothels, where American whalers took their shore leave. With New England-style buildings, the 1901 Pioneer Inn (still in business), and the 1859 Old Lāhainā Courthouse, there's heaps to see and heaps of tourists.
The harbour is also the jumping-off point for cruises, whale-watching, diving and ferry trips to the islands of Moloka'i and Lāna'i.
But there are secrets to be discovered: if you want to eat, head to the edge of town. Mala Ocean Tavern may look beach-shack basic, but it's perfectly sited right on the water. When the water's still, turtles feed on the mossy rocks. Location, location, location!
Weekend brunch is a favourite with locals but you need to book. Ahi (yellow fin tuna) bruschetta is a signature dish, but eggs hollandaise with fresh island fish of the day, amazing flax seed bread and sticky macadamia-nut bun are fantastic too.
Next door stands Honu. All white and blonde wood, it offers dress-circle water views, a raft of seafood options (chowder, octopus, clams, ahi) and Maui salads (think kale, shiso, quinoa and pomegranate).
Next again is Frida's Mexican Beach House, with splashes of hot pink, Barragan blue, iron chandeliers, a Maui–Mexican menu, an ocean-view and a maxi bar serving 40-plus tequilas.
LEAVE YOUR COMMENT