Five things you never knew about Kaua'i, Hawai'i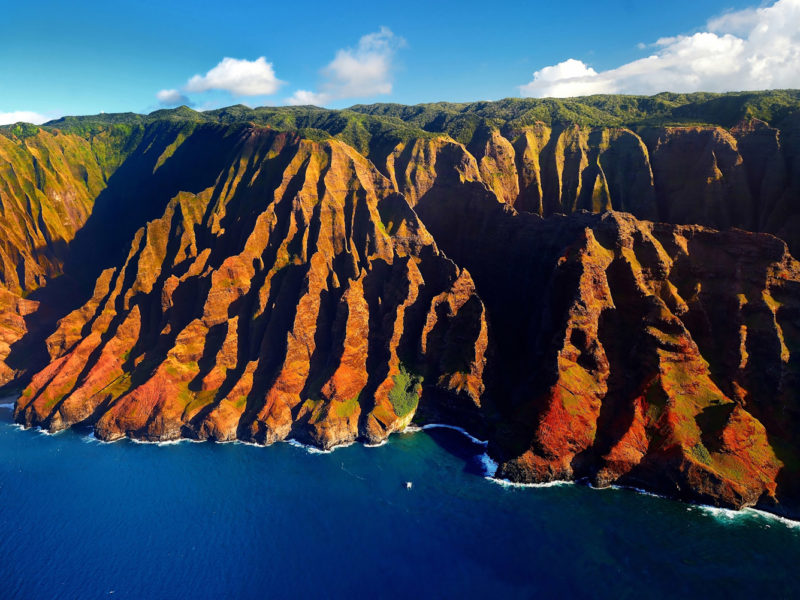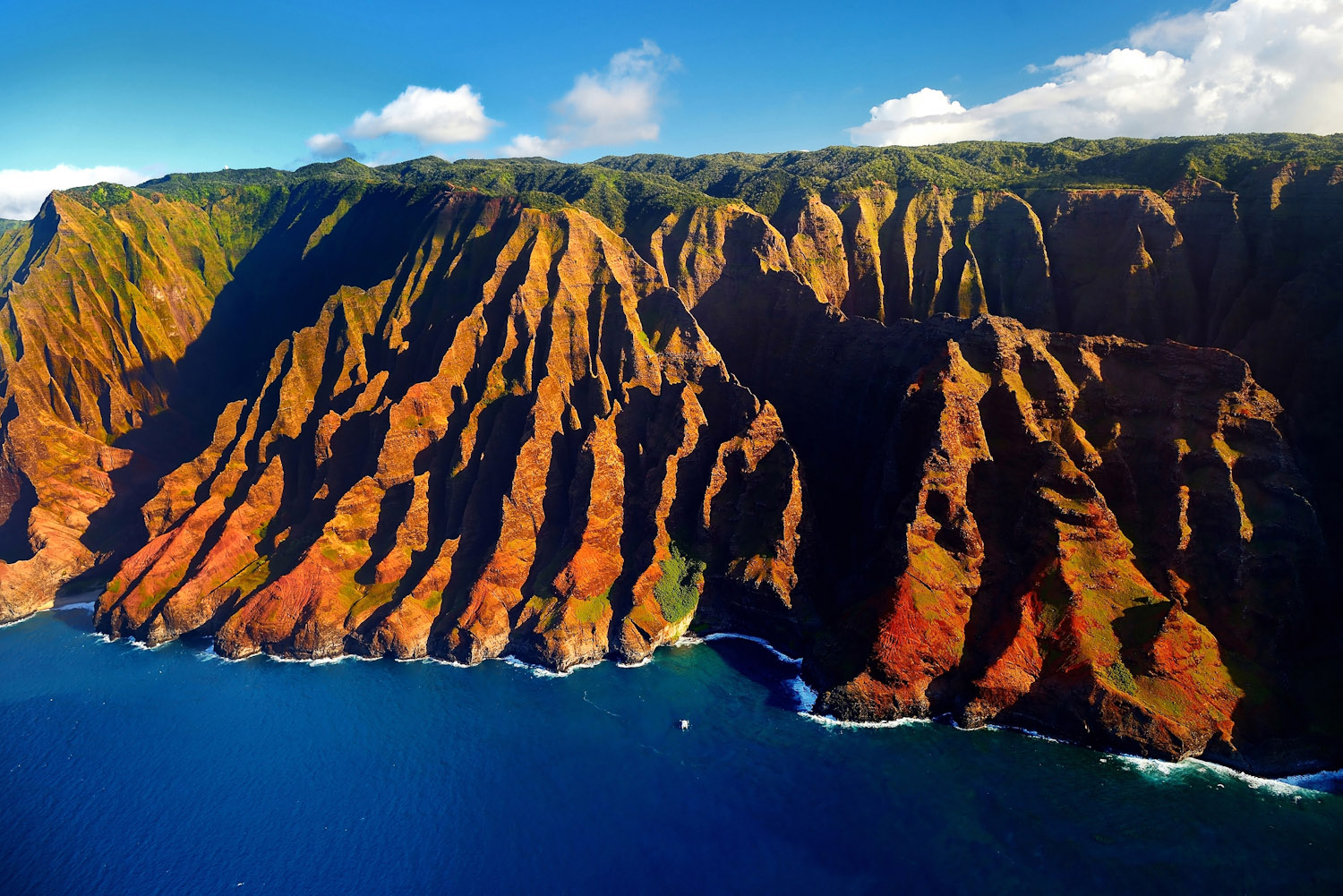 On the oldest island of Kaua'i, many places are only accessible by boat, helicopter or serious hiking. Discover a world of hidden caves, endless waterfalls, remote beaches, primeval rainforest and ancient myth. By Margaret Barca
1. The natural beauty is overwhelming
Nothing can prepare you for what's packed into this little island. The oldest of the Hawaiian Islands, Kaua'i is a Jurassic park of primeval rainforest, endless waterfalls, sheer cliffs and valleys, emerald ravines, canyons and palm-fringed beaches.
If time's short – actually, even if time is not short – a helicopter tour is a must. You won't be disappointed.
As our helicopter swoops around a corner and Waimea Canyon comes into view, I am literally speechless. The rusty-red lava rock, partially cloaked in jade green, forms a gaping chasm with crags and gorges.
As our pilot explains in his whispery, southern drawl, it's more than 1.5km wide, 1km deep and 22km long – the Grand Canyon of the Pacific.
We can just make out the two roads. Waimea Canyon Drive follows the rim and leads to the cool, cloud-forested upper slopes. There are hiking trails too.
The pilot zigzags in and out for more eye-popping views – silvery waterfalls (everywhere!), knife-edged ridges and ever-changing colours.
Then we leave the canyon and soar over the Nā Pali Coast, where fluted cliffs rise more than 1200 metres above the sapphire waters on the island's north-west.
This coast, only accessible by air, boat, kayak or serious hiking, remains a world of hidden caves, pristine waterholes, remote beaches, secret valleys and ancient Hawaiian myth and legend.
2. You can taste test life as a sugar baron
Ordering a Mai Tai and settling in at the Mahikō Lounge in sugar baron Gaylord Wilcox's heritage residence, Kilohana Plantation, offers an insight into life as a plantation owner during Hawai'i's sugarcane golden era (oh, yeah… I could live like this).
Wilcox built the rambling timber shingle Tudor-style manor in 1935 at the centre of his 10,500-hectare sugarcane farm and filled it with furniture and fine art from San Francisco, Hawai'i, the Pacific Islands and the Orient.
Today, it's handsome yet homely with its timber wainscoting, historic photos and arts and crafts 'shops' scattered through the rooms.
Gaylord's restaurant (with a seafood focus and an addictive Banana coconut cream pie) spills out into the courtyard and cloud-draped Mount Wai'ale'ale (one of the wettest places on Earth).
By day there's a train tour of the 43-hectare property with its tropical fruit, flowers and farm animals and Kōloa Rum Company has a distillery and store on Kilohana Plantation too.
3. Hanalei is a must
Heading up Kaua'i's east coast, just past Princeville, pull in at Hanalei Lookout – it's stunning. Patch-worked taro paddies fill the valley, sliced by the Hanalei River and backed by mist-shrouded mountains.
Hanalei has a mellow, end-of-the-road kind of charm with its ramshackle shops, cafés and food trucks. Surfies, hipsters, hikers, Hawaiians, wealthy locals and tourists alike are all sharing the Aloha – the love.
There may be multi-million dollar homes here, and on nob hill (Princeville), but they're surprisingly discreet and un-showy, just taking the vernacular timber style up a notch or two.
Most people are too busy heading barefoot to or from the beach – any beach – to be worried.
For a taste of traditional Hawai'i, try Hanalei Taro & Juice Co van – taro burgers, taro hummus, taro smoothies, taro everything.
To feast on fresh seafood, including terrific sushi, Dolphin Restaurant overlooking the river is the best venue and pulls a big crowd. Stylish Bar Acuda has a lively buzz and tapas menu, and to see a spectacular sunset, head to the St. Regis Princeville Resort's bar.
It's a little bit pricey, but welcoming, and the view is breathtaking.
4. There's no shortage of beaches for all kinds of beach goers
Kaua'i's more than 60 beaches means there is something for everyone.
On the North Shore, between Kīlauea and Princeville, 'Anini Beach has some of Kaua'i's best snorkelling. Hawai'i's longest offshore reef protects the water, and you may even find yourself swimming with sea turtles.
Tunnels is another great beach here. Also on the North Shore, near Princeville, steep stairs and a short walk lead to Pali Ke Kua or Hideaways Beach; it's petite, usually quiet, with shady big-leafed kamani trees and golden sand.
Beautiful Hanalei Bay has relatively benign surf in summer, but in winter legendary breaks can see waves up to nine metres barrelling in – strictly for pros.
In summer Black Pot Beach, part of Hanalei Bay, is the place to launch yourself for a spot of stand-up paddle-boarding (SUP) on the Hanalei River. The eastern end, near Hanalei pier, is fine for beginner surfers, paddle boarders and picnics.
The sunnier South Shore is also sprinkled with golden beaches and resorts.
Families like the wide Po'ipū Beach, where you can snorkel, swim, paddleboard, surf or watch for Humpback whales offshore in winter.
5. Prepare to hike or kayak for the best views
Kayaking the Nā Pali Coast is the pinnacle of kayaking in Hawai'i, a 27km ocean journey past towering pleated cliffs, sea caves and waterfalls, remote beaches and hanging valleys.
Dolphins and sea turtles will often swim alongside as sea birds whirl overhead. You can paddle in to explore caves and rock pools and pull in to a remote beach for lunch. In all there's around five to six hours of paddling.
If that seems a little strenuous, another option is kayaking up the tranquil Wailua River, said to be one of Hawai'i's two most sacred places, weaving past waterfalls and jungle-clad riverbanks.
Kaua'i also offers myriad hiking and walking trails, but again, the wild Nā Pali Coast presents the ultimate challenge: the Kalalau Trail, a challenging 18km trek through magnificent yet wild countryside.
The trail is rugged and steep, along jagged sea cliffs, but walkers are rewarded by emerald valleys, misty waterfalls, sparkling pools and astonishing views.
Note – if you are walking beyond Hanakāpī'ai Valley you must have a permit to camp and these are often booked out months ahead.
LEAVE YOUR COMMENT