O'ahu's flavourful food truck scene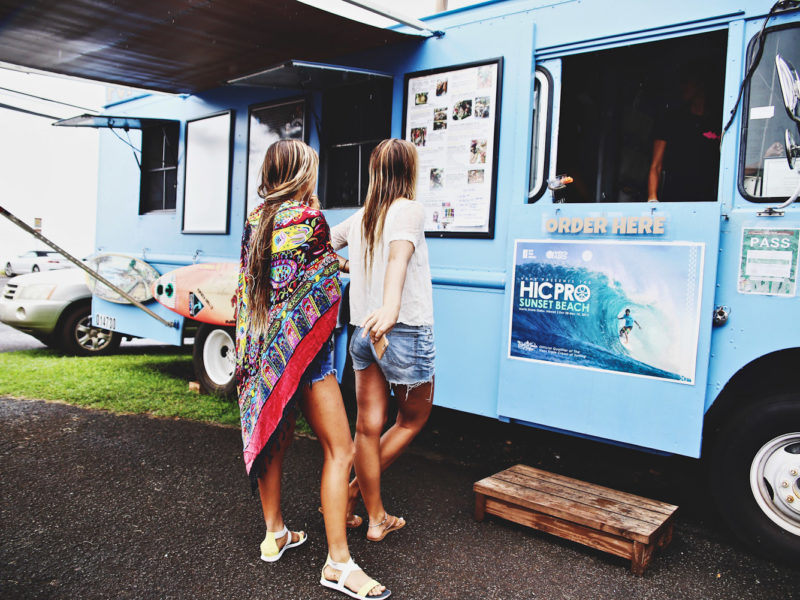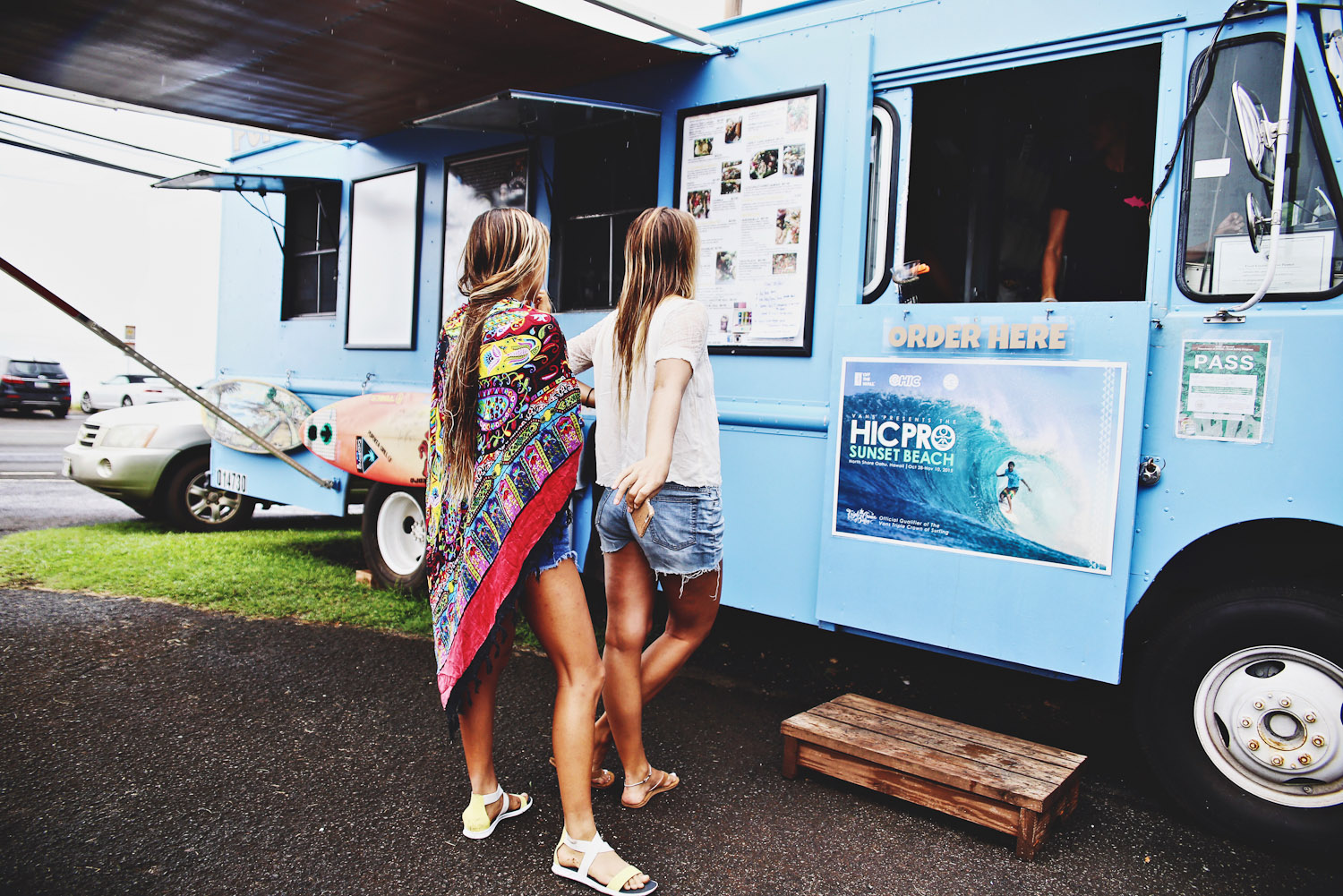 A full-on good food movement is taking place in O'ahu's sybaritic North Shore from the hatches of bespoke trucks, and it's as relaxed as the laid-back vibe that pervades in these parts.
Words Phoebe Tilelli, photography Brooke Dombroski.
Every year thousands of Australians are welcomed to the Hawaiian island of O'ahu with a frangipani lei and a warm 'aloha'.
Waikiki Beach on the south shore is what keeps tourists coming back time and time again for its calm waters, abundance of hotels, glitzy shopping malls and endless restaurants. But on my most recent trip I discovered a way to tap into a common part of the Hawaiian lifestyle that tourists often miss out on. I drove from Waikiki up the Kamehameha Highway to the island's North Shore, and the small surf town of Hale'iwa.
I was instantly refreshed by the slower pace of life and quaint vibe. The North Shore's lack of accommodation and wall-to-wall restaurants often deters people from staying overnight, but I've decided that it's time to reassess.
The area's natural beauty and famous surf beaches are the main attraction here, but I found that it's also the perfect place to get a taste for local life, literally. The new wave of gourmet food trucks that have rolled in on the North Shore are enough to drag even the most sedentary traveller away from their view of Diamond Head even for a few days.
If street food makes you nervous, prepare to be pleasantly surprised. The standard here is so good that people actually go out of their way to track down their favourite truck.
Unlike Waikiki, where skyscraper hotels line the beach, the North Shore remains largely untouched so the trucks have claimed prime real estate with ocean views that can't be beaten. Why eat at a diner in town when you can sit on a fallen palm tree with the sand between your toes and the sea breeze in your hair?
In December and January each year, booming surf of over three metres starts to roll in at Pipeline, and so do the crowds. The World Surf League's Billabong Pipe Masters draws fans and media from all over the world to watch the stars of the surfing world take on the jaws of the famous 'pipe'. The trucks dish up hundreds of plates a day to hungry surfers and fans alike.
Hawaiian cuisine is a fusion of traditional Polynesian flavours like coconut, taro and local seafood, all combined with Asian, European and American influences. You can see this reflected in the dishes at the Pupukea Grill truck. It offers 'local-style plate lunches' and fresh ahi poke, a marinated raw tuna with quinoa salad for a light and healthy lunch.
As I cruised along the coastline I noticed food wagons pass by almost as often as the next palm tree. Though, when I tried to search for specific trucks it sometimes felt like a wild goose chase. Thai food legend, The Elephant Truck was one of these.
After going off the radar for some time, customers on Yelp (my method of research) celebrated when the truck parked itself at the new Sharks Cove location. Where did it go? Nobody knows, but tracking the trucks down is half of the fun, like modern day hunting and gathering for gourmet foragers.
The Elephant Truck owner Kevin Sutavee recently showed his North Shore spirit when responding to a disgruntled customer online, who commented that he wasn't wearing a shirt while cooking. "Relax, this ain't the mainland," he explained.
This is indicative of the whole food truck experience in these parts; it is about the food first and foremost; bells and whistles (and shirts) come a distant second. More romantic than any restaurant, The Elephant Truck has a new outdoor deck with ocean views, perfect for a candlelit pad Thai dinner.
Joseph Fullmer, known as Joey, has been running the North Shore Tacos restaurant since 2010 and opened his truck in Sharks Cove in early 2015. The site right next to Sharks Cove Grill is easy to miss, but what will catch your eye is the large 'World's Best Tacos' sign attached to the truck. Despite the confident signage, this family-run business is anything but pretentious. According to their website, they don't claim to serve 'authentic' Mexican food, "but we have been told by tourists and locals alike that we have the best fish and shrimp tacos they've ever tasted". With fillings like fresh ahi, and shredded beef with a homemade hot sauce, who's to say that Joey's interpretation isn't the world's best?
Continuing the food truck pilgrimage I meet local truck owner Raul Bernal, who has transported a slice of his New York home to Hale'iwa, serving Neapolitan-style pizza from his wheels at The Garden Oven (59-414 Kamehameha Highway, Hale'iwa). "I moved here 11 years ago," he says while kneading the freshly made dough for a customer he knew by name. "The Italians in New York do great pizza but I hadn't seen anyone do it well here on the North Shore." As he spoke, Bernal pulled a customer's pizza out of the wood-fired oven before they exchanged 'mahalos'.
Just as I started to think that I couldn't eat another bite I discovered the Crispy Grindz truck. While Brazilian owner Christian Jensen claims this business was her calling, food bloggers and health foodies have been rejoicing on social media over the antioxidant-packed acai bowls. These tart Brazilian berries served in a cold smoothie-like mixture are a great way to get vitamins into the keiki (kids): acai has been named the new superfood. Jensen's creations are irresistibly photogenic with their striking purple colour and artistic fruit arrangements on top, making them look almost too good to eat… almost.
If you can only afford a short visit to the North Shore and don't have time for the chase, you can always head straight to 66-472 Kamehameha Highway instead where you'll find vendors that open in the same spot every day, including Giovanni's Shrimp Truck, local veterans since 1993, famous for their garlic shrimp, the delicious Korean BBQ truck Kalbi On Fire, and Ono Yo frozen yogurt truck that will satisfy the sweetest of teeth.
The secret to food trucks in the North Shore is to relax and have some fun, and if you do end up getting lost along the way, just hang loose and everything will work out.
LEAVE YOUR COMMENT