Your guide to the six main Hawaiian Islands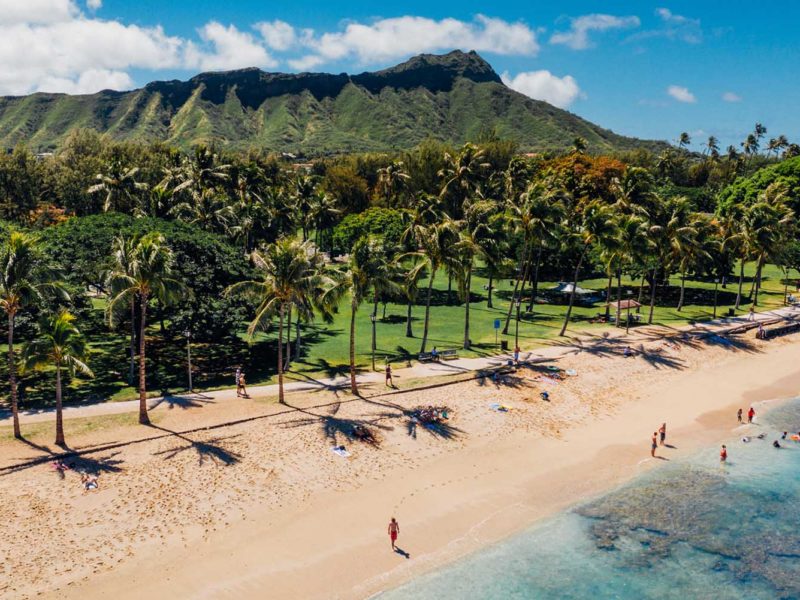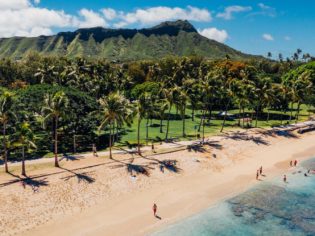 The Hawaiian Islands are wonderfully diverse, offering everything from surf culture to the spirit of aloha.
Here are six out of the eight major Hawaiian Islands you should visit.
1. O'ahu
Why you should visit
To hear the ocean change from a whisper to a roar during 'big-wave season' from late October to mid-March on the North Shore in O'ahu. The third-largest of the Hawaiian Islands appeals year-round to surfers and non-surfers too, along with everyone from foodies to shopaholics and mad-keen hikers who like to trail off into the emerald-green vegetation.
What to expect
Be prepared to be awestruck by Diamond Head, which looms over Waikiki like a blanket heaped on a couch. There is a lot of rugged nature to absorb, whether you're facing toward mauka (the mountains) or makai (the sea). Also expect warm greetings wherever you go, as the Hawaiians are super friendly, and love sharing their rich culture with you.
Best things to do
If watching the pro surfers ride waves at Sunset Beach or Waimea Bay doesn't move you, there's always the option of flowing with a river of people in and out of the colourful lolly-coloured timber shops in Haleiwa. Alternatively, spend the morning reading books on a sun lounger in Waikiki, then hit the Sunset Bar to slurp mai tais and watch as the sky and sea turn to indigo, then violet.
Where to stay
Halepuna Waikiki by Halekūlani, which opened at the end of October 2019, is a five-star option that has the luxurious five-star beach-chic-style down pat. The newly rejigged Waikiki Beachcomber by Outrigger is for the in-betweeners, DILKS (double-income-no-kids) who like to tango between the pool, with Maui Brewing Waikiki next door and the shopping and dining scene. Outrigger Waikiki Beach Resort is right on the oceanfront and is the sweetest set-up for families. The hotel has a Voyager 47 Club Lounge with views of Diamond Head.
Where to eat
Construct your own cup of Waiola Shave Ice with everything from tapioca pearls to coconut curls. Enjoy a sundowner at Orchids at Halekūlani followed by a Kona lobster roll and coconut cake at Halekūlani Bakery & Restaurant.
Perfect for…
Families, honeymooners, adventurers and all-rounders.
2. Maui
Why you should visit
Of all Maui's assets, its rugged good looks are the biggest draw. In fact, it's surprising to most visitors to see how little of the coastline has been developed (though what has been done is extensive). Known as 'the valley isle', Maui is the second largest of the Hawaiian Islands and it's magnificent.
Maui is all voluptuous curves and Jurassic wilderness and the inky-black skies above are some of the best in the world for stargazing. You can hike to craters, learn how to make leis, watch the Jaws surf break eat up the ocean and see why Maui wins countless 'Best Island' awards.
What to expect
Maui presents like it's a place of perpetual sunshine even when the sky is blanket-grey. It's in the attitudes of the locals, in watching the men with wide grins and shoulders steer outrigger canoes through the seas and the women with leaves and flowers and ferns in their hair. It's in the music, the mountains and the mythology surrounding this link in the island chain.
Best things to do
Ride with Maverick Helicopters on a Hana Rainforest Experience Helicopter Tour over the silver-green treetops, past unbroken cliffs formed by black lava that are pushing themselves out of the sea. You will fly over the mouth of the Haleakala Crater, like a dimple in a giant chin, and waterfalls that seem like rivulets until, way up close, you hear them roar. You can also look for humpbacks while paddling a wa'a canoe with Team Kā'anapali Beach Hotel.
Where to stay
Guests at the family-friendly Kā'anapali Beach Hotel can book a cultural activity like a ukulele class. Wailea Beach Resort is a resort-style hotel surrounded on all sides by the Pacific; book a guest room on the water at Wailea and you will never want to leave.
Where to eat
Enjoy lunch at Lahaina Fish Co in Lahaina Town and return for island-inspired drinks and light bar bites at the Tiki Bar & Grill at Kā'anapali Beach Hotel.
Perfect for…
Families, big-wave surfers, honeymooners, adventurers, all-rounders.
3. Kaua'i
Why you should visit
Kaua'i is known as the 'garden isle' and, as you wind your way around the island, through its verdant valleys and canyons, you'll fall that little deeper in love with Hawaii. Tick off, like tally marks on a tree, the island's untamed beauty, golden-sand beaches, and dreamy weather-beaten landscape that was the backdrop for George Clooney's The Descendants.
What to expect
There's a paint stroke of green that runs around the guts of the island, like a belt, and it's all lush and tropical and lovely. Expect hippie types, golfing enthusiasts, birders and history buffs to descend on Kaua'i's biggest little town, Hanapēpē.
Best things to do
Visit Koloa Rum, a single-batch rum distillery, get a custom-made Hawaiian shirt, made to order from the 'Aloha Shirt Lady' (Jacqueline on Kauai), and travel north to Hanalei Bay and Princeville, where the Queen's Bath in Kaua'i is like a little emerald jewel set into a mottled black bracelet of rock.
Places to stay
Head to Po'ipū Beach where there are lots of resorts, such as Ko'a Kea, regularly ranked one of the world's most romantic hotels. The Marriott Waiohai Beach Club is nearer to Ko'a Kea, which means 'white coral' in Hawaiian.
Where to eat
Head to Hanalei Farmers' Market and choose a coconut from the back of Natalie Nguyen's pick-up truck. Natalie wields her machete like a ninja and will carve the top off the hard shell in a flash. The century-old Tip Top Café is a must for macadamia nut pancakes and Puka Dog is the place to enjoy a Polish sausage.
Perfect for…
Hippie types, adventurers, honeymooners, and travellers who like to explore beyond the resort pool.
4. Island of Hawaiʻi
Why you should visit
The Lower Puna Eruption in 2018 was volcanic activity on the island of Hawaiʻi that left the Big Island ravaged: in some parts, the earth and trees have been torn away, as if by an angry giant. The most recent river of lava has left a cracked, scorched earth, like the crust of a chocolate brownie.
What to expect
Travelling around the Big Island is like getting a geology lesson, with the evolution of the islands happening in real-time. Expect to be awestruck by the volcanic fields that are ribbed with rows of scarred earth on the Kona side and fall in love with the contrast of the jade-green jungle in Hilo.
Best things to do
Take a guided tour of Hawai'i Volcanoes National Park, buy some souvenirs in the charming town of Hilo Bay, enjoy a guided snorkelling tour with Manta Ray Snorkelling and learn more about the Hawaiian island's history at Puʻuhonua o Hōnaunau National Historical Park, an ancient site of refuge.
Places to stay
The Inn at Kulaniapia Falls is an enchanting place to stay that overlooks Kulaniapia Falls. Go for a swim on a sultry afternoon and you will feel anew. Mauna Kea Beach Hotel is named after the dormant volcano and is located on the Kona coast on the island of Hawaiʻi, also known as the Volcano Island.
Places to eat
If you're on the Hilo side of the island, you can book a table at Kulaniapia Falls and trust talented chef Daysen Masuda to curate a menu of seasonal ingredients for you. The charming inn is the sum of its parts: the gardens, view, food, waterfall, experience. This is one of the most memorable meals you will have in all of Hawaiʻi. Lucy's Taqueria in Hilo is worth a detour for cheap and cheerful Mexican.
Perfect for…
More intrepid travellers, fitness-focused families, honeymooners, adventurers and all-rounders.
5. Lānaʻi
Why you should visit
There is lots to love about Lānaʻi, which, again, is different to all the other islands and highlights Hawaii's diversity. Here, stark rust-coloured cliffs push out of the Pacific with tussocks of grass poking out like afternoon stubble. Lānaʻi was once known as Pineapple Island before the Dole Company moved its plantations elsewhere.
What to expect
This is rough and rural Hawaii at its windswept best: crisscrossed with pock-marked roads, red-dirt trails and the cracked earth surrounding Polihua Beach. Some say it's the island that most resembles what Hawaiʻi once was; it's also a top spot to get off-grid with zero distractions.
Best things to do
Visit the 'Garden of the Gods', a wind-blasted field of rock formations that looks out over the Kalohi Channel at Molokai. It's like watching the ocean from under a heavy brow. Take a windcheater to Polihua Beach, a wide expanse of sand torn up by the tradewinds. You can also spend time in Lāna'i Town learning about the history of the island or find a secluded patch of beach to go skinny dipping. The more intrepid should head to Kaunolu, on the southern end of Lāna'i, to find the bones of an abandoned fishing village.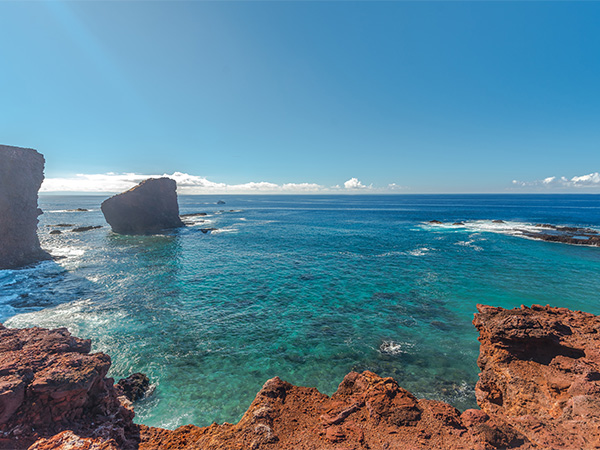 Places to stay
The Four Seasons Resort Lānaʻi is the best place to stay on this unspoiled island, while the three-star Hotel Lanai also has a storied history.
Places to eat
If you've had no luck catching fish on Lānaʻi I, head to the Lanai Grill for a simple feed of spicy tuna rolls and marinated pork chops.
Perfect for…
Hardcore Hawaiiphiles, intrepid travellers, honeymooners, adventurers and all-rounders.
6. Moloka'i
Why you should visit
Moloka'i is great for a day trip from Maui, with a short flight in between the islands. The sea cliffs here are the highest in the world and some of the habitats are home to endangered and endemic Hawaiian plants and animals.
What to expect
The Hawaiian Islands are the most isolated on Earth, and Moloka'i is one of the least visited of them all. It's also a bit more challenging to get there and there are not a lot of options to stay there. The island has the frozen moment quality of a Polaroid. It may stay stuck like that for many years to come.
Things to do
Molokai is in parts bleak, and beautiful. Visit stunning Kaupoa Beach before the boyfriends of Instagram and their subjects decide to descend. Kahalepohaku and Kapukuwahine beaches are also deserted, but for a reason: it's usually too dangerous to swim here. Enjoy a cultural experience such as a guided mule tour up the soaring sea cliffs.
Perfect for…
Hardcore Hawaiiphiles, intrepid travellers, adventurers and those who love getting off the grid.
LEAVE YOUR COMMENT