Review: The Modern Honolulu, Hawaii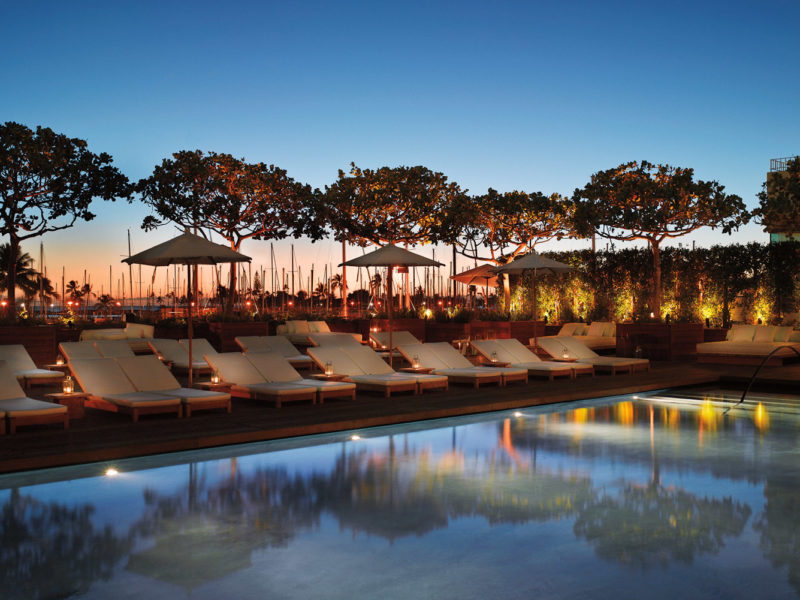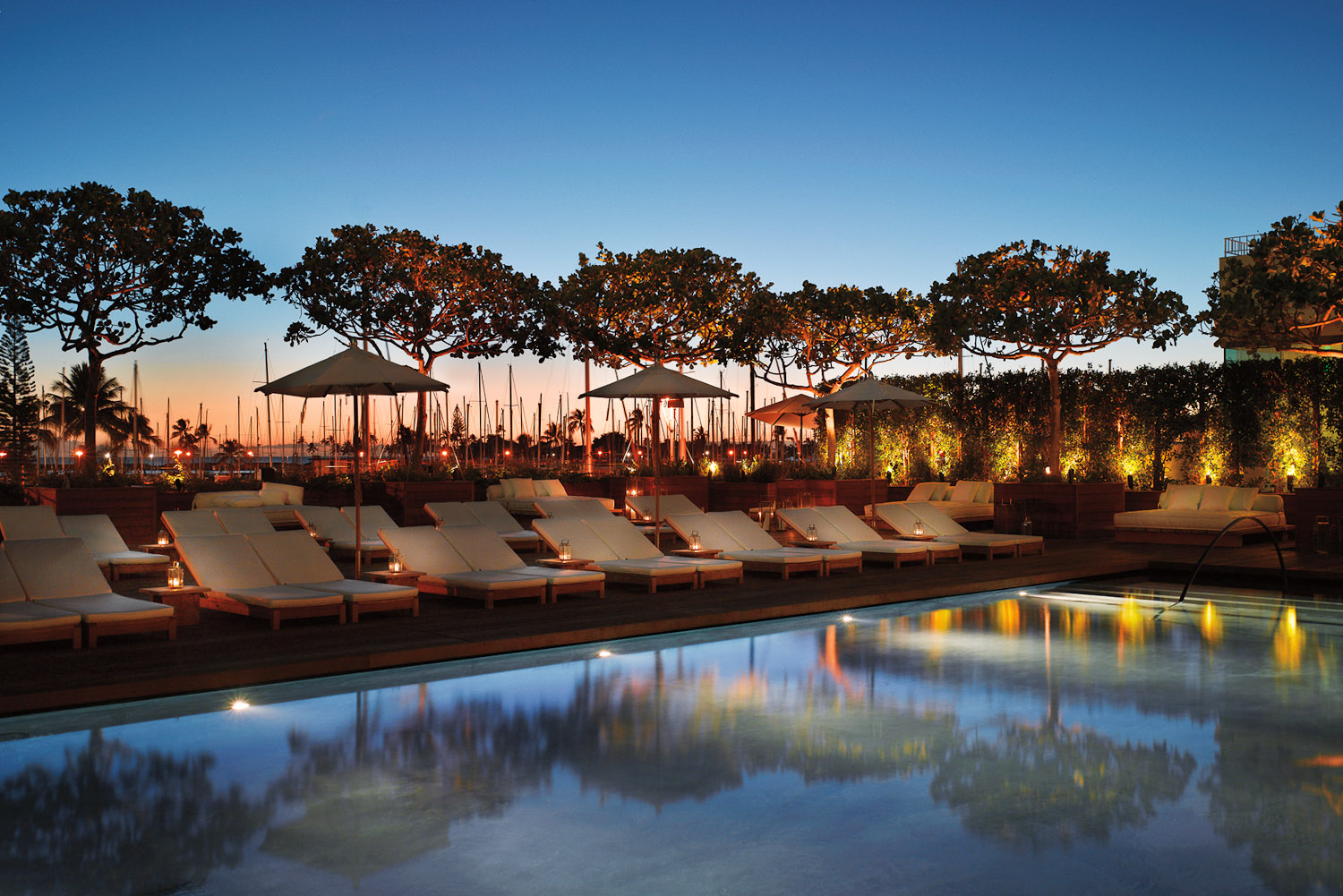 Forget the plastic leis; Waikiki has a new hub for sophisticated travellers, Naomi Jaul discovers.
Let's face it: Waikiki doesn't exactly spring to mind when you think of designer destinations.
Sure, it drew the sophisticated set back in the '60s, but then came the hoi polloi, the hotels crowding the shore, the tackiness, and its heyday seemed as long gone as your third Mai Tai.
But with more Aussies visiting America's 50th state than ever before (it's even Australia's third most googled destination), plus an influx of new luxury hotels, high-end international fashion labels and a burgeoning food scene, the jetsetters are being tempted back to its golden shores.
So what's a traveller with a penchant for design hotels, a taste for minimalism and a need for great food to do? Head to The Modern, that's what.
Meet the 'Hawaiian Hipster'
As it turns out, there is such a thing as a Hawaiian hipster, and they're all at this sexy, minimalist hotel that keeps the aloha spirit classy. With a vibe that feels very Mad Men-meets-Apple-store, it's clear from the minute you walk through its doors that The Modern makes style a priority.
The chic resort isn't your typical Waikiki hotel in many ways, starting with the fact that it's not actually in Waikiki – it's about a 15-minute walk from the city's heart, not that that's a bad thing. Instead of fronting the Gold Coast-esque strip of hotels that line the sand on Waikiki Beach, the boutique mid-century building fronts the yacht harbour.
The pool, oh the pool!
We quickly discover that this makes for an intriguing view from the hotel's rooftop Sunset Pool, as we gaze at tops of sails floating against a Pacific Ocean backdrop with a frozen cocktail mojito in hand.
At first, this adults-only lagoon (think: grown-up très chic paddling pool) surrounded by 100 tonnes of Hawaiian sand is my favourite part of the hotel. After all, there's a hammock slung between palm trees, sun loungers that straddle the water, an ocean breeze and a tiki-luxe bar. And did I mention the coconut mojitos?
What about the secret bar?!
But I change my mind when we head out for some dinner and it becomes clear that the chic lobby isn't all that it appears. A bookshelf that lined one wall when we checked in just a couple of hours earlier has been pushed open, Batman-style, to reveal a slick bar that's only visible after 6pm.
Dinner be damned, because the craft cocktails here are my new favourite thing to do in Hawaii.
When we retire for the evening, though, I decide to stop picking favourites, because our room's not too shabby either.
The rooms? Not too shabby!
Sure, our 'Ocean View' is only visible from the balcony, but the sleek room itself is large, filled with natural light and outfitted in all that is cool and cream. And the casual beach chic – white linen, beige furniture, surf photos – isn't just a front.
The bed is comfy, the iPad is cued with Hawaiian tunes, the wi-fi is free, and the shower is powerful. Aside from the occasional squeak we hear from the lift shaft next to our room, we're happy.
The other pool
The next morning, we decide to check out the other pool – oh yes, there are two.
The Sunrise Pool is the heart of a larger, indoor-outdoor space designed for hanging out in style. The pool sits surrounded by a teak deck (where families and couples lie on loungers), with a restaurant serving breakfast and lunch and a bar that snappily serves up cocktails poolside, if you like that kind of thing, and who doesn't?
As the sun begins to fade, fairy lights in recycled wine bottles illuminate the potted trees and an acoustic duo begins to play Jack Johnson tunes. But we can't linger, because we have a date with an Iron Chef.
Dinner date with the Iron Chef
Proving that it's on-trend in every sense, the Modern is home to a destination restaurant: Morimoto Waikiki, the creation of celebrity (and Iron) chef Masaharu Morimoto. Filled with chic coral fixtures and Lucite tables in which sea moss is suspended, we're seated in a balmy outdoor area where we're promptly treated to a glorious fuschia sunset.
Even more delightful is the rainbow display of delicate sushi that appears soon after we sit down.
My husband falls into a silent reverie when the crispy pork gyoza with bacon cream and local tomato sauce hits our table, and then it's my turn to lose the power of speech when the crispy whole sea bass with papaya salad arrives.
Coupled with Asian-inspired cocktails, it's the perfect way to bid goodbye to Waikiki and say hello to whole new set of memories.
Details
The Modern Honolulu
1775 Ala Moana Blvd, Honolulu, +1 (808) 450-3396, themodernhonolulu.com
The IT Verdict
Slick and sexy, this is a side of Waikiki you didn't know existed, but will be glad it does.
Location: 6/10
Away from the main beach and shops.
Style/character: 8/10
Chic and modern, it's the slickest place to stay in Waikiki.
Service: 8/10
Friendly and helpful.
Rooms: 8.5/10
Large and well appointed, but ocean-view rooms only have that view from the balcony.
Food and drink: 9.5/10
The cocktails in the library bar – mai tais or otherwise – are top notch and Morimoto Waikiki is a destination in itself.
Value for money: 8.5/10
The room cost $465; slightly overpriced for the lack of view.