The new guide to Kauai - The Garden Isle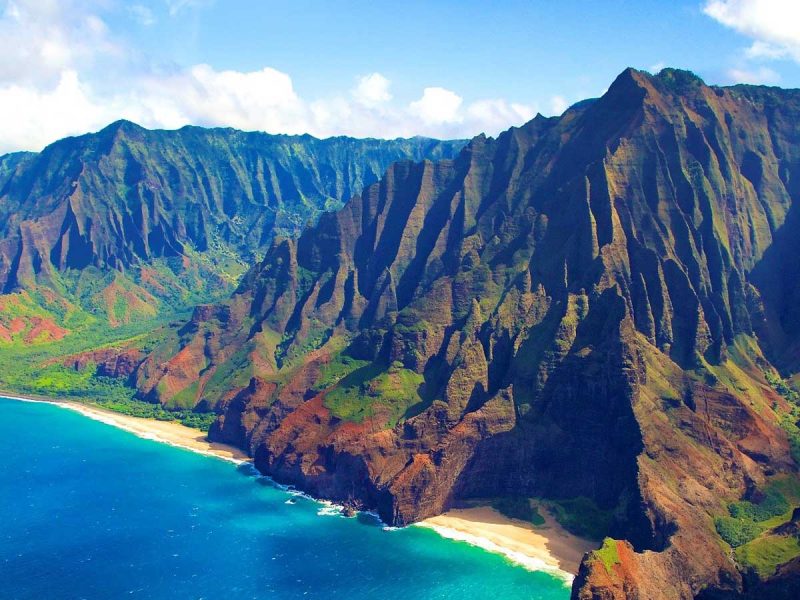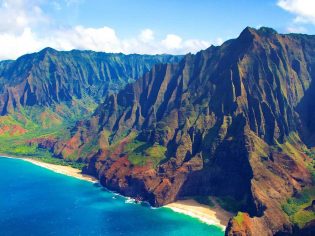 The oldest and northernmost island in the Hawaiian chain is draped in rainforest-clad emerald valleys, sharp mountain spires and jagged cliffs with cascading waterfalls, in short some of the most jaw-droppingly beautiful scenery in Hawaii. The Waimea Canyon and the majestic fluted sea cliffs of the Napali coast have featured in many a Hollywood movie. Nicknamed the Garden Isle thanks to its fecund vegetation, Kauai also has an alternative vibe.
Best things to do on Kauai
Scenic flights on Kauai
Much of Hawaii's Kauai is inaccessible so take to the air to marvel at its panoramic vistas. See the Napali Coast, Waimea Canyon, Manawaiopuna, Waialeale shield volcano crater, Hanalei Bay and more via a helicopter or small plane tour.
Explore the Napali Coast of Kauai by water and land
There are numerous options for water-based tours including yacht cruises, catamaran and snorkel tours, sunset sails, and rafting tours. Adventurous souls will enjoy a one-day kayak trip along the 28-kilometre coast. Experienced hikers can hike the spectacular but dangerous 18-mile Kalalau Trail with a pre-booked permit. The Hanakapiai Falls Trail is a 13-kilometre round-trip day hike, half of it along the Napali coastline and the other half up to the stunning 100-metre Hanakapiai Falls. It does not require a permit.
More hiking on Kauai
The hiking is world class and can be challenging. Kauai Hiking Tours, the island's only certified Sustainable Tour Operator, offers guided hikes of the Waimea Canyon and Napali cliff top, Nounou Mountain (Sleeping Giant), Kuilau Ridge Trail to Mt Wai ale ale Viewpoint and more as well as four-wheel-drive tours of the island.
Best Beaches on Kauai
There are so many sublime beaches including the wide beach at horseshoe-shaped Hanalei Bay, framed by the pretty township of Hanalei, Haena Beach overlooked by Mount Makana (Bali Hai in the movie South Pacific), (see previous reference that advance reservations are required to visit the Haena State Park ) Lydgate Beach whose lagoon is a popular snorkelling spot, and Poipu Beach with a natural wading pool. Kekaha Beach on the west coast is a great surfing spot. Many beaches do not have lifeguards. Only swim when the waters are calm, generally during the warmer months.
Other adventures on Kauai
With all that dense vegetation, some of the longest courses and most breath-taking views, Kauai is a superb place to go ziplining over the rainforest.
Kauai is also home to the only navigable rivers in Hawaii: the Hanalei River, Huleia River, and the tranquil Wailua River, which is the most popular for kayakers.
Explore Hawaii's National Tropical Botanical Garden at its three sites: Allerton Garden and McBryde Garden just west of Kōloa, and Limahuli Garden on the North Shore.
Best food experiences on Kauai
Visit Sunshine farmers' markets all over the island. Sample homemade ice cream at Lappert's Hawaii.
Tasting Kauai offers fun educational food tours to help visitors learn how food is grown on Kauai, discover specialty fruits and vegetables unique to Hawai'i, taste local specialties and support local farms and chefs.
Malama Taro lifestyle
Fifth-generation taro farmer Lyndsey Haraguchi-Nakayama is passionate about working her loi kalo (taro patch). "I'm trying to preserve something for generations to come. Our farm is also home to native Hawaiian water bird species. Our priority is to not only provide food for the community but to keep endangered birds safe as well."
Lyndsey also runs a food truck called Hanalei Taro and Juice Company, which serves her family recipes for taro mocha cake, zesty taro hummus, taro veggie burgers and taro smoothies as well as other more authentic Hawaiian food such as laulau, kālua pig, poi, lomi salmon, and kulolo. "Many people have a negative connotation of poi if they didn't grow up eating it, but after they enjoy our dishes they walk away with a whole new appreciation of taro and its importance to Hawaiian culture."
For all your Hawaii travel information visit Go Hawaii, or download the GoHawaii app.
LEAVE YOUR COMMENT