7 things to do in Kauai (other than go to the beach)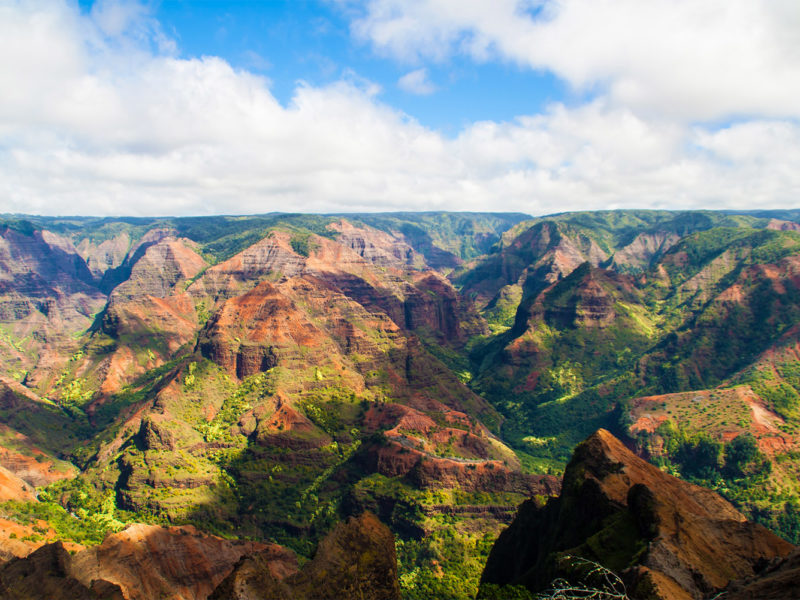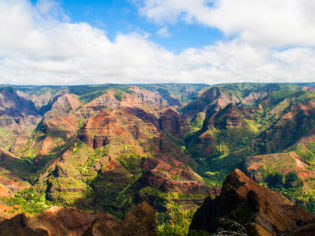 You've heard plenty of advice on the best beaches in Hawaii. But make sure not to miss all the other amazing sights and tastes Kauai has to offer.
The Hawaiian island of Kauai really doesn't have to try too hard. There's no strain to fabricate the perfect paradise for resort-stayers, and there's no beach music thumping late into the night. Kauai simply is what it is. And what it happens to be is the incarnation of tranquil, rugged, untouched beauty.
Kauai is the oldest of its Hawaiian sisters and you can almost feel that unbothered maturity when you step ashore. Time feels infinite. The lush rainforest whispers, the clear waves undulate and the chickens strut about just as they've done since the island emerged from the sea 5 million years ago (okay, well the wild chicken population actually proliferated in the 1980s– but the sea and forest are both truly ancient).
An island vacation to such a paradise invites a large allocation of time to be spent lounging in the Polynesian sun with a 'lava flow' cocktail in hand. And rightfully so. Kauai is nothing if not a reminder to slow down and savour nature. However, we would be remiss not to mention the sights and tastes of Kauai that exist beyond the relaxation of the beach.
1. Nāpali Coast tour and snorkeling
Visiting Kauai without seeing the Nāpali Coast would be like visiting Paris without catching sight of the Eiffel Tower. This coastline of stunning clifftops, long stretches of coastline and dense rainforest is like something out of a movie. Which it is. Nāpali is the iconic introductory island shot in Jurassic Park.
There are several ways of viewing this 27-kilometre-long island – from a kayak to a helicopter. But we suggest taking a snorkeling boat tour for up-close views of the scenery and marine life. Local companies, like Captain Andy's or Blue Dolphin Charters, lead fantastic tours.
2. Queen's Bath
Queen's Bath is one of those unreal places you are usually only able to view on the Instagram feed of that travel influencer you're insanely jealous of. This swimmable tide pool filled with clear, blue water on the north shore of Kauai is safe to visit on days the swell is less than 1.2 metres, so make sure to check the surf report.
The short, 15-minute hike to the natural pool is pleasant in its own right and features a beautiful waterfall. Find more detailed directions here.
3. Hanapepe Art Night
Since its inception in 1997, Hanapepe Art Nights have brought a buzz of music, open art galleries and street vendors of all kinds to the demure streets of southern Kauaian town Hanapepe. Held every Friday from 5 pm to 9 pm, Hanapepe Art Night provides an authentic peek into the local Kauai experience and a great night out.
4. Waimea Canyon. And stop for shaved ice.
While most of Kauai's main attractions and towns reside on the coast, don't miss this scenic marvel at the centre of the island. Known as the "Grand Canyon of the Pacific", the stretching steep gorges of Wailea Canyon are spectacular to behold.
There are several beautiful lookout points that are fairly intuitive to find. Just drive along Waimea Canyon Road and keep an eye out for lookout spots, such as Waimea Canyon Lookout. Pro tip: stop by Kauai's favorite snow cone shack, JoJo's Shave Ice in Waimea, for a frozen treat after a day of exploring in the sun.
5. ATV through the historic Kipu Ranch
ATVing is the perfect dose of action to spice up your beach trip. There are plenty of great ATV tours to choose from, but Kipu's is special because of the exclusive stunning views and access to some Hollywood blockbuster backdrops. Whether you knew it or not, you've already seen some of Kipu's views in scenes of Indiana Jones, Pirates of the Carribean or The Descendants.
In addition to the breathtaking sights and a photo-op swinging on the famous Indiana Jones "vine," you'll leave the tour with more knowledge about both the island and the historic, 1,214-hectre ranch built in 1872.
6. Kauai Coffee Estate
Kauai Coffee is much more than a cosy coffee shop. It's the largest coffee farm in the U.S. and it offers free walking tours of the property four times a day. If you're a coffee lover (or know a coffee lover that could use a caffeine-inspired gift), stop by to sample a variety of coffees, learn more about how coffee is grown and harvested and even catch a live coffee roasting demonstration.
It's hard to dive into an Ernest Hemingway novel, with all of its sumptuous food descriptors, and escape without some serious cravings. Now you can finally step into the world of Hemingway and leave with a satisfied stomach.
This farm-to-table cafe brings the food of Hemingway's world to life with menu items inspired by and named after the author's books. This spot on the eastern side of the island is in an endearingly rickety building with good vibes and curated art lining the walls.
LEAVE YOUR COMMENT