Your ultimate guide to Hawai'i Volcanoes National Park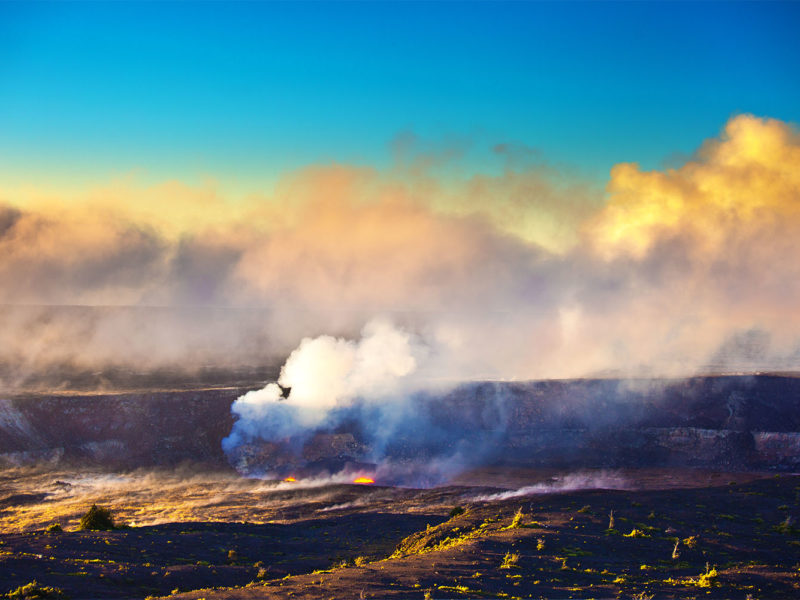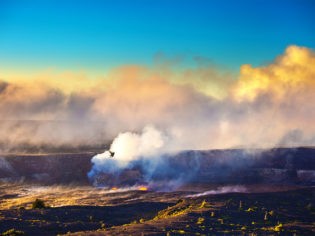 A visit to Hawai'i's 'big island' after the eruption of Kīlauea becomes somewhat of a science lesson as the lava flows paint a picture of the archipelago's dramatic evolution.
What other job do you turn up to only to find that your place of work has largely been destroyed… by lava? And it was kind of expected. Pity the rangers of one of Hawai'i's five national parks, who experienced just that in 2018.
Hawai'i's Volcanoes National Park changed dramatically from May until August that year when one of the most active volcanoes in the world, Kīlauea, erupted and transformed not only the national park but the island of Hawai'i itself. Now that the island is recovering, roads have been rebuilt and it's safe to return, it's the perfect time to visit this iconic spot that runs from the Pacific to the summit of Mauna Loa at 4168 metres: home to, among other things, meat-eating caterpillars and geology forged anew in this rawest of wild places.
Just remember to give the poor ranger a tip on your way out.
Where is it
You'll find Hawai'i's Volcanoes National Park on the big island of Hawai'i.
Getting there
From Hilo it's a 45 minute drive on Highway 11; from Kailua-Kona: 2 and a half hours on Highway 11, or 2.5/3 hours through Waimea and Hilo via highways 19 and 11.
What to see
1. Steam vents
At the time of writing, there was no lava flowing in Hawai'i Volcanoes National Park. If that's the case when you're there, visit the next best thing: the series of steam vents near Kīlauea Visitor Center. Steam billows up from a treeless margin on the rim, creating a foreboding atmosphere.
2. Sulphur Banks
Down a short trail near the steam vents is where you'll find the Sulphur Banks. Here, steam is mixed with volcanic gases, with deposits of sulphur forming striking yellow crystal deposits
on the boulders. The sulphur makes the area smell like rotten eggs… let's move along.
3. Pu'u Loa Petroglyphs
There is a remarkable walk off Chain of Craters Road across a vast dome of lava that solidified some 550 years ago, called Pu'u Loa. Fifty years after that, the people of the 'Big Island' carved some 23,000 petroglyph images, figures and geometric designs into the volcanic rock and left little impressions where the umbilical cord of a newborn would be placed to ensure a long life.
It's a stark display of the human history of the Hawaiian Islands that stretches back deep into its tumultuous geological past.
4. Holei Sea Arch
At the end of Chain of Craters Road there is a striking black sea arch, an awkward finger of igneous rock that seems to prop up the island. You can access the 27-metre-high feature along a short walk where you can also appreciate the Pacific-edged boundary of the park. Hurry though; like many features here on the Hawaiian Islands, it might not be around for long.
5. Mauna Ulu
Take a short walk over this small volcano, which last erupted in 1974. It left 44 square kilometres of solidified lava and some incredible rock formations known as lava trees
– mushroom-like growths of rock formed as a result of cooling and hardening of different lava flows.
6. Crater Rim Trail
You used to be able to walk the circumference of Kīlauea's summit caldera, but half of it has been blown to bits, making this a 'real' volcano hike. You'll walk through steam, volcanic gases, bizarre flora and a place sacred to Hawaiian culture. Enjoy views into the crater itself.
7. Devastation trail
Ever wondered what walking on Mars would be like? No neither have we. But we reckon it must be something like this 30-minute hike along the aptly named Devastation Trail, which takes you through the cinder outfall of the 1959 eruption of Kīlauea Iki.
8. Weeding a volcano
Don't just leave footprints. That's lazy. Here at International Traveller, we like to leave things better than when we found them, which could mean we just pick up a bit of rubbish or… rid a national park of invasive Himalayan ginger weed. Join volunteers Paul and Jane Field and their 'Stewardship at the Summit' initiative, whereby you'll be handed a pair of loppers and gloves before joining a team on the face of a volcano, clearing the park's forests of this tangled leafy mess. Head here to sign up.
9. Spot some fascinating fauna
Somehow insects and animals have flourished for millennia on the flanks of an active volcano. Keep your eyes peeled for these:
Hawksbill turtle
These endangered turtles nest at just nine beaches on Hawai'i, three of which can be found in the national park. From the end of May to December, you may be lucky enough to see a female laying its eggs on beaches at Halape, Apua Point, and Keauhou.
Hawaiian carnivorous caterpillar
Not everything that merits closer inspection is cuddly and cute. Take this inch-long caterpillar that goes on to become a moth. Disguised as a twig, it's very hard to spot as it clings to a stalk waiting for an insect to pass, which it grabs in a flash and devours.
Hawaiian honeycreeper
The Hawaiian Islands are famous for their glorious honeycreepers that come in dazzling colours. The striking yellow endangered Hawaiian honeycreeper has a curved beak that it uses to dig out insects from branches.
Nēnē geese
Hawai'i's state bird is probably the biggest native animal you'll see on the island; Volcanoes National Park is an important refuge for this bird, which has been a sitting duck, ahem, since Captain Cook arrived with rifles in 1778.