Hotel Review: Waikiki Beachcomber by Outrigger, Hawai'i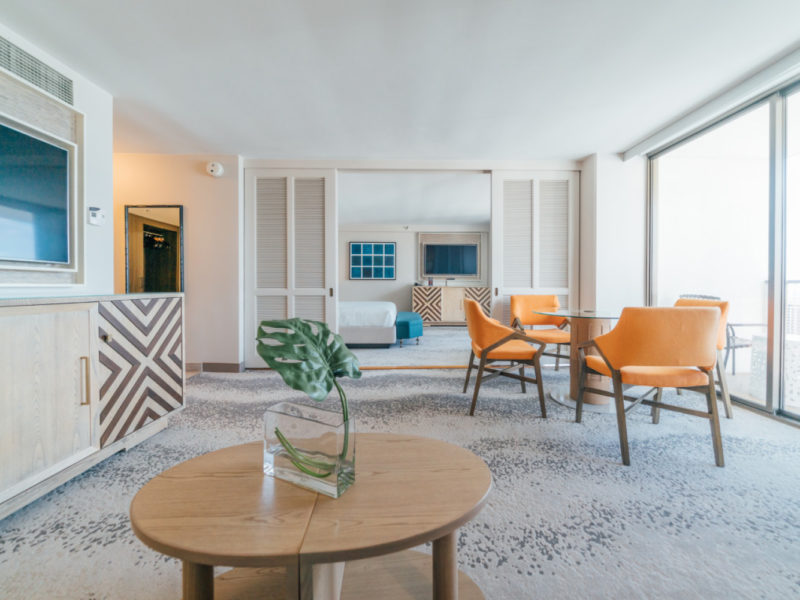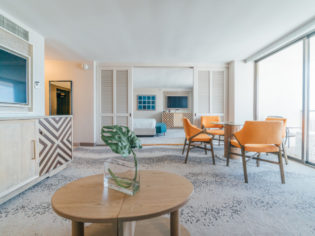 Australians love Hawai'i – according to the Hawai'i Tourism Authority, over 324,000 of us visited the Aloha State of America in 2018. Many come to experience Waikiki and its world-famous beach, but in such a popular holiday destination, outdated and overpriced hotels and resorts are widespread.
Like a waft of salty sea air, the Waikiki Beachcomber by Outrigger offers a fresh alternative on these overdeveloped shores. Doors officially reopened in April after a $35 million makeover, and Outrigger now describes the property as a 'stylish lifestyle hotel … oasis amidst the energy of Kalakaua Avenue' (one of the busiest thoroughfares in the tourist district).
Details
Waikiki Beachcomber by Outrigger
2300 Kalakaua Avenue
Honolulu, Hawai'i, USA
First Impressions
From street level, a giant escalator transports us to the lobby, where the design aesthetic is an appealing blend of beach culture meets aloha spirit: rattan seating in wavy driftwood shapes; carpets channelling the colours and patterns of a swirling sea and sand; and walls with hand-drawn murals of native flora.
At the front desk, the effervescent host tries to accommodate our request for an early check-in but our room category is unavailable. "The [Deluxe Ocean View Room] is one of the best, and there's not many of them, so people tend to maximise their stay and check out as late as possible," she explains. "It's worth the wait," she assures.
Lounging poolside proves to be a welcome detour: we soak in the hot tub, laze on canopied daybeds, and graze on eggs, waffles and locally roasted coffee from the onsite cafe.
The rooms
Our room is ready well before the standard 3pm time and indeed, worth waiting for. Inside, the coastal vibe – prevalent through the hotel's common spaces – is amplified: pendant lights of exposed bulbs and woven rope, wall hangings of coiled raffia, splashes of ocean blue and sunset orange.
Behind the bed is an oversized shot of underwater imagery from Zak Noyle, internationally renowned professional surf photographer and O'ahu local, whose work is showcased throughout the hotel.
Its best 'design' elements, though, are the sweeping views of iconic Waikiki sights – the Diamond Head volcanic ridge, 'pink palace' Royal Hawaiian Hotel, and an endless watery horizon of shimmering, marbled turquoise.
Slow elevators and resort fees (ubiquitous in Waikiki) are minor drawbacks, but easily offset by highlights that include a restaurant from Maui Brewing Co, Hawai'i's largest craft brewery, serving up boutique beers and locally inspired fare created with island-sourced ingredients, such as ahi tuna tostadas and plates of loco moco.
A refreshing escape indeed.
The IT verdict
Drawing inspiration from sun and surf culture, the hotel is high on Hawaiian hospitality and daringly different to other accommodation options around.
Location: 9/10
Unbeatable location right in the pulsating heart of Waikiki with designer stores, markets, bars and restaurants at your doorstep… and the beach a block away.
Style/character: 8.5/10
Laid-back beach living fused with an authentic, aloha spirit.
Service: 7/10
Warm and friendly. Front desk queues can be lengthy, if your timing clashes with a conference.
Food and drink: 7/10
No room service; but two third-party venues at the hotel and a wealth of drinking and dining options within blocks mean you won't go thirsty or hungry!
Value for money: 8.5/10
We paid $361 per night for a Deluxe Ocean View Room – a bargain for the million-dollar vistas.
All IT reviews are conducted anonymously and our writers pay their own way – so we experience exactly what you would.
LEAVE YOUR COMMENT