Review: Trump International Hotel Waikiki Beach Walk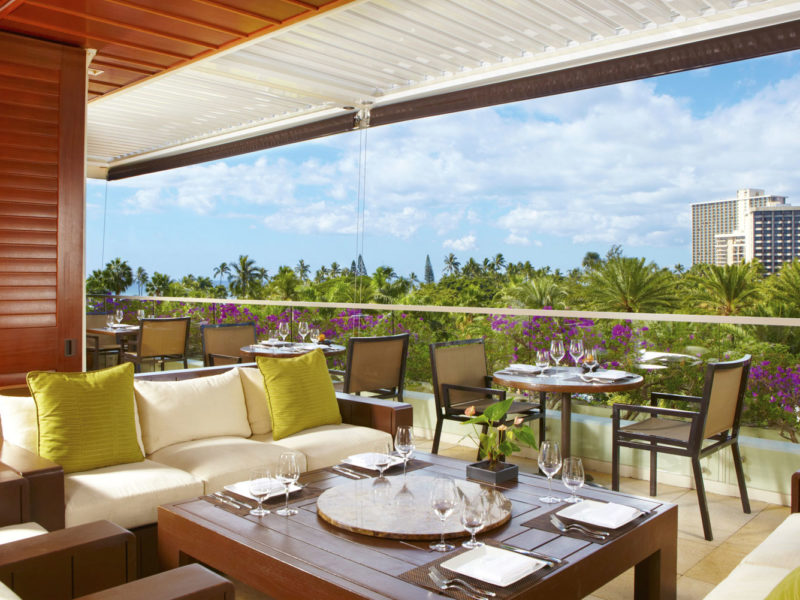 Donald Trump is not known for his subtlety but this stylish hotel bearing his name is an exception, offering five-star luxury that does not require The Donald's bank balance to enjoy.
Hawaii's family-friendly, fun in the sun reputation has endowed the landscape of Waikiki with infinite choices when it comes to four-star hotels with palm tree festooned interiors and behemoth pools jam-packed with holiday makers.
But when it comes to five-star options suitable for families, the choices are much less abundant, which is what makes Trump International Hotel Waikiki Beach Walk such a lure: a streamlined 38-storey glass tower just moments walk to the beach (as the name suggests), it is an imposing yet stylish proposition.
We chose to stay here not because of its looks, but because of what it offered to a family with a pool-loving pre-teen and a luxury-loving husband.
The arrival
Arriving at the property through the bustling foyer, check-in takes place in the much more subdued and airy lobby located on the sixth floor.
It is here you will find the lobby café off to the right, the infinity pool to your left and an expansive open-air terrace (or lanai in local parlance) that is the perfect spot to take up residence for drinks at dusk.
With check-in quickly taken care of, we were delivered to our studio room on the 15th floor.
Our room
It is spacious and stylish, all muted tones on the soft furnishings and ample dark wood, and boasts a generous sitting area, relaxing balcony, a gorgeously appointed marble swathed bathroom that seemed to go on forever, and a fully stocked kitchen (microwave, cooktop, fridge, pots, pans and enough utensils to prepare a four-course meal).
And that's a real plus when travelling with kids as it means you don't have to constantly go in search of your three meals a day – not to mention the endless snacks required to fuel little people in hot weather – and provides good food dining options when the cheeseburgers and teppanyaki that proliferate Waikiki wear thin. (Take a trip to the totally brilliant Whole Foods Market in the residential neighbourhood of Kahala to stock up on fresh, healthy and organic ingredients.)
Obviously inclusions such as this make the Trump Waikiki a very popular choice for families, and the hotel celebrates this fact rather than resenting it. At turn down on our first night in residence, a veritable sweet treat feast was left out for our daughter – cake pops and a box of Honolulu Cookie Company biscuits.
Any mishaps, instantly amended
Having arrived on foot from our previous hotel just across the road, we missed out on receiving a welcome shell lei, a fact that was noted and amended the next day. And a quick phone call to reception resulted in a pint-sized bathrobe being promptly delivered to our room.
Extras? They've got 'em!
There is also video game players delivered to your room by the dedicated personal attaché, and fully stocked beach bags (towels, water, sunscreen…) for those venturing to the white sands located a short walk through parkland.
Of course, the facilities and service afforded to young and old alike are, as might be expected given the name, impressive.
The hotel staff is warm and engaging whether delivering room service to your door or passing by in the lift.
What we loved
The WAI`OLU Lounge, located off the lobby serves food all day and cocktails in the evening, while BLT at ground level is dark and brooding, serving a surf and turf menu.
The Spa at Trump has its own branded treatments; and the infinity pool is simply sublime, offering uninterrupted views out to the ocean as the sun melts into the horizon every evening (seriously, slip your camera into the pocket of your bathrobe before heading down for a late afternoon dip because you do not want to miss capturing this ultimate holiday happy snap for posterity).
What we'd change
And the drawbacks? I actually can't think of any off the top of my head. Maybe I should mention that the second cupboard in our room could have done with better lighting inside, but really, that's not a deal breaker in the overall scheme of things.
Or that the lifts were sometimes a little bit slow arriving; a result of the property being so popular due to all that great service and those thoughtful inclusions, no doubt.
No, all in all the Trump International Hotel Waikiki Beach Walk is a pretty fabulous experience, a worthy five-star property that doesn't require a multi (multi) millionaire's bank balance to enjoy.
DETAILS
Trump International Hotel
Waikiki Beach Walk, 223 Saratoga Road, Honolulu, USA
The IT Verdict
"The Trump International Hotel Waikiki Beach Walk is the perfect option for families who like their little luxuries."
Costs
From $499 per night for a studio and $790 per night for a one-bedroom suite.
Words by Leigh-Ann Pow.
LEAVE YOUR COMMENT