The best farm tours and markets to discover Hawai'i's culinary roots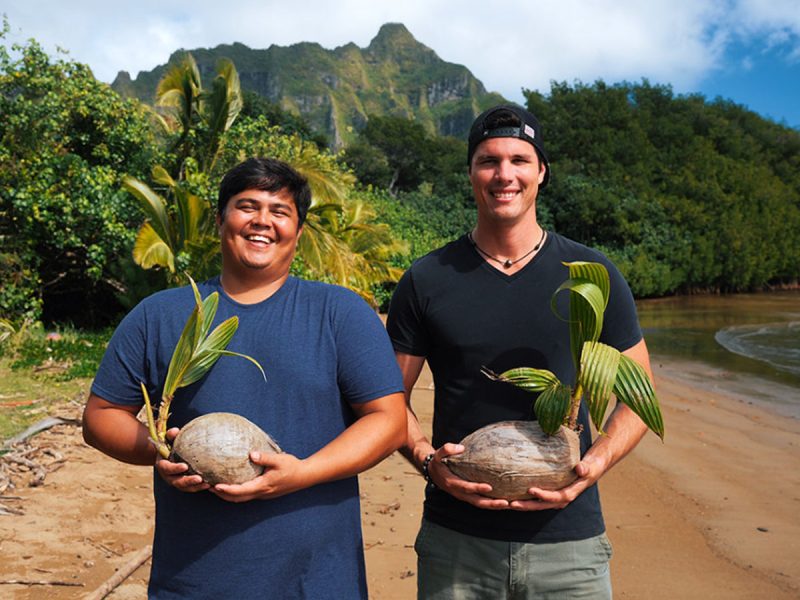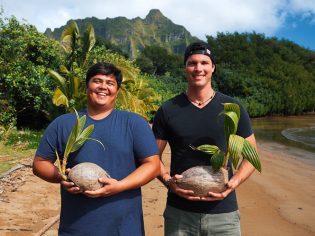 |

THIS ARTICLE WAS CREATED IN PARTNERSHIP WITH Hawai'i Tourism Oceania

|
More and more, Hawaiian farmers, markets and chefs are looking to traditional methods to get the best out of their land and cuisine.
Hawai'i farm tours stem from an interesting and culturally diverse history. The first settlers to Hawai'i – a group of Polynesian Wayfinders who arrived by canoe – brought plants that supplied all their essential needs for food, medicine, fabric, containers and cordage.
The history of Hawai'i's food scene
These plants included kalo (taro), 'awa (kava), kukui (candlenut), mai'a (banana), niu (coconut), 'uala (sweet potato), 'ulu (breadfruit), sugarcane, ti leaves and ginger, as well as chickens, pigs and dogs. Settlers developed an agricultural system that was completely self-sufficient and provided a healthy diet to sustain a civilisation.
Taro was prepared by hand pounding the cooked root into a sticky paste called pa'i'ai. This was traditionally the staple of every meal, and everything else on the plate – vegetables, poke, smoked meat and seaweed salad – was served as a condiment to add flavour it.
Ancient Hawaiians also wrapped lū'au (taro leaves) around meat and then grilled on hot rocks; this is how the traditional lū'au feast got its name. The taro leaves were also stewed with coconut milk, diced meat or fish, and served with pa'i'ai.
Over time, Hawaiians began diluting the sticky substance with water to make poi, a purple, pudding-like substance. When fresh, this modern staple is sweet and eaten with bread; after a few days it grows sour and is eaten with salty foods, especially smoked meats or salted fish.
With the establishment of industrial sugarcane and pineapple plantations in the late 1800s, much of the traditional Hawaiian land care systems (and the healthy traditional diet) were destroyed.
Today, over 85 per cent of Hawaiʻi's food is imported. However, an increasing number of individuals and groups are working to re-establish food sovereignty throughout the Hawaiian islands. These efforts include increasing local food production, as well as shifting the mindset of native Hawaiians and other Hawaiʻi residents to the importance of growing their own healthy food once again.
The result of this, is making now a very exciting time to explore Hawaiian cuisine, and what better way than starting at the beginning?
There are plenty of farm tours and farmers' markets that will allow you to experience the best of Hawaiian produce. We've rounded up a few of our favourites.
Best farm tours on Oʻahu
Kualoa Ranch Nature Reserve is a historic working cattle farm that's now geared to preserve a landscape the ancient Hawaiians cherished as one of the most sacred places on Oahu. It's also the location for a slew of famous movies and TV shows, including Jurassic Park, Godzilla and Lost, and you can tour the set locations by bus, ATV or horseback.
The ranch offers a fascinating Aloha Aina Farm Tour to explore the fruit, vegetable and flower gardens surrounding one of Oʻahu's best-preserved ancient traditional fishponds (moliʻi) to learn about early Hawaiian farming and aquaculture practices. There's also a Mālama Experience, where you can not only learn about the importance of taro for sustenance and for Hawaiian cultural identity but also help plant, clean or harvest the crop, depending on the season.
Nestled by the Anahulu River on Oʻahu's north shore, the family-run Lokoea Farms has been producing delicious food since 2000. Book a tour to see, smell and taste produce from the diversified orchard, including their speciality: Hale'iwa Gold Hawaiian oranges and Meyer lemons.
Best farm tours on Kauaʻi
Common Ground is based on an 83-acre agricultural campus on a former sugarcane and guava farm in Kaua'i. It serves as an environment to promote the benefits of regenerative agriculture, facilitate holistic immersive experiences, offer incubator support to emerging local food-based companies, and develop distribution channels for local products, with the goal of creating a circular local food economy.
The regenerative farm and food experience starts with a guided walk through their food forest and finishes with a light meal crafted with products direct from the farm.
Best farm tours on Maui
Located in the Central Valley of Maui, La Kahea Community Farm is one of the properties on a 300-acre conservation easement that was once home to sugarcane and pineapple plantations.
Today, the young farmers focus on growing nutrient-dense Hawaiian canoe crops, and they offer a farm tour that focuses on the growing and preparation of kalo (taro), with samples of prepared taro bites with herbal Maui tea.
Best farmers markets on Hawaiʻi Island
Farmers' markets have become ubiquitous across Hawai'i, and they're an excellent way to discover the finest local foods and buy them directly from the producer.
On Saturday mornings you can find Kapi'olani Community College (KCC) Farmers Market in parking lot C on Diamond Head Road, O'ahu. Here you'll find produce of all kinds – tropical fruits, coffee, vegetables, flowers – and plenty of lunch options.
Hilo Farmers Market is the largest on the Big Island and happens 7am to 3pm daily. One section is devoted to local growers and their produce, while you'll find nick snacks and locally made crafts around the rest of the market. No time to wander the stalls yourself? No problem, they offer phone and online ordering as well as curbside pick-up and delivery.
Upcountry Farmers Market is another Saturday market held in Kula Malu Town Center, Maui. It's an ode to the rich red earth of Maui farm country with fresh locally grown organic produce from coconuts and macadamias, to freshly caught fish, to plants and trees. There are also prepared foods to munch on.
Wander through locally grown fruits and vegetables at the Hanalei Farmers Market held on the lush grounds of the Hanalei Community Cultural Center in Kauaʻi every Saturday morning. Also discover the arts and crafts of talented, local artists.
Start planning your culinary escape at gohawaii.com/au.
LEAVE YOUR COMMENT