5 unusual festivals in Japan you need to know about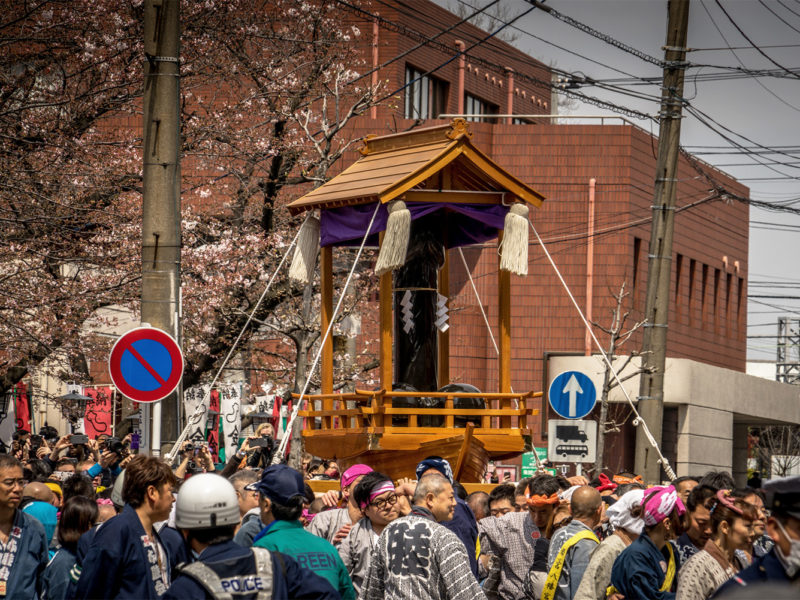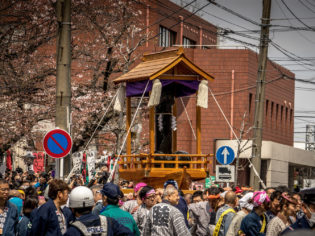 The eccentricities of Japan have been well documented, particularly regarding its place in modern pop culture, from zany game shows where people eat furniture, to a pervasive kawaii culture which takes the love of cute things to a level of unwavering religious devotion.
However, peculiarities in Japanese culture actually date back centuries, and often come with much deeper meanings than outsiders would originally assume. The best way to experience this is through the many iconic Japanese festivals that take place, usually around shrines, throughout the year. Some may seem strange and unusual to visitors, but all have long histories that hold an important place in the story of this endlessly compelling country.
Here are just five of those esoteric festivals, illustrating how certain beliefs throughout history have been interpreted in unique ways.
1. Nakizumo Crying Baby Festival
Japan's seemingly bizarre Nakizumo Crying Baby Festival is based on the ancient proverb naku ko wa sodatsu, which roughly translates as 'crying babies grow fast'. For over 400 years, this has led to the idea that parents are doing their toddler a great service by watching them wail in public, whilst cradled in the arms of a very burly sumo wrestler, to bless them with healthy lives and ward off evil spirits.
Each April/May, this festival takes place in several locations across the country, although the most notable is behind the iconic Senso-ji Temple in Tokyo's traditional Asakusa district. On the day, two different sessions – one around 11am, and one around 2pm – are each made up of dozens of rounds where two sumos stand on opposing sides of a small stage, and are given a one-year-old baby to hold from the procession of participating parents.
A referee/priest officiates each round, which involves both sumos lifting their respective baby and gently swaying it to encourage it to cry. Whichever baby cries first is declared the winner of that round, but it's not often that simple. When both babies cry at the same time, the wrestler will intensify his actions to see which cries the loudest, thereby determining a winner. If neither baby cries, a duo of elderly priests sitting on either side of the stage spring into action, donning colourful bird-demon masks to try and bring the baby closer to tears. Throughout, the priest softly yells "nake, nake" at each baby, which means "cry, cry".
2. Akutai Matsuri
Referred to in English as the 'Festival of Abusive Language', Akutai Matsuri turns the otherwise stoic atmosphere of the small city of Kasama in Ibaraki Prefecture into a cathartic shouting match of local cuss words.
This annual festival, which dates back to the Edo Period (1603-1968), is hosted each December by the Atago and Iitsuna shrines, though there are several smaller iterations across the country. It began as a way for overworked factory workers to purge any pent-up frustrations, but today has turned into a rowdy celebration of insults like bakayaro (idiot) and konoyaro (bastard).
During the festival, hundreds of people march behind a group of 13 priests who are dressed up as red-faced goblins, shouting at them as they make the 40-minute climb to Atago Shrine from the area around Iwama Station.
Stops at smaller shrines along the way are expected so the 'goblins' can present their offerings, which many try to steal as they are known to bring good luck to whoever gets a hold of them. The race to steal the offerings is often why the festival has a reputation for getting quite rowdy.
3. Kanamara Matsuri
Perhaps the most recognised of Japan's unusual practices, Kanamara Matsuri is widely known as the Fertility Festival (or sometimes the Penis Festival). Held in April, the festival takes place in the city of Kawasaki at Kanayama Shrine, only one hour south of Central Tokyo, with a history said to reach all the way back to the 17th century.
During this time, various maids and prostitutes would visit the shrine to pray for protection against sexually transmitted diseases and similar misfortunes. This prompted the shrine's parishioners to start this festival, which has grown to become one of the most inclusive and celebratory events in the region.
People of all identities and ages come to celebrate on the day, which involves a mikoshi parade of human-sized phalluses being marched through the streets, carried on palanquins to the Kanayama temple. Around this, there are various phallic-shaped objects, both edible and artistic. Participants can learn the art of carving vegetables into phallic shapes, come dressed in penis-themed costumes, and even pose for pictures on large, wooden phalluses.
4. Paantu Festival
If you're visiting the small island of Miyako-jima in Okinawa during September (or sometimes, October), don't be surprised if a masked man, covered in leaves and mud, runs up and enthusiastically smears some of that slimy sludge onto you.
The Paantu Festival is named for supernatural beings once believed to descend upon a village to chase evil away and bring good fortune to its residents. According to this legend, any home, newborn baby, or adult who is splashed with mud by these deities would be blessed with good luck for the coming year.
The result is an island usually full of terrified children as the mud men run around in their odd appearances and dirty anything they can get their hands on, from cars to humans to houses. Visitors who happen upon the island during the festival can also expect to be splashed by the Paantu, who are sometimes known to chase adults and pin them to the ground before blessing them with their boggy bodies.
Although the festival has historically been spread wider throughout the Okinawa islands, nowadays you're only likely to find it in Hirara City in Shimajiri, and the Nobaru district of Ueno village.
5. Otaue Matsuri
Twice a year in early May and early September, the stunning, large Omishima island in Ehime Prefecture hosts a seemingly normal and bountiful rice-planting festival called Otaue Matsuri. The Japanese staple food takes pride of place at this event, which marks the rice-planting season in spring, and the harvest in autumn.
Located at Oyamazumi shrine, the festival isn't all too different from similar events which happen throughout the year in different parts of Japan. There is one very distinctive element though, and the reason for its inclusion on this list.
The wildest and most unusual aspect of this festival is called hitori zumo, which roughly translates to 'one-man sumo'. During this, the god said to take up residence in the shrine is the sole opponent for the region's sumo champion, spurring three bouts of man versus deity that plays out exactly as you would expect: a sumo wrestling with what looks like thin air.
Each year, the god has won at least two of the three bouts, which is taken to mean a plentiful harvest for the year.