Kinosaki Onsen: Japan's must-visit winter destination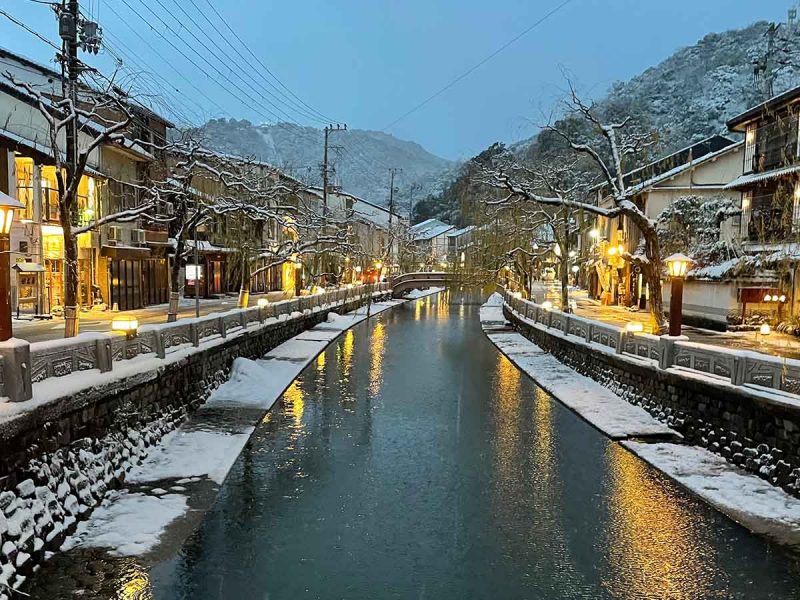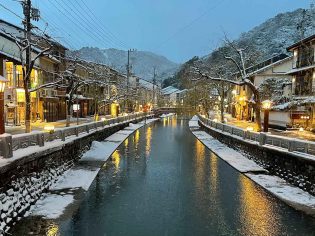 Japan's delightfully quaint Kinosaki Onsen offers up a small-town adventure for the mind, body and soul.
The charming town of Kinosaki Onsen is a must-visit winter retreat when you next find yourself in Japan. A cosy town of just 3500 residents, it boasts 74 ryokans (Japanese inns) in total, a fact that has resulted in locals considering their home as one giant ryokan.
The train station is the entrance to the town, located in Hyogo Prefecture, within the Kansai region, and if you arrive between November and March you will be greeted by a sculpture of two large crab claws signalling that it is snow crab season (there is also a display of geta or traditional Japanese wooden shoes, each representing one of the aforementioned ryokans). Passing through these sculptural 'arches', the roads of the town are fashioned as corridors, as if in a home, and the seven onsen (hot springs) found here are the baths. Sweetly, the town also offers free-to-use umbrellas at the station, along with free shuttle buses, all of which add to the charming community feel here.
Explore the town on foot
Walking, even in the winter chill, is a treat in Kinosaki Onsen, as the town is made up of a series of canals and rivers, with beautiful bridges on each block. Some houses on the outskirts of the town centre even have their own individual bridges. In certain ways the whole place reminds me of Amsterdam with its historic buildings alongside arched bridges.
Climb Mount Daishi to Onsenji Temple
After exploring the 'corridors' of the town, take the time to strike out further afield to get a different view. Climbing Mount Daishi to Onsenji Temple affords a stunning vista over Kinosaki Onsen and its surroundings. In ancient times, when the hot springs in Kinosaki were first discovered, they were considered gifts from the guardian deity, making the waters sacred. As a result, before you could enter the waters you had to hike to this temple and pray to the onsen guardian for permission to soak in them and receive their healing powers. Those who completed the task were given a ladle that effectively acted as a ticket to enter the onsen.
Visit Kono-yu in town
Back in town, visit Kono-yu, the source of the hot springs near Kinosaki Gelato Cafe Chaya. The temperature of the water here is 81 degrees, so you can only put your hand close to the steam to warm up or pop a finger into the water for a split second. It takes just 11 minutes to perfectly boil an egg in the waters; visit the adjacent tamago (egg) store to give it a try.
Soak in each of the town's seven onsens
While the daytime is about exploring, at night the town comes alive with onsen hoppers wandering to and from onsens and ryokans. It is quite a sight to see, with people dressed in colourful yukata (lightweight kimono) and illuminated by the hazy glow of gas lamps; it comes complete with its own soundtrack too of geta click-clacking through the streets.
Guests staying at any of Kinosaki Onsen's ryokans are given a QR code pass which allows you to enter any of the town's seven onsens, the waters in which contain sodium, calcium and chloride, all of which are known for their aiding digestion and treating fatigue, nerve and muscle pain. If you're not staying at a ryokan you can still feel the benefits of the water for an entry fee of $8 to $9, or you might want to consider buying a yumepa (onsen pass) for $15, allowing access to all of the town's onsens.
Each onsen has its own unique charm and character. Head to Mandara-Yu bathhouse if you are a history buff as legend has it that this onsen was founded by a Buddhist monk named Dochi Shonin, who is credited with bringing forth Kinosaki Onsen's healing hot springs water having uttered a prayer, or 'mandara', for 1000 days. Satono-Yu, meanwhile, offers for a slightly more Western experience, with this bath house filled with mosaics and columns reminiscent of the Grecian style.
Spend the night at Nishimuraya Hotel Shogetsutei
As the night stretches on, the streets become increasingly quiet as visitors find respite at their chosen ryokan. One of the most luxurious is Nishimuraya Honkan, which can lay claim to over 160 years of history, while its sister property (and my home from home for the night), Nishimuraya Hotel Shogetsutei, is also totally divine. Here you can sip a welcome drink at the spacious hotel lobby bar before finding your name written on a card at the entrance to your room. The food is also amazing, served in your room and featuring the famous local snow crab during the winter months.
Discover Kinosaki Onsen's art and crafts scene
While water is a focus in Kinosaki Onsen, I wake the next day to discover the vibrant art and crafts scene. The only place in Japan which continues the traditional production of straw craft, while preserving the original skills and techniques of the past, the four certified craftsmen left in the country are all found here. Pop into Kamiya Mingei Shop, located on Kiyamachi Street, to see straw crafts made by third generation straw craftsman, Kamiya Toshiaki, and take a workshop (book at least a week ahead at visitkinosaki.com to guarantee a place). And a visit to the town's Straw Craft Museum, where a wide range of local straw crafts are permanently on display, and the recently renovated Kinosaki International Arts Center with its exhibitions, performances and creative work space, are also a fascinating and worthy investment of time.
As I explore the arts scene, I also come across some of the recently opened cafes in the town. I can happily recommend Kinosaki Burger where you should order a Tajima beef burger, or take a seat at Un to read books from its in-store library while enjoying a hot chocolate. And after such an incredibly expansive experience of art, history and Japanese lifestyle and hospitality, end your trip to Kinosaki Onsen with an espresso tonic at OFF Kinosaki while you fathom just how much is packed into the town's totally delightful yet wonderfully modest proportions.
Ebony was a guest of Japan National Tourism Organization and Toyooka City.
LEAVE YOUR COMMENT