Kyoto or Osaka which is better? The experts weigh in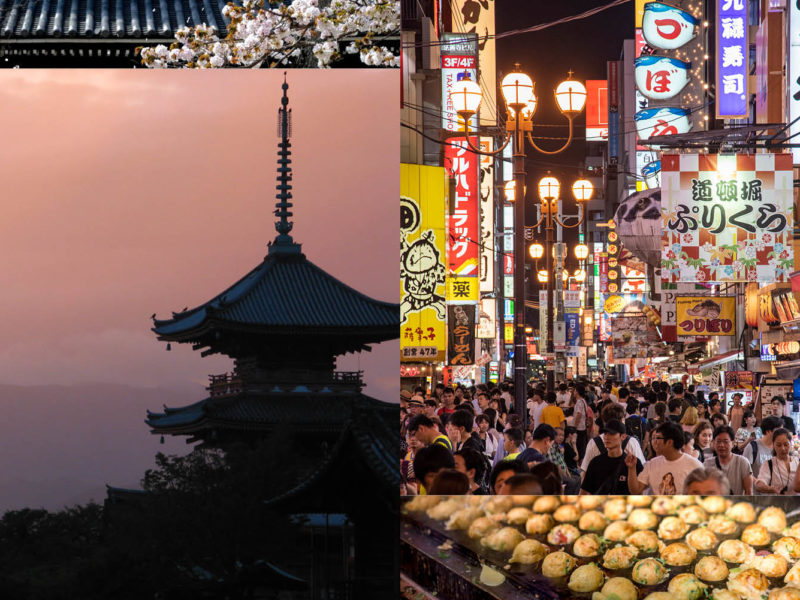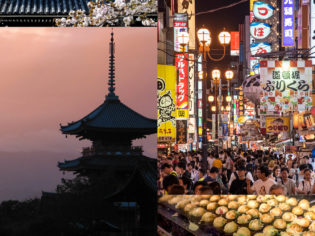 You've squeezed one last week's leave from work and you've scored an amazing flight deal – but now you've only got time to see one city.
It's the question on every time-poor travellers lips: Kyoto or Osaka which is better? We've asked a couple of experts to weigh in on this sumo-style showdown between two very different cities.
Kyoto: the elegant elder
The ancient capital of Japan before it was left behind by the expanding court, unable to fit in between its perfect circle of five mountains, Kyoto has remained a kind of time capsule containing everything that is intricate and beautiful about Japan.
Despite the estimated 50 million-plus tourists who descend upon its temples and shrines, forests, cobbled streets and even modern neighbourhoods, there are still quiet moments and flashes of pure tradition in every day spent here.
A geisha (or 'geiko' here in Kyoto) can still be found shuffling quickly through the alleyways of the Flower District (Gion) to a tea ceremony job or evening entertaining important corporate guests; in the post-sunrise languor of the day, it's still entirely possible to have the pathways of the sacred Arashiyama bamboo forest entirely to yourself, the shafts of sunlight curling amongst the incense smoke from the Shinto shrines within it.
"Kyoto's ability to preserve history and tradition whilst keeping it relevant is a constant source of fascination for me," says Kyoto expert Alison Roberts-Brown, who works with Kyoto City Tourism. "It's a place that beckons you to return again and again; there's so many layers of history and culture which have never stopped evolving, there is always another layer to discover."
It's impossible (and inadvisable) to visit Kyoto without giving over a few days to its enviable roster of temples and shrines, from the golden temple of Kinkaku-ji and the ultimate Insta-destination Shinto gates of Fushimi Inari Taisha, to the edifice that is Kiyomizu-dera temple, presiding over streets lined with perfectly presented souvenir shops that – mostly – keep things typically tasteful, Kyoto-style.
Even the sweet shops expect you to dress respectfully and, preferably, elegantly – especially those that predate most of the buildings around them. "The 17-generation-old Kyoto sweet company Toraya is good example," says Alison. "One of Japan's oldest confectionery businesses, they were supplying the Imperial family back in the 1700s, and the business now operates 70 odd shops and even one in Paris.
Their traditional confectionery is still exquisitely presented; I recommend saving an hour to sip tea and sample their wares at the location they have been operating since 1628, the Toraya Ichijo Shop and Cafe."
Just like its sweet-making, Kyoto takes its arts and crafts extremely seriously, Alison says. "Trades or craftsmen's skills are passed down from generation to generation, and it's not unusual to find a traditional artisan in Kyoto whose family business spans more than 10 generations."
Keen to share these inherited arts and crafts Kyoto City has established the 'Kyoto Artisan Concierge', which connects people in search of genuine experiences with artisans so they can observe artisan demonstrations in the creative atmosphere of their studios and have hands-on experiences too. Quietly, carefully, beautifully.
But just a touch over an hour away by train, there's a very, very different vibe indeed.
Osaka: the cheeky little sister
Let's get this out of the way – Osaka is not that little at all. In fact, with a city population of 2.6 million and a greater metropolitan population of over 20 million people, it's one of the world's larger cities and outstrips Kyoto. However, in its tastes and its ambience, shopping-mad, food-obsessed Osaka is as different from Kyoto as chalk from cheese, with a cheeky vibe that contrasts sharply with the latter's conservative bent.
"If Kyoto is serene and soothing, Osaka, just a short train ride away, is the opposite," says Bea Holland, doyenne of all things Japan at japlanguide.com. "Bustling, noisy, maybe a little grimy, Osaka is fun from beginning to end."
From end to end, really, if you look at the Osakan city map, crisscrossed with kilometres-long, pedestrian-only 'shopping streets' that form the bones of any visitor's itinerary and are fleshed out, on visiting, by day-to-night crowds bustling shoulder to shoulder through each arcade.
It doesn't stop as you descend the ubiquitous staircases underground; Osaka is built upon a subterranean wonderland of unashamed capitalism, making up some of Japan's longest and densest underground shopping malls.
You can easily dive from the main railway station, JR Osaka, into the Umeda shopping area, then happily bob along in the sea of humanity sweeping through the 600-metre Shinsaibashi shopping street, take a deep breath at the canalside Dotombori pedestrian mall, before diving headfirst back into the bargains and impossibly kawaii (cute) goodies in the boutiques along Ebisubashi arcade.
Don't forget the way back to Dotombori, though, because the fickle and fun-seeking Osakan crowd will be flocking here come sunset for their second obsession after shopping: food.
The canyon-like walls of the Dotombori mall are like a Tetris stack of food offers, jumbled together in an overwhelming patchwork of colour that lights up come nighttime to pick out a giant waving crab here, a cartoon octopus waving a cartoon knife at passersby there. Watch where the queues form and jump in behind them. Today's hot restaurant property is tomorrow's has-been heap with this lot.
"Osaka is about all things octopus," tips Bea, "and you have to indulge in both takoyaki (fried octopus balls) and okonomiyaki (a local specialty cabbage and seafood pancake) while you're there. Grab takoyaki from any street vendor and they will be delicious. For okonomiyaki, find a bar with a sizzling hot plate and settle in. Our record is five in one sitting, but I look forward to breaking this!" she grins.
Part of the fun of Osaka is not only following the 'It' crowd, but the alternative crowds too, who have made this quirky city their home the way traditional Kyoto may never be able to stomach.
The cool kids of Amerikamura neighbourhood seem to have the greatest density of tattoos and body art in the country – a gutsy effort, when this is still absolutely associated with organised criminals in Japan – and you'll most likely find them rocking out in the very street, accompanied by someone's retro ghetto blaster, or someone else's speakers from an open window.
Over in Den Den Town, it's all about electronics, but it doesn't take long to wander into serious manga and otaku territory: where the kids live cosplay 24/7, hanging out outside sex shops and cartoon shops with equal insouciance.
Certainly, Osaka has all the straight-up, more family-friendly attractions too. The bayside aquarium is gobsmackingly beautifully done and is actually the world's largest, with multistorey tanks you can walk around on walkways that take you side by side with giant sea creatures such as sharks, rays, jellyfish and king crab (the safest guys in this crab-hungry city). Beside this, in the harbourside area, the 112.5-metre Tempozan Ferris Wheel makes for an impressive ride for the non-vertiginous.

One of the many toy stores in Den Den Town
But when it comes to what makes Osaka different, it always comes back to its subculture: its hedonism and complex cool.
"There is no nicer way to spend an evening than exploring the wonders of the Chuwa Dixie building, Osaka's 'jazz bar building'," Bea says of her favourite pastime here.
"There are five floors, each one holding a unique and interesting bar to enjoy. Find a favourite and hole up, or work your way up or down. You might stumble across live performance, but for the most part, you'll find bar owners presiding over a huge record collection and choosing favourites to play on their very superior sound system."
LEAVE YOUR COMMENT